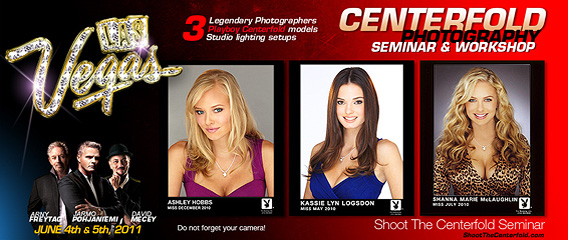 Shoot The Centerfold is happy to announce the three Playboy Centerfold models who will be posing during our Shoot The Centerfold Seminar & Workshop on June 4th & 5th 2011.
The models are:
1.  Ashley Hobbs – Miss December 2010.
2. Kassie Lyn Logsdon – Miss May 2010.
3. Shanna Marie McLaughlin – Miss July 2010.
We at the Shoot The Centerfold are looking forward to you photographing these beautiful Centerfold ladies, with our assistance, to produce some of the most magical lighting moments of our lifetime. Come learn from us and do not forget bring your camera!
"The Ultimate Educational Experience" is the hottest ticket in town: Register here
Arny Freytag, David Mecey and Jarmo Pohjaniemi