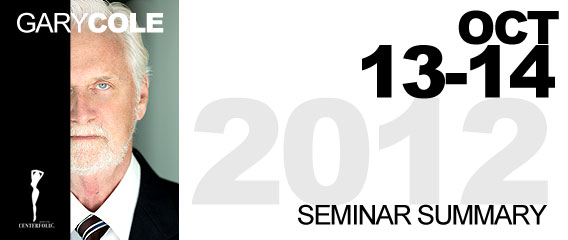 By Gary Cole
While I'm always reluctant to use the phrase, the recent STC workshop/seminar held on October 13-14 in Miami may very well have been the best of the five held since STC's inception.
First of all, there was the all-star cast of photographers, perhaps the most talented and experienced group of glamour photographers ever assembled in one place at one time.
Steve Wayda, long-time Playboy staff and contract photographer, led the lineup. No photographer in Playboy's history can boast the total number of published covers, centerfolds and celebrity shootings as Steve. Steve graciously gave generous credit to all the producers, stylists, hair and make up people and assistants that have helped him create such an extensive and impressive body of photographic work. "Surround yourself with the best people and let them do their thing. They'll make you look good while you get all the credit," Steve said with a smile. What's the key ingredient to Steve's success? "Persistence." And, having worked with Steve for as many years as I did, I can attest to his persistence. (Sometimes I called it stubbornness.) However, no one who ever shot for Playboy worked harder, more diligently to attain success. And I can promise you that Steve will work just as hard or harder on his next shooting as he did on his first.
UK-based Byron Newman made his first appearance at an STC event. Byron, who has been writing extensively on the STC website on his views on photography, stated that his love of photography began when he got his first camera at only six years old. Byron was Playboy's photographer on the continent for many years, shooting Playmates, celebrities and executing some of his unique tableaux shots that only he was capable of creating. In recent years, Byron did most of his Playboy shooting for Jeff Cohen and special editions. Byron now splits his time between the countryside west of London and winter gambits to Gambia where I'm sure he enjoys the fabulous weather and beautifully exotic women.
Rick Moore was again in attendance and provided some very practical and useful guidance on how he goes about creatively building a situation from scratch to finished photo. Rick's eye for beauty and down home approach to people enables him to not only find the most photographic models but to convince them to shed their clothes for the camera. He also provided an interesting illustration of how he created a crowd scene in a stadium for a photo using a minimal amount of people and money. Rick came up through the photo ranks the old fashioned way…from go-fer to assistant to photographer so he understands both the necessary grunt work as well as the creative side involved in being a successful photographer.
Another photographer presenter was Ales Bravicar, staff photographer for Playboy Slovenia. (If you don't know exactly where that is, get out your atlas and take a look.) Slovenia is a beautiful country of only two million people nestled below Switzerland and above Italy. And yet with only two million people, they manage to publish a successful Playboy Magazine. Ales has had a great deal of experience in putting together successful shootings on minimal budgets for not only Playboy Slovenia but for Maxim and many other titles as well. Listening to him energetically describe his photography and the serious way he approaches his work, it is easy to understand why he is so successful. He pointed out that he never makes a visit anywhere, whether on business or a vacation, where he doesn't find time to squeeze in a couple of days of shooting. This Miami trip was no exception with Ales preparing to shoot a pictorial as the conference ended.
And, of course, Jarmo Pohjaniemi (if you can pronounce it correctly, you are in the minority) was there leading all of us through another great STC workshop. The man is tireless, always ready to instruct anyone on how to shoot better photos, how to become a better marketer of photos, how to build a business as a photographer. I'll take it upon myself to extend a collective thank you from all of us to Jarmo and his lovely wife, Mary, for not only putting on such a useful and entertaining seminar but also opening their home so graciously to everyone for the conference-ending party.
Also, a special shout out to all the lovely models and STC ambassadors. As all glamour photographers know, it all starts and ends with a pretty girl that we, as photographers, hopefully make even prettier. And the ambassadors were helpful every step of the way and, by the way, looked so especially good at the party.
Jeff Cohen and I were able to conduct portfolio review sessions with seventeen of the attendees. We saw lots of good work and trust that our advice and guidance will help make future work even better. And we all recognize that taking great photos is only part of the battle in becoming a successful photographer. Learning how to properly run your photography business and finding your niche in the marketplace is at least 50% of the equation in becoming a successful pro. Jeff and I are available to do mentoring on an on-going basis. More specifics on that to come but let us hear from you if you have an interest.
Finally, how about the venue for the conference? The Dezer Auto Museum houses one of the best, most extensive car collections in the world. Over 1,800 vehicles, motorcycles, motor scooters, motorized bicycles on display with more being added every week. Thank you to Michael Dezer for providing a truly unique setting for the STC conference. Also a thank you to the many very helpful and friendly Dezer museum employees who helped make this STC conference such a pleasant and useful experience.
So what's next? Jarmo and crew are already thinking about how to make the coming STC seminars even more useful. For the more advanced photographers, there may be opportunities for more hands-on shooting challenges. And STC is looking at the possibility of providing instruction in other areas of photography including still life, portraiture and fashion. We want to hear from you, both those of you who attended this past seminar and previous seminars and for those of you who might like to take part in an STC experience in the future. We want to help you become better photographers.
I can honestly say after more than 40 years of photography production experience, if you want to learn to become a better glamour photographer, there's no place better to learn than at STC.
Special thanks goes to our sponsors: Hensel, Samy's Camera, Lightware, Thinktank, McKennaPro, Carousel Studios and Sunbounce.
Gary Cole – www.ShootTheCenterfold.com