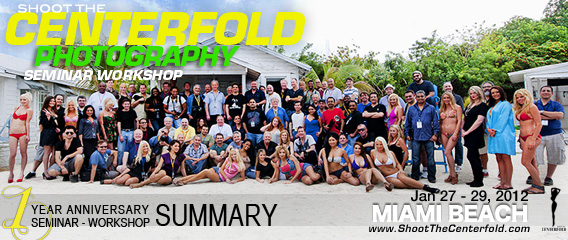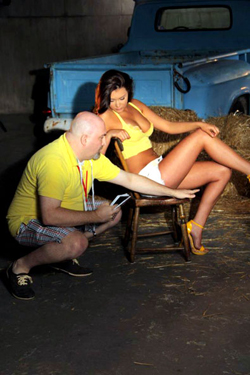 A hot Florida sun and Playboy's Miss December 2011, Rainy Day Jordan, collided last weekend in Miami to create the perfect storm of photography during the latest Shoot the Centerfold seminar/workshop. Of course, after a storm there's always sunshine, which came in the form of Playboy's Miss March 2010, Kyra Milan.
STC attendees traveled from all around the globe as far away as Australia, Europe, and Mexico to see legendary photographers Arny Freytag, Jarmo Pohjaniemi, and Ric Moore in action. Starting on Friday at the newly renovated Shelbourne Hotel in Miami Beach, the three-day seminar was filled with photographic wisdom, educational opportunities, a great chance to reunite with old acquaintances, and meet new friends. On hand were plenty of familiar faces from past seminars, as well as new attendees, all of them ready to learn anything and everything from the masters.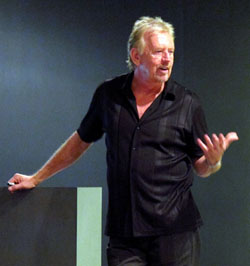 Special guest photographers Morgan Miller from New York, NY and Ales Bravnicar of Slovenia were introduced during the seminar and shared their amazing success stories, especially how STC has helped them reach their goals. According to Ales, "Here, as Jarmo puts it, you will learn not how to take a photograph, but how to make it."
Photo gear manufacturers and suppliers Leica, Hensel, California Sunbounce, McKenna, Lightware, Chimera, Samy's, and Think-Tank made sure that plenty of literature and brochures featuring their latest products (including STC discounts!) were available for attendees.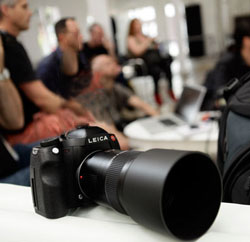 Let's not forget attendee Kishore Hedge who won the Leica D-Lux 5 camera in the raffle and the lucky guest who won the Hensel Integra Mini 600 – 2 Light kit. Think Tank bags and gifts were also raffled.
Leica's new S-Magazine was the talk of the seminar. The renowned German camera manufacturer has introduced a new photographic magazine for users of its S-System, which is currently available via an iPad app. S-Magazine showcases the latest work by professional photographers using the system, with editorial portfolios and current advertising campaigns being the primary focus.
As a special end-of-day treat, STC attendees got a chance to get their hands on the new Leica S-2 system. Everyone who handled the smooth and sleek S-2 loved the look and feel of the new body and lens design and were amazed by its high level of performance. However, they were unanimous in one dislike; having to give it back!
Day Two of the event took a place at Little River Studios, best known for clientele, ranging from top fashion houses, magazines, Playboy, and beyond. This was the ultimate playground for any photographer. With plenty of models and model ambassadors for attendees to photograph. This dream photo location featured 15-plus places with sets ranging from indoor bedrooms and living rooms to outdoor patios and verandas. These very same photo sets have been seen in Vogue, ELLE, and Bazaar, to mention a few.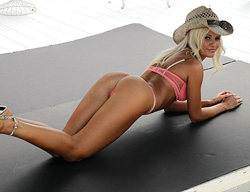 Having Playboy's Miss Dec. 2011 Rainy Day Jordan, a native Texan, on hand for the seminar inspired Arny Freytag to transform the industrial studio into a Texas-style set-up, complete with hay bales, a wooden chair, an old, faded-blue 60's GMC pickup, a rusty bike, and a Texas flag (of course) hanging as a backdrop.
In the "Cape Cod" house, Jarmo Pohjaniemi created a summer beachfront indoor bedroom set. The set featured an old-fashioned metal frame bed with white sheets highlighted by country white French windows and translucent curtains as a background. STC model Ksenia, accenting the shoot in lacy pink lingerie, demonstrated her best poses.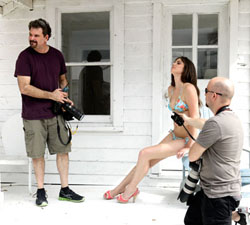 Ric Moore, with the help of Playboy's Miss March 2010 Kyra Milan, displayed his phenomenal skills in the North studio using a minimal set-up which offered modern light and design using art deco furniture, including a black leather chaise lounge with chrome accents.
In a special portion of the seminar, attendees were shown natural lighting techniques using Sunbounce reflectors and flags to demonstrate the effects of adding or subtracting light to get the desired effect when omnidirectional lighting is present, such as on overcast days or with high-key outdoor sets.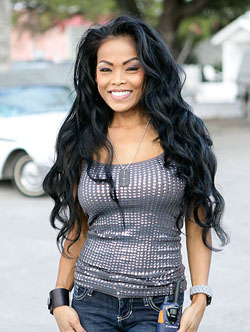 Longtime Playboy editor Jeff Cohen was also on hand evaluating attendee portfolios in one-on-one consulting sessions, advising how to further their careers in photography and business. Jeff's invaluable information has become a much-anticipated part of the seminar.
Even nature played a part in the seminar with a slight shower later that day, giving attendees a chance to see that there's always a need for a "Plan B" especially when shooting outdoors. While the rain lasted only a short time, it was a good reminder that a good photographer must be prepared to shoot under all conditions, including unexpected downpours. However, the moment for levity was not lost. As one of the attendees observed, "What do you expect when you hire a Playmate named 'Rainy Day' as one of your models?"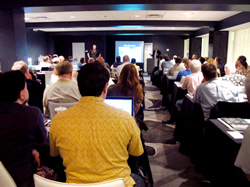 As Day Three of the workshop arrived, eager photographers were ready to shoot one-on-one with Arny, Jarmo, and Ric. Each attendee received personal assistance and advice from STC lighting masters while photographing genuine Playboy Playmates.
This was the part of the workshop many had anticipated and consider the highlight of the seminar – the moment where you learn composition, framing, posing, light, and it's you who are on the hot seat as all this is happening. As the anxious pressure rises when a photographer steps behind the camera and takes command of the shoot, there is no room for errors, and that's exactly what Shoot The Centerfold gives you; a taste of the real world and ultimately… photographing a Playmate.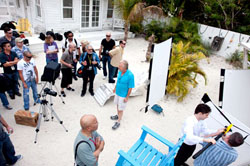 As the workshop sailed into mid-afternoon and toward its conclusion, it was time for a group photo. One love was captured forever as a reminder of Shoot The Centerfold's one-year seminar/workshop anniversary. This was a first-time event for Shoot The Centerfold, and we hope not the last. Almost as if we were at a family reunion, this was the moment where everyone came together and bonded after all we had been through that weekend. I truly believe sharing moments like this is what they mean when they say there's a wondrous magic about photography.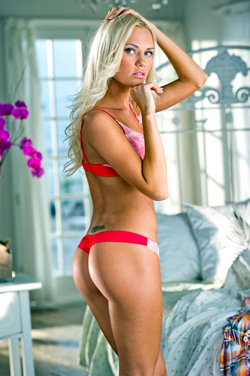 It was truly a pleasure to meet everyone who made this our best seminar/workshop we have ever had.
Thank you,
Jarmo Pohjaniemi