by Jarmo Pohjaniemi
The WPPI convention in Las Vegas was a wonderful experience for Shoot The Centerfold and all photographers, including Steve Wayda, Ric Moore and myself. We all learned as much from the WPPI attendees as they learned from us, as well as from the photo companies and manufacturers in attendance. No real new equipment announcement were made except our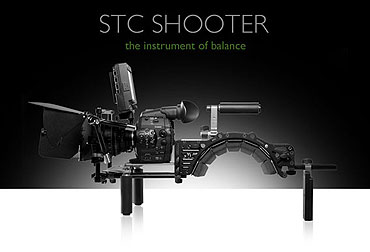 very own Shoot The Centerfold STC Shooter rig. Most of photography companies save their new product revealing to Photokina which is held in Germany. We want to thank everyone who visited Shoot The Centerfold and Hensel booth during WPPI show.
Here are a few facts we learned from the WPPI folks:
1. The glamour and photography industry in general has always been very male-oriented (no big surprise there). STC has always wished to attract more female photographers. Not only does STC like women in front of the camera, but behind it as well. There was no shortage of curious female photographers at WPPI – it's the only place we know where you get to see so many female photographers all in one place at the same time… beautiful.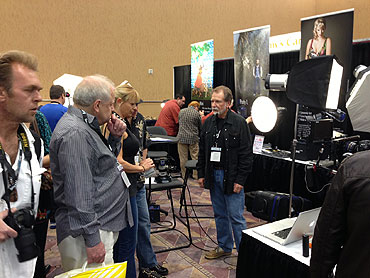 2. Comparing male and female photographers and their interests based on our WPPI experience:
Male photographers like the gear and gizmo factor much more than female photographers. As male photographers get lost in the cameras and lenses thinking how to make a better picture, their female counterparts tend to strategize more towards on how to get clients and deliver their product. It seems that female photographers are more in tune to finding out about the business side than male photographers.
3. Male photographers know more about f/stops and camera functions than female photographers. Female photographers, while technically savvy, were not interested in the this aspect of photography and we met plenty who could care less about their camera's technical functions and instead wanted (again) to know how to make money instead of spending it.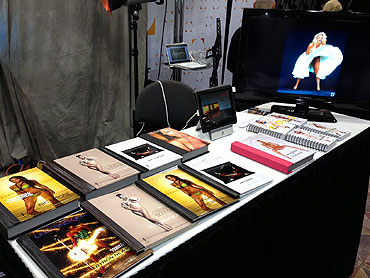 4. WPPI photographers in general like one- and two-strobe lighting configurations commonly used in portrait photography. A curious few wish to branch out to seek further markets and explore their possibilities in different photographic styles and multi-light set-ups.
5. Female photographers are more cognizant of their photography goals and had already made their decisions in which areas and booths to visit upon arrival. Male photographers are more open to suggestions on everything new and willing to try fresh ideas more than female photographers.
6. Male photographers get a lot more exited about photographing the feminine form compared to female photographers. Male photographers also tend to forget the business aspect while shooting a beautiful female model compared to women photographers who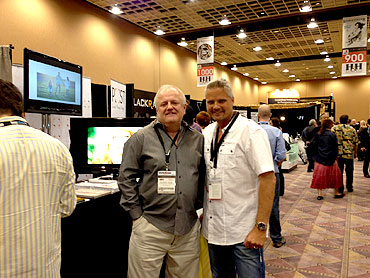 would prefer to call it boudoir photography. Female photographers have an easier time finding models for their photoshoots compared to male photographers.
7. Female photographers don't dream as big like male photographers do. This doesn't mean they aren't as motivated as men, but they prefer to have a small business, thinking more on how to make money and expanding their services only when and if it suits their business needs.
8. WPPI Photographers think:
Male: 80% equipment, 20% business.
Female: 40% equipment, 60% business.
No wonder the good old saying goes, "Boys and their toys." However, a good "toy" collection and determination will also get you experience with equipment usage and knowledge.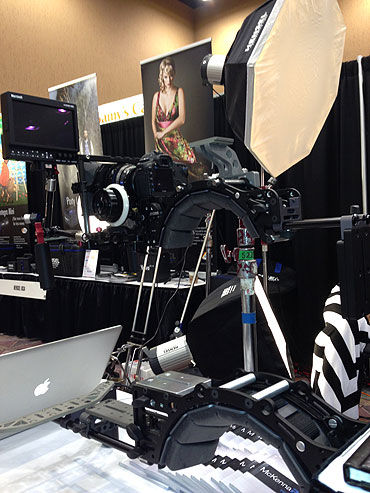 9. WPPI portrait photographers are less interested in traveling compared to glamour and fashion photographers. Portrait studios are more interested in family-based operations rather than editorial pictorials.
10. Male photographers like to spend more cash on gear and photographic-related items. Female photographers spend more money on shoes, accessories and clothing instead of cameras and lenses. The advantage: Their styling skills out-do male photographers.
While we navigate through the murky waters of photography and publishing industry in search of new possibilities and adventures, we at STC find that the WPPI experience and the photographers we met are like a big family. Everybody was super-nice and we recommend you visit WPPI if you ever get the chance. After all, it must be seen in person to get the full benefit because what happens in Vegas, stays in Vegas… well, maybe not!
www.ShootTheCenterfold.com