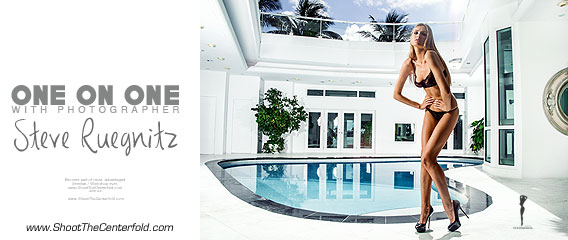 To quote "Wall Street" mogul Gordon Gekko, "Money never sleeps."
Steve Rugeniz would like to augment the phrase by observing that "passion never sleeps" and by that, he means his photography. While Gekko and Rugeniz share a Wall Street philosophy, Steve comes out on top with his multi-talented approach stating that maybe Mr. Gekko should attend some Shoot The Centerfold one-on-one sessions in order to become competitive.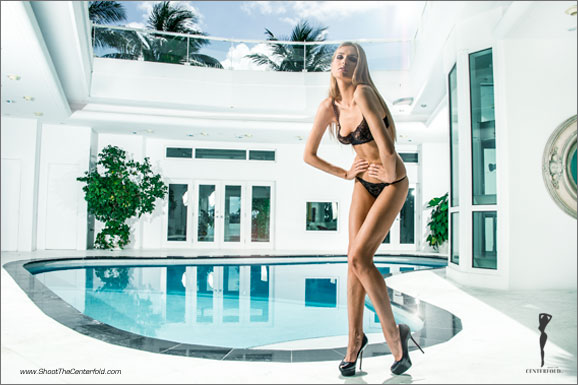 Ok, money aside and with Gekko now in the backseat, Steve is on and he is no stranger to success as evidenced by his extensive résumé. Nothing falls into our lap and actions do speak for themselves. "There's no debate about it," says Steve, who seems to know how to get things done.
So why does a man of muscle in business choose a weapon as small as a camera? Well, when results are as big as Mt. Fuji and editors are tripping over the results, that should be proof enough.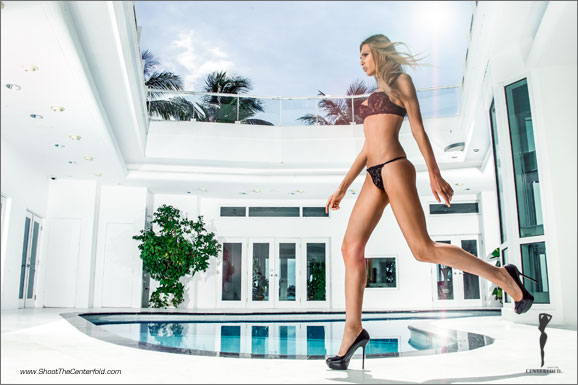 Jarmo says, "I would hate to be at the wrong end of the table in a financial meeting in Steve's world somewhere on Wall Street. The man knows what he wants and as his military rank (captain) suggests, he is capable of leading or running you over at any given time!" However, the tables have turned and Jarmo now stands in the north corner – odds are that a TKO is not an option and we're going to have to go the limit… and so we did.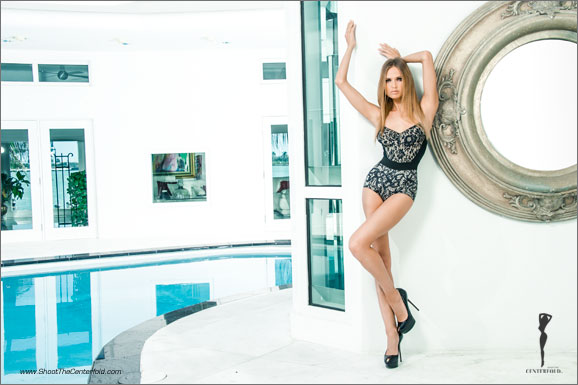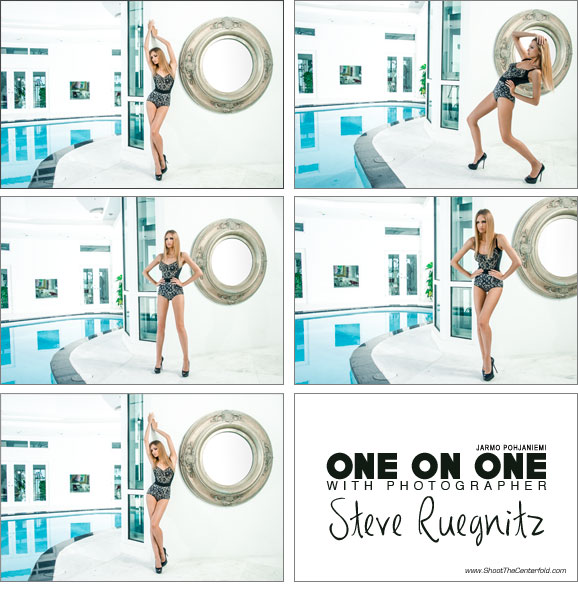 Shoot The Centerfold one-on-one sessions offers person-to-person educational tutoring in photography and business for those who want all the attention to themselves and maximum learning experience. Steve Rugenitz just completed a one-on-one session with Shoot The Centerfold photographer Jarmo Pohjaniemi in Miami. While not being greedy by any means, Steve was not going to settle just for one day of lessons; he cut the cake well and stayed for two days worth of photographic wisdom.
What was really interesting was Steve's second day of shooting, which was to focus on fashion rather than glamour. While a beautiful, sexy model will always look good no matter where you aim your camera, the real question is if there is a photographic value to the concept – this is what we should always ask ourselves. Learning to capture the momentum was one of the lessons Steve was to focus on. Today's main topic was to learn the often-overlooked small things that matter when photographing people.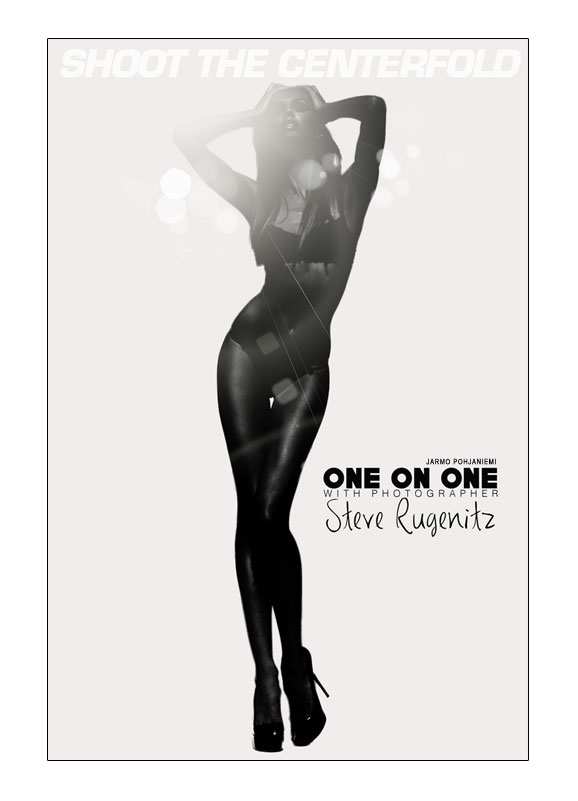 A man of many facets, Steve is no stranger to fresh changes or new opportunities. As photography has changed quite a lot in the past few years, he was not only ready for having anything to do with photography, but also something that was cutting edge and a true challenge. This was a perfect opportunity to rub shoulders with Jarmo and fashion photography, which are actually the roots for Jarmo's photography career long before he undertook his current stint at Playboy.

Fashion vs. Glamour
The line between fashion and glamour photography is often hard to draw. Superficially, there are few appreciative differences between the two. The grey area becomes high contrast when you move past the aesthetics to the concept behind the shutter release. The goal of fashion has always been to sell a product, with the model playing the role of a mannequin with Barbie doll textured complexions. On the other hand, glamour has always been to sell an idea; a lucid dream state where you find yourself in that moment with the subject.
The stark, white or grayscale backgrounds typically found in fashion shoots are combined with a minimalist approach in portraying the model as not to distract from the garments and jewelry the image is intending to sell. Of course, the model must have a distinctive look; one that prompts desire and incites the viewer to want to wear what the model has on. Typically, her facial expression is calm, moody, or near blank; skintones are slightly cold. Obviously not all fashion shots are against a cyclorama, many are done on locations like city streets and beaches in order to create a context for which the advertised items may be practical.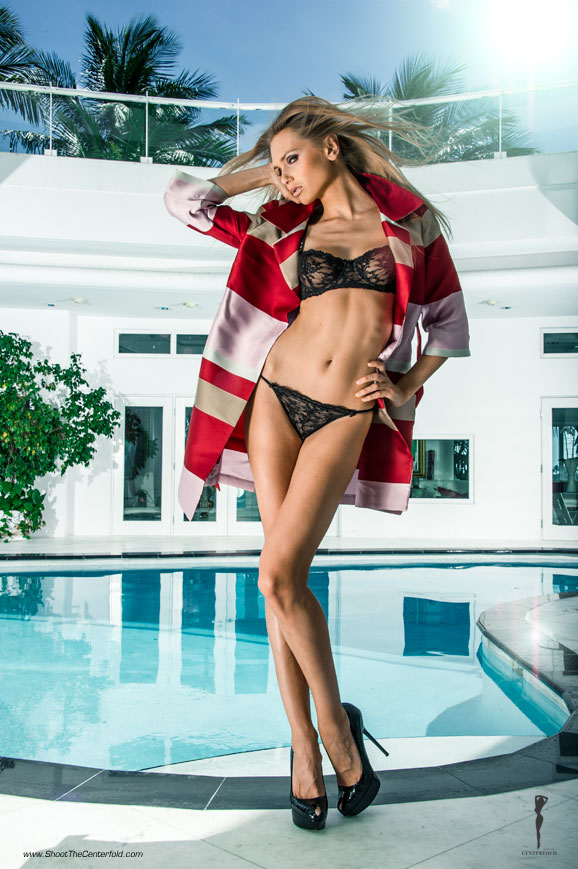 Glamour photography has no obligatory loyalty to a client to portray their product with a certain attitude.  Although the glamour style often does depict models wearing high fashion attire in very posh or modernly decorated locations, the product being sold is the image in its entirety, rather than any of its individual components. The model's face is smiling, seductive, and inviting with lively, warm skintones. Glamour pictorials typically depict a flattering reality that engulfs the viewer, enveloping them into the image gazing into the eyes of the model. Just as fashion designers sell clothes, magazines that print glamour pictorials sell certain style characteristics for which their publication is renowned. As a photographer, whether shooting fashion of glamour, your job is to be able to recognize what the client is looking for, and have the skills to emulate their needs on time and on budget.
Often, a negative connotation is associated with the idea of advertisement; where the ultimate goal of the photograph is to persuade the viewer to buy a product. The simple fact that the client provided the wardrobe and is using the photograph for marketing purposes should not discredit the photographer or the image. The mark of a good photographer is being able to create an image so stunning, the viewer sees the harmony of the entire image, but remembers only the product. The image should be able to hold its own without brands and labels giving it credibility.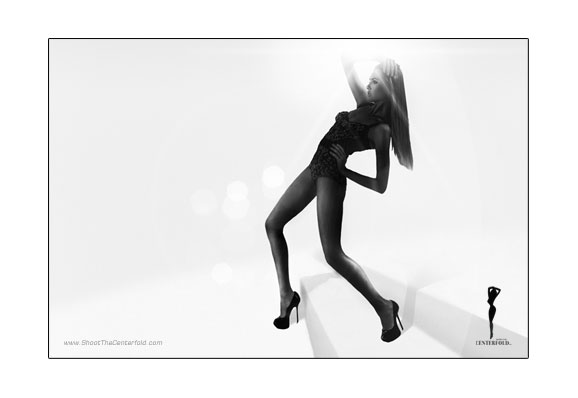 Between Two Worlds 
We have a beautiful mansion as our location in Miami Beach and often seen in fashion, glamour layouts around the world. Very minimalistic walls and a clean-cut architectural masterpiece that works perfectly for today's fashion shoot.
This is when Jarmo's fashion expertise really stands out and comes into play. Aksana, a top fashion model from Next Model Management who was on a shooting trip here from their main office in New York, is available to shoot with us today. She was a perfect selection for Steve's shoot. Our model, who is of Russian descent, glides across the room with her long legs and you cannot help but stare. Her presence fills up the room and a new mindset is necessary to get the best results from today's shoot.
Now that we had a professional fashion model as we have today, we also needed some fashion clothing as well to make the package complete. This is the part where many new photographers don't realize that you just don't dress a professional fashion model with just anything available. You want to select the wardrobe carefully because this is exactly how high-end fashion shoots are done.
The wardrobe was provided by Boutique Coltorti in Miami Beach; Designer jacket by P.A.R.O.S.H. ($720) and the body suit by Dolce & Gabbana ($1,095).
A fashion model's main purpose is to highlight the clothing they are wearing instead of themselves, unlike in glamour photography where the model in the main focus. The goal was to make the jacket and bodysuit look as if they scream out of a top fashion magazine pages.
Posing also is different when compared to glamour posing. What looks good in glamour photography does not always work for fashion photography and vice-versa. People sometimes say that fashion poses look odd (and they often do!), but the images work for high-end fashion and set the mark as far as style and poses go. Click here to learn more about fashion poses.
We are dancing between two photography worlds and styles and both are very popular, and both require a different approach and understanding of lighting. We are learning the best of the both worlds and this is exactly what the modern world photographer does; being able to satisfy clients with any needs, regardless of the style. Good photography is good photography, knowing lighting and how to apply it in different situations is the winning formula.
Often you hear people saying that photographers are limited to their own style. Maybe so, unless you study lighting styles that work for any situation imaginable, and this is exactly what Steve was here to accomplish.
"Learning lighting in Playboy and my photography career during my fashion years has been the best school I even been to," says Jarmo. "Life is a study, and my life has been visualizing future, lights and style. Knowledge and understanding lighting gives you ability to light anything to which your mind is open. You can become anybody in the world of photography when you can see light, style and composition. Lighting is power and wisdom should be welcomed."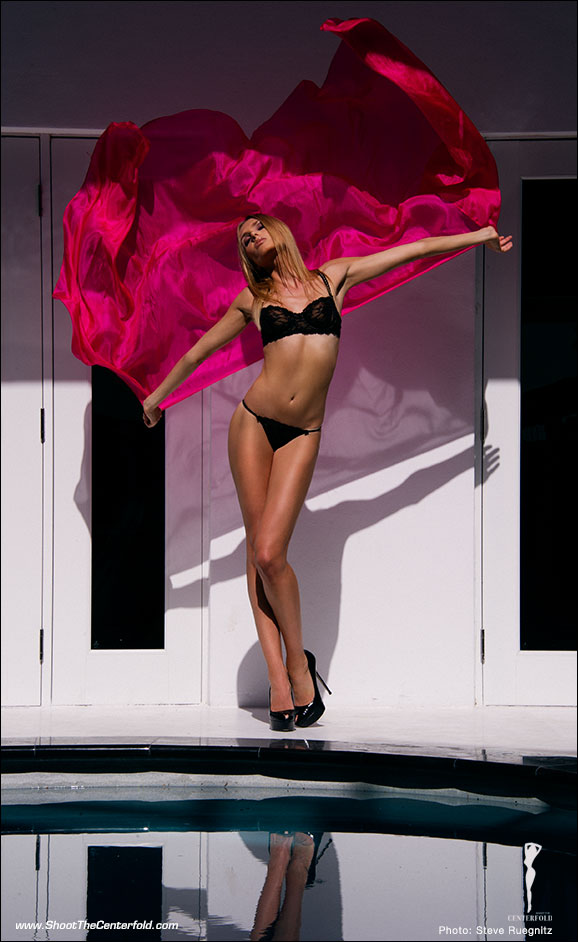 Interview with Steve Rugenitz
STC: Steve, what's happening?
It is an exciting time in my life as a photographer.  While I first picked up a camera well over 40 years ago, only recently am I seeing a new potential for my work.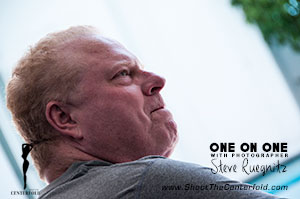 STC: Does photography give you "wings"? And, if so, describe?
Photography is my main creative outlet.  It has never been my day job.  In fact, quite the contrary — It is as far away from my day job as you could imagine and I love it.  Along with it being a conduit to expressing myself creatively, it's also a way to meet all sorts of interesting people and create as a team – something I love to do!
STC: Your Shoot The Centerfold 1-on-1 session with photographer Jarmo Pohjaniemi seems to have taken on a split personality as far as photographic style goes. What's your take on this?
Completely true.  I have been studying Playboy-style work as a primary interest.  Our first day together was focused on the Playboy shooting style. Jarmo saw more in me than I saw in myself and challenged me to leave my comfort zone and do something I have absolutely never tried before — a full-day fashion shoot.
When he suggested it, I was not sure if I would be able to pull it off, but Jarmo is a solid instructor and I felt it was going to be worth the experiment to see if I could get into an entirely new realm.  He was right to push me this way.  While I have not yet published any of the images from the fashion shoot, I look at the unedited work and I am still trying to connect to the fact that it came from me.  I am excited to see what others say.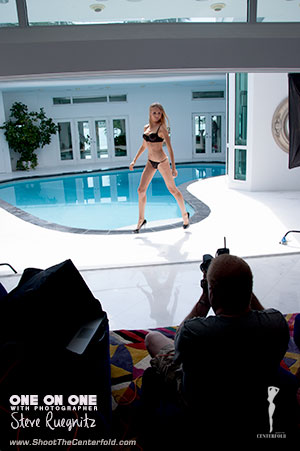 STC: What are some of the biggest things you're taking away from this?
You have to get out of your comfort zone to grow.  Yes, it's easy to fall back on what you know and there is nothing wrong with producing images you know how to do.  But there is an energy and excitement to jumping into the deep end of the pool and trying something new.  I also learned about Jarmo as well.  He is clearly well known for his Playboy work, but who knew that he is also skilled in Fashion, Fine Art, and Beauty Photography?  I am sure others did, but it was news to me.
STC: How important was the location and model to your shoot?
The two delightful models I worked with during the two days were both wonderful people and hard working.  Aksana is a skilled fashion model.  I found that Aksana brought literally years of fashion experience to the shoot and that in and of itself compensated for my years of no fashion shooting experience.  It is clear that if I did everything right as a photographer technically, the model being right for the assignment can mean the difference between simply average work and "hitting it out of the park" excellence.
Location is clearly important as well.  Now, both days we were shooting outside of a studio.  That makes for a more complex setup in terms of, well, everything. Clearly, part of what I sought to work toward was being able to "see" the scene no matter what the circumstance throws at you and still know how to light it, pose the model, and use the elements at hand to best effect.
In learning how to do this, Jarmo did not pick easy locations.  Both had water, glass, white walls, shadows, and/or more that, while adding to the drama of the shot, also made it more difficult to shoot in.  During the fashion shoot outside, the sun was frequently altered by moving clouds causing me to react to changing light.  At the same time you are dealing with this complexity, you also have the ability to make stunning images by using it all to good advantage.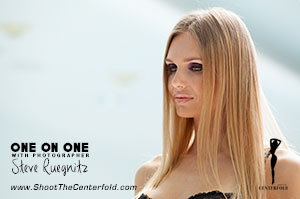 STC: This was a two-day shooting experience and you had two lovely models to shoot. Tell us about the differences between the two models and did it change your thinking as far as models go?
Stefanie Jennifer was clearly a great choice to work with for my Playboy-style day.  I met her during the STC Miami program and shot her briefly then.  Another photographer friend had worked with her in his own shoot as well and recommended her, so I asked Jarmo if he could arrange it and he did.  She was so able to work in the Playboy style.  No matter the posing direction (and don't let anyone say modeling is easy, clearly shots that look great can be no fun to produce) or how cold the room was (it was) she just worked on whatever we needed until we got the shot.
Aksana is a high fashion model with years of experience.  She brought tremendous experience as well as a totally different look to the shoot.  Have you ever watched a high fashion model have to jump and jump and jump again in high heels to get the shot?  I lost count of how many times I needed her to work it until I got the shot.  She was absolutely ok with working it until it was perfect.
I have shot countless beginners over the years and I still do today, as many a beginner brings a fresh look to a shoot that is a delight to capture.  Make no mistake though, as a photographer there is far more work to do to get a beginner to excellence then there is with experienced models like these were.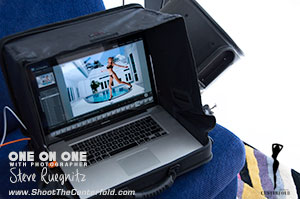 STC: Now that we have seen the final images, do you have any advice for photographers out there garnered from the lessons you've learned?
There are a number of things that come to mind.  While it is great to have good camera and lighting gear, and it does make aspects of the production of an image easier, there is no substitute for spending time planning and visualizing the image you are trying to create.  Today, even basic SLRs can produce high quality images, so don't focus on the gear, focus on the shot you are trying to create.
Hair and makeup can and does transform a beautiful person to an absolutely stunning image.  I was lucky enough to have Mary Alejo as my MUA over the two days.  Mary was constantly on the set, working every detail of hair and makeup.  While both of these ladies were beautiful walking in the front door, the transformation Mary did had to be seen to be believed.  Find an MUA to work with is right up there with finding the right model to shoot.
Finally, put a camera in your hand and SHOOT.  With everything being digital these days the cost of making an error is all but nothing compared to when I started when you paid for film and processing and every lost shot cost real money.  Digital also allows you instant feedback.  Pay attention and shoot carefully and don't just lean on the shutter button and hope you get something.  Stop, study, adjust your shot, and work it until you get it perfect.  One truly excellent shot will do more for you and your model than 100 lousy images.
STC: If you could go back and do it again, what would you do different this time around?
Well, if we go back 43 years, I am not sure when there was no internet, few books on glamour photography… I am not sure what I could have done differently.  Today, I find I study ports, magazines, and online publications.  I have lost track of how many ports at Playboy.com I have studied.  I started going to some small seminars (pre-STC) and did learn a lot.  I gained more when STC came along, but most of all, in that process, I met Jarmo and Arny and actually a great group of photographers some of whom have turned into great friendships along the way.  Working with somebody more skilled than you are, if you can get that opportunity, will for sure push you along faster than working on your own.  I don't mean just Jarmo or Arny, which for me was a tremendous opportunity, but seek out others in your home area to see if you can work with to advance your own skills.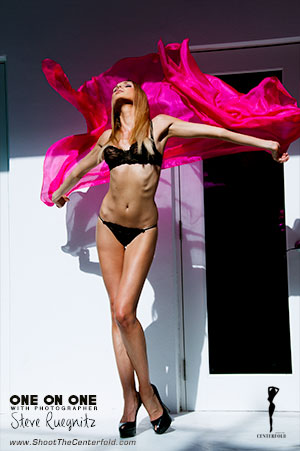 STC: You share your world with Wall Street using the right side of your brain and photography the left. If you had to choose between the two sides, which one would survive? (After all, they do say that pictures are forever.)
I have to admit that because I have been married 37 years and have two lovely daughters (both now grown), the obligations of being a father and husband come first in my life.  Economic reality has always made me go down the business path.
STC: f/stops or dollars?
The good news about life, in my view, is that even long before I was on Wall Street I was shooting.  It was never a choice to do only one.  The time allotment was more on one side, but not the passion.  As I have happily progressed through my business career and now near the next chapter in my life as I leave business (at some point), I can turn my attention to f/stops in a very big way and I am on that path now.
STC: Are you a gizmo geek?
I have to confess I am.  I am into technology in my day job so it comes naturally to me to want the newest computer, software, lighting, camera gear, and toy that I want to play with.  As I said earlier, you truly do not need a giant toy box of fun photography things to produce great images, but who does not like to have a new shiny thing to play with?
STC: You mention that you are building a studio in your Florida home.  Could you please tell us about what you're planning?
I am fast approaching retirement. My wife and I have a home in New Jersey and we chose to have one in Florida as well (snow shoveling gets old after awhile).  Circumstance has allowed me the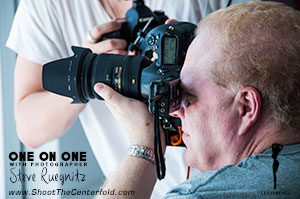 option to have an extension on the house that will be a studio the size of Studio A (the large studio) at Playboy Studio West.  The drawings are all but done and I hope to have construction start in the Spring.  When it's done, I will have my own full studio with the right ceiling height, throw distance, power, and width to create pretty much anything I might want.  How about that as a photographers dream playground?
STC: Besides photography, tell us what really gets you in the zone?
In my college days, I was a radio DJ and love music from the 60s and 70s.  My wife and I met doing Summer Stock Theater in California where we grew up so being very close to New York City, Broadway shows have always been on the list of fun things to do.  A few years ago, one of my daughters twisted my arm and we became SCUBA divers.  Of course, most recently my other daughter made us grandparents of a beautiful baby girl now just over a month old.  That's amazing!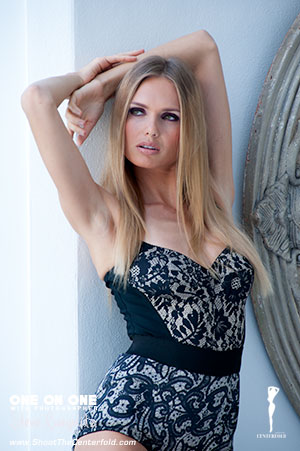 STC: Do you like any other types of photography?
Over the years, I have done a little wedding and portrait work for family and friends.  I have also poked around a little with landscape work, but mostly when I find I love being in an amazing location.  I find that my passion is shooting woman of all ages.  My range these days is 18 through 60 years old.  Every woman is beautiful in my experience. It is a true pleasure for me to capture a beautiful image of a woman and I truly have a passion for it.
STC: Describe your experience with STC seminar/workshops – what was the best part?
The STC program has evolved as one would expect.  I think I have been to all of the seminars except for the small one conducted in LA. In the early seminars, I paid strict attention to learning different lighting setups and what to do or not do. For me, it did not end there, as I think the networking with others who came has already made for some great relationships outside of the program.  I have found that for the most part folks are just "nice" and want to share and help each other.  I think meals and discussions around the sessions have continued to provide value for me beyond just the program itself.
STC: Which magazines do you read?
Playboy, GQ, Elle, Vogue, as well as Rangefinder.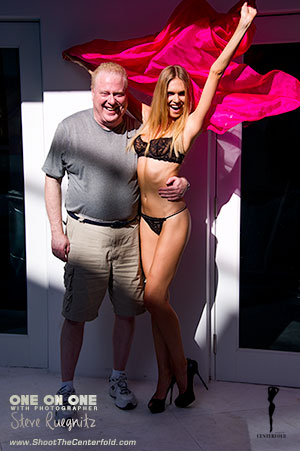 STC: If you would have an opportunity to shoot a celebrity, who would it be? How would you shoot him or her?
Catherine Zeta-Jones is at the top of my list.  To my eye she can be stunning even if she was in a burlap sack.  Her eyes and face captivate me even before you see she is beautiful head to toe.  I would think an exotic location shoot with a combination of flowing warm weather fashion clothing like you would wear in a tropical climate along with a lingerie shoot that would smoke the lens!
STC: We thank you for your participation in the Shoot The Centerfold seminar/workshops and 1-on-1 sessions. You have shown great advancement in your photography in such a short time. Seeing is believing and there is much more coming for Steve Ruegnitz, Stay tuned…
www.ShootTheCenterfold.com