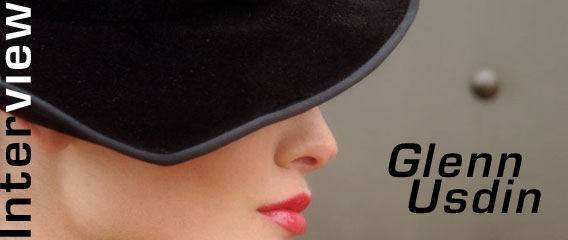 We at the Shoot The Centerfold are very proud to post and announce the success stories from our photographers, models and industry happenings in general. Here is an interview with photographer Glenn Usdin who just attended his second Shoot STC Seminar / Workshop. When Glenn is not saving life's as a fireman, he is putting fire out by photographing beautiful women. It's a tough job Glenn says and somebody has to do it.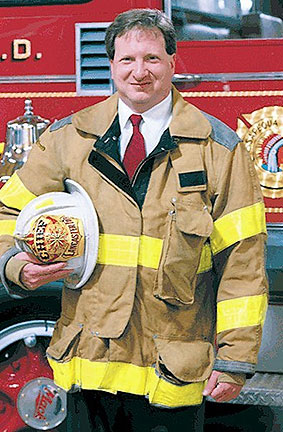 STC: Tell us about Glenn Usdin and Where do you call home?
Glenn: I am originally from New York, but I live in Lancaster PA, about an hour west of Philadelphia. My family is still in NYC, so I visit there at least twice a month and do a lot of shooting there. I don't think you can ever take New York out of a native NYer. There is so much energy in the city, it goes 24 hours, and the people there are from all over the world. But Lancaster is so beautiful and peaceful and we love our slice of heaven here. So I have the best of both worlds.
STC: Fireman?
Glenn: It's firefighter! Fireman went out years ago since women joined the service. But yes, I have been a firefighter since 1974 and have served as a Fire Chief for 16 years before stepping down a few years ago. There are many firefighters who do photography on the side, and I run into other firefighters that shoot beautiful ladies on a regular basis. I find that many of the traits that a firefighter practice all the time are very useful in photography.
STC: Do girls like firefighters and why?
Glenn: I'm not telling! J I can't give away all of my secrets. But the ladies enjoy the company of a man who puts his life on the line to serve others.
STC: When did you discover your love for photography
Glenn: In 9th grade my dad bought me an Exacta 35mm. SLR camera. I remember getting the first roll of BW prints from the lab and I was hooked. In high school I was one of the yearbook photographers and never stopped shooting images of the life around me. I started a collection of photo books in the 70's and still have most of them. By the time I was in 11th grade, my pictures were appearing regularly in various NY newspapers and I already had begun shooting pretty ladies. I almost burned down my parents house when a hot halogen light set a seamless background on fire. But I moved ahead and learned how to use strobes!
STC: Do you feel photography has satisfying qualities for you?
Glenn: To me, the joy of capturing an image that makes other people smile is the essence of photography. There is no better feeling than seeing someone smile when they like the image you took of them. I frequently get asked to provide images of someone I shot that has passed away. I find no greater joy than being able to give a friend or stranger an image of someone who is gone, and let that person live on in my photograph.
Today, seeing my images in print or on a website provide a thrill I can't explain. When I get a tearsheet from a job or assignment, I just sit and stare at it for hours and wonder how lucky I am to be paid to do this.
STC: What was the most recent seminar you attended and what were some of the key points you brought home?
Glenn: I just came home from the STC in Las Vegas, the second STC event I have attended! I am amazed at the quality of the instruction and the wealth of little tidbits and pro secrets I get from these events.
STC: What's the next seminar or workshop you are excited about and why?
Glenn: I'm hoping to attend the next STC event in the fall. I attend 3-4 professional seminars and workshops each year. Every single workshop I attend adds to my professional knowledge and gives me more techniques and skills to use. The cost of these seminars is tiny compared to the lasting value I receive from them.
STC: Tell us about the Shoot The Centerfold program. We heard that STC has opened a door for you to shoot also in the world of Playboy.
Glenn: Since becoming involved with STC, new doors have been opened up for me. The 3 STC instructors have helped me develop new contacts at Playboy and have worked with me to fine-tune my portfolio and shooting style. The one-on one instruction and ability to contact the instructors after the sessions is one of the biggest advantages to the STC program. Once you attend, you become part of the STC family and the relationships and friendships you develop are worth more than the price of the event.
I'm actively scouting for new models that want to get published in Playboy!
(Ladies, if you are in the Philly or Baltimore/Washington area and want to see about being published, drop me an email glenn@glennusdin.com and let's get you in front of the editors).
What really made STC valuable for me was that I was not only able to see the lighting that these masters reveal. But to be able to meet Gary Cole, Playboy's photo director of photography of 35 plus years and Jeff Cohen, the former executive Publisher of Special Editions and more…I mean that alone is worth more than money can ever buy, and I have all throughout my career showed my images to all kinds of editors and media houses with successful results. But was I ever able to sit down with TOP guns who really are behind the Playboy magazine and glamour industry, who has lived and has the power to make the decisions what goes and what does not? I don't think there is a higher form of honor than this. Not only are you getting advice about your portfolio and photography, you may also get hired to shoot assignments.I have gained valuable insights and professional contacts with models and business contacts that make STC an invaluable tool in my photo business. I like the STC experience to attending a graduate level professional development program. Top shelf instructors, top shelf networking with models and editors and top shelf tools and strategies to further my career. And, of course, lots of fun with beautiful models!
STC: How many shoots have you done for Playboy already?
Glenn: I have probably sold about 20 different sets to different divisions of Playboy. I have done one feature in the main Playboy magazine, and numerous features on the Playboy website, www.playboy.com. I am now working with the editors at Playboy Special Editions' magazines looking for beautiful young ladies for the various publications that they publish. The satisfaction of being published by Playboy is one of the greatest accomplishments of my photo career. In terms of industry standard, Playboy's photo quality standards are some of the highest out there. The people at Playboy know the photo business inside and out. If your work isn't up to their quality, they know it. They are one of the most photo savvy clients with whom I have worked.
STC: Why glamour photography? What about it that intrigues you?
Glenn: I remember the first Playboy I ever saw (in the bottom of my dad's bedroom closet…sorry dad) it was the Girls of James Bond cover, November 1965 issue. The look and feel of that photo never left me. I wanted to learn how to capture beautiful ladies like the masters did for Playboy. To be able to work with the direct descendants of those photographers is a dream come true. Now I have to be direct, it is not easy to shoot a woman nude and make a beautiful image. Your skills in set design, lighting, posing and direction, working with hair and make-up, and model selection are all part of the equation.
STC: You also are a very well known commercial photographer. Tell us more.
Glenn: I love to shoot pictures of people. My work as a commercial shooter is very wide ranging. One day I could be shooting the CEO of a multi-billion dollar publicly held corporation, the next day I might shoot a cooking class for a kitchen magazine, then I could be hanging out the open door of a helicopter shooting aerial shots of a city, and the next day I could shoot a fashion or glamour assignment. No two days are ever alike. The photo business is changing and evolving daily. Some of this is very good, some of this has made a photographers life very difficult. Digital imaging has given us instant results, it also has lowered the standard for entry level photographers. Now, you have to be really really good, have a very specific vision and be a really sharp marketer and business person to succeed. I try to wear all of those hats and some days things go very well. Talking about the business, thank you for having Gary Cole, for the valuable insights he gave me in the past STC seminar.
STC: Is there anything you would have done differently during your photographic career?
Glenn: Hmmm..focus a little better and watch my exposures more closely? No, seriously, I look back at the work I did 5 years ago and cringe. I want to always be moving forward and trying new things out and taking more images. My all time photo hero is NYC based shooter Jay Maisel. He has a very simple saying, 'you miss all of the pictures you would have taken if you didn't have your camera with you." I try to bring a camera with me everywhere. I never try to go back and shoot something later, I shoot it now.
STC: What do you look for when selecting a model?
Glenn: Beauty, and the ability to connect with the camera. Not every beautiful lady can be a model. There is a special connection between some women and the camera, and when you find it…..WOW. My favorite model is Lani Todd, Miss December 2002. Jarmo discovered her in Miami and now she lives here in PA. You can't take a bad picture of her. I always ask her if she has any hidden half sisters that haven't been discovered yet. Look at most Playboy Playmates and you will see a beautiful smile and gorgeous eyes and a connection with the camera. Of course, having a beautiful body is important as well. But if the smile and eye contact is not there, nothing else will make up that aspect.
STC: Your photography is very cinematic in nature, where do you draw your inspiration from?
Glenn: I have been lucky to spend time on some movie sets. I love watching the DP (Director of Photography) light a set. I think that light is the fundamental tool that defines our images. Soft light, hard light, sharp light, specular light, colored light, reflected light…all of the various types of lighting create a mood and set your images off. Directly, watching Jarmo, Arny Freytag and David Mecey light a set has really shaped much of my recent work. The 3 STC shooters are at the top of their profession and I have been greatly influenced by them.
STC: What kinds of equipment do you work with?
Glenn: I am a Nikon shooter. I use a Nikon D3S and D3X bodies, with about 7 different lenses. Most of my glamour work is done with my 70-200 VR and my 24-70 and sometimes my 85mm 1.8 lens. I use Dynalite studio strobes ( 4 packs and about 15 heads) and I have a full assortment of California Sunbounce accessories. The California Sunbounce reflectors, scrims, and accessories are used by me on almost every shoot, both in the studio and on location. I have never purchased a product that is so helpful and well designed and manufactured. Basically, if they come out with something new, I buy it because I know I can use it. I always shoot in RAW mode, and generally shoot in manual exposure mode with strobes, and Aperture Priority in daylight.
STC: What is your favorite photo you've taken and what about it excites you every time you revisit it?
Glenn: My woman with the vintage hat in front of the steam locomotive train. It's simple, it's a compelling image and I wouldn't change one thing about it.
STC: What piece of advice would you give to a photographer who is just starting out?
Glenn: How do you make a small fortune in photography these days? Start with a large fortune and wait a few months. This is a VERY difficult time to make a living in the photo business. You better be damned good and offer a vision that nobody else has.
STC: Describe the problems you tend to run into on set and how you overcome them…
Glenn: Do you really have enough space for this one? Well…people problems, which are hard to overcome but must be dealt with. For many of our models it is their first time posing, and they can get second thoughts or be very nervous. We must assure them that our job is to make them look beautiful and the entire team is there for them.  Then we have the logistical problems, things are not as promised at the location, and you need to pull off the shots regardless of these issues. They can range from not enough electric outlets to not getting access to promised areas to team members not arriving on time, to change of clients needs at the last minute to weather not cooperating. Your job as the photographer is to be the conductor of the orchestra, always have Plan B and Plan C ready, and  set the tone for the entire shoot. If you have confidence and everyone sees that, things will go well. If you fall apart, the shoot fails. There is an expression…poor preparation leads to poor performance. I feed my crew well, listen to their input and let everyone on the set know that the quality of the shoot is dependent upon a group effort. My name might go on the image, but the crew makes you look good.
STC: How important is post production to your work? What are your tools?
Glenn: I hope I don't disappoint here. I am an advocate of doing it right in camera and not needing much post production work. I am well versed in Adobe Photoshop (CS4) and Lightroom, and know them well. But if you looked at most of my raw images, you would see only very minor tweaking. I think many photographers allow post production to be a crutch for bad or careless technique. Get it right in camera and post work is a dream.
STC: What are some goals for your future in photography?
Glenn: Silly question..I want to shoot a Centerfold! Seriously, well, that and do more editorial work for major consumer and business magazines as well as expand my base of commercial advertising clients.
STC: Where would you like to be 5 years from now?
Glenn: Smiling, still having a blast at every shoot, and with a group of satisfied and loyal clients who call on me as a creative partner.
STC: If you could photography one person, who would it be and why?
Glenn: Person of the Year for Time magazine.  Possibly one of the best photo jobs out there.
STC: If you could choose a photographer to take your portrait, who and why?
Glenn: Simple, Arny to light the set, David to entertain me and Jarmo to shoot the image.
STC: Are you a MAC or PC lover?
Glenn: PC all the way…today. BUT, I love my iPad and iPhone, so who knows about tomorrow.
STC: First thing you would do if you won the lottery?
Glenn: I already did, I am part of the Shoot The Centerfold family. Pay off my mortgage, take care of my kids for life and buy a house in Miami across from Jarmo and shoot beautiful ladies all day. (www.badasshouse.com)
Photographer Glenn Usdin is an active member our the Shoot The Centerfold community and is a working photographer who has been able to utilize the STC magic to further his career and vision.
www.ShootTheCenterfold.com