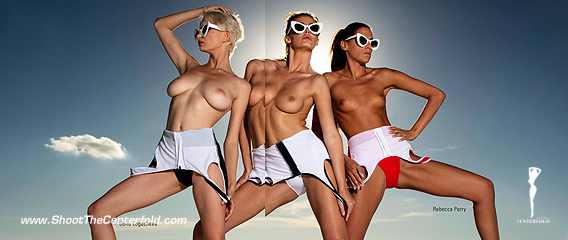 Congratulations to STC attendees Daniel Warbrick, Blayne Uto, and Claire Spoors for their Playboy International layout that was photographed during STC Santorini 2018 last year.
Jarmo Pohjaniemi and Byron Newman shared some of their best photography secrets with the attendees. The results are soon to be in ink on the glossy pages of Playboy, conveniently coming out to newsstands on Oct 17, 2019, just before STC Santorini 2019. Now that's what we call a mega-inspiration for this year's seminar where more stunning pictorials and content, will be produced by our attendees for the ever-hungry publishing world.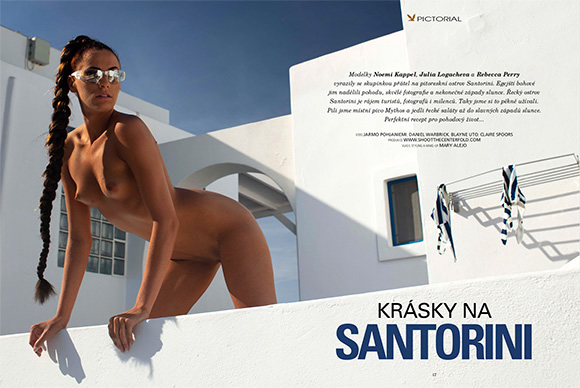 Click the image to enlarge
The image sequence was created during several photo-learning technical sessions of our Santorini 7-Day seminar experience. It was there amongst the famous white Santorini architecture and mesmerizing landscapes including Oia Sunset Villa, where everything took place. Of course, our stunning models: Rebecca Perry, Noemi Kappel and Julia Logacheva played a significant role and gave their best.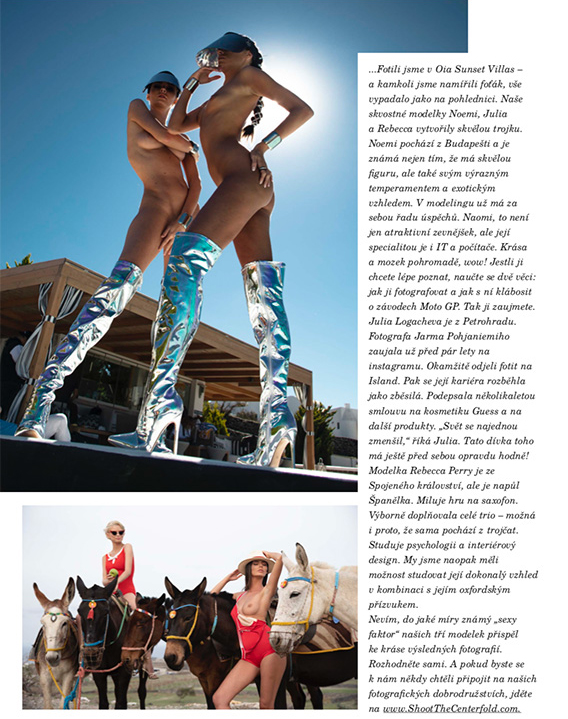 (Silver boots) Noemi and Rebecca by Jarmo Pohjaniemi. (Donkeys) Julia and Noemi by Claire Spoors
Attendee Daniel Warbrick who stayed for an extended One-on-One session after the seminar to hone additional photography and production skills contributed well for the pictorial layout. Daniel has a long history with STC and has traveled with us to many exotic places internationally. Also, special thanks to Daniel with hands-on production skills.
It was an outstanding effort by everyone and we are very proud of the outcome, especially since this was a joint effort with the attendees who come to join our seminars.
Ready to read more? Here's a translation text from the pictorial in case you haven't brushed up on your Czech lately.
Text translation
FOTO: Jarmo Pohjaniemi, Daniel Warbrick, Blayne Uto, Claire Spoors
PRODUCTION: www.ShootTheCenterfold.com
HAIR & MAKEUP/STYLING: Mary Alejo
With the world feeling the effects of global warming, a recent Santorini photoshoot turned up the sizzle as models Noemi Kappel, Julia Locgcheva and Rebecca Perry along with a small group of good friends gathered upon this picturesque isle. It was a true bonding experience as the Aegean Gods blessed them with good times, great images and endless Santorini sunsets.
The Greek island of Santorini is the ultimate location for tourism, photographers and lovers. We gathered together, drank local Mythos beer and ate Greek salads until the famous Santorini sunsets kissed us goodnight. To us, it looked like the perfect recipe for life, so we repeated it beautifully, all again the next day.
Our shooting location was Oia Sunset Villas, which is known for its white walls and sleek swimming pools. Everywhere you look, it's like a picture postcard filled with shooting opportunities. It's no wonder why Santorini is a dream destination for photographers, romantic individuals and wanderlusts alike.
Our lovely female model companions Noemi, Julia and Rebecca were a perfect trio and gave us memories to last a lifetime in addition to great photography.
Noemi Kappel knows how to crank up the heat and get those cameras smoking! "No worries, everything is under control," says super sexy Noemi. That being said, she will melt your zoom lens and take your imagination to places you never even knew existed visually.
Noemi is the best of Budapest, known for her slender figure, quiet personality and exotic appearance. She is a well-known glamour and fashion model who has several years of global success under her belt. Never take her sexy looks for granted with quick judgment. Noemi's specialty, in addition to her mesmerizing appearance, is I.T. technology and computers. All that beauty and brains too! Want to get to know her? Then learn two things, how to photograph her and how to talk to her about Moto G.P. races. That will get her full attention.
Julia Logacheva from St. Petersburg, Russia, caught photographer Jarmo Pohjaniemi's eye a few years ago on her Instagram, resulting in an immediate photo trip to Iceland where they melted the snow together, photographically speaking. The rest is history, as Julia's modeling took off like wildfire! She now has signed a multi-year contract with Guess cosmetics and has more top modeling work pouring in. "The world has become such a small place," says Julia. Since those smaller hometown modeling assignments, Moscow, Capetown, Santorini, Paris and L.A. are her new playgrounds. Whatever comes next, one thing is certain, this girl is going places!
Model Rebecca Perry is from the U.K., but is half Spanish and loves to play the saxophone. She was a perfect third model choice to complete the triple-trouble setting. Rebecca also happens to be a triplet herself in real life. We have been wondering what would be like to have her times 3 in a shoot. Perhaps we may have to work a bit harder to see how one could possibly handle such a dream situation.
While Rebecca studies psychology and interior design, we prefer studying her physical attributes and taking notes on her thick Oxford accent.
It is still unclear how much of a hotness factor our three models, Noemi Kappel, Julia Logacheva and Rebecca Perry has contributed to the final images. We'll let you decide. If you would like to join us for one of our photographic adventures, go to ShootTheCenterfold.com
Text by Jarmo Pohjaniemi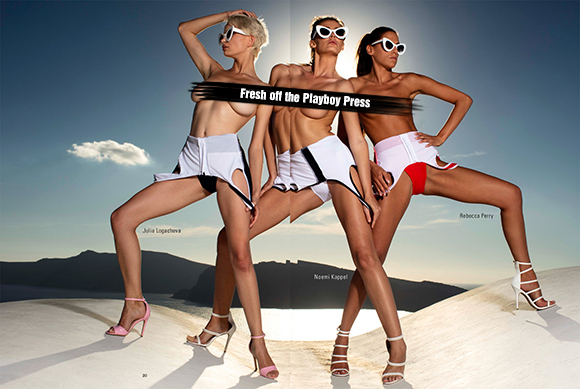 Click the image for a more detailed version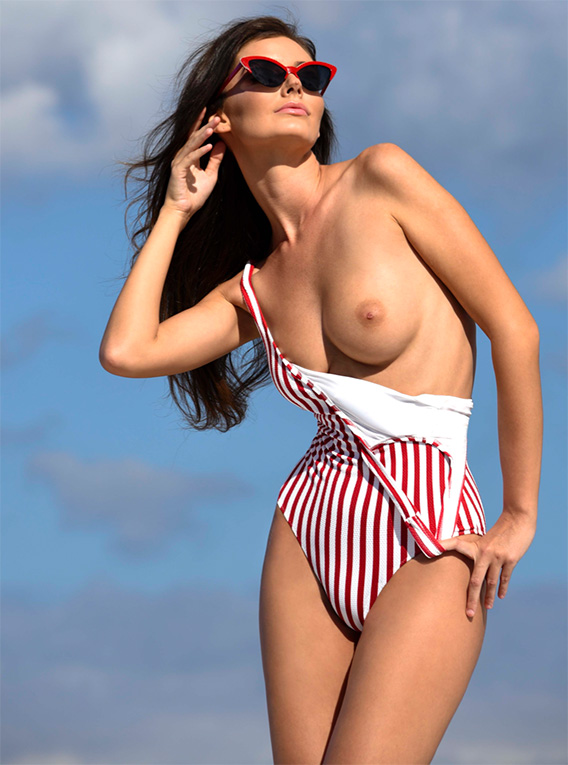 Noemi Kappel by Blayne Uto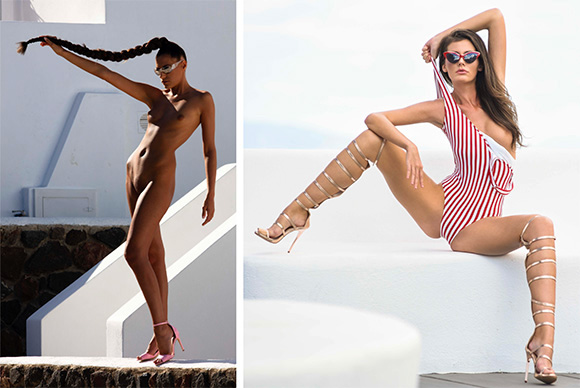 Rebecca Perry by Daniel Warbrick/Jarmo Pohjaniemi. Noemi Kappel by Blayne Uto.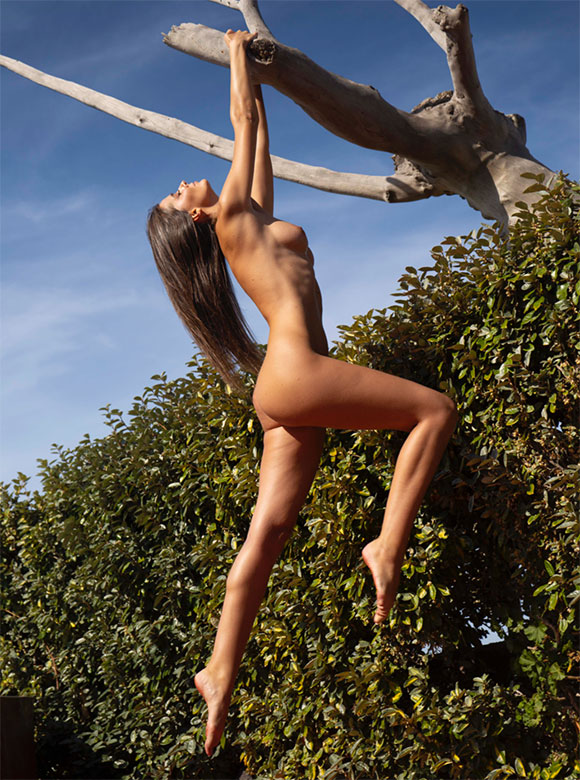 Noemi Kappel by Claire Spoors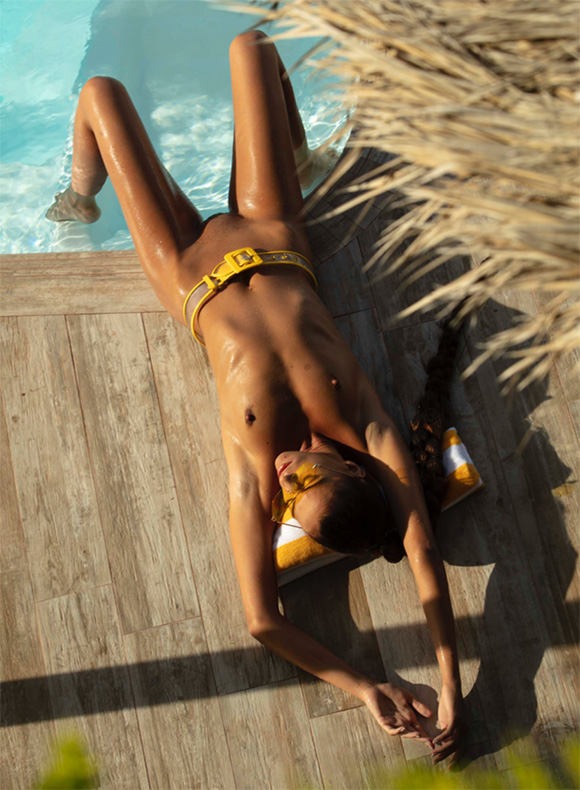 Rebecca Perry by Jarmo Pohjaniemi/Daniel Warbrick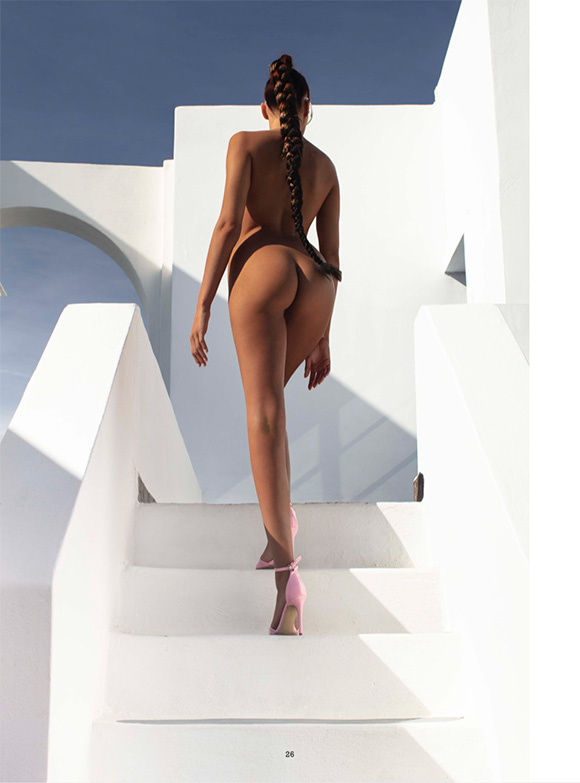 Rebecca Perry by Jarmo Pohjaniemi/Daniel Warbrick
Join us at STC Santorini 2019 this Oct 24-31 and become part of the exciting world of Shoot The Centerfold.
© 2010-2019 Copyright ShootTheCenterfold.com. All rights reserved.