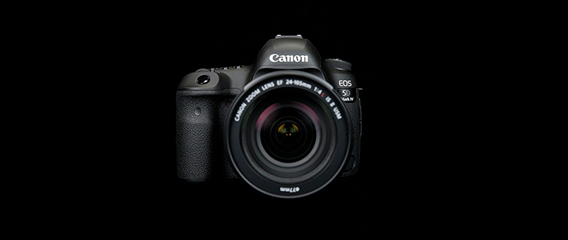 Whether you're in the studio, shooting landscapes in the country, or photographing an event, chances are you've been looking forward to the highly anticipated EOS 5D Mark IV DSLR Camera.
The Mark IV offers a slew of upgrades, including a 30.4MP full-frame CMOS sensor and DIGIC 6+ image processor that work in tandem to enable DCI 4K video recording, a native sensitivity range of ISO 100-32000 that can be expanded to ISO 50-102400, and continuous shooting up to 7 fps.
Alongside the Mark IV, Canon is introducing two updated L-series lenses, the EF 24-105mm f/4 IS II USM Lens and the EF 16-35mm f/2.8L III USM Lens, as well as the SD memory card-sized W-E1 Wi-Fi Adapter for the 7D Mark II, 5DS, and 5DS R.
A multimedia maestro: the 5D Mark IV
In addition to the refined sensor, updated processor, and faster continuous shooting, the 5D Mark IV is equipped with a wide native sensitivity range and 4K video-recording capabilities. Other new features introduced to the 5D series for the first time with the Mark IV include a touchscreen for intuitive control over focus; built-in Wi-Fi, NFC, and GPS; and a brand new Dual Pixel RAW function that enables adjustments in post processing.
Focusing has never been faster or more precise as it is with the vertically expanded 61-point autofocus system, which includes 41 cross-type points to benefit still and moving subjects alike. Autofocus is effective across all 61 points at f/8, and the center point is sensitive down to -3 EV. This increased sensitivity benefits focusing speed and accuracy in low-light conditions, and is especially useful when using a teleconverter along with a slower, longer lens. When working in live view for still or video shooting, the Mark IV offers Dual Pixel CMOS AF, which provides responsive and intelligent focus tracking on moving subjects, and allows for smooth focus transitions between one subject to another. It also benefits from even greater sensitivity—down to -4 EV—for working in low-light conditions.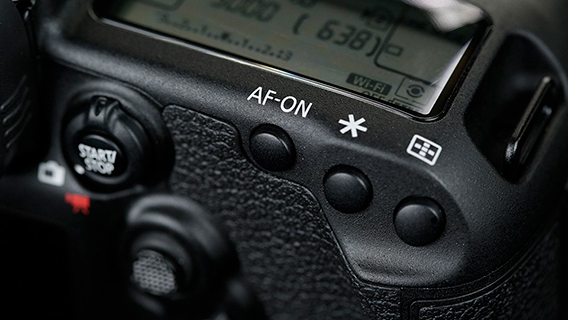 The 150,000-pixel RGB+IR metering sensor is similar to that which resides in the 5DS/5DS R, offering more precise face detection, scene recognition capabilities, and aids in the detection of flickering lights for exceptionally accurate exposure metering. Helping to ensure sharpness is the Mirror Vibration Control System, which works to minimize mechanical vibrations caused by the mirror during your exposure.
The touchscreen monitor offers intuitive control over oft-used shooting and navigational controls, including tapping to select a focus point, racking focus during video capture, or using familiar swipe and pinch movements during image review. Optional deactivation of the touchscreen allows for a more traditional button-based control. Whether or not you take advantage of the touch feature, the 3.2″ 1.62m-dot screen provides bright, clear image playback and live view shooting.
Those working in video will rejoice at the inclusion of DCI 4K recording at up to 30p. In addition to the standard frame rates, the Mark IV offers a true 24.00 fps recording option and is NTSC and PAL switchable. The camera records 4K internally using MJPEG compression at a bit rate of 500 Mb per second with 4:2:2 sampling and 8-bit color depth, while Full HD 1080p recording using Canon's familiar compression options has 4:2:0 color sampling. When shooting 4K, the central 4096 x 2160 area of the sensor is used at a 1.74x crop in order to record 4K video with a 1:1-pixel ratio, effectively eliminating moiré and aliasing. The full frame is utilized for Full HD recording. Slow motion is possible in Full HD 1080p at 60 fps, while HD 720p is available up to 120 fps, though it is recorded without sound. For use of an external monitor or recorder, the Mark IV has a mini HDMI out, which can output a Full HD image using 4:2:2 color sampling.
You can use a 3.5mm jack for connecting an optional external microphone to record audio, or the onboard stereo microphone; a 3.5mm headphone jack can be utilized for real-time monitoring. An added bonus of 4K video recording, the Mark IV allows you to pull an 8.8MP still from your footage. Furthermore, built-in interval shooting is available, which enables time-lapse capture of a subject changing or moving over a long period of time for an unlimited number of shots.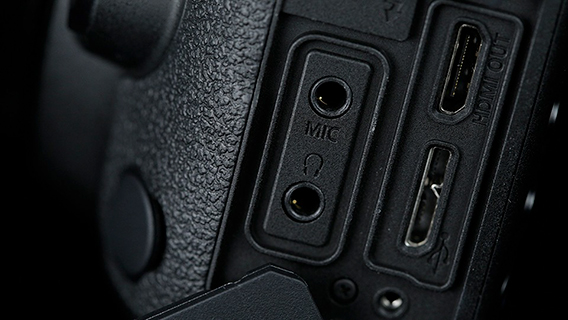 A feature making its debut in the 5D Mark IV is Dual Pixel RAW, allowing you to utilize captured information to make adjustments in Canon's Digital Photo Professional (DPP) 4.5 software. Micro adjustments can be made to improve apparent sharpness and bokeh quality, as well as reduce the appearance of ghosting for greater clarity. Another new feature of the 5D Mark IV is in-camera Digital Lens Optimizer that can process files to create corrected JPEGs as you shoot.
For the first time in a 5D series camera, built-in Wi-Fi and NFC in the Mark IV allow easy file transfer to a compatible smart device when using the Canon Camera Connect App. Remote control of the camera's settings can eliminate any camera shake during long exposures and allow for better composed self-portraits. Also a first for a 5D is built-in GPS, which allows you to geo-tag imagery in-camera and offers an automatic time sync.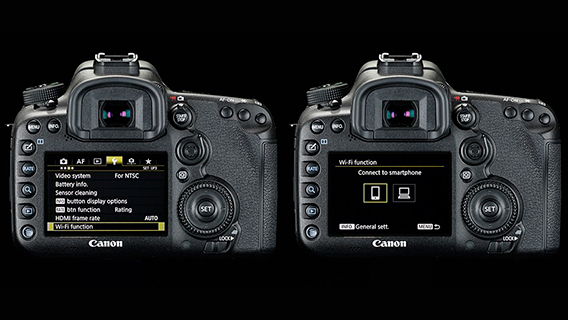 Physically, the Mark IV has a familiar robust magnesium-alloy build, with improved resistance to dust and water provided by added sealing around key contact points. An Intelligent Viewfinder II uses a pentaprism design and allows for more options and customizations of what is displayed in the optical viewfinder. Controls remain similar to previous models with the addition of a new AF mode selection button providing quick access to focus areas and the Canon N3 remote port's relocation to the front of the camera for easier access. One SD memory card slot and one CompactFlash memory card slot allow you to extend your file-saving capabilities by permitting overflow recording, in-camera file type separation while shooting, or setting up an automatic backup. The Mark IV comes with an LP-E6N rechargeable lithium-ion battery and accepts the original LP-E6 so you can keep using your existing collection of batteries.
Product Highlights
30.4MP Full-Frame CMOS Sensor
DIGIC 6+ Image Processor
3.2″ 1.62m-Dot Touchscreen LCD Monitor
DCI 4K Video at 30 fps; 8.8MP Still Grab
61-Point High Density Reticular AF
Native ISO 32000, Expanded to ISO 102400
Dual Pixel RAW; AF Area Select Button
Dual Pixel CMOS AF and Movie Servo AF
7 fps Shooting; CF & SD Card Slots
Built-In GPS and Wi-Fi with NFC
Regardless of which camera you currently have in your arsenal, it's impossible to be unappreciative of the continued refinement in image and video quality, autofocusing capabilities, speed, and processing in the 5D Mark IV. With the inclusion of 4K video recording, 7 fps in continuous shooting, an improved 61-point autofocus system, Wi-Fi, and a touchscreen, the Mark IV adds a modern multimedia option to the expanding 5D family, where it joins the super-high-resolution and stills-centric 5DS/5DS R and the tried-and-true 5D Mark III.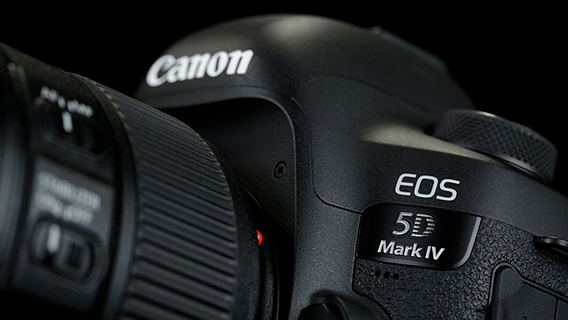 The 5D Mark IV will be available body only, as a kit with the EF 24-70mm f/4 Lens, as well as a kit with the EF 24-105mm f/4L IS II USM Lens. Also, a new BG-E20 Battery Grip will be offered for those looking for increased shooting time or improved ergonomics in a vertical orientation. This grip is of similar construction to the camera body and also offers a camera-alignment pinhole for use with video-oriented tripod heads and quick-release plates. Another accessory, though not dedicated to any one camera, is the PC-E1 Protecting Cloth, which wraps around the camera to keep it safe.
W-E1 Wi-Fi Adapter
Aside from the Mark IV, Canon has also revealed the  W-E1 Wi-Fi Adapter for adding Wi-Fi connectivity to the 5DS, 5DS R, or 7D Mark II DSLRs. This adapter is unique in that it is shaped like a standard SD card and is installed by just sliding it into your camera's card slot. Some of the features include a 32.8′ range, easy transfer of images and videos in MP4 format to a compatible smart device, and the ability to use a mobile app for remote camera control. For those looking at getting the 7D Mark II, you will be pleased to know that the camera will now be offered in a kit with the W-E1 Wi-Fi Adapter, or as a kit with the EF-S 18-135mm f/3.5-5.6 IS STM lens and the W-E1 Wi-Fi Adapter, so you can always be connected.
[B&H]
© 2016 Copyright ShootTheCenterfold.com. All rights reserved.