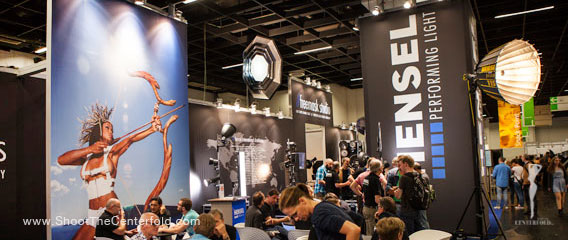 It goes without saying that the 2014 Photokina held in Cologne, Germany was a unique experience for our kind. We all came together and spoke the common languages of photography and videography. New friends were made and old ones were united as the German photography convention drew more international photography enthusiasts and professionals than any other show of its kind.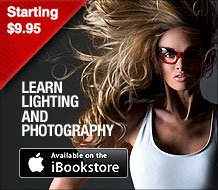 What is always interesting at photography conventions is that no matter where in the world you come from, it's as if we already know each other through the visual bonding that unites us all. For example, many visitors did not speak English or German but it didn't matter. There was no shame trying to communicate via child-like sounds, facial expressions, and pointing at camera knobs with our fingers as if we were 5 years old.
In the end, everything worked in perfect harmony and everyone left with happy camera-smiles.
Unfortunately, there were also some disappointments for those who had been chomping at the bit for new camera announcements that never came.
Canon users top the list of the wishful who had wanted to see a new large mega-pixel camera. This wish may come true in the coming months but there is nothing as of now. Since the release of the Canon 5D Mark III there really haven't been any wonder boxes from Canon except the 7D Mark II which sure was an interesting topic but it didn't blow anybody's socks off.
More in detail about the Canon 7D Mark II
The latest DSLR from Canon shows what can be achieved by adding a number of well-chosen upgrades. No, the new EOS 7D Mark II may not be a technological breakthrough, and it looks and feels very much like its long-running, much-loved predecessor. However, when you start out with a very good camera like the 7D, add a 20.2MP CMOS sensor, dual DIGIC 6 image processors that get the maximum burst rate up to an impressive 10 fps, and add such features as Dual Pixel CMOS AF with live view, a 65-point all cross-type AF system for enhanced focusing performance, and built-in GPS with a digital compass then you have an impressive upgrade.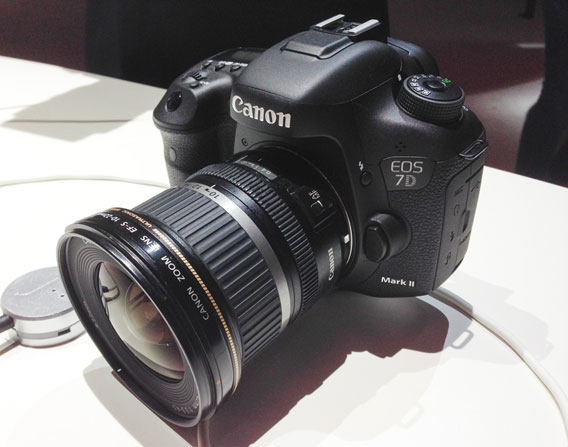 20.2MP APS-C CMOS Sensor
Dual DIGIC 6 Image Processors
3.0″ 1.04m-Dot Clear View II LCD Monitor
Full HD 1080p/60 Video & Movie Servo AF
Dual Pixel CMOS AF with Live View
65-Point All Cross-Type AF System
Native ISO 16000, Extended to ISO 51200
Continuous 10 fps Shooting
Magnesium Alloy Body Construction
Built-In GPS Receiver & Digital Compass
The new EOS 7D Mark II is likely to be a real contender in two markets that matter most to camera manufacturers: pros and serious enthusiasts. If there's any potential downside in all of this, it's that it may be pretty tough to get present EOS 7D owners to trade their cameras in.

Canon 7D Mark II Video Comparison via Gizmodo
Another much questioned feature, where Canon has been left in the dust by rivals, is that the Canon EOS Cinema does not offer high-speed frame-rates for slow-motion filming, now a standard function among many cameras in the same price range. Some loyal Canon customers have even jumped ship because of that.

But there still was much to see at the Canon camp. They had an entire building hall just for themselves. It looked a bit like an airline terminal mashed up with an old-school casino in Vegas where riches change hands and gamblers leave wondering where their money went. If you're interested in playing online, you can simply go to ทางเข้าUFABET. Additionally, there were about two-dozen young ladies with fire-red wigs supporting the Vegas-theme in Germany who were more than willing to give a quick brush-up on your rusty German tongue.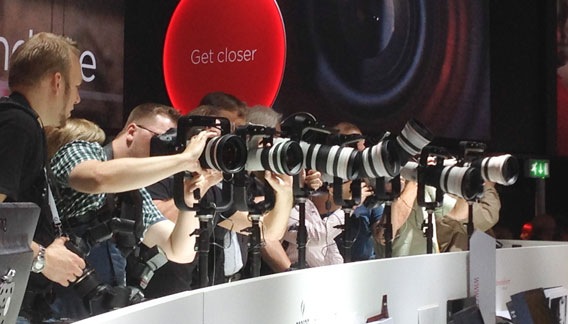 Canon is known for many things, but mostly for its lenses, which are most widely available around the globe compared to any other camera glass. You even got to see the guts of a half-sawed super-tele lens. which could make anybody cry in vain while understanding what you get for your money and what goes into building one of these monsters.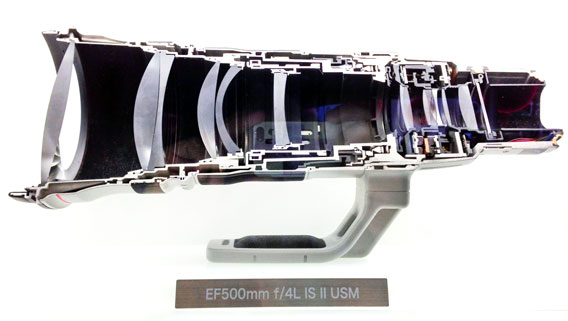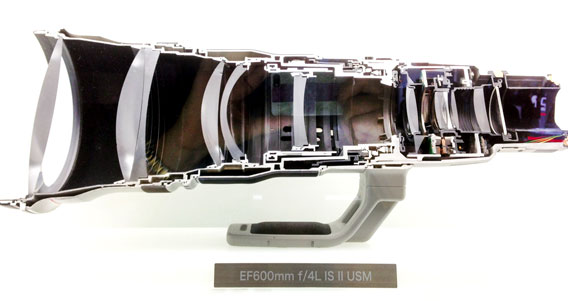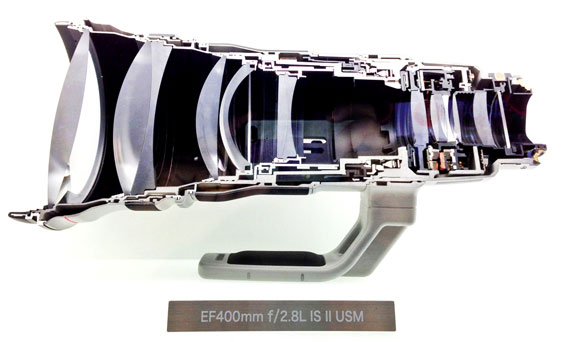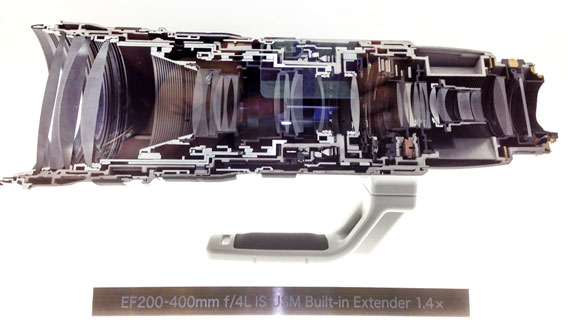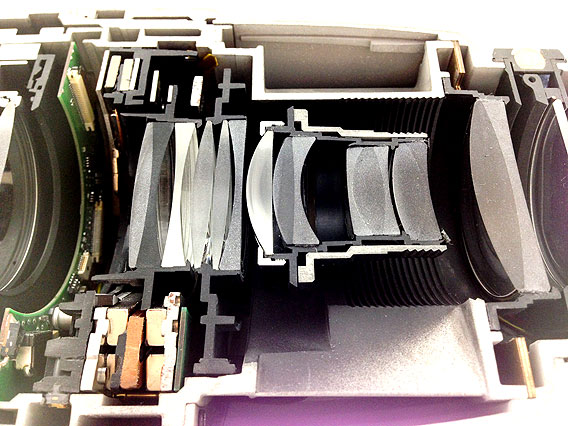 Canon also had a shooting alley where you could demo the lenses. But what was a bit weird was that the almost black alley-gallery barely had any lights. This was a clear failure on Canon's behalf but an understandable mistake since they are obviously not known for lighting.
Canon also announced  three new lenses: the EF-S 24mm f/2.8 STM $149.00  is Canon's first 24mm EF-S pancake lens; the EF 24-105mm f/3.5-5.6 IS STM $599.00 is a new 24-105mm zoom built for Canon's full-frame DSLRs; the new EF 400mm f/4 DO IS II USM is Canon's latest super-telephoto lens, ideal if you have a big wallet, $6,899 and need a compact and lightweight design without compromising on reach.
Canon EF 400mm f/4 DO IS II USM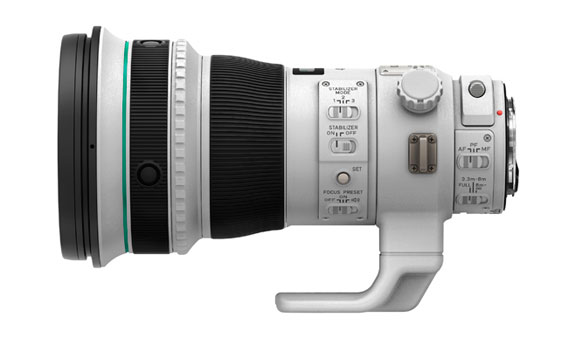 EF Mount Lens/Full-Frame Format
Gapless Dual-Layer Diffractive Optics
Large Diameter Aspherical Element
Ultra Low Dispersion Element
Protective Fluorine Coatings
Ultrasonic AF Motor and Internal Focus
Optical Image Stabilizer with 3 Modes
Power Focus Mode; Full-Time MF Override
Dust- and Water-Resistant Construction
Rounded 9-Blade Diaphragm
Nikon
As I walked out of Canon and navigated to Nikon I saw they had almost as big of an area as Canon did. But Nikon's was much more appealing for gizmo geeks and had a more straight-forward approach instead of a posh presentation which could have intimidated some attendees. Nikonistas had easy access to see the lenses and cameras hands-on due to more staff willing to put one right in your hand. You even had the Nikon computer-driven "Robot Project" with a hint of their future featuring a stabilizer for those who like their camera moves smooth and cinematic.
It was quite interesting and yet a bit confusing for those who were lost between videography and photography. But truth be told that Nikon is forking over millions to catch up to Canon on the video and moving picture arena. There is no doubt that video is the future and there's no hiding on Nikon's behalf and it's clear they want a piece of the moving pie as well. And who can blame them since otherwise you are considered antiquated when it comes to camera companies.
The Nikon D750 and D810, announced just days before Photokina 2014
A new full-frame alternative for serious shooters, the Nikon D750 provides a mix of exciting features. Like the previous Nikon D610 and D810, the D750 offers professionals and serious enthusiasts a viable alternative to the pricey pro models, such as the formidable flagship Nikon D4S. As you'd expect, the new D750 falls midway between the D610 and D810 in terms of price and features, with a 24.3MP FX-format sensor and a high-density 51-point AF system derived from the D4S.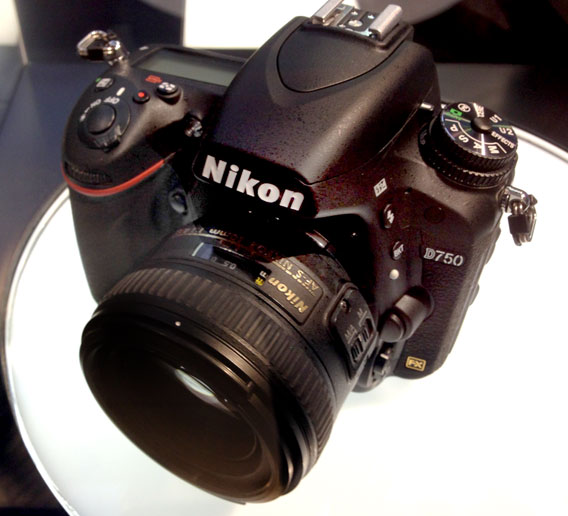 The Nikon D810 is the pinnacle of D-SLR image quality, continuing to rival medium format cameras thanks to a variety of Nikon technologies engineered for professional image capture. At the core of the D810 is a brand-new, 36.3-megapixel FX-format (7360 x 4912 resolution) CMOS sensor that lets photographers wield the benefits of extremely high resolution, with rich tonality and a broad dynamic range.

This super-high resolution gives professionals the power to capture with stellar sharpness, make massive prints or crop liberally with confidence. The OLPF has been removed to maximize the potential of every pixel, resulting in outstanding resolution and sharpness, yielding images that render subtle details with striking fidelity.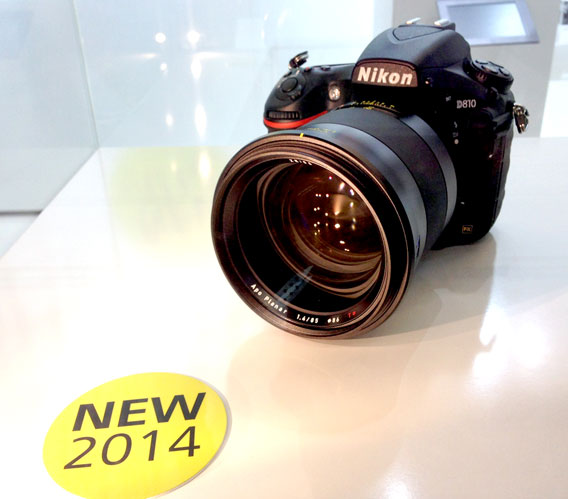 Read our pre-Photokina post about Nikon D750 and D810 here

Pentax 645Z
One of the most seriously taken camera manufacturers was Ricoh with their new medium format Pentax 645Z that shoots 50mb files and is ready for the 4k video arena at fraction of the price ($8500 compared to what the competition had to offer). The image quality and the footage speak well for it and it's a new combo-camera that should be taken seriously. You can also pick up some old Pentax lenses from eBay for a few hundred bucks that work seamlessly with the new Pentax 645z.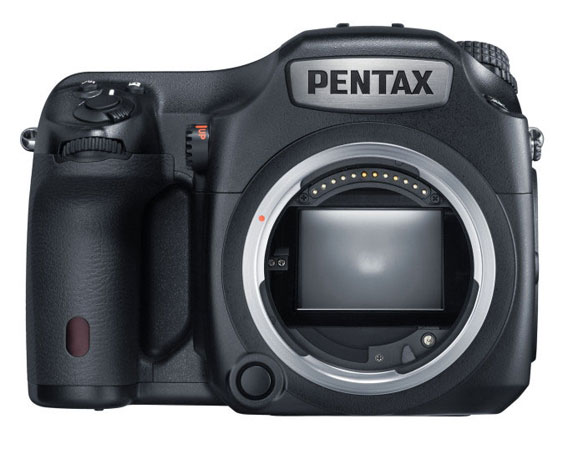 51.4MP CMOS Sensor – 43.8 x 32.8 mm
Prime III Image Processor
Anti-Alias Filter-Less Design
3.2″ 1037K Dot Tiltable Air-Gapless LCD
Full HD 1080 60i/30p/24p Video Capture
ISO Sensitivity Range of 100 – 204,800
SAFOX II TTL 27 Point Autofocus System
3 fps Continuous Shooting
Weather Sealed Magnesium Alloy Body
Pentax Flucard and Eye-Fi Compatible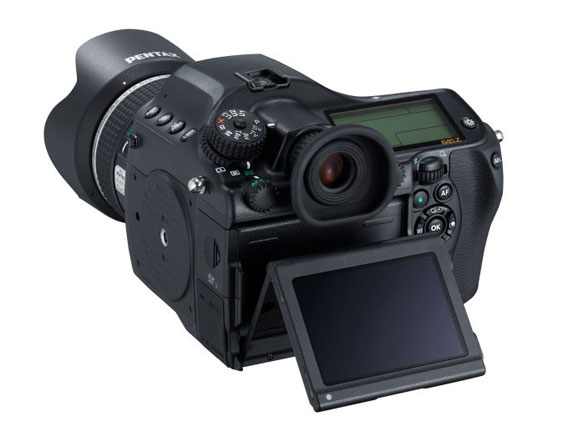 Leica
Leica flexed their muscles in a legendary style with a posh large-scale hall where whispers could be heard more than product was shown. This is very common with Leica and it's almost as if you have to beg them to see one of their cameras. I am not sure if playing hard to get is part of their marketing or just the way Leica lets you know the that their prestige is handled as if you were in a jewelry store in Monaco looking for wedding bands starting $20,000 and above.

Many photographers came back from Leica empty-handed saying that the service did not meet the quality and that they never got to see what they came looking for. Sure curiosity kills and makes you wonder, but come on, "hire some more staff and get better display tables" were a couple of the comments from those who never got their hands on the wonder-Leica since there was not even a line out of the door.
Photokina and the camera manufacturers are grabbing headlines left and right with their new releases. It's not surprising that high-end camera makers Leica are no exception to this rule. They have released six new cameras ranging from a MSRP of $1200 to over $25,000.
Starting with the lower price ranges, Leica introduced the D-Lux and the V-Lux at $1200 and $1350 respectively. Both cameras offer 4K video capability. The D-Lux can shoot 4K at 24 and 30 fps while the V-Lux can shoot 4K at 25 fps. The D-Lux shoots at 12.8MP thanks to its Micro Four Thirds sensor while the V-Lux contains a 20MP MOS (metal-oxide-semiconductor) sensor.
The V-Lux
The V-Lux also boasts a 3" rotate-and-tilt LCD on the back. The D-Lux display is also 3" but isn't adjustable. The attached lenses are quite different as well. The D-Lux features a fast f1.7-2.8 effective 25-75mm lens while the V-Lux includes an f2.8-4 25-400mm equivalent focal length lens. Depending on your subject of interest, either camera could make for a fantastic tool in your camera collection. Plus, brandishing that red dot will make you the envy of all your fellow photographers.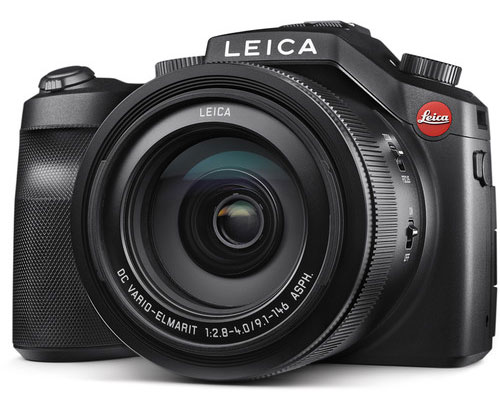 Leica X
Following in the footsteps of their compact cameras, Leica also announced the two very different Leica X (Typ 113) and the Leica X-E. The latest version of the X retails for $2300 while the X-E retails for $1800. Both cameras feature a 16.2MP APS-C CMOS Sensor and manual and auto-focus lenses. An interesting feature of the X-E is there is no viewfinder. You compose your photo using the 2.7" display on the back. While this would seem counter-intuitive to the seasoned pro, many new photographers are jumping into the pool by taking photos with their phones so this setup would be much more natural and appealing to them.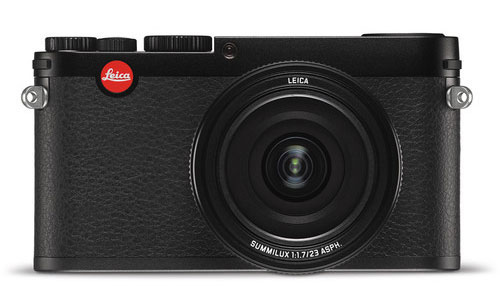 The X-E does not shoot video and is set up to bridge the gap between the manual controls of the cameras of yesteryear with the composition habits of the young shooter. The Leica X (Typ 113) can shoot 1080 HD video at 30 fps. Both cameras have fixed lenses. The new X has a 23mm f1.7 lens that gives the feel of the classic 35mm. The X-E has a 24mm f2.8 fixed lens.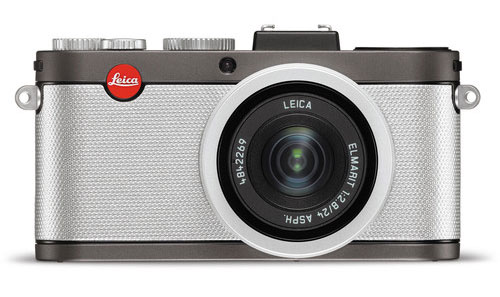 But if you really want to make an impression, Leica announced their top-shelf cameras, the S-E (Typ 006) and the S (Typ 007). The S-E is their entry level body coming in at a whopping $16,000. The new S is retailing for around $25,000. Both cameras include a 30X45mm 37.5MP sensor. The S-E has a CCD sensor and Maestro I image processor and the S has a CMOS sensor and Maestro II image processor.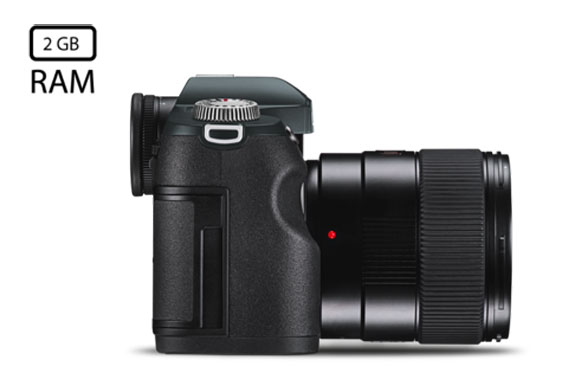 The S-E is capable of shooting stills only but with its 2GB integrated buffer, you can shoot up to 32 consecutive 37.5MP DNG lossless images at a continuous shooting rate of 1.5 fps. The S-E includes a rear 3" LCD monitor for image review and setting controls. The autofocus includes an intelligent center cross-type AF point with the addition of a predictive algorithm that will ensure sharpness when photographing subjects in motion.
The Leica S (Typ 007) uses a single cross-type phase-detection sensor to ensure the same thing. The S will allow you to shoot 4K video at 24 fps. Other features include built-in Wi-Fi connectivity for remote camera control and wireless transferring of files and an included GPS module that enables the recording of location information to the EXIF data.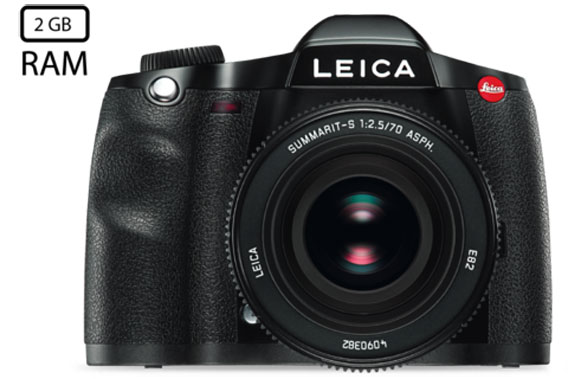 There was a nice Leica gallery for those who admire classic and modern photography. The German camera manufacturer sure has a solid footing in the camera market. But listening and observing the bush-radio and floor-gossip, it's as if Leica is more popular among camera enthusiasts and collectors than actual professional shooters. Their professional area covered less than 5% of their floor space and that could be an indication that this could be the case. Nevertheless, Leica does rank as the leader in its category and image quality and gets anybody's heart pumping and applying for that second credit card.
Sony FDR-AX1 Digital 4K Video Camera
Sony also had their say with their new Sony FDR-AX1 Digital 4K  video camera that fits perfectly between amateur and professional top of the line cameras not only price-wise, but also quality-wise.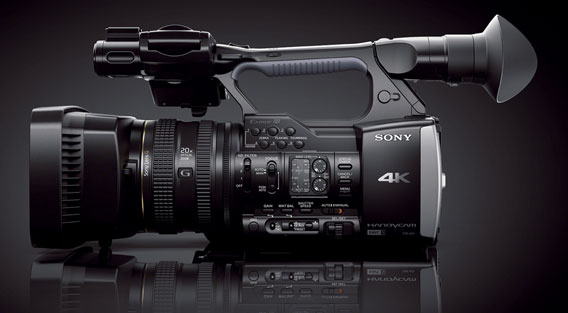 Record 4K 3840 x 2160p Video at 60 fps
1/2.3″ Exmor R 8.3MP CMOS Image Sensor
Sony G Lens with 20x Optical Zoom
Built-In Microphone & Dual Pro XLR Jacks
Dual XQD Card Slots for 4K Recording
XAVC-S Format for 150 Mbps 4K Recording
Three ND Filters & Five Paint Functions
Independent Zoom, Focus & Iris Rings
Seven Assignable Buttons & HDMI Output
Supports TRILUMINOS Color Technology
The Sony FDR-AX1 Digital 4K Video Camera Recorder is the first consumer 4K video camera from Sony. They've used the technology developed for their professional video cameras to create a compact, easy-to-operate 4K consumer model that's designed to make 4K video and professional-quality audio available to the masses. The FDR-AX1's powerful image processor is identical to the high-performance processors found in Sony's professional video cameras.
Blackmagic Design URSA 4K Digital Cinema Camera
But Sony gets a run for their money by the equally priced BlackMagic URSA ($5,995.00) camera which also shoots 4k right out of the box. I must say that URSA got my attention and they were one of the most interesting new-comers at Photokina. It's a little bigger than I'd expected but it comes with a nice easy understandable interface for its functions and let's not forget the nice 10" flip monitor that lives on the left side of the camera.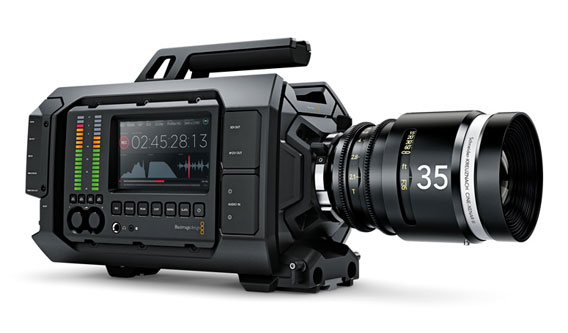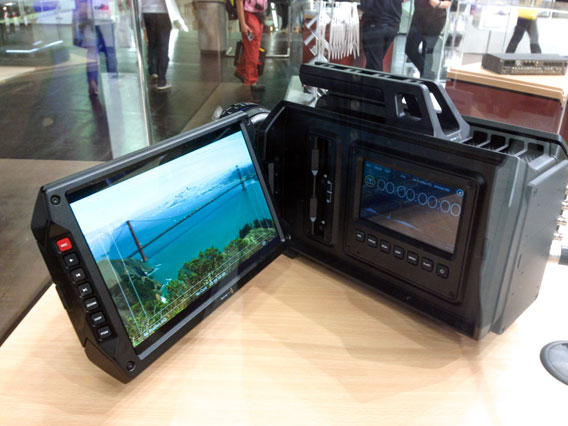 3840 x 2160p Global Shutter CMOS Sensor
12 Stops of Dynamic Range
10.1″, 1080p Flip-Out LCD Screen
Dual 5″ Touchscreens for Menu Access
Records CinemaDNG RAW and Pro Res 422 HQ
12G-SDI Output for 10-Bit 4:2:2 4K
2x XLR Audio Inputs with Phantom Power
Aluminum Frame with 3/8″-16 Mounting
LANC Port for START/STOP, Iris, Focus
Dual CFast 2.0 Card Slots
After playing with URSA for a while, I felt the sensation of my taste buds telling me that I really wanted this camera but I could not make an immediate decision since it was only the first day of Photokina.
Sigma lenses and more…
Sigma has stepped up on quality of their new lenses and two new 150-600mm f/5-6.3 DG OS HSM lenses have been announced by Sigma. The Sigma 150-600mm F/5-6.3 DG OS HSM Sports is obviously aimed at sports and wildlife photographers, while the 150-600mm F/5-6.3 DG OS HSM Contemporary is more compact and portable.

Both lenses feature dust and splash-proof construction and have a new water and oil repellent coating. They also include an updated optical stabilizer with an accelerometer to facilitate vertical and horizontal panning. Pricing and availability to follow.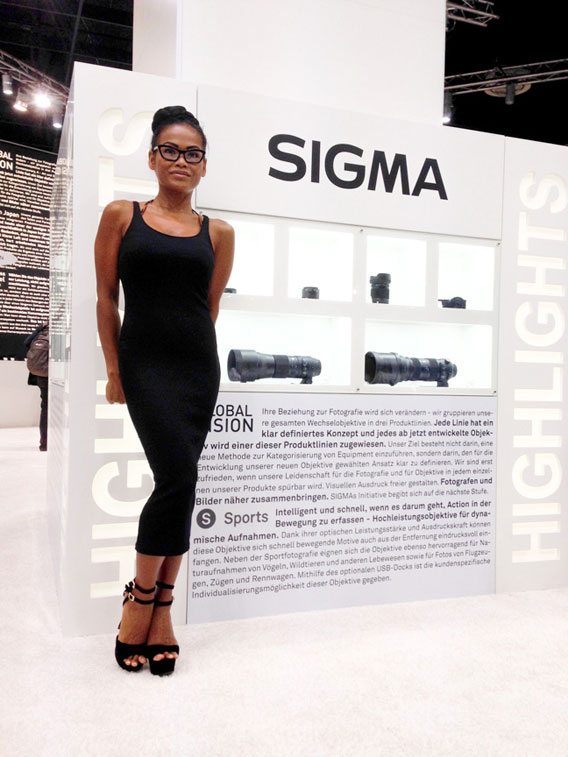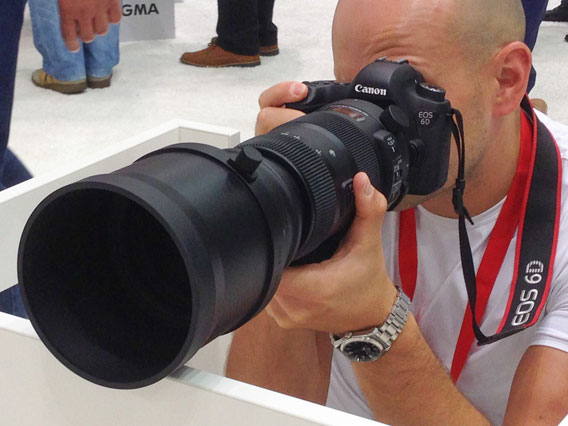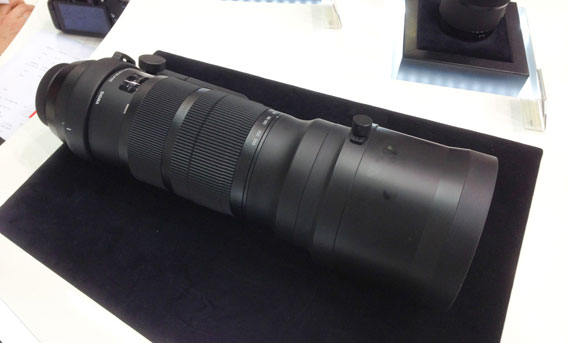 Nikon F and Canon EF Lens/Full Frame
Aperture Range: f/5-6.3 to 22
Two FLD and Three SLD Elements
Hyper Sonic Motor AF System
Optical Stabilizer with Accelerometer
Zoom Lock & Manual Override Switches
Minimum Focus Distance: 102.4″
Splash and Dust Proof Mount
Lens Hood & Rotatable Tripod Collar
Compatible with Sigma USB Dock
Sigma also unveiled the Sigma dp1 Quattro. The dp1 Quattro incorporates a new 39-megapixel Foveon X3 direct image sensor which Sigma says is similar to traditional color film in that its multiple layers can capture all of the information that visible light transmits.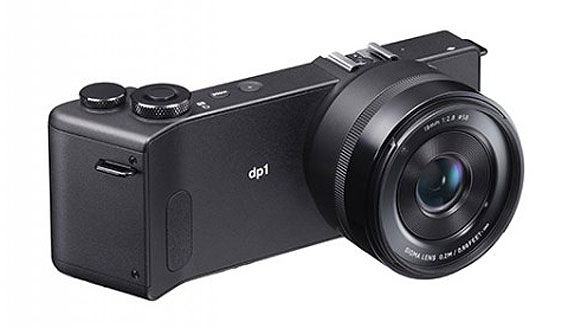 Sigma says: "It holds twice as much resolution compared to conventional colour sensors. 19.6 megapixel resolution information of the top layer achieves high resolution equivalent to 39 megapixels."
Also on board the new Sigma camera is a 19mm f/2.8 (28mm equivalent) lens. Other features include a newly developed TRUE III image processing engine, manual focus, 14-bit raw data, in-camera raw processing, up to 7fps shooting, ISO 100-6400, an electric level, and a magnesium alloy body.
29MP Foveon X3 Quattro CMOS Image Sensor
TRUE III Image Processing Engine
19mm f/2.8 Lens (35mm Equivalent: 28mm)
3.0″ 920k-dot TFT LCD Screen
ISO Range: 100-6400 in 1/3 Steps
RAW Image Capture
Max RAW Resolution of 5,424 x 3,616
Contrast Detection Autofocus
Manual Focus Ring
P/S/A/M Exposure Control
A release date is due in October, with a Sigma dp1 Quattro price tag yet to be announced.
Fujifilm's Announces X100T Digital Camera
Fujifilm has stepped up their game and came out swinging. They even brought a few lovely ladies to polish the hood of the new futuristic hybrid BMW. Wax on/wax off worked very well for Fujifilm where curious customers were able to grab the new X100T and inspect the … waxing job. There was no shortage of new fans and the Fujifilm seems more popular in Europe than in the US.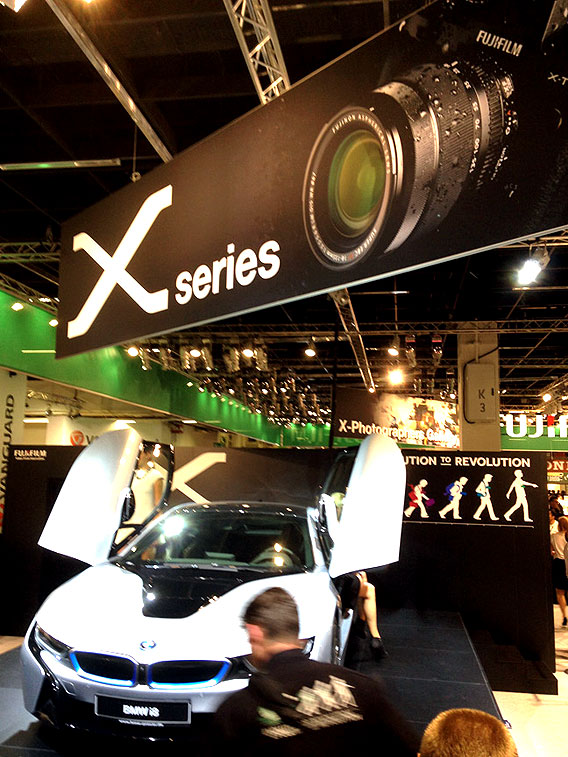 Arguably one of the most respected lines of compact, fixed-lens digital cameras out there, Fujifilm has introduced the third iteration of its X100 series: the X100T. Available in Black or Silver, according to the announcement, this camera maintains a similar, tried-and-true form factor as the X100 and X100S and seeks to refine some of the technologies to invigorate the total user experience.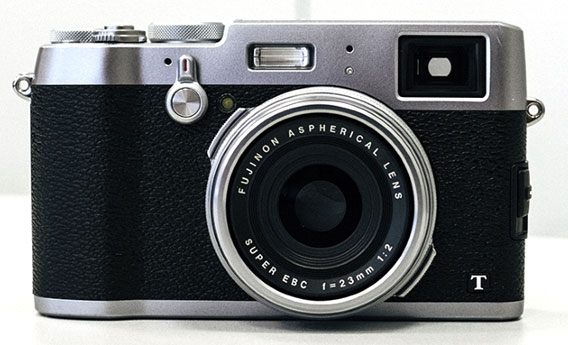 This new version sees the inclusion of the same 16.3MP APS-C X-Trans CMOS II sensor and EXR Processor II, fast 0.01 second shutter lag time, full HD 1080p video recording, and 6 fps continuous shooting time, as well as the well-respected Fujinon 23mm f/2 fixed focal length lens, with internal 3-stop ND filter, which has graced each update of this series. The Intelligent Hybrid AF system is employed again, which blends phase- and contrast-detection focusing systems for AF performance that is both fast and accurate, despite difficult lighting conditions.
16.3MP APS-C X-Trans CMOS II Sensor
EXR Processor II
Fujinon 23mm f/2 Fixed Focal Length Lens
Hybrid Optical and Electronic Viewfinder
Parallax-Correct Electronic Rangefinder
3.0″ 1.04m-Dot LCD Monitor
Full HD 1080p Video Recording at 60 fps
Intelligent Hybrid AF System
ISO 51200, Continuous Shooting to 6 fps
Electronic Shutter & Built-In ND Filter
RED Camera
RED camera also had a presence and they were pushing the new Scarlet and 6k Dragon which shares the same sensor with its little sister Scarlet. The only major difference comes down to speed. But Scarlet delivers a snug punch right between where it belongs under the more expensive RED Dragon. The company is also pushing pro-still photographers to adopt RED cameras for still photography work which is widely welcomed in the industry.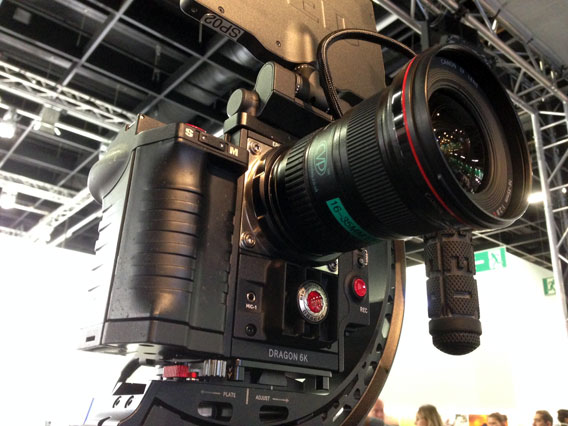 Sure this is an expensive proposal for most of us. But if you are a professional photographer/videographer and calculate the combined cost of your still and video cameras, it falls in a similar price bracket. And who wouldn't want to own a RED camera which is seen to be a leader and very popular in the digital motion picture industry and with commercial videographers.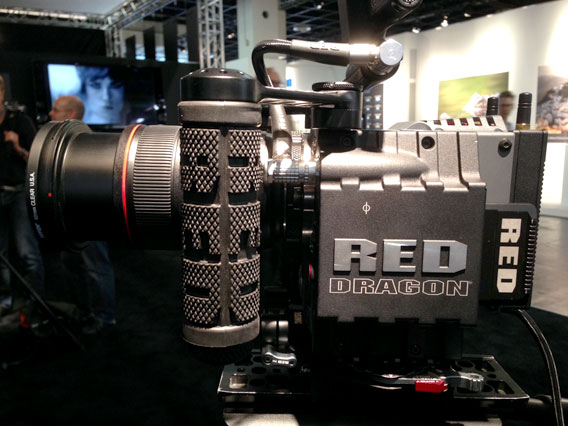 This was RED's first tango at Photokina, showcasing the stills-from-motion capabilities of the revolutionary 6K DRAGON® sensor. Boasting over 19k megapixels, a new color science and higher dynamic range, the DRAGON sensor takes both EPIC and SCARLET® to the next level – blurring the line between motion and still cameras.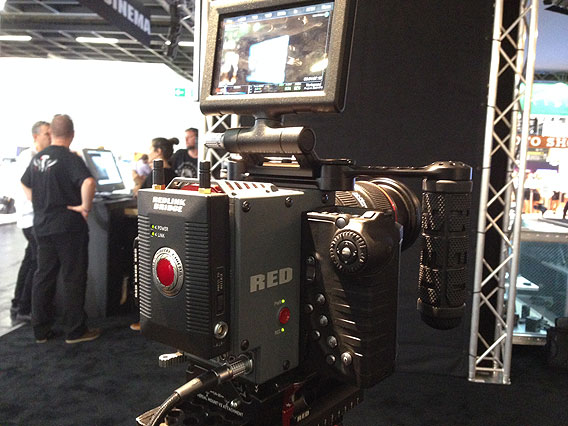 RED is not only breaking new ground in photography image capture – with DRAGON receiving the highest DxO Mark sensor rating ever – it is also offering more tactical options for photographers. The newly reworked REDCINE-X PRO® provides RAW workflow and now features frame tagging, so shooters can mark and access specific frames while shooting. Also new within this version of REDCINE-X PRO is A.D.D. (Advanced Dragon Debayer), a new algorithm for DRAGON that carefully analyzes every pixel to create the best frame possible.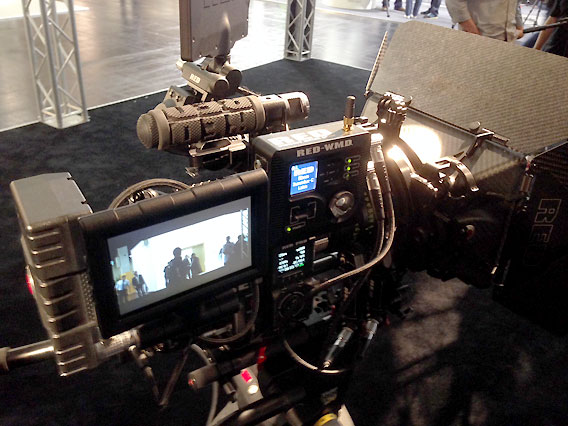 RED also hosted a fashion show featuring L Space Swimwear. This live fashion shoot highlighted the stills-from-motion capabilities of the EPIC DRAGON and featured real-time Epson image printing straight from the runway footage. Each day at 2pm RED hosted seminars led by professional photographers at the booth.
 Chimera, Hensel, and Sunbounce
Besides the gizmo-world there were also numerous lighting companies who showed their best and latest innovations and Hensel seems to have the European market locked down tight. I also visited endless newcomers and their lighting products by evaluating the hits and misses.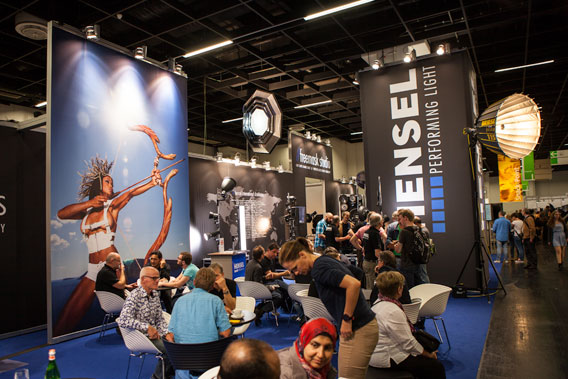 Jarmo Pohjaniemi's Bow image at the Hensel booth
I often hear photographers say that light is just light and they are all the same. If this was true, all cars and planes probably are the same too . . . yeah, right! For one to be able to truly analyze light, you have to be able to see it first and that is why Photokina had numerous workshops and demonstrations on what each lighting tool does.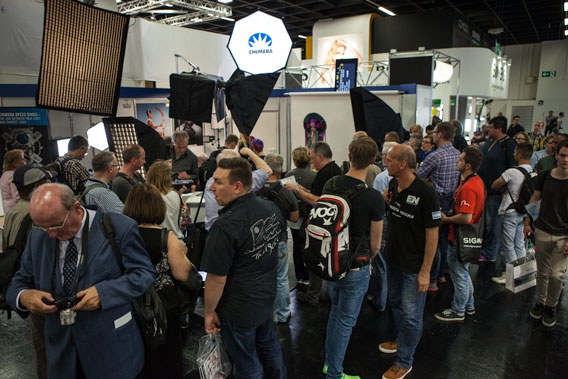 Shooting action at the Chimera booth
Since Europe is a little more liberal about nudity, seeing a model in the middle of a convention center nude is just an average sight that attracts mostly men and non-Europeans.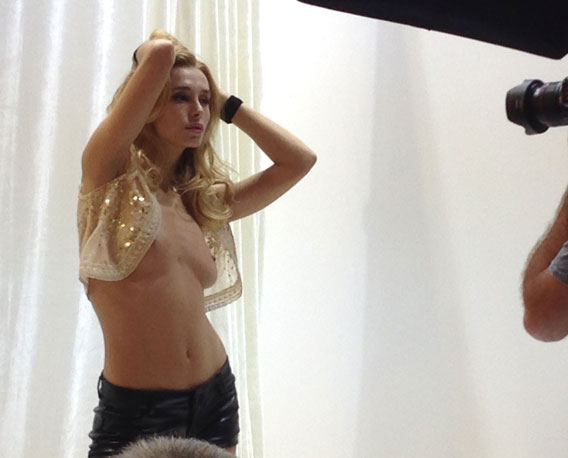 Walking down the endless hallways, meetings, and 36 performances on-stage within one week quickly lets you know who the players are and which products are really moving. How can a photographer choose the right product when there are hundreds of different brands which easily become a blur after a while? The best answer is to choose quality products with a solid reputation.
And it's not always the best and the cheapest deal that one should jump on. I have learned that the good old saying, "You get what you pay for" still rules over all the gimmicks and hype. Top-notch products are now the most affordable due to the material used which outlasts cheap Chinese components and knockoffs.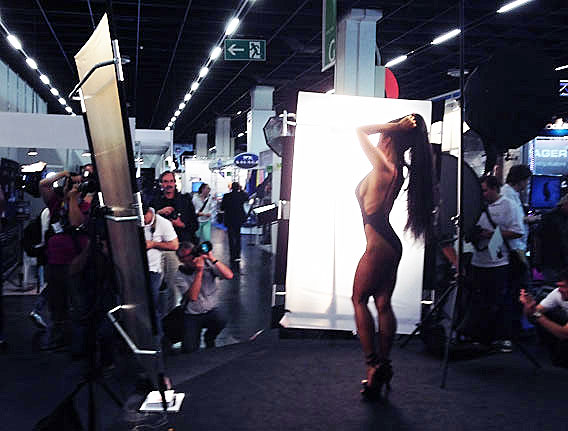 Model Mary Alejo posing at the Sunbounce booth
Since Hensel dominates the market share in Germany and the majority of Europe and even offers conversion for Breese to Hensel and Profoto packs, I find their products perfectly affordable and in high value and quality. Check out some of the Hensel products here.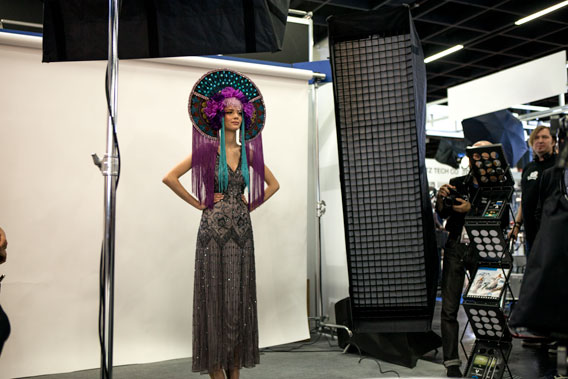 Model Michelle posing at the Chimera booth for photographer Mia Royal
Chimera Lighting modifiers rule out many rivals and rank in the top of the few which stand alone in durable quality and functionality. I found several lighting companies who sold similar products but the differences were such that they don't work at all. To me, lighting is the most important element in photography and I choose the best available tools on the market. Chimera's variety, durability, and functionality are what won my heart in my early days at Playboy where we put them to the test. Check out what's available and what was shown from Chimera at the Photokina by clicking here.
Jarmo Pohjaneimi, Michael Grecco and Mia Royal performed lighting demonstrations at the Chimera booth.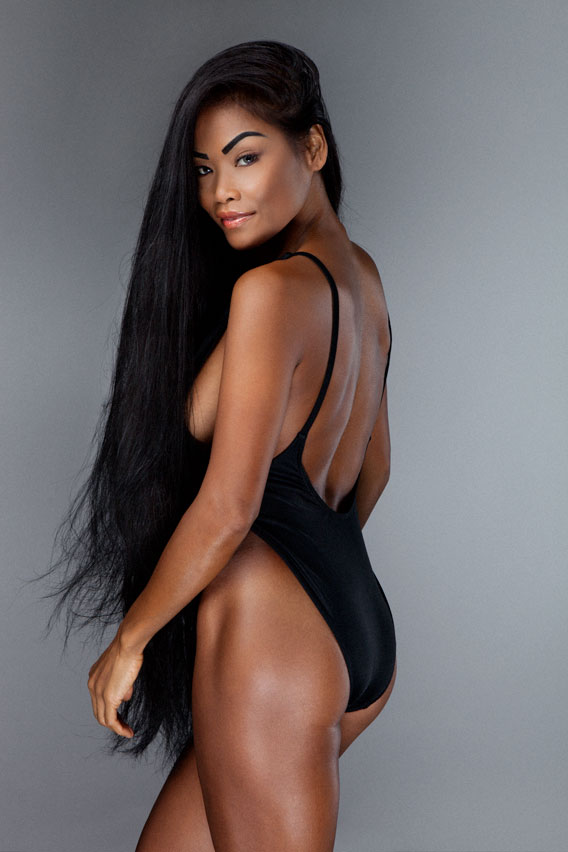 Model Mary Alejo posing for Jarmo Pohjaniemi at the Photokina 2014
There surely were other companies and products at the Photokina as well which did not go unnoticed. And rest assured, when new significant announcements arise, where its mechanical or intellectual, we will share it with you. What's next? The PDN show in New York is just around the corner … see you there.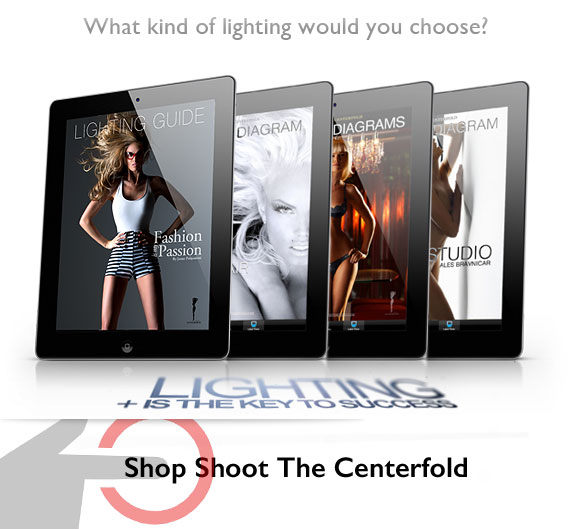 © 2014 Copyright ShootTheCenterfold.com. All rights reserved.