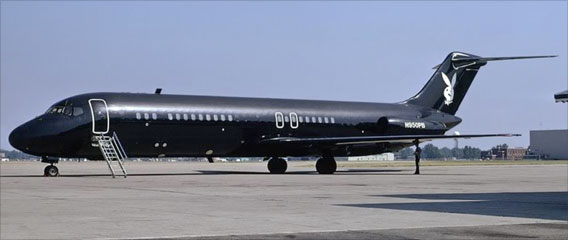 During my last book tour, I got to meet Playboy Magazine publisher Hugh Hefner—we were both staying at a hotel called the Valley Ho, says writer Keith Thomson, a block away from the Poisoned Pen Bookstore in Scottsdale, Arizona. I learned that the Big Bunny, his customized DC-9 that was a standard bearer for the jet set as well as the mile-high club, is now being used by Mexican schoolchildren.
School bus? Wait … What?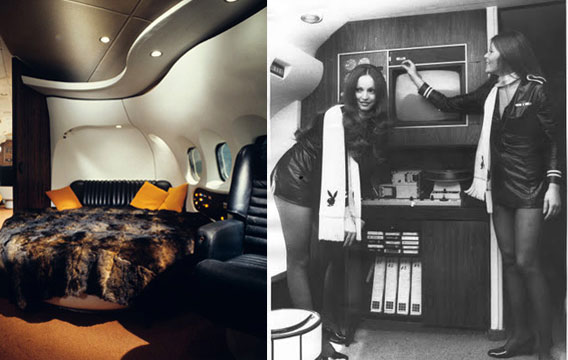 Bedroom in the sky  and two of the four stewardesses, aka Jet Bunnies
Here's the skinny: In 1969, dreaming of a "bedroom in the sky," the Playboy publisher got a new McDonnell Douglas DC-9-32 for $9 million. He obtained special permission from the FAA to paint the Big Bunny black. Needless to say, it was equipped with a disco, a movie theater, a sunken Roman tub, and a king-size elliptical water bed (with seat belts. "Coolest private jet ever," Hef says.
The jet served as a traveling version of the Playboy Mansion—"except better," according to the proprietor—until 1976, when Playboy hit hard times. Hefner was forced to sell the jet to Venezuela's Aeropostal, which in turn dealt it to AeroMexico.
Mr. Hefner and a Bunny
The plane's second, less exciting chapter

The Big Bunny was transformed into a passenger jet, serving until 2004, when AeroMexico decided to scrap it before instead donating the fuselage to the city of Cadereyta, Queretaro for use as a classroom.
Their classroom's singular past is not lost on the schoolchildren, particularly the boys, who enjoy reading Playboy Magazine in order to better understand the history.
The Big Bunny in retirement, as a classroom in Mexico
Correction by Cary Cole: The writer doesn't have this quite right. Hef bought the Big Bunny because, having obtained a second Mansion in Holmby Hills, CA, he contemplated traveling back and forth between his Chicago and LA mansions. He was also in a serious dating relationship with Barbi Benton who was encouraging him to travel, see more of the world. They did, in fact, take trips to Africa and Europe in the airplane. However, Hef fell in love with LA and the Hollywood/celebrity scene and decided he'd rather spend all his time there.
It was us staffers who were then compelled to fly out to LA for editorial and photo meetings. And we were obviously going to fly commercial. So the Big Bunny sat. He loaned it out to Sonny and Cher for one of their musical tours and to a couple of other friends. However, it ultimately didn't make sense to keep an airplane for only an occasional use. So he sold it. Playboy was not in hard times in those days. In fact, those were the glory days of Playboy when everything was coming up roses.
~Gary Cole
(If you are interested in learning more about Playboy facts and get straight answers from a man who knows the real scoop! Come see Gary in person at our incoming seminar in March 22-23.)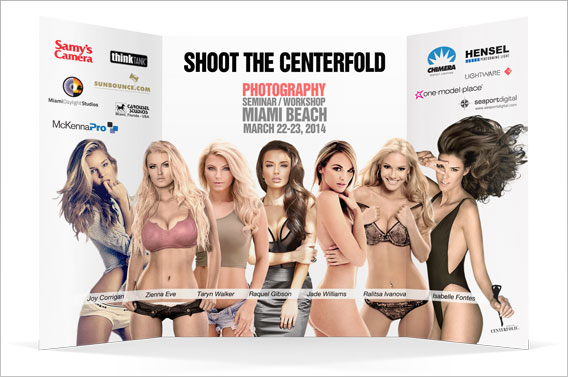 © 2014 Copyright ShootTheCenterfold.com. All rights reserved.