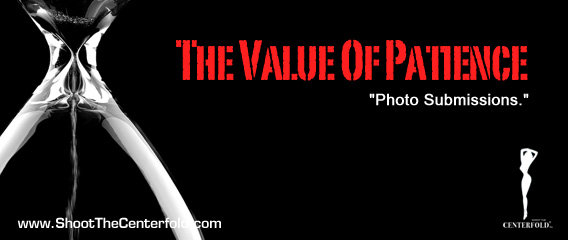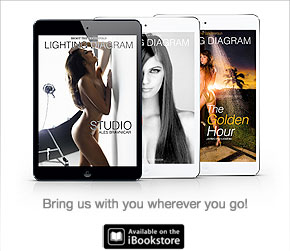 As you know, if you've been reading my blog over the past few months, one of my passions is fishing. The water, the sky, the air, the challenge of figuring out the right technique, the excitement of finally having a fish connect on the other end of the line are all part of the pleasure of the sport. And fishing is also a great teacher of the importance of patience and perseverance, two attributes that also serve well when it comes to photography.
Recently, one of our STC regulars emailed me to ask if he should be concerned about not hearing back in a matter of a few days on a submission he had made to a prospective client. My answer was simple: be patient. Let me describe a hypothetical but typical situation from two points of view: photographer and client.
The Photographer:
I just got the opportunity to shoot one of the prettiest, sexiest girls I've ever had in front of the camera. I took her to the beach and got some fantastic shots of her, both nude and semi-nude. Her hair and make up were great and I was completely satisfied with the shooting. I selected about 20 shots of her and did a little necessary Photoshop. I had previously obtained the name and email address of the art director of one of the top glamour girl magazines and I sent the images off to him with very high hopes that this shooting would be my breakthrough effort. That was Thursday of last week. To my frustration, it's now Tuesday of the following week and I haven't heard a word, not even an acknowledgement that my submission was received. I think that's unprofessional and it really pisses me off."
The Client:
What a week! We're in the middle of the budgeting process and it's becoming clear that I'm probably going to have let one of my designers go. Not only that, but the editor has changed direction on me once again and replaced two of the articles in the upcoming issue and now I have to figure out how to illustrate them with little time and budget. I did receive a rather interesting girl submission from a new photographer. Not sure who the guy is or what his story is but I like the girl (other than the hair and makeup). And I also don't know where she is from or where she might have been published previously. However, I am going to follow up on the submission when I get the time. Right now, the submission, as promising as it is, is the last thing on my mind."
The Email:
End of hypothetical story; end of potential relationship between this photographer and client.The next thing that might happen in this hypothetical is that the anxious and frustrated photographer may send the following email:
I can't believe I haven't heard back on my submission of Ms. X. If you are not interested, I will submit her to other publications who may better appreciate the time and effort I put into this project."
 A True Story
I can tell you from personal experience that I often was unable to respond to a submission in a timely manner. Not because I didn't want to but because I was busy with more pressing matters.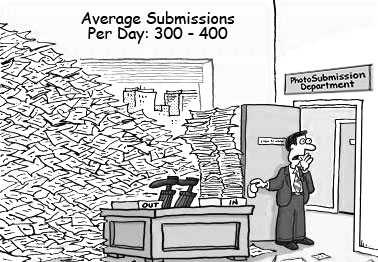 And here is a true story from my treasury of experience about how far a frustrated (and crazy) a photographer can go wrong. I received some transparencies from a New York photographer who I had heard of but never dealt with before. The model was artfully posed and painted all in silver. The effect didn't work for me as a pictorial but it was very well done and I wanted to show it to Playboy's Art Director in case he saw an opportunity to use an image as a story illustration. The Art Director was on vacation so I laid the photos aside. And they lay there for at least two weeks.
The photographer called, very angry, and demanded that I return the photos along with a holding fee of $5,000. Of course, I told him that was ridiculous, that we were interested in the photos but if he wanted them back so badly, I would put them in the mail…and there would be no check for $5,000 coming.
Then the photographer made a mistake. He sent me a threatening fax. That allowed the FBI to step into the case. They visited him and evidently warned him off because I never heard from him again.A week later he called me back and threatened to cut my head off. (This was very pre-ISIS.) He called the next day and told me what flight he was taking to Chicago and what time he would arrive so that I could get ready to have my head cut off. We notified the Chicago Police but they said there was nothing they could do and that he was probably just trying to scare me. (It was working.) They also said that if anything happened, they would know who did it. Great!
I understand that no STC follower would ever go to such absurd extremes when attempting to deal with a potential client. However, my point is, aside from attempting to entertain you for a moment, is that you never know what is going on at the other end when you make a submission. Never make assumptions about why your client is reacting or not reacting. Be patient and wait. Wait at least two weeks, maybe three, before sending a follow up email such as:
Just checking to make certain you received my submission. If there is anything I can do from my end to help you make a decision, feel free to contact me."
And then you wait some more. If the submission is ultimately rejected, hopefully you will get a little feedback. If not, don't press for it. Photo editors and art directors are not in the business of educating potential contributors. Take a step back from your submission and try to objectively reevaluate your work. Maybe the client simply had submissions of better girls already in the hopper. Move on to the next prospective client, the next girl, the next shooting.
I'll write further on the subject of perseverance in my next blog. In the meantime, keep shooting and stay patient.
~Gary Cole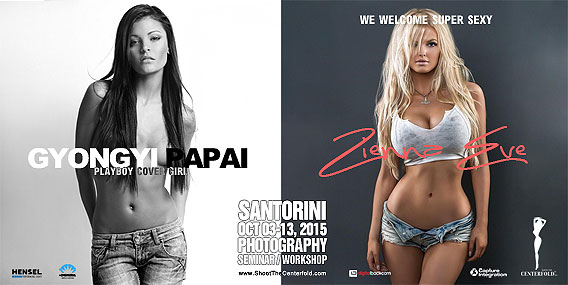 © 2015 Copyright ShootTheCenterfold.com. All rights reserved.