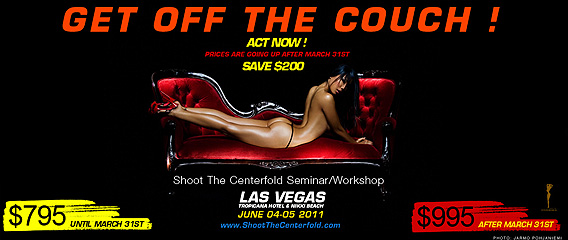 Last chance to signup for the June 4th & 5th Las Vegas seminar / Workshop with a discounted rate. Register before March 31st and save $200 dollars.
Official Shoot the Centerfold Launch at The Tropicana Hotel in Las Vegas with Nikki Beach June 4th-5th 2011
• 3 Legendary Photographers, 3 Playboy Models, 3 unique lighting sets, One Unforgettable Experience
• 2-day Seminar/Workshop $995 Spend two informative days with the masters and bring your camera for one-on-one, personalized instruction while you take your turn shooting the centerfolds
• Save $200 by Pre-registering! (Promotional rate of $795 until March 31st,2011)
• We are happy to extend a preferred rate at The Tropicana Hotel of $139.00 plus tax for saturday night and $79.00 plus tax on sunday night for our Seminar and Workshop attendees. The Centerfold package will include daily breakfast at Cafe Nikki as well as complimentary cocktails from 9-10pm at The Red Carpet VIP Event and a photo opportunity with our array of Playboy Centerfolds and Shoot the Centerfold Ambassadors. A special promotional code will be provided for registered Shoot the Centerfold attendees to receive these preferred rates.
• Saturday Night Exclusive VIP Red Carpet Event at Club Nikki with Celebrities, Playmates and Models • Everything you need to take your career in photography to the next level • Day-1: Arny, Jarmo, and David will lecture and give demonstrations on working with their models, their techniques, and how they achieved some of their most acclaimed shots.
• Day-2: Photo workshop consisting of three breakout sessions. Each will consist of its own unique setting, Playboy model, and tailored lighting set-ups by each of our master photographers; you will be instructed light-by-light on how the scene was created and receive one-on-one, personalized instruction as you take your turn behind your camera.
Gary Cole – director of photography – Playboy magazine for over 30 years: During our three break-out sessions while participant photography ensues, groups of attendees will have the unique privilege to have their portfolio's evaluated and receive one-on-one feedback from this legendary figure in Playboy history. mr. Cole has been named twice in American Photo's list of the 100 most important People in Photography. This once in a lifetime opportunity has never been offered before.
STC Staff