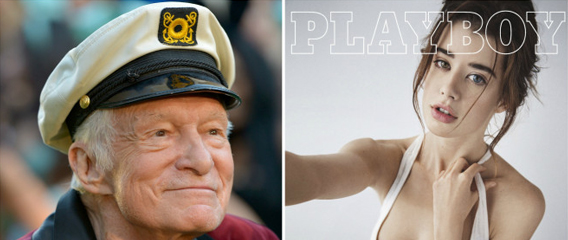 There is trouble brewing in the bunny hutch.

Hugh Hefner, the 90-year-old founder of Playboy magazine who is battling health problems, has stepped down as the monthly's chief creative officer and been replaced by his son, Cooper Hefner.
The 25-year-old scion was an outspoken critic of Playboy's no-nudes policy unveiled in March.
Interim Chief Executive Ben Kohn, managing director of Rizvi Traverse, the magazine's majority owner, confirmed the son had risen in the ranks and had taken on the expanded role.
The appointment startled many insiders who worked on the sweeping redesign that placed scantily clad women in sexy poses inside the magazine instead of showing full nudity.
Cooper, while not on the payroll at the time, blasted the change.
Rumors are swirling that Cooper would love to pull back the sheets and return to fully nude women next year — but sources say Kohn wants no part of it.
The magazine is pursuing branding and merchandising deals that were out of reach when it featured nude models.
Cooper, through a spokesman, said he's still not a fan of no-nudity.
"There has been no change of heart, and I continue to be well aware of what has made Playboy so remarkably special," he said.
So, Coop, will nudity return?
Some aspects of the brand won't alter, as there have been a number of successful creative and business pivots over the last few years that are worthy of celebration," he told Media Ink in a less-than-clear e-mail. "However, as we close in on our 64th year as an organization, I can assure you certain aspects of our formula will change. We are currently implementing a creative strategy for the brand moving forward. Let's just say, 2017 will be a big year for our rabbit."
Editorial Director Jason Buhrmester was so upset by Cooper's appointment that he stopped coming to the office while he worked to put the finishing touches on the January issue, insiders said.
He's already turned in his resignation and is expected to be out around mid-November.
Cory Jones, the chief content officer who unveiled the "safe for work" Web redesign in 2014 — which was credited with boosting traffic 230 percent — was forced out two months ago.
Insider Hugh Garvey was named the head of content, replacing Buhrmester and Jones.
Chief Digital Officer Phillip More­lock has also vanished about two weeks ago, as were about 20 others across the company.
Kohn appears unwilling to return to nudes.
"There are currently no plans to change the nudity levels in the magazine," a spokesman for Kohn said.
But the same spokesman acknowledged that a cut back to six issues — from 10 — is under review.
[New York Post, by Keith J. Kelly]
© 2016 Copyright ShootTheCenterfold.com. All rights reserved.