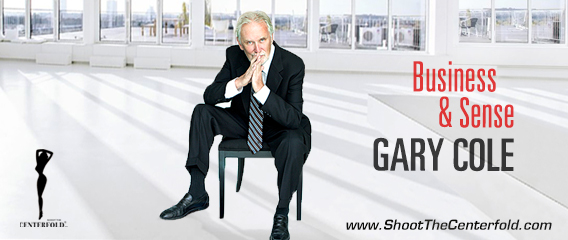 If you are something more than a girl photographer hobbyist, if you are traveling the difficult road of attempting to make a living (or at least a part-time living) by being a photographer, you need to constantly examine your website, analyze its impact, compare it to your competitors and think about how it potentially impacts your clients and prospective clients.

Case in point: I recently joined forces with Canadian photographer and marketer Kevin Palmer. I became aware of Kevin when I was still at Playboy. He blind emailed me some of his images. He had some really nice fishing and hunting photos that he had shot for the Ontario Department of Tourism. I liked his photos so much that I responded, something I seldom did to a photographer whose work didn't fall into one of the typical categories of Playboy content.
Kevin was interested in becoming a better photographer and he was interested in learning how to shoot women better. He subsequently attended one of the STC seminars where, according to him, he picked up some extremely valuable tips on lighting and improving his photography in general.
Kevin returned to his home in Thunder Bay, Ontario, made improvements on what was already a very nice studio and continued on with his business. We continued to stay in touch and I sometimes offered him critiques of some of his work, criticism to which he was very receptive. Kevin is highly motivated, always looking to improve and expand his photography business but has the perceived disadvantage of being located in Thunder Bay, Ontario, not exactly the center of the world when it comes to girl or fashion photography or really any sort of what we think of as commercial photography. And yet he has managed to have a reasonable level of success considering the obstacles that he faces.
Never content with just getting along, Kevin convinced me to join forces with him in an effort to increase his business. I agreed and since then we have spent most of our time looking at his client base and revising his website, still very much a work in progress.
When I went to www.kevinpalmerphotography.com, I found a site with some very good images, some mediocre images and, in a few cases, some images that weren't good enough to be on his website. They were arranged in no particular order in the form of a slide show, a slide show that, in some instances, moved along a little too slowly for me and, in other instances, moved too fast because I sometimes wanted to dwell for more than three or four seconds on an image.
His images were all credited but in a dizzying variety of ways and positions. And they jumped from one size to another, from one category to another. The opening image was of a pretty girl in a corset. The second was of a fellow operating a piece of heavy machinery. The third image was a still life of a piece of pie. The fourth was of a hunter peering over the sight of a rifle.
In my next blog, I'll tell you what I recommended that Kevin do and how it has already positively impacted his business.
~ Gary Cole
© 2015 Copyright ShootTheCenterfold.com. All rights reserved.