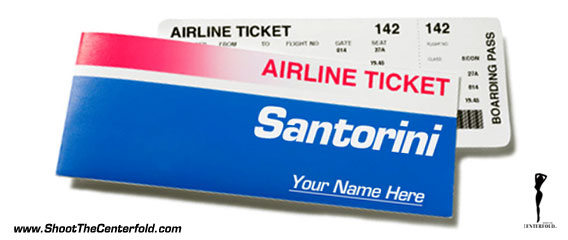 By now, most of you have read about Shoot The Centerfold's trip to Santorini, Greece on our "Model Search" posting. Unfortunately, many have misunderstood this to be the location of our next seminar. This journey is for a pictorial we are going to be shooting while in Santorini and we are in the process of casting models for it.
Without shattering your dreams completely, we have decided to assemble the Shoot The Centerfold crew including one lucky STC seminar attendee who has participated in any of our past  seminars since we began. 
The selected attendee will travel and work alongside the STC team (on OUR dime!) and learn what it is like to be in a real-world mega-shoot and work outside their comfort zone. This is not for everybody and one must be in perfect physical condition if chosen to attend. As exciting as these sort of excursions may sound, the harsh reality is that it is hard, demanding work under the distinct pressures of deadlines and the many constraints of shooting in a remote, distant location with much travel time involved. 

If you think that you are the right person for the job and wish to join us in Santorini, please tell us why we simply cannot afford to leave you at home by emailing info@ShootTheCenterfold.com and letting the Greek gods look upon you and smile.
Original Model Search Post:
It's time again to Shoot The Centerfold's yearly mega-pictorial shoot which this year will be held in Santorini, Greece. Each year we travel to a different exotic location in search of beautiful photographic angles and visuals with a beautiful model who can deliver a superb pictorial and a memorable experience.
Last year we travelled to Namibia in Africa and spent two weeks in one of the most mesmerizing places on earth. We feel that Santorini will measure up as one of the most photogenic places on the planet with its white dollhouse-like rooftops. Not only is Santorini known as a "dream come true" destination for vacationers and romantic couples, it has also played a role as a photographers paradise for decades. The pictorials and fashion editorials shot there have been among the most beautiful in the industry and every single magazine editor purrs when he gets Santorini pictures delivered to his desktop.
We have launched Shoot The Centerfold model search for a perfect model who will travel with us to Santorini on September 8, 2013. We are set to photograph glamour, fashion and fine-art pictorials during our two-week stay in Santorini.
All model types are welcome to send us submissions. Below are some specific details on what we are looking for.
Shoot category: Fashion – Glamour shoot in Santorini – Greece on September 9 – 20, 2013. Pay $2000.00 – $4000.00.
Must be 5'7" or taller in bare feet
Must be age 18 to 30 on the date of your entry into the search.
Must have a passport and visa if necessary
Female model only!
Must have a basic command of the English language, written and spoken
Must be in excellent health
Must not have ever been convicted of a crime
Must not have ever acted in a manner that will bring the Sponsor into disrepute, in Sponsor's sole judgment.
Must not be a party to any exclusive modeling contract or other contractual commitment that would be breached by the entrant's participation in the Search
Send us recent color photos of yourself, unedited, non-photoshopped images preferred. Submissions should be in digital jpeg format and show a variety of poses including full figure and face shots. The photos don't need to be shot by a professional, but they should be clear, in focus, and not too dark.