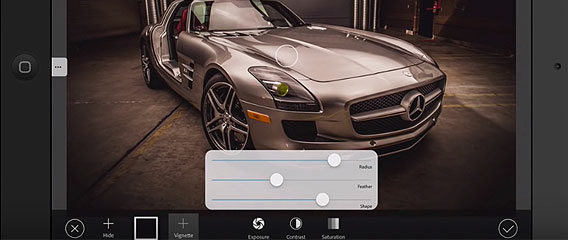 Photoshop is so well known that the product name is synonymous with photo editing. But the software itself is a success only on personal computers, not smartphones or tablets.

Photoshop's maker, Adobe Systems, hopes that will change in October at its Max conference for developers and creative professionals when it introduces a new Photoshop app for editing photos on Apple's iPhones and iPads initially and Android-powered devices later. The free software, called only Project Rigel for now, is designed to bring a more accessible interface to what can be a dauntingly complex program on PCs.
"Project Rigel is designed and built in a way that serves the needs of professionals familiar with retouching tools on the desktop, but more so for people not familiar with Photoshop tools like content-aware fill or spot healing," Manu Anand, Adobe's senior product manager for digital imaging, said in an interview at Adobe's offices here. "It democratizes them and makes them easier to use."
Adobe intends to make it powerful but easy to use.The app itself has a touchscreen interface, with a menu of editing options across the bottom, pop-out tool adjustments on the left side and a strong zoom ability to offer precision when selecting areas of an image with fat fingertips. It's even got face recognition technology that Photoshop for PC lacks, a feature that identifies facial features then lets people enlarge or tilt eyes or raise the corners of a subject's mouth to emphasize a smile.
Bringing Photoshop to the mobile masses is crucial for Adobe as it tries to adapt its business to modern computing trends. The company has no desire to suffer Microsoft's fate, being largely left behind by the meteoric rise of Apple's iOS and Google's Android, the software that powers nearly all smartphones and tablets. Apps for those mobile devices are a way to stay modern and reach a broader market — as well as a way to sell those new customers Adobe subscriptions that today appeal chiefly to creative professionals.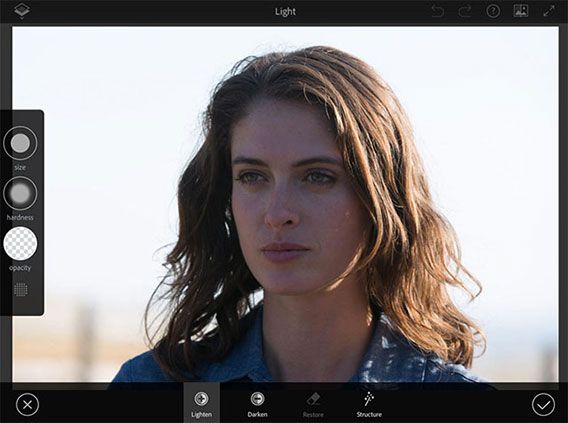 Adobe has been working on mobile apps for years, but its earlier photo editor for mobile devices, the 2011-era $10 Photoshop Touch, didn't pass muster. In May, Adobe announced the death of Photoshop Touch while offering a sneak peek at Project Rigel. Adobe still offers a couple other related mobile apps, Photoshop Express app for lightweight photo editing and Photoshop Mix for combining two photos.
There are plenty of competitors on mobile devices for people who want to edit photos. Apps like Pixelmator, VSCO Cam and Google's Snapseed mean that Photoshop isn't the essential software for mobile devices that it is on PCs. In addition, Adobe acquired Aviary in 2014, a company with a mobile editing app of its own that's still available.
Photoshop Touch was a good app in its time, Anand said, but it wasn't well suited to Adobe's network-infused style of digital tools, where a person can edit a photo on one device, like a tablet, then continue with the same project on another, like a PC. That ability is central to Adobe's Creative Cloud, its subscription plan that's now the primary way the company sells its software. As of May 2015, Adobe has signed up 4.6 million Creative Cloud subscribers.
The PC version of Photoshop will continue to be the main way the software makes money for Adobe, but even professionals use tablets when fooling around with new ideas, said Al Hilwa, an analyst for International Data Corp.
"The professional crowd will continue to favor a sit-down experience that favors high resolution, large screens," Hilwa said, but the broader market is eager for photo tools on mobile devices. "I think there is a potential expansion of this space given the grassroots explosion of photography and digital art."
Free app, paid subscription
Though Project Rigel will be free, it'll dovetail with the PC version of Photoshop that's a cornerstone of Adobe's Creative Cloud, a subscription that offers Photoshop and Lightroom for $10 a month or Adobe's full suite of software for $50 a month. Those prices, which require a full-year commitment, are £6.98 and £45.73 in the UK, AUS$10 and AUS$50 in Australia and €10 and €50 in Europe.
Project Rigel serves as the bait, getting people to try out its photo-editing software with the idea of hooking them into its other subscription services.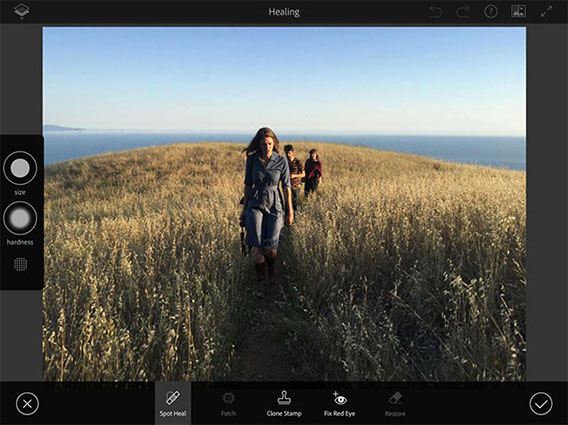 Adobe's Project Rigel, due in October, offers a new Photoshop alternative for mobile devices.
Adobe's goal is to create an easy transition between different devices. Specifically, each editing change made with Project Rigel will become its own editing layer in a Photoshop file (the PSD file format). That means a graceful handoff to full-fledged Photoshop using the Creative Cloud's library feature. It also means editing changes are reversible since they don't fundamentally alter an image's underlying pixels.
"We are, under the covers, writing separate Photoshop layers and baking that as you move along," Anand said.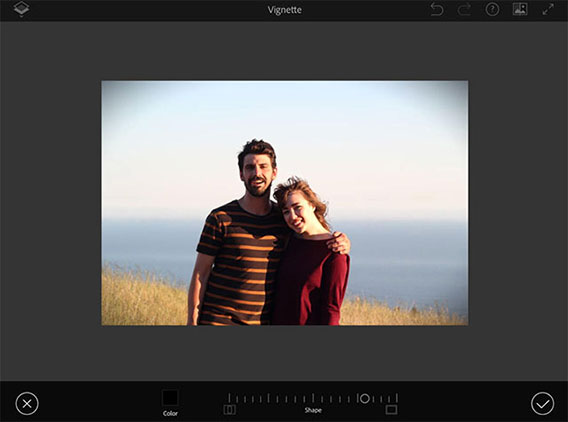 In attempt to make the app more accessible to a broad audience, it drops Photoshop's old-school darkroom terms like "dodge" and "burn" in favor of more general equivalents, lighten and darken. There are still some terms that'll take some getting used to, though, like "structure."
Across the bottom of the app, Rigel shows a number of options: crop, adjust, liquify, heal, smooth, light, color, paint, defocus and vignette. Tapping on each reveals a submenu of other choices. The left side lets you tweak how an adjustment is made — for example, change the size of an editing brush or how fuzzy its edges are when painting in changes.
The new face-recognition tool is in the "liquify" menu. When it detects a face, it overlays control points atop eyes, nose, mouth, chin and cheeks. Those dots let people subtly resize or move facial features around.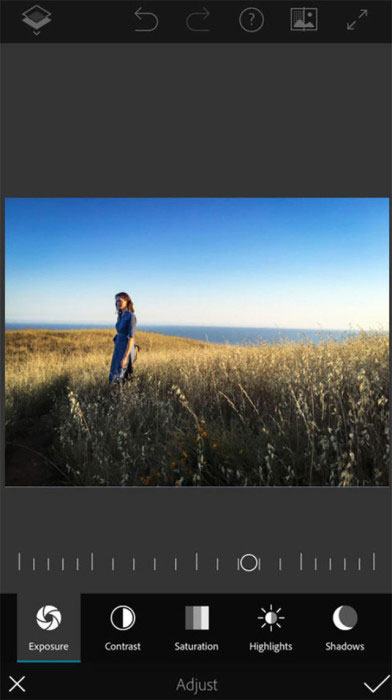 "It might seem a little cheesy, but this is something we've actually worked with professionals on," Anand said. Even though the face-specific tool isn't available in Photoshop for PCs — that'll come later — its changes are compatible with the PC version's liquify tool.
Although the Project Rigel app dovetails with the Creative Cloud, it can be used as a standalone program, pulling files from Dropbox, Facebook or other sources and, once editing is done, sharing them to social media, iOS's camera roll, Adobe's Lightroom tool for photo editing and cataloging and other destinations, Anand said.
Millions of downloads
Adobe has a goal of millions of downloads of Project Rigel, starting with people using Apple's iPhone and iPad. An Android version of the software will come later, but Anand declined to say when.
More important than raw download numbers, though, will be how much the app steers people to sign up for the paid PC version of Photoshop.
Anand isn't afraid to set high expectations for its new Photoshop tool: "We have an app that allows you to do world-class retouching on a mobile device." Photoshop on mobile devices is not an essential tool today like it is on PCs, but "that is where our goal is."
[Cnet]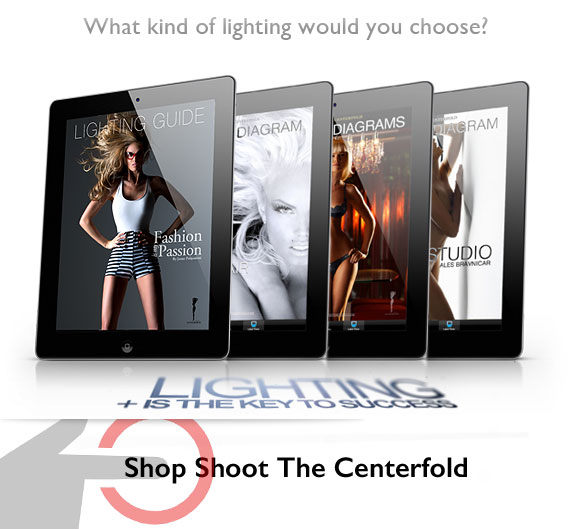 © 2015 Copyright ShootTheCenterfold.com. All rights reserved.