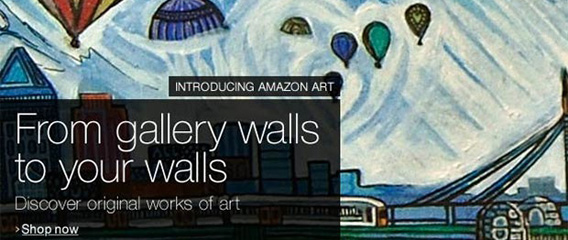 This day may have been inevitable, but now it's finally here. In its attempt to take over the world — or at least everything that can be bought and sold in the world, Amazon is launching an art gallery. There aren't many available details yet about the endeavor, but an email announcement for an informational event was forwarded to Hyperallergic. It reads:
This summer Amazon is planning to launch a Fine Art Gallery where customers will be able to purchase original artwork offered by a select group of invited galleries via Amazon.com. You are cordially invited to a special event in New York where we will introduce the Amazon Art marketplace to New York galleries …. We have received overwhelming support from the galleries that have already joined the platform and we would love the opportunity to offer your gallery's selection in the Amazon Art store.
It's interesting, given the company's track record with books, that Amazon is taking the high road and trying to join forces with galleries rather than beat them at their game. Then again, unlike books, art isn't a mass market, and the higher-ups at Amazon are probably smart enough to know that without galleries, they'd have a tougher time figuring out where to begin, not to mention gaining credibility. (No one's clamoring about Costco's entry into the art market, for instance.) Still, it's hard to not wonder whether they'll transition to working directly with artists and become gallery competition somewhere down the line.
In the meantime, what do galleries gain from this kind of partnership? Exposure to a new and larger audience, I suppose, although the price differential between many works of art and your average Amazon-bought book or blender is noteworthy. It sounds a little dreamy-eyed, but maybe, just maybe, Amazon Art will be geared at smaller galleries, helping them expand their clientele and increase sales, and maybe the giant company will start to fill the online hole left by the disappearance of 20×200. Of course the profit-sharing arrangements would have to be favorable enough to make it worth signing on, and the gallery from which we received the announcement is mid-level, not a start-up. Who knows, maybe Amazon Art will help turn the broader public into an art-loving one, or maybe it'll squeeze the middle of the market even tighter — or maybe no one in the art world will really care at all.
Press Release
Introducing Amazon Art
Customers can now shop on Amazon for fine art from prestigious galleries and dealers located around the country, including Paddle8, Holden Luntz and McLoughlin Gallery
SEATTLE–(BUSINESS WIRE)–Aug. 6, 2013– Amazon.com, Inc. today announced the launch of Amazon Art (www.amazon.com/art), a marketplace that gives customers direct access to more than 40,000 works of fine art from over 150 galleries and dealers. At launch, Amazon Art will showcase artworks from more than 4,500 artists. The store is one of the largest online collections of original and limited edition artwork for purchase directly from galleries and dealers. The new store features easy-to-use discovery tools to help open the art world to customers and offers detailed information about the works of art. Customers can explore fine art from galleries of all sizes, including Paddle8 in New York, Holden Luntz in Miami, McLoughlin Gallery in San Francisco, Modernbook in San Francisco and Catherine Person Gallery in Seattle.
"We are excited to bring one of the largest selections of fine art direct from galleries to our customers. Amazon Art gives galleries a way to bring their passion and expertise about the artists they represent to our millions of customers," said Peter Faricy, vice president for the Amazon Marketplace. "We're thrilled to bring the excitement and emotional connection of art to our customers."
"Paddle8 Editions sells works by internationally renowned artists to benefit the world's leading non-profits and cultural institutions. Through our new relationship with Amazon, we can dramatically expand our audience while simultaneously providing access to affordable, limited-edition works by some of the most significant artists working today," said Osman Khan, COO and founding partner of Paddle8. "We're excited to list our artwork on Amazon to make it more convenient for our existing clientele, and to help us reach new clientele."
"We operate a wonderful fine art gallery, yet realize that the models for dealing in contemporary arts have evolved in this digital age and ecommerce is a channel to reach more clientele. We are excited about sharing our talented artists with Amazon's global customers and pleased to be part of the launch of the Amazon Art store," said Holden Luntz, owner and founder of Holden Luntz Gallery. "Amazon is an innovative leader in exploring new creative ventures and connecting the world. They have consistently put the buyer first and built a reputation for integrity and high quality."
Access to Gallery Selection
Customers seeking access to high quality, gallery selection can now explore a wide variety of fine art on Amazon. The Amazon Art store demystifies the world of art and allows every customer the chance to enjoy a gallery experience. From Folk Art to Impressionism to Modern Art, Amazon Art features a broad selection to suit any customer, from the experienced collector to a first-time art buyer. Customers can browse unique works of art, including photographs from Clifford Ross starting at $200, popular fine art like Andy Warhol's "Sachiko" for $45,000, historic artwork from Claude Monet including, "L'Enfant a la tasse, portrait de Jean Monet" for $1.45 million and works from iconic artists such as Norman Rockwell's "Willie Gillis: Package from Home" for $4.85 million.
Expansive Collection of Art
Amazon Art offers artworks from galleries of all sizes from across the US and includes galleries located in the UK, the Netherlands and Canada. The new Amazon Art store aims to connect fine art from prominent galleries directly to customers. With a broad range of price points, the store increases the accessibility of quality works of art enabling any customer to become a collector.
"Our passion is to make original art accessible to everyone. When we first heard the vision for Amazon Art, we knew immediately it was a great fit," said Jodie and Joshua Steen, Founders of LusterNYC, located in Brooklyn, NY. "I think we'll begin to see a whole new breed of art collector, and that's good for everyone-the galleries, artists, and customers."
Easy Search and Discoverability
Amazon Art provides customers with high quality images and detailed information about the artwork all in one place. Customers can learn about the work of art, the artist, the provenance and exhibition history and browse additional artworks from the artist or gallery. For example, artist Antoine Rose from Emmanuel Fremin Gallery provides a detailed description for customers interested in his aerial photography. The artwork is described as a "…panorama captured from helicopter in a bird's eye view. The miniature-like representation of Hamptons beach transforms the natural aerial landscape into abstract painting and inscribes Rose's work in a minimalist artistic approach."
When customers shop on Amazon Art, they can narrow search results to meet their tastes by using filters such as subject, style, color, size, price and gallery, enabling them to find favorite artists and discover new ones.
"As a small New York gallery, I am so excited for the opportunity to be a part of Amazon Art. My gallery is committed to making original art accessible to all, especially new collectors. Amazon Art gives us an online platform with a breadth and depth unlike any we have had before," said Lisa Cooper, Owner of Elisa Contemporary Art, located in New York. "We're thrilled to share our artists and their work with our current clients and help us connect with new ones."
"We're pleased to share our expertise in ecommerce with galleries and dealers looking to expand their reach," said Faricy. "In working directly with galleries, we've heard their desire to connect with new customers and be able to share their artists and creativity with the world. We look forward to working with them to reach customers who previously would not have had access to their collections of art."
Galleries and dealers interested in selling on Amazon Art can learn more at http://go.amazonservices.com/fineart.contactus.html.


© 2013 Copyright ShootTheCenterfold.com. All rights reserved