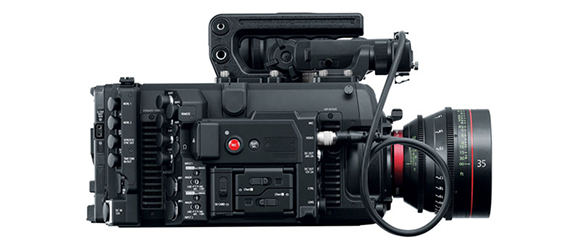 Canon has announced the latest addition to the Cinema EOS line, the 4K, RAW-ready EOS C700.
Though many will be tempted to compare this newcomer to the C500, there are a number of notable differences that arguably make this a whole new model as opposed to a merely an update.
The most visible of these is a modular body that can be configured to accommodate many different uses, from ENG-style to narrative production.
Under the hood, the C700 features a new 4.5K-resolution sensor boasting a stunning 15 stops of dynamic range, meaning not only great low light but also the ability to retain detail in the shadows and highlights, even under high-contrast lighting conditions.
Product Highlights
Super 35mm CMOS Sensor
PL Mount
Up to 15 Stops of Dynamic Range
4K up to 60 fps, 2K/HD up to 240 fps
Proxy Recording to SD Cards
Selectable Gamma and Log Curves
XF-AVC and ProRes Recording to CFast 2.0
Intuitive User Interface
Raw Recording Option
Long gone are the days when a serious professional camera can get away with recording in only a few formats on only one media type. Internally, the C700 records XF-AVC or ProRes codecs, with up to 60 fps 4K in XF-AVC and 30 fps 4K in ProRes. It can also record 2K and 1080p HD for those who don't like sharp images.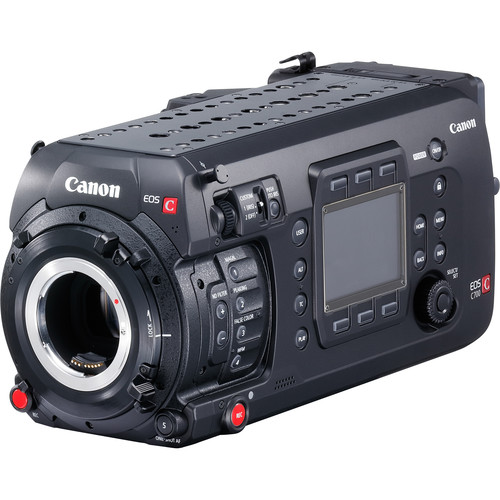 Crop mode 2K, which requires less processing than full sensor 2K, will enable shooting at up to 180 fps. This recording is to CFast 2.0 memory cards and there are two card slots provided. There is also an SD slot that is expected to support HD and 2K proxy recording after a future firmware update.
Serious cinema users may need better latitude than even I-frame-compressed codecs like ProRes offer. To this end, there is an available Codex Recorder (model CDX-36150) that has been developed with Canon especially for the C700. The recorder mounts seamlessly on the back of the camera, so there are no special rigs or mounting hurdles to worry about. An improvement over the C500, the new raw format no longer "bakes in" the ISO or white-balance information, meaning you now have complete control over the image in post.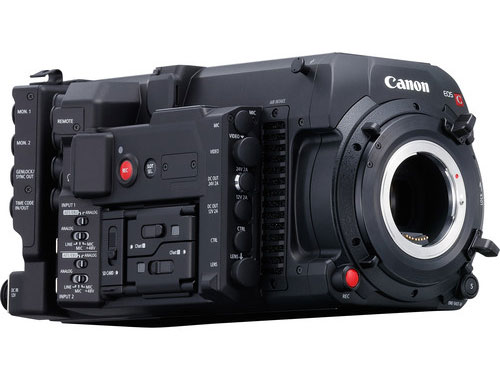 With the initial firmware, the CDX-36150 allows you to capture 4K at speeds of up to 120 fps. After the anticipated firmware update, recording speeds will be boosted to 240 fps in crop 2K, support for 4.5K raw recording will be added (4.2K on global shutter models), and recording in the DPX format will be possible. Besides the CDX-36150, the C700 will also be connectable to third-party recorders for raw and rasterized recording, just like the C500.
The C700 will be available in three basic configurations, with EF-Mount and rolling shutter, with PL-Mount and rolling shutter, and with PL-Mount and global shutter. Additionally, the EF-Mount and rolling shutter PL-Mount versions will be factory-upgradable to global shutter by the end user after purchase.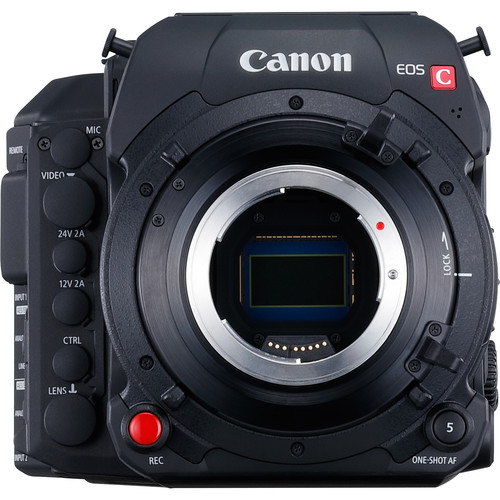 A global-shutter sensor is free of artifacts such as skewing and flash banding because the entire sensor reads out at once, rather than line-by-line. Having global shutter comes at the price of slightly reduced maximum resolution—around 4.2K as opposed to 4.5K—though, until a post-release firmware update, neither camera will offer recording above 4K. Dynamic range will also take a slight hit on the global shutter version, though the exact dynamic range for the global shutter version has not yet been released.
Having two available lens mounts opens the C700 to a wide range of lenses options, from popular EOS DSLR lenses to professional cinema lenses. Once the firmware update is released, in the 4.5K setting you will also be able to shoot with anamorphic lenses. When using lenses that feature Cooke /i Technology, the camera can even store and display lens metadata.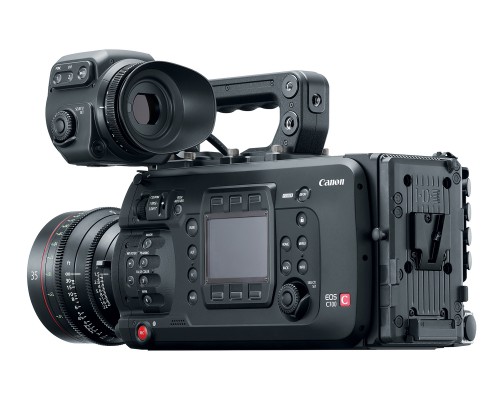 All-in-all, the C700 was designed from the ground up with production needs in mind. The menu system features an industry-standard GUI that operators coming from other systems should find familiar. There is plenty of connectivity too. This includes 12-pin Hirose connectors for cine-servo lenses, four 3G-SDI outputs for recording RAW externally, a 12V power connection, XLR audio inputs, and more.
As mentioned, the C700 is highly modular. This means there is a range of accessories available to help maximize the camera for a particular production's needs. The EVF-70 is a 1920 x 1080p-resolution OLED viewfinder tuned for critical 4K work. It features assignable buttons that can be used for magnification, false color, or other settings to which you need fast access.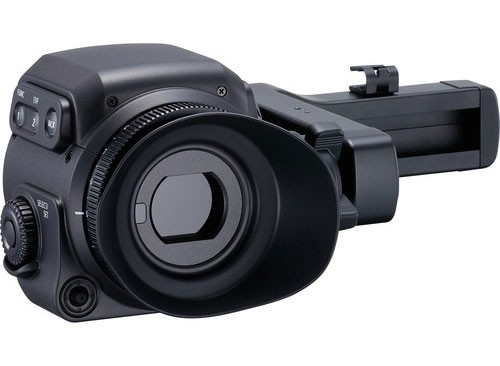 The OU-700 is a "remote panel" that affixes to the right side of the camera. There are also extension cables, available in different lengths, allowing the camera assistant to do their job without interfering with the camera operator.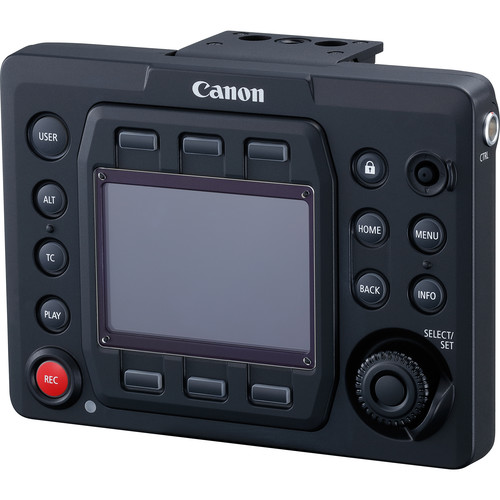 The SU-15 Shoulder Support Unit is a shoulder pad that converts the C700 into an on-the shoulder ENG-style "run-and-gun" camera. It integrates its own rod mounts for accessories such as matte boxes and follow focuses. Finally, the SG-1 Shoulder-Style Grip Unit is an ENG-style grip/rocker unit rocker that mounts on the SU-15 to provide control over EF lenses. Including iris, focus, and—if supported by the lens—zoom.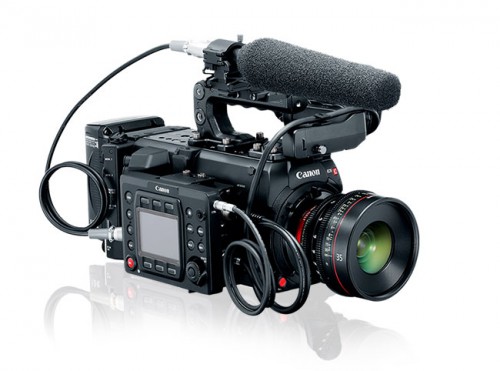 The C700 is more than a camera: it is a system. With a modular design and a variety of configurations, it can be adapted for use in a plethora of professional filmmaking and even broadcast applications. It offers the flexibility of using inexpensive DSLR glass, PL optics, or even anamorphic lenses. The ability to record in a variety of codecs to several media types means whether you need to deliver right away or are going to spend time fine-tuning and grading in post, the C700 has you covered.
For more information and the camera and accessories, please visit the product pages on our website. Also, watch this space to stay on top of new features introduced as firmware updates are released.
© 2016 Copyright ShootTheCenterfold.com. All rights reserved.