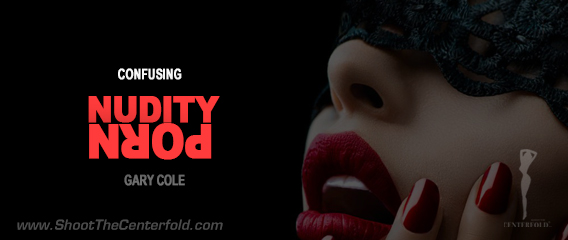 It is sad for me to read the statements coming out of Playboy in regard to pornography and nudity. Hugh Hefner spent so much of his life, his energy, trying to disabuse people of the notion that nudity and pornography were the same thing, that there was something inherently evil or wrong with our sexual inclinations if they were directed toward anything other than the reproduction of the species through the traditional Western cultural idea of marriage.

I can only wonder how many times in how many formats, including the Playboy Philosophy that Hefner so carefully crafted himself, Hef made his case. I know that I was confronted by that same confusion on the part of the media so many times in so many interviews. A beautiful photograph of a beautiful woman (or man if that appeals to you as it did to the ancient Greeks) is not inherently "pornographic." Now it seems that Hef has lost the argument not only in the media and in so many corners of today's America, he's lost it within what was once his own company.
Playboy is removing nudity from the pages of its magazine because, according to Playboy head honcho Scott Flanders, there's already too much pornography out there. Flanders is right on one count. There is too much pornography too readily available to anyone with internet access. One almost can't avoid it. If you happen to Google, "girls have fun," you're likely to get "girls and bbc" if you scroll down more than a couple of spots. I have kids and grandkids. I worry about it. However, I don't confuse what Playboy has published in its magazine since 1953 until early next year (when the nudity is removed) with pornography.
In its later stages, Playboy may have contributed itself to the confusion. During the 40 years that I worked at the magazine, we always reassured the models, the Playmates, that no one but Playboy would have access to their photos, that the photos would only be published in Playboy publications, that Playboy would never sell their photos to pornographers. And if a pornographer happened to steal one or more of their photos, Playboy would zealously go after those infringers and force them to stop using those unauthorized images. We even had one full-time employee in our Legal Department whose job was to force infringers to cease and desist under threat of lawsuit.
And then, under the motive of greed or perceived necessity, Playboy entered into some unfortunate partnerships with producers and distributors of pornography. Playboy even sold its internet operation to a pornography company with some sort of agreement that the pornographer would keep Playboy's content separate from its clearly pornographic material. Of course, lie down with dogs and you get fleas. The content did sometimes intermingle, intentionally or perhaps by accident. Former Playmates and models called to complain that their photos were appearing on porn sites. We had no good excuse to give them for having broken the promise that we made to them.
Fortunately, Playboy came to its senses and bought playboy.com back. And now, they've even taken nudity off the free site although I think it is still available if one pays for it. However, the confusion had been created; the line had been crossed. And now even Playboy began to think of nudity as pornography.
However, Playboy felt it had to do something to reinvigorate its sagging circulation numbers. Perhaps their experiment will succeed. One problem I see for them landed in my mailbox last week. It was the Holiday 2015 Victoria's Secret catalog. It is filled with wonderfully executed, sexy photos of beautiful girls, 154 pages of them, and—the best part—it's free. I really don't know how sexy non-nudes can be done any better. I think it means that Playboy will have to supplement its photography with some dynamite editorial material, humor, fiction, non-fiction, lifestyle, interviews as good as, well, what Playboy always published when it contained nudity.
I love the Playboy brand. It was such a big part of my professional life for so long. I wish them well as they head off into uncharted seas without their captain—Hef—at the wheel.
~ Gary Cole
© 2015 Copyright ShootTheCenterfold.com. All rights reserved.