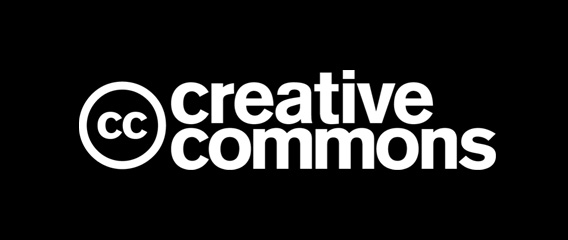 What is a Creative Commons License Anyway?
Creative Commons is a set of free tools that allow you to define what level of access people have to your photographs online. The CC Affiliate Network consists of 100+ affiliates working in over 70 jurisdictions. Things start getting confusing when you see just how many types of licenses are provided. There is no single Creative Commons license. It is up to you as the owner of the work to choose the level of permissions you wish to apply to your images.
Benefits of Creative Commons
Creative Commons can help achieve exposure to a larger audience than a blanket Copyright can. My experience with using CC licensing encourages other people to share my image with credit (a link) back to my online portfolio. The exposure of my work increased tremendously, however there are still a few images that I reserve under full "All Rights Reserved" Copyright. It is not a one-size-fits-all type of thing. Use it where it makes sense for your work – but by all means, do not feel required to apply to all your images.
How to Choose the Right Creative Commons License for Your Work
There are a few questions to ask yourself that will help you choose the right CC license:
Do I require attribution?
Do I allow commercial use?
Do I require that the user of the photo will license its replication/distribution under the same license?
Do I allow the user to alter the photo in any way?
Another way to figure out what will work best for you is to follow their nifty flowchart. (and who doesn't like a good flowchart?)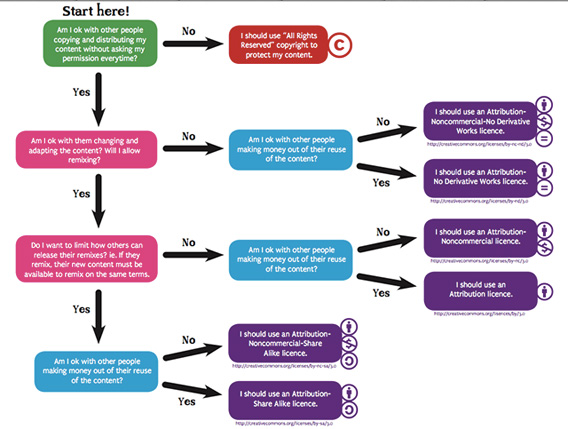 After the flowchart, use the organization's image builder and online license link. The links will also refer back to an easy to understand agreement that is maintained on the Creative Commons website.
Copyright vs Creative Commons
Whether or not you choose to apply some form of Creative Commons licensing or a full Copyright to your work is based on your personal goals relating to how your photography is seen. If you want to have complete control over your photos and make sure nobody uses them without your expressed release, Creative Commons may not be what you are looking for.
There is no registration to use the CC licenses. You select between six licenses one that best meets your goals, and then mark your work in some way so that others know that you have chosen to release the work under the terms of that license.
Licensing and Stolen Images
Licensing your photographs under Creative Commons does not make it any easier or harder to infringe on your copyright. That is something everyone has to deal with.
Final Thoughts
It may be a little daunting at first, but the ability to customize licensing for your images based on their purpose, like giving permission for print rights or fine art online gallery use, may give you the confidence to share your photographs to a larger audience online. Hopefully you won't feel like you have just thrown your images out into the world with no safety net.
For more information and full resources on Creative Commons licenses, please visit theirwebsite.
[via DIYPhotography and SLRlounge]


© 2013 Copyright ShootTheCenterfold.com. All rights reserved.