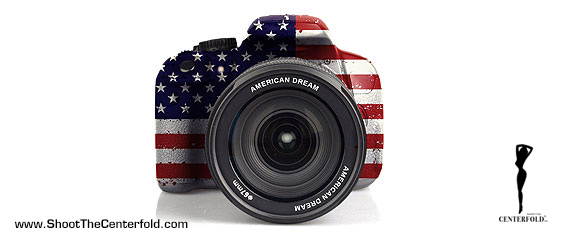 What is the American dream? It depends who you ask. For most it's a higher quality life and success. When it comes to photographers, it works pretty much the same way. But photographers, at least most of them, dream big without knowing how to capitalize on their big dreams.

I have come to learn that photographers and their dreams also vary a quite a bit. After being in the business since my early 20s, I have seen my share of snap-happy individuals with a camera in one hand and the unknown in the other. The amateur's camera fever and excitement usually lasts about 2 – 3 years and then slowly dies off resulting in the only income earned with the camera is when it is sold on eBay.
But why does it have to be this way? That's because most of you will never earn a dime with your camera and might even realize you own a camera for the wrong reasons. After running Shoot The Centerfold operations, blog and seminars for the past six years, I have learned to evaluate and foresee who's got it and who does not.
The individuals who just own photographic equipment to either spice up their life or to meet young ladies are usually the least successful individuals in this business. I don't want to generalize anybody since time to time there are a few talented individuals who break through and actually emerge. But, let's get real; we all love the ladies but that's not what this topic is all about.
The candidates must rise to their senses within a few years from the start of their commitment.There are a lot of execution and risk at stake when you take aim at the professional photography industry. And I'm not talking about becoming a weekend warrior or a seasonal shooter. The candidates must rise to their senses within a few years from the start of their commitment and must develop results! If you don't, seriously research what's holding you back.
The number one reason why most fail is because they don't see lighting and/or understand the business of photography. Lighting skill is, by far, what separates you from all the others and can get potential clients knocking at your door.
Seasonal photo enthusiasts often miscalculate their worth as a photographer, thinking that being involved with photography ten or more years somehow validates themselves to qualify as a professional. And it sure does in some cases, but if you are reaching out to the mainstream and want to make dollars with your camera then take a look at the following questions and honestly answer them to yourself.
What have you done lately? (Evaluate a period of past 12 months for satisfaction/disappointment)
What are you worth as a photographer and why? (Look from the outside in)
What is your photography production plan for the next 12 months?
What are your objectives for the next 12 months?
How are you planning on increasing your revenue growth?
What is your future earning potential and personal call to action?
Each and every one of you who wishes to make a living with a camera should seriously consider setting yourself an overall goal and a plan on how to get there. If you don't have a plan, get one or get somebody to help you with one. If you can't figure out your goal and no one can help you figure one out then there is a possibility that the photography business might not be for you. Of course, there's nothing wrong with simply keeping it as a hobby. But as the title asks,
Do You Have the Ingredients of the American Dream?"
The answer should spell out loud and clear what this blog post is all about.
So, whatever your actions may be, don't let the smaller version of you take over! Take action. Study the business side of photography. And most importantly, learn the lighting. Knowing these aspects of the business are the only reasons that gave me a career that I truly love and enjoy. Am I living the American dream? You bet I am. And if I can do it . . . so can you!
~Jarmo Pohjaniemi
© 2015 Copyright ShootTheCenterfold.com. All rights reserved.