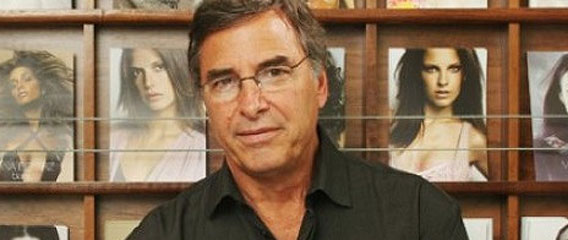 John Casablancas, the founder of Elite Models who discovered Naomi Campbell, Linda Evangelista and Claudia Schiffer, died on Saturday July 20, 2013 in Rio de Janeiro after a long battle with cancer at the age of 70.
Casablancas, who started Elite Model Management in 1972 in Paris, first opened offices in New York in 1977. Casablancas was instrumental in creating the supermodel phenomenon, where top models were identified by their first names only. Other models whose careers he shaped include Cindy Crawford, Stephanie Seymour, Gisele Bündchen and Heidi Klum.
Casalancas' Elite agency was considered the antithesis of the Ford Modeling Agency, where Elieen Ford allowed models to live in her home so she could keep an eye on them and make sure they stayed out of trouble. Casablancas was accused by Ford of poaching models. He also came under scrutiny for allegedly sleeping with teenage models signed to his agency.
"John ripped the hypocrisy off the modeling business. He said, 'What we're selling is sex, so let's sell sex,'" said Michael Gross, author of "Model: The Ugly Business of Beautiful Women." "It definitely stemmed from his personality, which was a man who loved women, lots of women." Among the women he loved was Seymour, with whom he had a public affair in 1983, when he was 41 and she was 16.
A 1999 BBC undercover documentary exposed Elite's Europe executives bragging about their use of drugs and sexual relations with young models. Casablancas wasn't implicated, but his reputation was damaged and he resigned from the agency the following year. Casablancas sold his equity in Elite and moved to Miami and Rio de Janeiro.
"He consulted and tried different projects," said his former assistant Lorraine Caggiano. "Four years ago, he started Star System, a scouting firm that advises models and places them with agencies." When Elite USA was purchased in 2005 by Eddie Trump, the new owner lured Casablancas back to New York as a consultant. He was still the same Casablanca, bragging to New York magazine, "After me, nothing happened. The business has become extraordinarily dull."
While in New York, Casablanca was chased by process servers; he was being sued by a model who claimed he forced her to have an abortion. After four months, he was gone. Casablancas was born in Manhattan in 1942 and attended boarding school in Switzerland. He attended several universities but never graduated.
"Elite World and The Society Management [a division of Elite World] are deeply saddened [by] Mr. John Casablancas' passing," said Stefania Valenti, chief executive officer of Elite World. "As a man of extraordinary talent, Mr. Casablancas was instrumental in formulating the global success of the Elite brand. His vision changed the model management concept, driving the careers of iconic top models."
"He was extremely intelligent and a very elegant man," said Caggiano, who worked for Casablancas for 20 years. "He had a charisma that people were drawn to. You felt like you were the only person in the room when he spoke to you." Casablancas is survived by his wife, Aline, and five children, Cecile, Julian, John Jr., Fernando Augusto and Nina.


© 2013 Copyright ShootTheCenterfold.com. All rights reserved