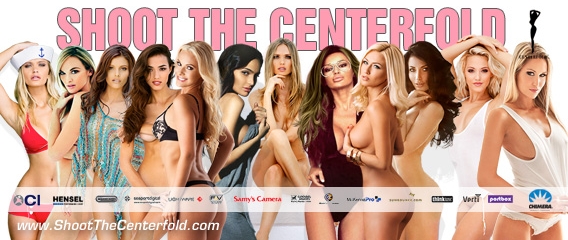 Sometimes it's good to take a peek at what's happening at the Shoot The Centerfold seminars. This way you can find out what you can expect and start getting prepared. The clips are from a past STC seminar. We have added descriptions to each to allow for better understanding and guidance for those who have joined our upcoming March 21-22 seminar/workshop.
As much fun as the STC seminars are, they also prove to be very educational. Our goal is to give you an unforgettable photographic experience as well as practical tools that you can use in the business world of photography. To learn more about what we have in store for you, check out our registration page and see why you cannot afford to miss out on this unique opportunity.
(Due to the multiple clips below, loading times may vary depending on your Internet connection.)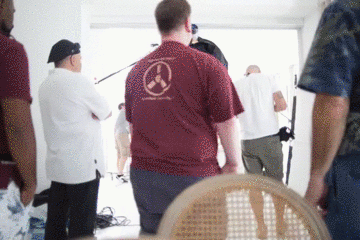 Shoot The Centerfold seminars require a lot of preparation. It is interesting to see how it all comes together. Upon your arrival to the March seminar, feel free to roam around the multiple sets and participate in all activities the seminar offers.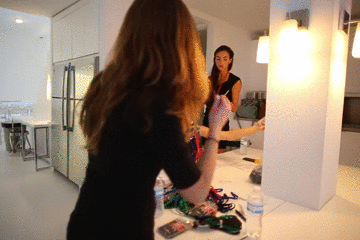 When you arrive to the Shoot The Centerfold March 21-22 seminar, visit the girls at registration who will help you get set up for the seminar and give you a badge with your name on it. Make sure to bring your ID and registration confirmation. The registration opens at 8am on Saturday morning. The earlier you arrive, the better (but please not before 8am). We will commence the seminar at 9 am sharp.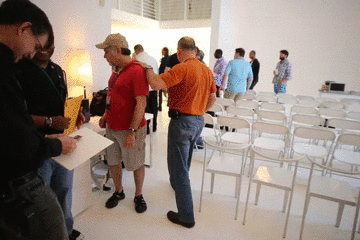 You will meet other photographer attendees. Some of our attendees have already participated in our previous seminars and some of you are new to the STC experience. We are all part of the same family and share a passion for photography, so don't hesitate to introduce yourself to each other, break the ice, grab some Portbox-sponsored coffee and get comfortable.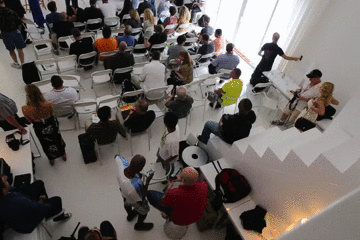 It's like any other get-together where you meet lots of interesting people. But, hey, Shoot The Centerfold is unlike any other seminar you've ever attended. Find your seat so we can crank it up and start the seminar at 9 am sharp. I am sure you have experience when boarding a flight and your friendly flight attendants are always rushing everyone to take a seat so the flight can take off on time. It's very similar but with much, much hotter attendants.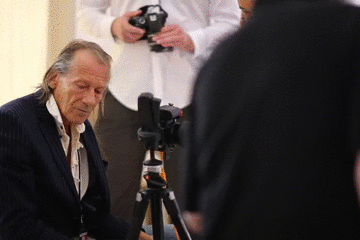 The legendary Byron Newman will be one of our veteran instructors at the seminar. He loves to talk and looks like a British secret agent or a rock star. Byron is a man of many talents and has come all the way across the big pond to demonstrate his rare set of skills.
Don't be shy to approach Byron for a conversation and challenge him with your questions. His insight is as valuable as it comes. History and experience is written on Byron's legacy and you can learn a ton from him.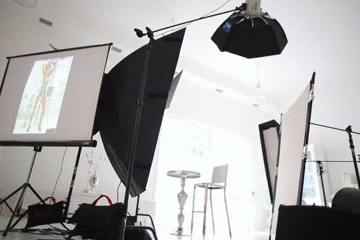 Peeking behind the scenes has always been very interesting for photographers. Our kind likes to snoop around on other photographer's sets and see how they construct their lighting. That's totally cool and there is nothing wrong with that here. Feel free to introduce yourself at all our sets upon your arrival and during the seminar.
Ask questions if there is something that you don't quite understand. The sets are there for us to learn from each other in a practical manner. You can photograph them with or without a model for your later study.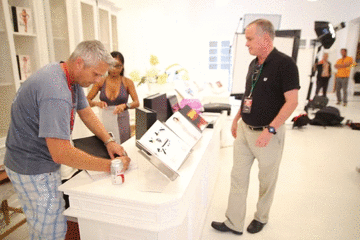 We will also have a few books for sale in case you wish to take one home with you. They are a great way to later brush up on the learned lighting techniques. Feel free to ask your favorite author to sign your book, in case he one day becomes famous.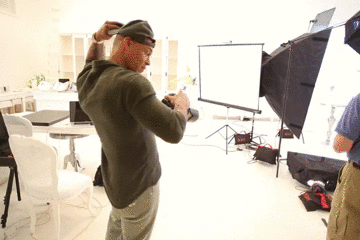 Meet Ernesto, the man above testing the lights. He is part of the STC crew and is always making adjustments before and during the seminar. These highly skilled individuals are actually working photographers themselves and know their craft.
They may look busy and probably are. But our crew is also very willing to answer any questions you may have. Blend in, become part of their world, and get hands-on to maximize your learning experience.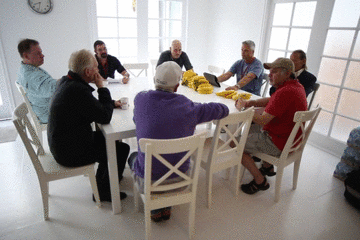 There is the secret STC Master Photographer meeting right before the seminar. And somehow an attendee always ends up as part of the meeting. We cannot explain how it happens. But it's certainly something worth keeping your eyes on and being part of it if you can.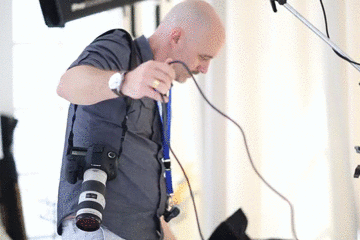 Gentlemen, Ales Bravnicar the Eastern master of shadows and light travels all the way from Slovenia. He is known for his endless Playboy covers, Playmate pictorials, and celebrity shoots. His works also can be found in the fashion and commercial industry. He's like a Swiss knife of photography and you don't want to miss what he brings to the table. Pay attention to him and how one can become so successful maximize every possible little tools in his arsenal.
Even I often find myself calling him questioning how he pulled off a specific pictorial from nothing. Ales just recently traveled to Cuba and accomplished an impossible task that we all hope to see soon.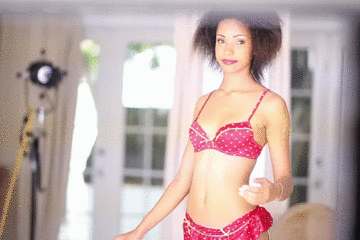 Models. What would STC be without them? We could not even imagine and it goes without saying that there wouldn't be much to photograph without them. Our models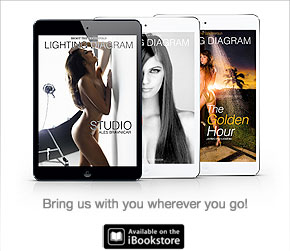 are very carefully hand-picked from different fields of modeling. We have fashion models from top modeling agencies, Playboy Playmates, and glamour models to add variety to your learning experience.
We cannot promise you a date with our beautiful models but we can promise you an everlasting photographic experience that would cost you an arm and leg if hiring them through their agencies and representation.
Here's a tip: introduce yourself to the models you shoot. For example, "Hi, I'm Bob and you are so beautiful." This way you are not just anybody and interacting with model will make her feel confident about the person behind the camera.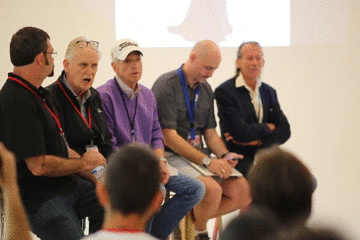 There will be stories told and wisdom shared. But a man whose experience out shadows us all is Gary Cole. Just imagine what it's like to be with Playboy for 38 years, and 30 of them as a Director of Photography who signed all the major photographer contracts and everything else photography-related that went with the publication, including dealing with me. When it came down to business, copyrights, photo acquisitions, and much more, Gary Cole was the man behind the scenes.
If you are looking to further your publishing and photography career, then Gary Cole should be your date. Every successful photographer in Playboy has been the brain-child of Gary Cole for 30-plus years.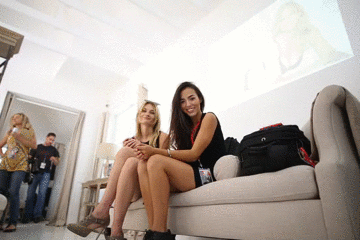 You will have a chance to meet our lovely models while they are on their break or just waiting for their turn to be photographed. A good rule of thumb is that mutual respect for the opposite sex from both sides should always be kept in mind and practiced. Instead saying, "Oh, Baby, you're so hot!"  Say something like, "You look very beautiful today."
She might even reward your comment with a smile and get your utmost attention. Women in general like to hear compliments and, you never know, she might just be the right one to give your career the much needed boost. Keep your language professional.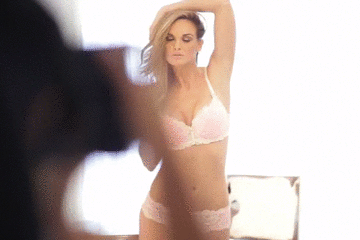 Focus on the model when it comes time for you to be in the hot-seat and photographing the models with or without the instructor. Most of our models assume they're going to get some direction from the photographer. Be vocal and direct her. Ask her to move if you don't like the way she is posing. Tell her to move that hand a little higher or lower, arch your back, and chin up, for example.
The model cannot see what you see through your viewfinder so it's important to direct her. If you don't have a lot of experience or are just simply on the quiet side, tell us and we will help you to get the rhythm and language that brings models alive.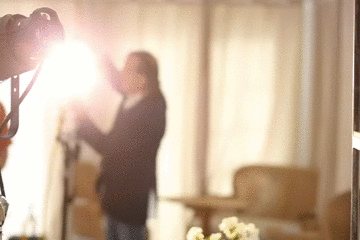 We have come to learn that during our seminars models get the most attention. We understand. But masters never saw the model as the primary focus on set. The viewers do but the masters see light and the whole picture instead. Now, we recommend you to make a choice and find a good balance on your interests and what you would like to learn. The model can be quite striking but without photography and lighting knowledge, you only have half the picture.
The industry professionals who hire photographers are mostly interested in your photography and lighting skills. It has been said that the models can be easily found, but the good photographers, not so much. Take notes when we talk about lighting and the tricks that make the show go on.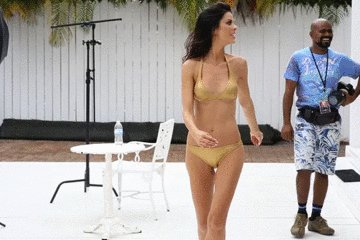 If you accidentally make an improper comment to a model, you'll usually know it right away. Your palms get sweaty and you feel like you want to crawl under the carpet. It's OK and it happens sometimes. Don't sweat it. Simply just apologize to the model saying, "That did not come out right, and I'm sorry." It should be a breeze from there. We have seen a ton of mishaps since we started our seminar line and we are only humans. Gary Cole's famous line is: "Leave egos at home!"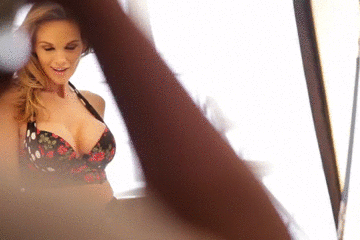 Imagine while being on set with the beautiful model and the one-on-one attention from the instructor, you hear shutter clicks on your left, right, and behind yourself. Not only have you waited for this wonderful moment for a long time and may even have a few butterflies in your stomach due to pressure. Concentration is everything and we recommend all attendee photographers respect the one in the hot-seat with the instructor and support the cause by not shooting over your fellow attendee's shoulder. We have 4 master instructor stations where you get to photograph the models under our guidance.
We also have extra set and shooting area which will be equipped with constant lighting where you can let loose. And we will have plenty of extra models for you to photograph. When models are in session with any photographer, let's make sure that we don't distract her with side shooting. This may cause distraction and less of concentration. As you can imagine, focusing on two separate photographers will not yield good results.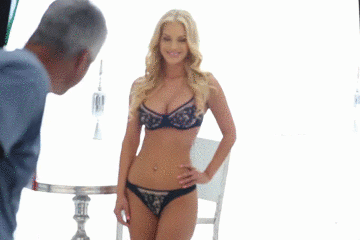 Jarmo Pohjaniemi talks fast and has endless energy to share with you. If for some reason you don't understand what he's talking about due to his "special" accent and fast pace, make sure to raise your hand and ask him to explain again. Each set and its lighting elements are explained in detail as to how each will affect your subject (the model).
The secret to good lighting is to understand how the lighting effects can be modified. There is no such thing as one lighting setup that works for all situations. Each situation will be treated individually and brand new.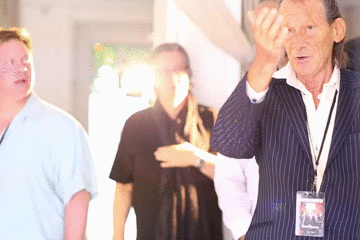 Each STC master photographer will demonstrate a different lighting scenario and technique. This will be a lot of information for you to remember. So, make sure to bring something where you can take notes and remember what was said and what you saw. You can also take pictures of the sets and setups during demonstrations and sessions. We do not allow video recordings since some of them have ended on streaming sites without our permission.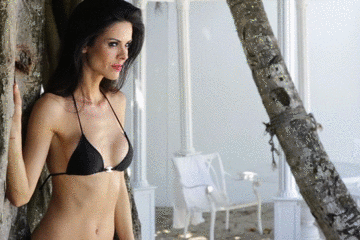 Each model has different experience levels during our seminar. Some are more experienced than others and some are much more experienced due to their lengthy and fruitful modeling career. The same goes with photographers and we have studied your work already to better understand how to better serve you and maximize the learning experience for each of you.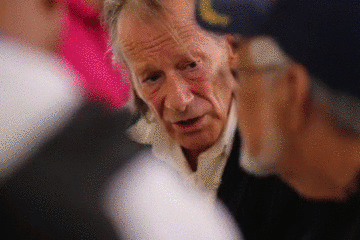 Photographing models and other people seems easy. It can be true but making something memorable and special takes more than just a camera and a shutter click. Most of us have a vision and the ability to foresee each situation and act accordingly. If you are a novice and don't quite understand everything, don't just settle. Demand more explanation so we can get you up to speed. All of you have a reason why you have joined the STC seminar and we want to know what's important to you. If we had to analyze and determine what is the most valuable part of our upcoming seminar, we would not be able to say because they all are. One photographic aspect cannot survive without another part of the photographic workflow and business.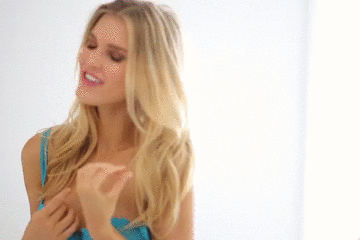 Models and their posing capabilities vary based on experience and body language. It's good to know human form and posing generally speaking and you should always be in charge of what you see via your camera's viewfinder.
Here's a tip: leave room open for suggestions as far posing goes with your model if you feel that you have an experienced model in front of you. Work with her and adjust her delivery to meet your taste and camera angles.
As one pose may work for a model, it does not always work for another. When a photographer or a model is open for then you become a sponge and might learn something totally new. Nobody is ever ready and no one knows it all.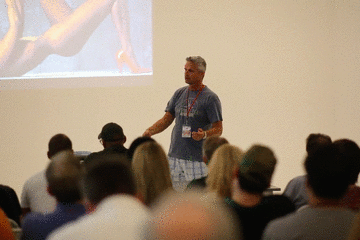 Slideshows with elevator music in the background can kill an elephant. Yes, quite boring. Our image demonstrations are based on published images seen in publications and we explain what it took to get them there. Each image comes with a story and if you are interested to learn how to get your images seen in publications, make sure to listen for the detail that often goes unheard by many.
As we do not wish to bore you with our stories, we have prepared an option for those who wish to start shooting right away as an alternative choice.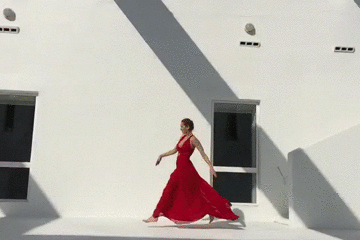 During this seminar, Shoot the Centerfold photographer Jarmo Pohjaniemi will offer advanced forms and composition techniques as seen in high-end fashion publications and in commercial photography campaigns. This specific master class is recommended for intermediate to advanced attendee photographers who are ready to take their careers into the lucrative commercial publishing world. (This session is weather dependable.)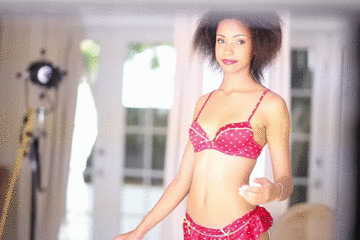 In order to allow each attendee the opportunity to shoot with each model, your one-on-one time with them will obviously be limited. And we'd all love the chance to work with the models for more time than is allotted during the workshop. However, did you know that our seminar models are available for hire outside of the STC seminar?
If you are interested in working with a particular model for an extended amount of time, let us know via email about your wishes and let us know how we can help you to make your dream come true.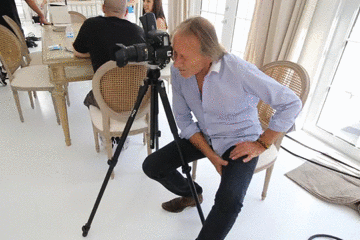 Cameras and lenses play a big role at the STC seminar. We get the same question all the time about our favorite lenses and cameras. To be honest, there is no such a thing since they are all our favorites. Each situation requires a different lens just like you may need a Phillips screwdriver instead a flathead one. So, what should one bring to our March STC seminar? We recommend anything between 20 – 200mm focal length. The most popular lenses are 24-70mm and 70-200mm. These lenses will cover all the necessary situations that you will experience during the STC seminar.
If you have another lens that covers a similar focal length, they will work as well. People also keep asking if they should bring Pocket Wizards or any other kind of sync devices? Sure, why not? They are small and you never know when you might need an extra one. Make sure to bring extra CF cards just in case and a backup drive is recommended.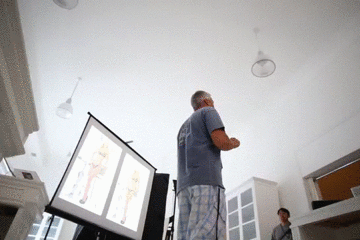 Dress code for the seminar is casual. We are photographers and should remain so. However, for those who want to explore the nightlife in Miami should bring something more extravagant, and we are also planning a little get together on Sunday evening at 8PM for our attendees who want to have drinks and light bites after the seminar. This is a great way to talk shop and catch up in a bit more relaxed environment. More details will be available soon for our attendees only!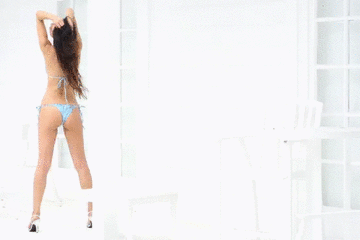 What do the models think about you photographing their backside? Clearly this depends on each model. And a good rule of thumb is to ask your model if you feel that she might be holding back on poses or her performance. As we cannot always guess all the answer ahead of time, we always use the wisdom and experiences that have been learned throughout our photographic careers so we ask before assuming.
Some models may feel that their behind looks too small and that it does not photograph well.  I use to have this pony that thought that his right side was his better side! Go figure.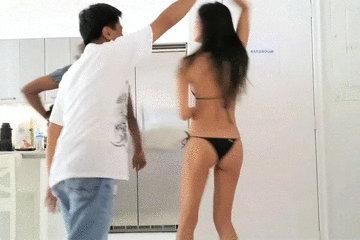 So there are a few pointers and more will be covered during our seminar. We want you to have good times, learn photography, meet new people, and, most importantly, see the future and getting published if you haven't already. Our main function is to rub shoulders with some of the biggest publishers in the world. We do not only host seminars, we create careers.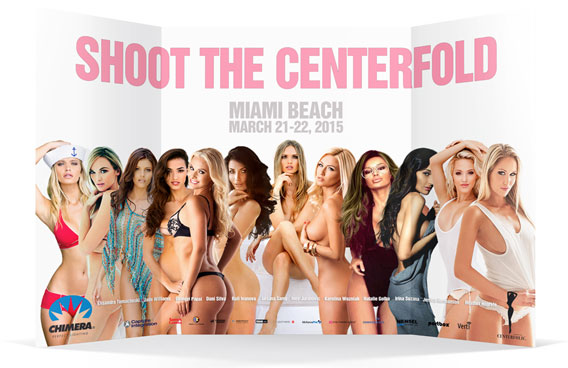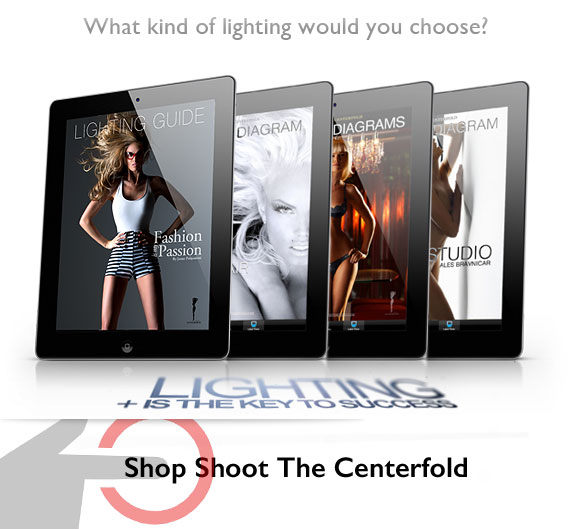 © 2015 Copyright ShootTheCenterfold.com. All rights reserved.