Back in 2008, everyone was outraged after the radically redesigned Playboy France started publishing simply lit and somewhat trashy nude pictorials of top fashion models shot by several leading fashion photographers. Playboy's core philosophy was breached and faithful Playboy readers and editors labeled the bold move from the land of fromage and escargot as anarchy. However, those hot and juicy fashion photos of Lily Cole, Lara Stone and Bianca Balti's nude bodies also spawned a huge fan base and a revolutionary new chapter in Playboy visual content was inadvertently born.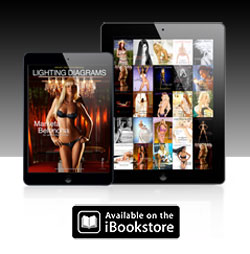 I decided to move from photographing Playmates to shooting fashion models for Playboy in 2009, almost 10 years after my first Centerfold appeared on the pages of the magazine. The decision was quite daring for the time due to (at the time and still rather strict) "traditionalist" Playboy philosophy that fashion photos are reserved for fashion magazines. Over the past few years, I have traveled to more than 20 countries and shot in some of the most beautiful corners of the world. What was once a pioneering idea turned out to be a big success story and my "fashion-meets-glamour" pictorials continue to be published in Playboy editions all around the globe.
There is a new book on lighting coming out very soon featuring some of these images straight from the pages of the magazine.
What fascinates me most is that Playboy US is joining the fashion pictorial bandwagon as well, following the foundations set by its French counterpart years ago. The trend seems to be a very catchy one and names like Lohan, Jagger and Ecclestone that appeared in the magazine are a solid proof of change. According to Internet gossip and testimonials, Playboy shot a pictorial with supermodel Kate Moss back in March, which is set to appear in Playboy's 60th anniversary "jubilee" edition in January next year, just in time for Kate's 40th birthday.
The fusion of fashion and glamour photography with more models and less girls-next-door seems to be the roadmap for Playboy's visual narration style of the future. The 50-year-old formula, albeit proven and solid, cannot withstand the modern flood of Internet content and the dramatic visual revolution created by the likes of Instagram and others. There is a whole new generation of iPhone snappers that are uploading as much as 300 million photos to Facebook daily. This social-visual revolution demanded that Playboy put its thinking cap on and embrace the cultural shift.
I know … watching Playboy change is probably the last thing you want to see, but here's why you should be excited: As a photographer, it will give it a chance to reset and again emerge as a frontrunner with a whole new generation of faithful followers.
Aleš Bravničar
All covers by Ales Bravnicar and used with permission from its copyright holder.


© 2013 Copyright ShootTheCenterfold.com. All rights reserved