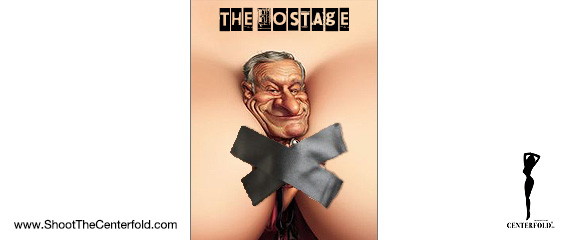 Back in the old days at Playboy, Tom Staebler, then Art Director and I used to play a little game. If Hef made a decision we didn't agree with, we'd play "The Man in the Iron Mask." The real Hefner couldn't have made that last "bad" decision. There must be a lookalike imposter wearing his pajamas filling in for him.
The real Hef is probably locked in the basement of the Mansion wearing an iron mask to keep his identity secret from the Mansion staff. Of course, Tom and I would forget all about our little game when the "bad" decision Hef made (I remember the inclusion of a Playmate Data Sheet being one of them) turned out to simply be another brilliant Hefner idea that neither Tom or I recognized at that moment.

So it's natural that Larry Flynt would go on CNN yesterday and that the first words out of his mouth when asked about Hef's decision to take nudity out of the magazine would be "Hefner has lost him mind." I don't talk to Hef anymore but I can almost guarantee you of two things: Hef has not lost his mind and the decision to take nudity out of Playboy is certainly not his.
When publicly traded Playboy went private back in 2011, Hef came out of the deal with some extra dollars in his pocket plus the guarantee that he could live his days out in the Mansion and "edit" his magazine. An entertainment investment company, Rizvi Traverse, took controlling interest of the company.
With successes like the Twilight TV shows, investments in Twitter, Snapshot, Jawbone and ICM, Playboy is a relative blimp on the radar of this highly successful company. In my opinion, they are the ones who made the decision to drop nudity from Playboy, likely so that it would better fit with some of their other investments. Hef couldn't stop them if he wanted to. "Yes, Hef, you can edit your magazine but only under our conditions."
What could he do? Quit? Move out of the Mansion? The man is 89 years old with 90 right around the corner. And he couldn't very well argue that the old formula was really working anymore. Will the new non-nude Playboy work? I don't think so but then I was one of those who thought the Playmate Data Sheet was a dumb idea and waste of a page. It turns out that the mask the real Hef is being forced to wear is not made of iron. It's made of old age, a mask we all have to wear at some point if we get that far.
~ Gary Cole
© 2015 Copyright ShootTheCenterfold.com. All rights reserved.