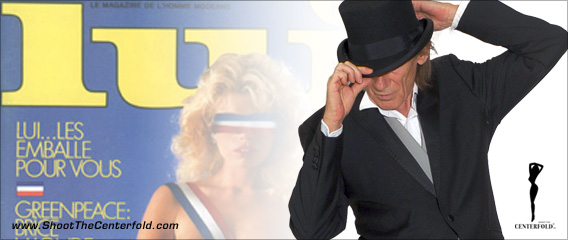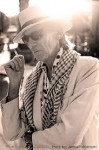 I read with interest Jarmo's blog about the re-launch of the French magazine LUI and feel compelled to add my own memories of those halcyon days, as I was fortunate enough to have been part of the team that produced this iconic publication.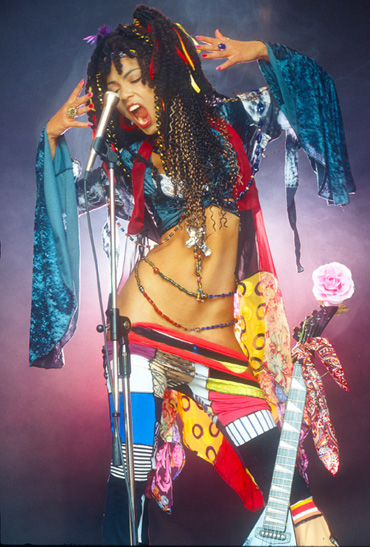 I photographed for LUI from 1979 to 1990 and produced more pictorials and covers for this publication and its sister issue in Germany than for any other magazine, Playboy included. In 1984, I started my long career with Playboy USA and was generously allowed to continue to work for LUI even though I was contracted to the "Big Bunny."
When I first approached Playboy about shooting for them, Gary Cole, the longtime photo director told me that he had been following my career in Europe with interest, and in particular my shootings for LUI. He offered to fly me into Chicago from London to shoot my first centerfold with Marina Baker, who incidentally appeared later on the cover of LUI in the issue to celebrate the 200th anniversary of the French Revolution in 1989.
This pictorial still stands for me as a record for the number of pages devoted to a single shoot; 22 pages in the French edition and some 36 in the German. The images were also published in Playboy USA and in its editions worldwide. The shoot was extensive, using 18 models, two make up artists, three hairdressers, three styling assistants and wardrobe mistresses, and three photo assistants.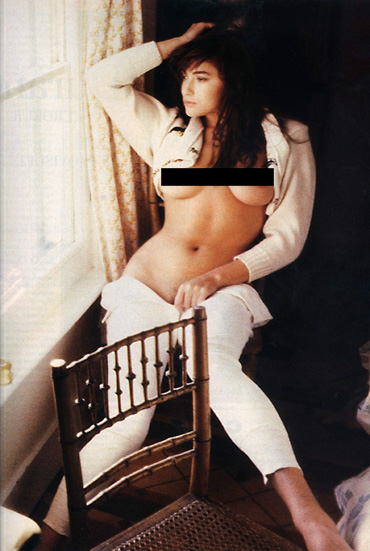 The styling was put together by my then partner and wife Brigitte Ariel to stunning effect. The shoot was achieved over two very long days in a studio in London. The preparation and planning took considerably longer.
My initiation into LUI was swift and interesting. I had been living in Paris, working as the art director of the French and American editions of the fashion journal MODE INTERNATIONAL. An abortive launch of the first issue in the USA caused the magazine to be closed (the French edition had been around for a decade), and I was out on the street looking for another career.
I was first and foremost a photographer and, with my future partner Brigitte, we went on an offensive to break into the "closed shop" that was LUI. First contact was not encouraging. There was no way we would ever work for LUI, we were told. Francis Giacobetti shot all the photos and he was good, very good.
The "house style" was very specific. All the lighting was done with tungsten constant light. I had never used this type of light. Strobe was my bag. But I was persistent. I returned to London, studied the magazine for hours, hired some lights and set about copying as accurately as I could the lighting that I saw there.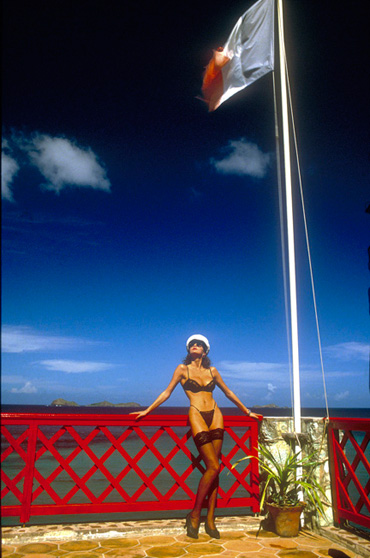 I shot on Kodachrome 25, a great film but a bitch to use and way too slow for the low levels of light produced by the heavily blue gelled tungsten lights which were also shone through heavy trace, laying yet another precious stop. I found shooting at 15th of a second at a wide aperture. No long lenses for me then.
I used tungsten follow spots without gels to create the contrast of cool and warm light. This first experiment with constant light was the beginning of my love affair with this type of lighting that continues to this day. I have only been unfaithful to it when the job forced me to be. I found that the results from this type of light endlessly rewarding, and as the technology improved with HMI and other sources I was able to shoot at more comfortable speeds and apertures. It became my trademark and signature and was not commonly utilized in the world of glamour photography.
And so, I waited for the film to come back from Kodak. I kept everything crossed; this was the moment when I at least had given myself a shot at it, or had blown it. To my delight and surprise the pictures surpassed my wildest dreams. We were on a plane and back in the offices of LUI within days, where we were grudgingly told we had done a good job (thanks!), but no offers of shoots seemed to be forthcoming. What to do?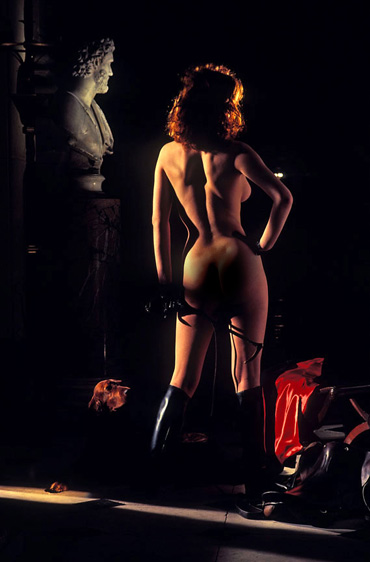 I was aware of the Frenchies' sneaky admiration for all things British, well hidden but palpable, and I had in my back pocket an offer I thought they could not refuse. I had an invitation to shoot in the largest and grandest of English mansions, which had recently been the location for a blockbuster BBC costume drama. I also had a pretty good-looking model to go with it.
Before being politely but firmly ushered out of the door of the chic offices of LUI in Paris, we planted the idea in the editor's head. He said he would think about it. He did, and gave me my first shoot. Over the next decade, many many more followed.
I was shooting for the magazine almost constantly; glamour, fashion, even still life product photos, but most of the time it was girls, girls, girls. I shot in London and around the UK, giving them what had also become my trademark, the very best of British.
We produced pictorials in Paris as well and in St. Bart's in the Caribbean, long before it became the photographers "must use" location. At the end of each shoot, I would personally deliver the slides to the offices of LUI, where the great longtime editor Jean Demachy would spend hours with me critiquing the images.
Much of what I know today I owe to this man, and to Francis Giacobetti, who was inspirational and whom I copied slavishly, but never surpassed. Those were the days. I hoped they would never end… but they did. But now, LUI had risen like a Phoenix from the ashes. It holds a special place in my heart and I wish the "old boy" every success.
VIVE LA DIFFERENCE.
Byron Newman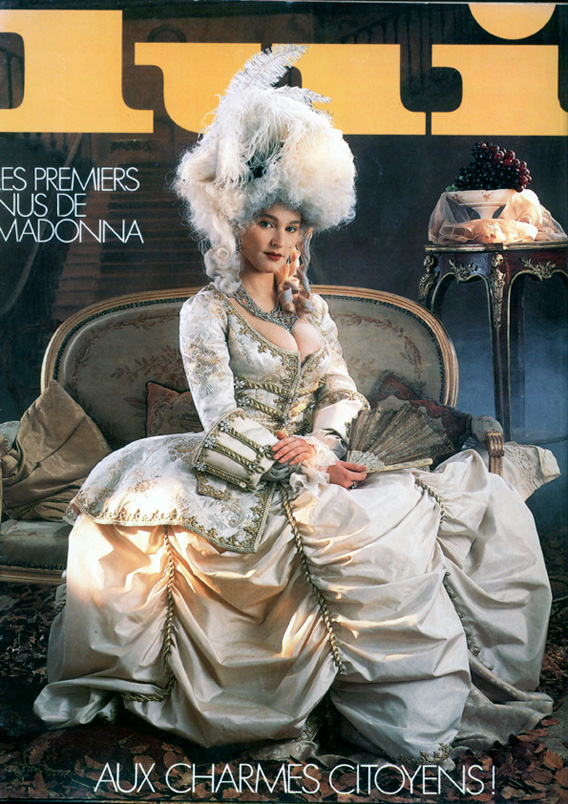 A short history of LUI
(Reproduced from Wikipedia)
Lui (French for "Him") is a French adult entertainment magazine created in November 1963 by Daniel Filipacchi, a fashion photographer turned publisher, Jacques Lanzmann, a jack of all trades turned novelist, and Frank Ténot, a press agent, pataphysician and jazz critic.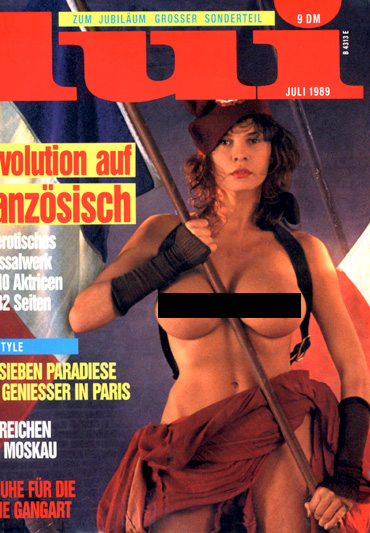 The objective was to bring some charm "à la française" to the market of men's magazines, following the success of Playboy in the USA, launched just a decade before.
France, indeed, in the first half of 20th century had an outstanding reputation for erotic publications, feeding also foreign market and inspiring also ersatz French-flavored magazines abroad, when, for example, US publishers used French-sounding titles like Chère and Dreamé or placed tricolour flags on the covers, attempting to attract the casual buyer. It was anyway a semi-clandestine circulating material, not allowed to be freely displayed or openly bought. In this sense Playboy changed the way 'soft-pornography' (become more respectfully 'adult entertainment'), can be publicly circulated.
This magazine was particularly successful from its origins to the early eighties, afterwards it began a long decline. It was published regularly till November 1987 (the final issue of this first series was the number 285). After 1987 there was a further attempt to relaunch the title but the publication ceased again in 1994.
First series (1963–1987)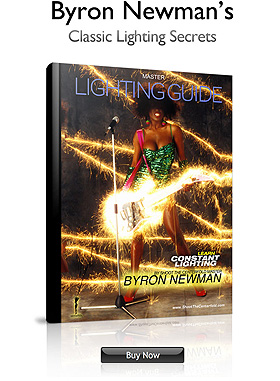 This magazine successful recipe was combining content with depth articles and beautiful naked women, featuring many B-List but also celebrities, often prominent French actresses, such as Brigitte Bardot, Mireille Darc, Jane Birkin or Marlène Jobert.
It featured a monthly pin-up by Aslan. The first girl to pose on the cover was Valérie Lagrange (the number 1 appeared on 11 January 1963)) photographed by Francis Giacobetti, future director of the soft-core movie Emmanuelle 2.
The magazine hosted also a cartoon by Lauzier: Les Sextraordinaires Aventures de Zizi et Peter Panpan. Among the first collaborators are Jean-Louis Bory, René Chateau, Philippe Labro, Francis Dumoulin, Francis Giacobetti, Siné, Michel Mardore, Gilles Sandier and many others.
The magazine motto was Lui, le magazine de l'homme moderne (The Magazine of the Modern Man). In the beginning, it had also a mascot, a cat's head, similarly to the magazine Playboy Bunny, but it disappeared in the early 1970s.
Second series (1987–1994)[edit source]
The second series was published by the Filipacchi group from 1987 to 1994. It published 69 issues. Its editor was Stéphane de Rosnay in 1989, Brice Couturier 1990 to 1992.
Initially, its specificity (compared to the first series) was that it was published in a two separate books, but from number 27, ""Lui"" returned to be a single book magazine with the new slogan "Le magazine de l'homme civilisé" (The Magazine of civilized man).
The circulation that was in early 1980 of 350,000 copies dropped to 70,000 copies in 1993. In early 1993, the magazine abandoned the monthly release and became bimonthly. The Filipacchi group stopped publication in June 1994.


© 2013 Copyright ShootTheCenterfold.com. All rights reserved.