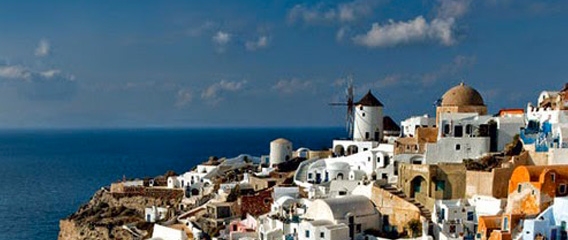 There is a tavern on a beautiful Greek island of Santorini that uses simple snapshot photography as a very interesting marketing tool. It is called "Santorini Mou" (My Santorini) and is extremely popular with locals and tourists alike due to owner Mihalis Hionas' efforts to make one's dining experience as cozy and warmhearted as possible.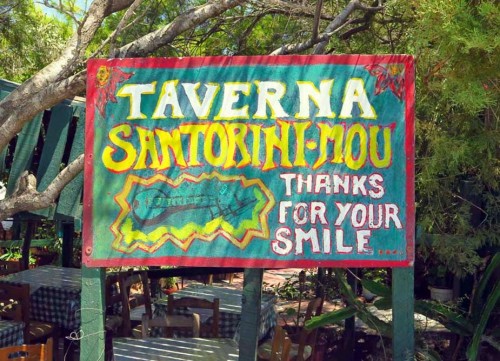 When you enter this place you feel as if you walked into a Greek home, to somebody's back yard, and the welcome is on par with the atmosphere. The big sign in front of the cantina says "Thanks for your smile" and it is not until you walk through the airy inner rooms of the restaurant that you understand the greeting slogan outside.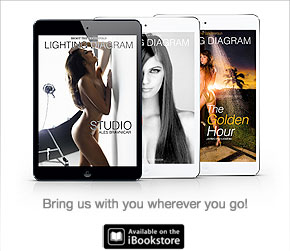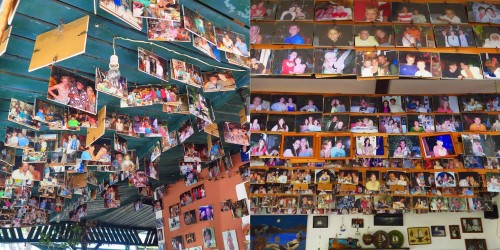 It is the infinite kaleidoscope of smiling photos of satisfied customers on display all over the eatery that tell you this is a very happy place. Everybody's smiles are preserved in the most classical way possible – with thousands and thousands of snapshots hanging from the walls and from the ceiling. Most of the pictures have stamped dates and show couples or groups just after lunch or dinner, snapped by the eager staff who take some photos at your table when you are happy AND full after a tasty meal.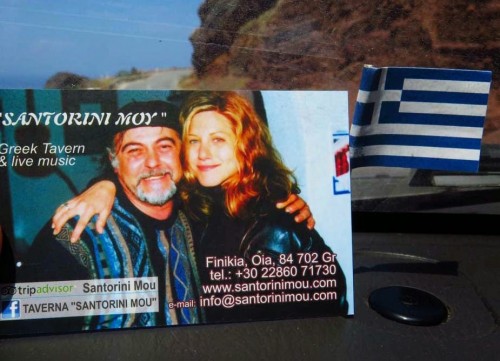 A lot of pictures show people partying, dancing or in a friendly embrace with the white bearded owner himself (some sitting on his lap) after he pulls out a bouzouki and plays live music with a small band in the evening. The picture Mihalis is probably most proud of is the one of him and Jennifer Aniston hugging. He even put that snapshot on his business cards.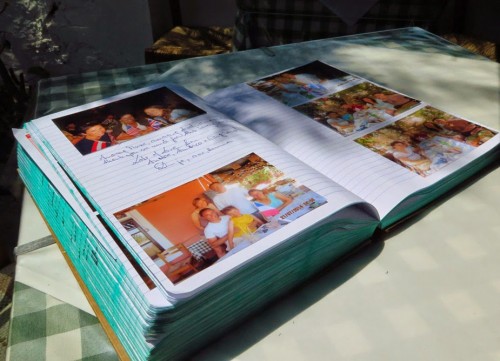 Of course the staff asks your permission to photograph you after they bring out a flag of your country (they have lots!) and fix it to your table. You also get a huge album of current month's worth of photographs to browse – and when I say huge I mean HUGE! The one saying "Month of July" in Greek was more than 4 inches thick and it wasn't even end of the month yet. The albums are updated daily with fresh pictures from previous days.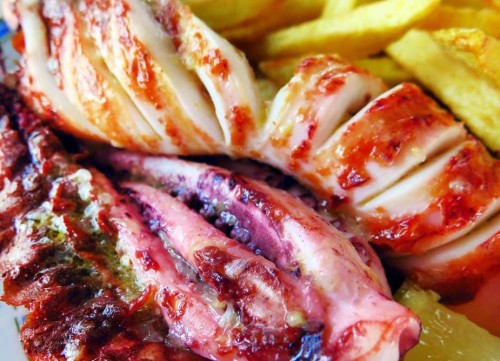 The food in Santorini Mou is traditional, fresh, tasty, cooked with love and (unusual for Santorini) priced very, very fairly. Everybody loves eating here and this must be the reason the place is always packed. But the big lure of coming back must surely be the photographs. People want to see their snapshots from the previous visit that are now hanging from the ceiling in neat wooden frames and to write a comment or two next to the duplicates glued into that big fat monthly album.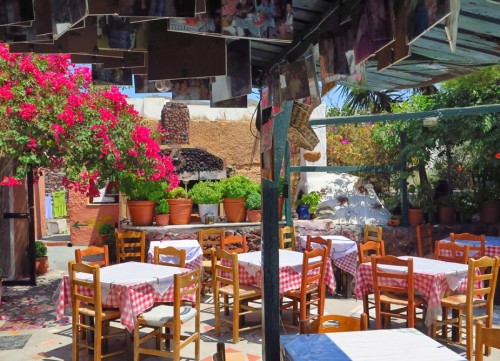 The old school snapshot approach of Mihalis and his family shows that the power of photography still brings people from all over the world together… and to the colorful tables of his joyful tavern.
By Ales Bravnicar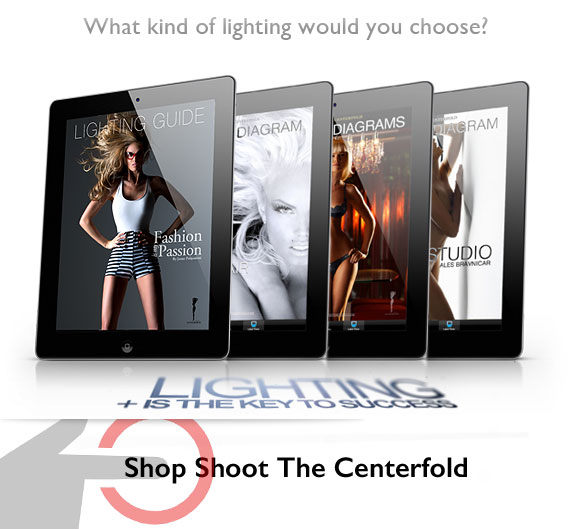 © 2014 Copyright ShootTheCenterfold.com. All rights reserved.