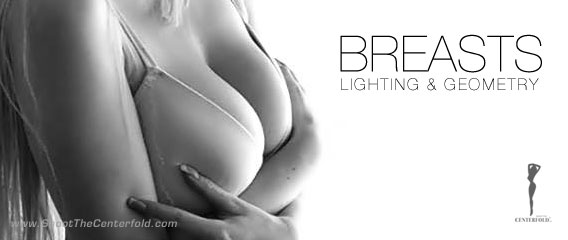 Disclaimer: This article is based on facts and my learnings during my career as a photographer. My seemingly endless search for that perfect figure and Playboy look led to conducting countless castings all over the US and foreign countries for a over decade. Several Thousands of beautiful ladies who attended these casting are to be respected for their courage and beauty regardless if they were chosen for the pictorials or not. I do not claim to be doctor or a specialist of female breasts and this article is not meant to influence any woman to artificially enhance their body in shape or form! The information below is simply about photography, knowledge, and lighting.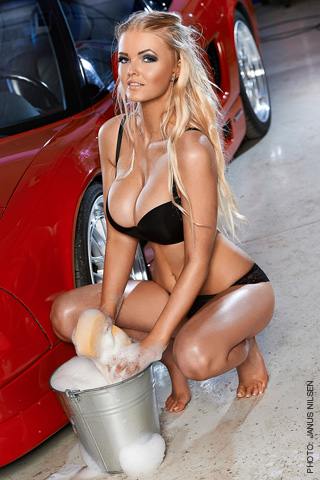 Boobs. Mammary glands. Ta-ta's. Whatever you call them, female breasts have been a topic of interest (or should I say, "obsession"?) long before the birth of the camera and artificial lighting (which I will later explain can be used to enhance the shape, size, and the clarity of this aspect of the female form). The most important function of woman's breasts is to feed an infant and supply the child with an extremely healthy nutrient-enhanced milk. But there are many other reasons that we can think of why men (and, frankly, most women) are so fascinated with women's breasts.
As much fun they are to photograph, fondle, or utilize as an attention getter, keep in mind to not lose your concentration when photographing the lovely pair. There are many ways you can do so and that's why I am writing about them since I've never seen anybody bringing this popular topic up for some unknown reason. Perhaps it is a sensitive topic of discussion or maybe most feel bashful to bring it up for discussion. In my opinion there is no need to be shy when analyzing and measuring up women's' breasts. Breasts are not silly but they do made men act stupid from time to time! The professionals are able to suppress their personal desires and look at each situation objectively in order to produce the best looking final product.
There tends to be a blind spot for many who photograph breasts without realizing how to use the light to get best out of the lovely duo, especially when working with an "enhanced" set of breasts which have become very popular among young ladies in glamour photography. Below you will find some helpful "brestlicious" tips to keep in mind. It proves that people have different tastes but they should know the best game-plans to get the best results with what they have to work with. My advice below is based on my own experience and endless Playboy castings and pictorials but the exhaustive study is still on-going!
Let's get started
First, let's do a quick study in case you have not realized that breasts do come in different shapes and sizes. The size and shape of women's breasts is variable. Some women have small breasts while others have big breasts (large amount of breast tissue). There is no perfect shape or size for breasts and you should have specific strategies for posing and lighting when presented with each type.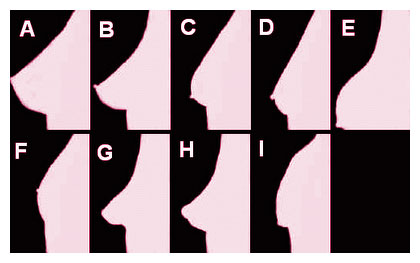 So what do we have here?
A – perfect breast shape;
B – swooping breast;
C, D, E – saggy breast;
F – common breast;
G – tubular breast;
H – snoopy breast;
I – pigeon chest (deformity of chest)
Some factors that can influence the breast size are: age, weight, volume of breast tissue, number of pregnancies, and menopause. Breasts are usually asymmetrical. This means that one breast can be different than the other; usually the left breast is a little larger than the right breast. Some breasts have inverted nipples: the nipple is retracted into the breast. It seems that 10% to 20% women have inverted nipples. Remember to pose your model so the breasts appear to be symmetrical.
"The average bra size in the United States is 36DD"When photographing breasts we tend to forget that different shapes and sizes of breasts will photograph differently just like clothed people do. Some look better than others. I remember sorting out model candidates with Playboy editors and how selective we had to be. Some ladies had a perfect face and body but were bereft of breasts. Then some had perfect breasts and almost perfect face to match but had some other physical "flaw" that eliminated her from our final picks. The search to find that perfect model was always a challenging task since our standards were always quite high.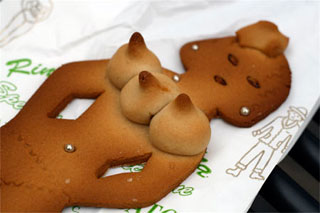 Often when we chose specific models to photograph, the breast issue was always a determining factor. I recall the editors' notes urging me to be aware of her breasts and how that specific editor wanted them to look in the photos because lighting effects different shapes of breasts differently. Then there was the cleavage issue. This was a big deal if the model didn't have much to work with. It had to be visible, especially if we were shooting a cover for example. Cleavage is an old trick on how to get attention to a magazine cover and it also shows in profits as the sales reports come in. There's nothing like a happy editor who can trust the photographer who understands how to apply that "breast lighting".
It's not always a big size that matters! Girls often tend to believe that "bigger is better." This is not true when it comes to photography in general but there sure are fans of big assets and the models who go for that perky look. Keep in mind that the most commonly accepted look is a proportionally balanced look–this is what editors are looking for!
Here are some samples of breasts, lighting, and what can result, sometimes to a less than flattering outcome.

1Here is a classic example of the "push up technique" that is considered quite popular among ladies. The downsize is that if person has implants, the top edge of the implants becomes visible specially if the lighting comes from below and up. Recommendation: Use a dress that does not squeeze or push the breasts overly high. When photographing these kind of situations, make sure to balance your lighting from top-down to eliminate shadowing caused by the bags of the breast implants and avoid excessive bottom light.

2As seen in this image, the visible implant bag sits fairly well and as it is supported by the bra. This is a perfect example of a well worn bra in conjunction with a supportive lighting situation. The breast size supports the visual scene and is balanced. The lighting in this kind of scenerio can be either bottom or top heavy. No visible unpleasant shadowing should occur.

3Here is a perfectly flush top area of a female chest. While it's clear that this is a breast enhancement ("boob-job") it's a very well done one and the breasts sit perfectly. This is a perfect scenario that will look great in any lighting situation. Just make sure that you are not only photographing the breasts alone.  It's really the whole concept and package that matters.

4This is a complex pair of breasts to photograph since they are too large for her body frame. However, they might look very good when styled in an evening dress or just a plain simple t-shirt. But if you run across to a similar situation where you will be needing to photograph a set this large where the implant bags are clearly visible on top and and sides of the breasts, it's going to require top heavy lighting and the model should lean slightly forward when standing up. This will result in a better balance visually speaking and gravity will assist you by pulling the breasts downward and adjusting them to look more natural.

5This breast enlargement is fresh out of the oven. It looks tight and it should when surgery is just days passed. But rest assured they will fall about 10-15% or more depending on her body-fat percentage. But this is a perfect example where the implant bags are visible on the cleavage and inner top part of the breasts.
"Sheyla Hershey is thought to have the world's largest breast implants. Brazilian-born housewife living in Houston, Texas wears a 38KKK bra and the implants are 10,000 cc's."
Often when you see a pictorial in Playboy or any other publication, you see a variety of different kind of breasts. Some look great and some just don't. In Playboy we specifically pay attention on how to fix things with lighting, posing the model, or by simply just crossing her arms to support or enhance her breasts and cleavage. Sometimes you see swimsuit catalog where breasts look horrible and much less flattering. But all this comes to a question of a taste too. Some of us like their apples hard and some prefer marshmallow-like softness. I guess that's what keeps the interest up and going and our research alive.
Here are another three animated samples to clarify challenges and solutions.
(Be advised that these breasts are not real and are for demonstrative purposes only.)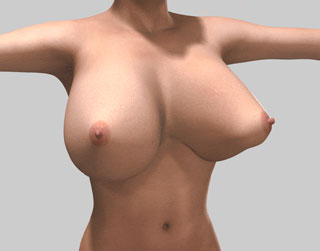 AMost of breast enhancement jobs that are on the larger side depend on the body-fat percentage of an individual. This can and will create odd looking results when moving to a specific poses. The implant bags do not always sit perfectly and/or lineup to your taste .. and it's ok. This is when we ask the model to move slightly or shift her balance to correct the imperfection. Also breast ripples may also appear when there is not enough breast tissue to support the implant. All of these are part of everyday issues when photographing nude women and their form. It's up to you to know how to correct them by using common sense, accessories, and lighting.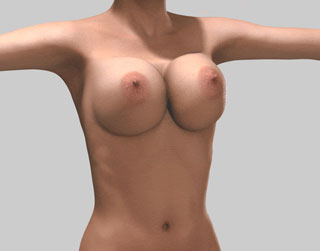 BThis is a perfect example that is usually associated when scar-tissue has developed around the breast implant bags. If you've ever known a person who is fresh out of a breast enhancement then you sure have heard how the new set of breasts should be massaged on a daily basis during the headlight period and beyond. This will lessen the chances of scar-tissue developing and giving a longer lifetime for the breasts. You can see in this sample image that the breasts are sitting quite high. Make sure to add some top lighting to remove the excessive shadowing that may occur even when using frontal and bottom lighting.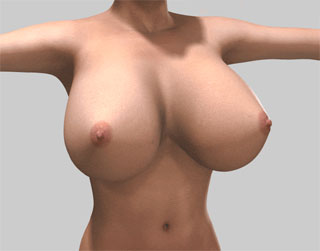 CSince there are no real in-depth manuals on how to photograph and light breasts correctly, I hope that this quick mammary briefing has been helpful to you. One last thing I wish to impart that I learned during my photography career: always respect each woman who is willing to share their body and strip for your camera. No matter how old, wrinkled, and imperfect her breasts may be, she is still there from her heart and as a woman. I have seen and heard horror stories on how some photographers don't know how to behave. Rule number one is not how good of a photographer you are, it's how much of a gentlemen you are. Once you can master that, and only then, will Playboy consider deciding if your photography skills are on par with their expectations.
Jarmo Pohjaniemi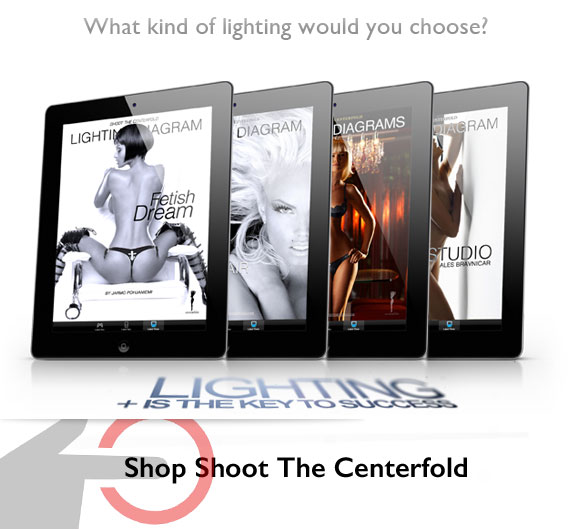 © 2014 Copyright ShootTheCenterfold.com. All rights reserved.