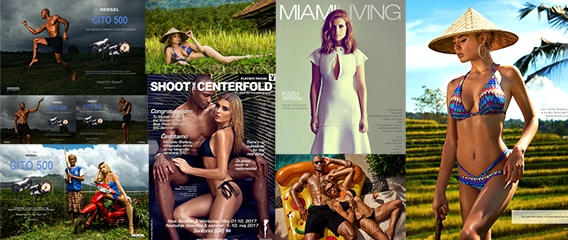 Shoot The Centerfold's attendees' publishing streak continues, and it looks like there's no stopping it. We love sharing with all of you the good news of who from the STC participants is advancing in publishing and how.
Our publishing seminar program has gotten many of you published not only in Playboy but also in commercial and fashion photography publications from editorial magazines and commercial campaigns in today's content rich media.
We are very proud of our attendees whose work can now be seen or will be published soon. Here is the first wave and previews of the winning commercial images from STC Bali 2016.
Michael Sheller – Miami Living/Bikiniluxe
STC attendee Michael Sheller's Bikiniluxe image publishes in Miami Living, a modern and trendy fashion magazine. It's on newsstands right now and is part of a whopping 10-page mega-fashion editorial all shot at Shoot The Centerfold photography sessions.
Larry Johnson/Ajitesh Sharma – Hensel

Congratulations to Larry Johnson and Ajitesh Sharma for the Hensel CITO 500 campaign sequence. When we shared the image results with Hensel, it took them by a big surprise.
Since when is it that STC produces commercial images with a male model? Since our goal is your success, publishing, and photography, there are no limits to what we can deliver with our expertise and attendees.
Equipment used:
The day was rainy, but the dark clouds worked perfectly as the backdrop for a high contrast pictorial. The philosophy was to meet power with power. Hugo Ukak, a professional soccer player, was a perfect fit with his epic physical appearance.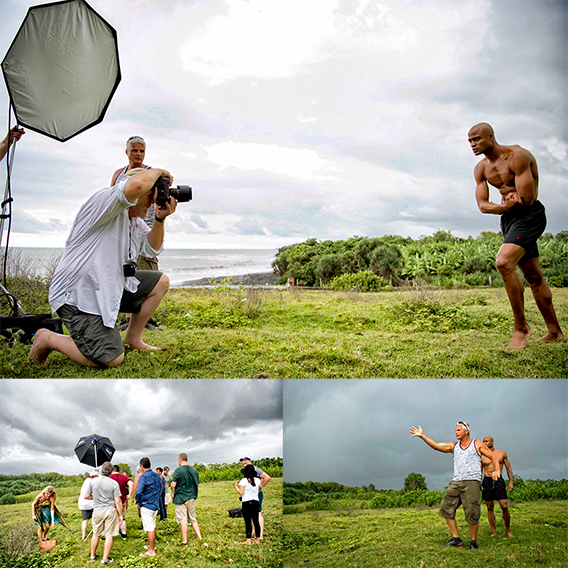 Behind the scenes images by Nelly Putnam
Getting the STC attendees' interest was a challenge at first due to this being a male model but they quickly changed their tune when they saw the results and what a particular lighting style can do on the computer monitors and their camera LCDs.
Hensel Grand 120 Parabolic Softbox was a perfect match for the storm clouds as seen in the background. Our male model's physique and nature's furious sky combined to display beauty and power of nature for the final shot. This Balinese field scene resembled a Fabio-like book cover where a single frame captures and tells a compelling picture story. By removing the Hensel Grand 120's internal buffer, we were able to achieve a skin-biting look and feel which can be a challenge to create with any other light modifier.
Ajitesh Sharma – Hensel
The New Hensel Cito 500, the world's fastest compact flash, got some competition from a local 100-year old villager who proved to be the perfect model to pose with beautiful Kseniya Belounsova. The picturesque rice field by the lake with a famous volcano in the background was no match for their stunning performance.
The contrast between both models was a match made in heaven (as long there were enough $5 bills every 15 minutes to cover his modeling fees).
Equipment used:
Attendee Ajitesh Sharma from India captured this perfect shot which connects traditional Indonesian style and the look and feel of the western world.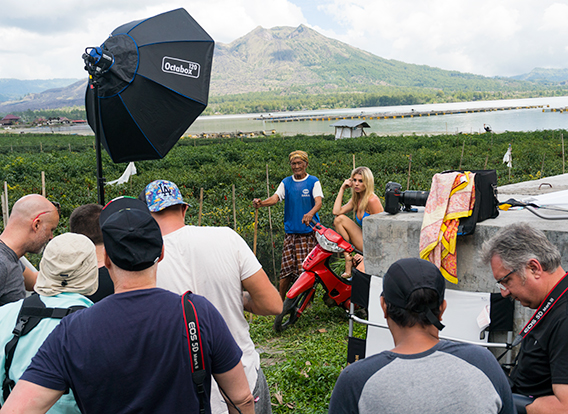 Behind the scenes image by Andrej – Villa Zala Bali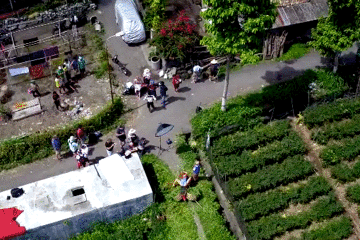 Shooting with Hensel Grand 120 – Bali
Reggie Blatter – Sunbounce/Bikiniluxe
Attendee Reggie Blatter's winning image takes us to the edge of a mountain and in the middle of a Balinese rice terrace, an ideal Balinese location to capture model Kseniya Belounsova for Sunbounce. This magical moment required Sunbounce's Sun-Swatter to eliminate the high afternoon sun for a perfect balance of reflected and ambient light.
Equipment used:
For a frontal fill-in light, Sunbouncer Mini was the reflector of choice and made for an easy travel companion because of its small size.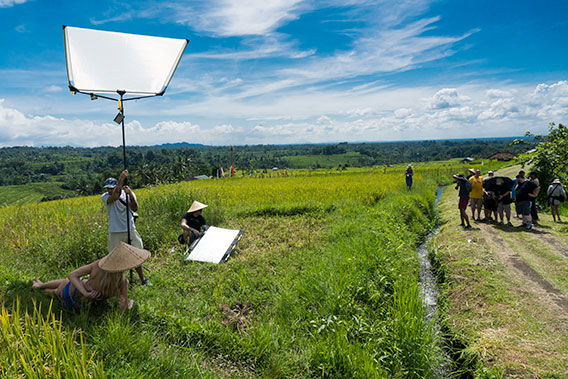 Behind the scenes image by Ales Bravnicar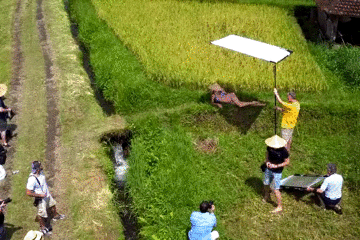 Sunbounce Sun-Swatter in action – Bali
Michael Juliet – Sunbounce/Bikiniluxe
Michael Juliet's Balinese version of Bay Watch got thumbs up from the local lifeguards! The already scorching heat only got hotter with Kseniya's modeling skills.
Speaking of her skills, not too many models could have delivered the performance and professionalism as she did considering the heat and humidity.
In Bali at that time of the year, the sun is unyielding, and Sunbounce's Sun-Swatter once more was a lifesaver.
Not all occasions offer endless sunsets or sunrises, and this is where the Sun-Swatter becomes your best friend and allows you to work all day by adjusting light accordingly.
Equipment used: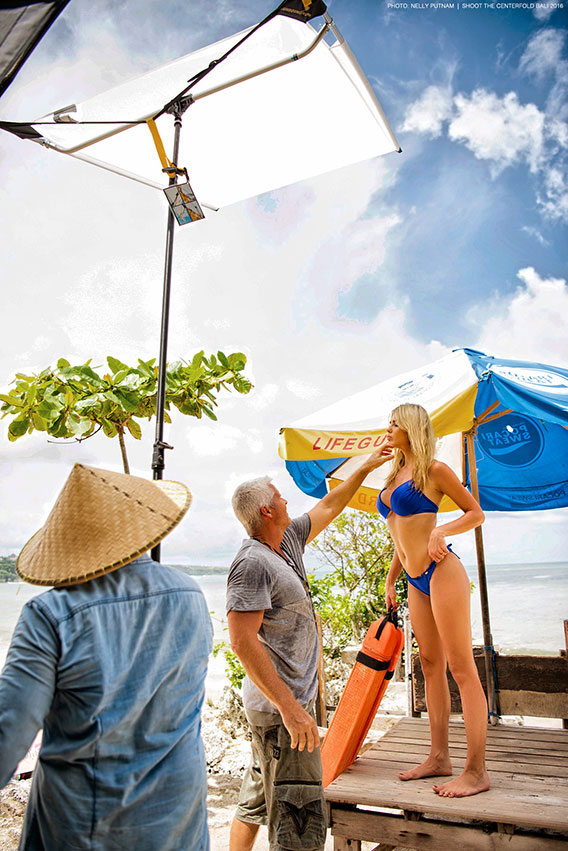 Behind the scenes image by Nelly Putnam
Keith Milligan – Sunbounce/Bikiniluxe/ Hensel
There is never a dull moment where creativity and inspirational elements come together.
The Villa Zala Bali served us with a beautiful location which is difficult to find anywhere else in the world. As a reminder of this incredible place, attendee Keith Milligan captured well-balanced and vibrant colors which support the swimsuit provided by Bikiniluxe.
Sunbounce's Sun-Swatter was used to block to mid-afternoon sun. Hensel Grand 120 overpowered the ambient light giving us underexposed sky and saturated green colors.
Equipment used: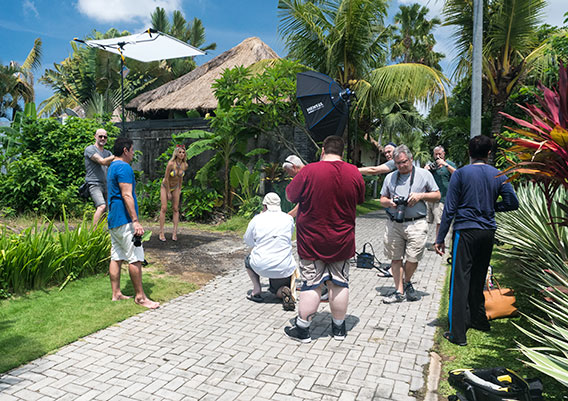 Behind the scenes image by Andrej – Villa Zala Bali
But wait, this is just the first wave of winning images that found their way into publishing. Stay tuned for more coming soon!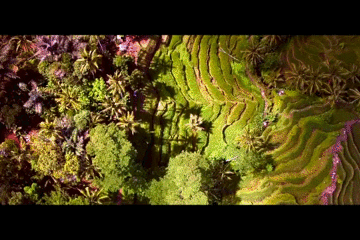 Our Bali seminar was one of the most successful publishing workshops we have ever conducted. Playboy published a whopping 8-page layout as a bonus. Are you hungry for getting your images seen and published? See about our upcoming May 1-10, 2017 Santorini seminar.
© 2017 Copyright ShootTheCenterfold.com. All rights reserved.