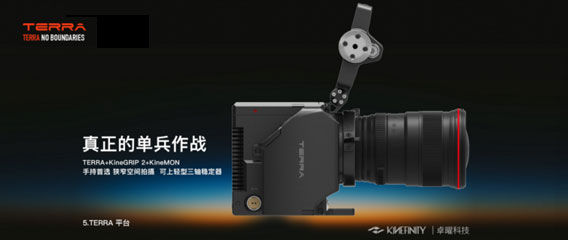 Kinefinity is launching new 5K and 6K cameras, which appear to be heavily influenced by the new Red DSMC2 design. Those who cannot afford a RED camera, this might be a good alternative choice.
China's Kinefinity aims to bring high-end functionality to budget price points with its soon-to-be-released TERRA 6K and 5K cameras.The new cameras in question bear the TERRA moniker, with a 6K model set to debut in two months and a 5K version becoming available in three months. Of course, the headline grabbing news is likely the marriage of these resolutions with the eyebrow raising price points of $6K and $5K, respectively.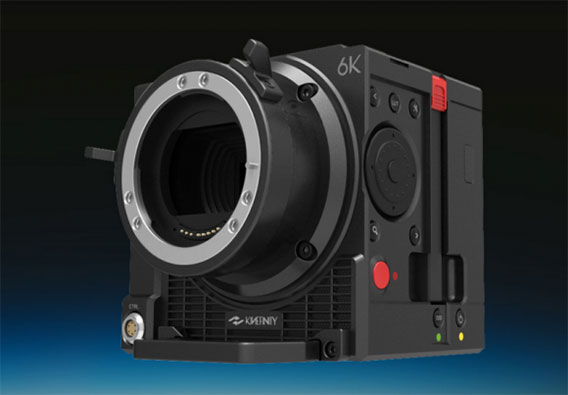 The 6K variant also shoots at 4K, 3K and 2K, while the 5K version also has 4K, 3.6K and 2K modes. Thee frame rates increase as the resolution diminshes, up to 225 fps and 200 fps at 2K resolution for the 6K and 5K models. The 6K model is rolling shutter only; the 5K model has dual shutter modes, allowing selection of rolling shutter at a purported 15 stops of dynamic range and a global shutter mode at 13 stops – both cameras have a base ISO of 800, traveling up to 20480.
The rather diminutive cameras (they are smaller than a RED Weapon) support all flavors of Prores 422. But shooters may opt to go raw, using the company's proprietary 12-bit KineRAW visually lossless codec, which boasts file sizes at about a half or third of cinemaDNG, recording to a 2.5″ SSD. It should be noted that this is a modular system and inclusion of the KineBACK add-on (for XLR audio connectivity, SDI ports, time code in and out, DC outputs and more) would raise costs a bit, let alone other accessories.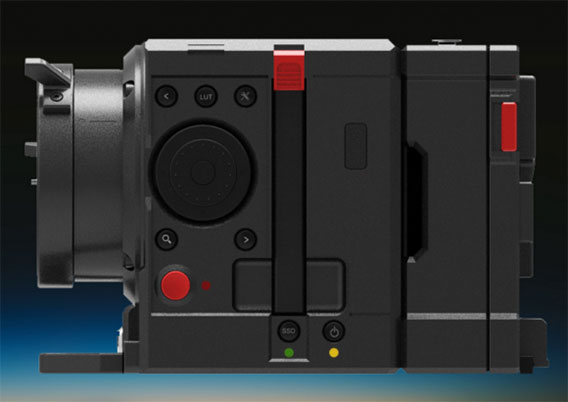 Kinefinity TERRA 5K Features:
5K at 60fps
4K at 100fps (possibly crop?)
3K at 150fps (possibly crop)
2K at 200fps (possibly crop)
15 stops DR (RS mode)
Dual Shutter (Rolling – 15 stops DR/Global – 13 stops DR)
S35 sensor
12bit KineRAW (KRW) + 10bit ProRes
ISO 800 base
Kinefinity TERRA 6K Resolution/Frame rates:
6K at 25 fps
4K at 100 fps (High-speed) with full-sensor readout
2K at 225 fps (High-Speed)
S35 sensor
16 stops DR in 3K Golden Res
14 Stops DR in rest of resolutions
KineLOG 3
12bit KineRAW (KRW) + 10bit ProRes
ISO 800 base
Mount is Canon EF with electronic support or KineMOUNT – which allows for PL, Nikon and other adapters.
The company also announced a few new accessories – the KineBACK SDI/V-lock add-on, a 5-inch 1080p monitor (KineMON) with a rosette mount on the side and a KineGRIP 2, which is a side grip for the new TERRA models that uses a Sony BP-U30 battery; those are used in the Sony FS5/FS7/PXW-X200/X180 and other cameras and are pretty affordable at around $142 USD.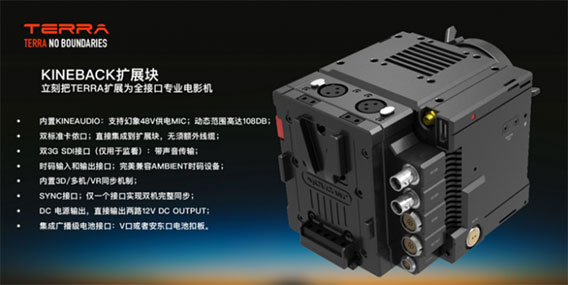 The KineBACK module (which is pretty much a requirement to bring the camera to production ready standards although not a requirement for the camera to function, is listed at 6990 RMB – roughly $1,075 USD) and features 2 x XLR inputs with 48V phantom power, V-lock plate with 2 x D-tap outputs, Dual 3G-SDI outputs, Genlock and 3D/VR sync plus DC power input.
On the photo above you can see the "brain" features a full-size HDMI output for monitoring, and with the additional grip – you can power the camera from there with a more affordable, but less powerful Sony BP-U30 battery or equivalent from third parties.
The weight savings on the new Terra models are quite significant – the body is weighted at 920 grams – very impressive and should score major pluses by drone and handheld gimbal stabiliser aficionados. See the weight comparison chart below for a more visual representation: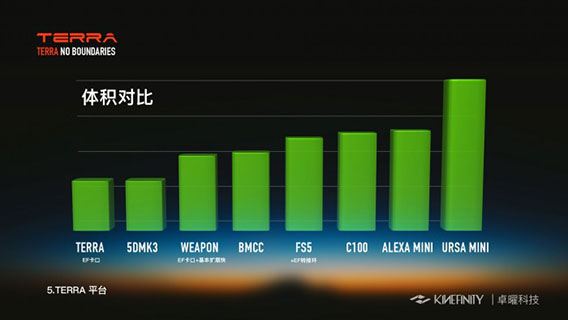 The price of the TERRA 5K body roughly translates to about $4,600 and $5,400 for the 6K version (using current Chinese Yen to USD conversion). Kinefinity will have some packages as outlined below:

Terra 5K Package – $5,700 / 6K package – $6500:
TERRA 5K
KineMON 5-inch monitor
KineGROP
1 x KineMAG 120GB SSD
Charger and AC adapter
The 6K Terra is expected in May, followed by the 5K version in June. NAB 2016 is certainly shaping up to be quite interesting this year with Kinefinity already announcing two new cameras.
© 2016 Copyright ShootTheCenterfold.com. All rights reserved.