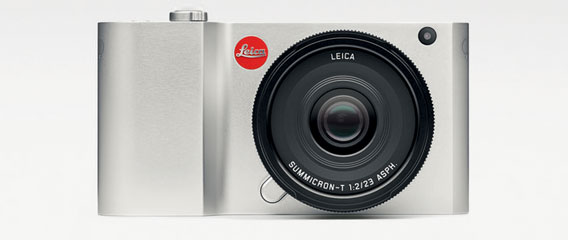 The traditionalist camera maker moves into the modern world of photography with a bold new design
Leica is best known for being a traditionalist camera company. It took years for it to release a digital version of its revered M rangefinder, and it's one of the few camera companies left that still produces film cameras, the designs of which have gone largely unchanged for 60 years. But today Leica is launching a new line of cameras that are exceptionally modern, from their design to their technology. The Leica T is the company's first line of mirrorless, non-rangefinder cameras, with a completely new industrial design and an all-new lens mount.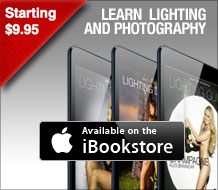 Leica partnered with Audi's design team to come up with the T's stark, modern look. (This isn't the first time the German companies have joined forces: Audi was responsible for 2013's Leica C point and shoot and the stunning, limited-edition titanium M9 from 2010.) It's the first interchangeable lens camera to have a true unibody aluminum frame, which Leica machines out of a single block of metal. It's not unlike Apple's manufacturing process for the MacBook, though the Leica T is being manufactured in a brand-new factory in Wetzlar, Germany built specifically for it. (And in true, hand-built Leica fashion, each T chassis is subjected to 45 minutes of polishing by a skilled Leica employee before the electronics are added to it. By hand, of course.)
Specs-wise, the Leica-T is equivalent to just an entry or midrange DSLR or mirrorless camera, with an APS-C format (370.52 mm square) 16-megapixel CMOS sensor, a stated ISO light sensitivity range of 100 to 12,500 (odd ,since most do 12,800) and shutter speedsfrom 30 seconds to 1/4,000 second. It features a brand-new lens mount, and Leica will sell an adapter that makes the body compatible with all Leica rangefinder M-lenses produced after 1954.
Leica is also launching two new lenses alongside the camera that will be compatible with it — a Vario-Elmar-T 18-56mm f/3.5-5.6 zoom and a Summicron-T 23mm f/2 prime (non-zoom) lens. Both lenses will cost $1,750 each.
Los Angeles, California – April 24th, 2014 – Leica Camera continues to celebrate its journey into the future with the launch of the radically new yet brilliantly familiar Leica T-System. The Leica-T was designed with dynamic simplicity in collaboration with AUDI Design and it is the fourth system ever to be released from Leica. The Leica T-System features Wi-Fi, a rebuilt graphical user interface (GUI), Adobe® Photoshop® Lightroom®, a professional digital workflow solution for Apple Mac® OS X and Microsoft Windows®.
Leica has been praised for a century for its precise engineering while understanding the importance of design. As a result, Leica has created tools that are the perfect balance of purpose and emotion. At the heart of this praise is the collaboration with AUDI design and the creation of the Leica T-Unibody. The Unibody was painstakingly made by hand and machined from a single, solid block of aluminum, with a sleek and tactile finish. The new body is a natural extension of the user's hand and photographic vision allowing complete focus on crafting the perfect image. Using the integrated Wi-Fi module these images can be wirelessly transmitted to smartphones, tablets, and various social media platforms via the new Leica-T app which is available for iOS devices. Leica customers can also download image processing software, Adobe® Photoshop® Lightroom®, free after registering their camera on the Leica website. The digital image processing software offers a comprehensive range of functions for the management, processing, and presentation of pictures and video. Leica has also collaborated with AUDI Design to create new and unique accessories. These accessories include bags and cases available in yellow, orange-red, black and white. The bags, cases, and straps were designed using the new, innovative Easy-Click system. Easy-Click was designed to effortlessly connect the user's straps to their bags and cases. Two new lenses are being introduced that will accompany the Leica T-System launch: the Leica Vario-Elmar-T 18-56 mm f/3.5-5.6 ASPH and the Leica Summicron-T 23 mm f/2 ASPH. The Leica Vario-Elmar is ideal for creative innovators who want true versatility in their photography allowing them to seamlessly shoot landscapes, portraits, and other limitless forms of creative outlets. The Leica Summicron-T 23 mmf/2 ASPH which equates to the traditional reportage focal length of 50mm gives the user everything they need to capture all the decisive moments. The Leica M-Adapter T expands the lens selections to include all Leica M-Lenses produced after 1954.
The Leica T features a large high performance, APS-C-format CMOS image sensor with over 16.5 megapixels (effective 16.2 MP) that is the perfect combination of performance and image quality. The MyCamera menu can be customized to the user's preferences allowing easier access to all their frequently used settings. The system also includes a high-resolution electronic viewfinder with an integrated GPS feature and tilt and swivel function allowing angles to be adjusted. The new Leica SF 26 flash unit gives users the ability for perfect flash exposures and fill light. Unique to the Leica SF 26 flash allows it to be used as an LED light source for recording video.
THE LEICA T BEARS MORE THAN A PASSING RESEMBLANCE TO THE JONATHAN IVE-DESIGNED LEICA M FROM LAST YEAR
Product Specs
Technical Data LEICA
Camera type: Leica T (Typ 701)
Lens connection: Leica T bayonet fitting with contact strip communication between lens and camera
Lens system: Leica T lenses
Sensor: CMOS sensor, size APS-C (23.6 x 15.7 mm) with 16.5/16.3 million pixels (total/effective), format aspect ratio 3:2
Resolution: J PEG: 4928 x 3264 (16 megapixels), 4272 x 2856 (12.2 megapixels), 3264 x 2160 (7 megapixels), 2144 x 1424 (3 megapixels), 1632 x 1080 (1.8 megapixel), DNG: 4944 x 3278 pixels
Picture data file formats / compression rates: Selectable: JPG Superfine, JPG Fine, DNG+ JPG Superfine, DNG + JPG Fine
Video recording format: MP4
Video resolution / frame rate: Selectable: 1920 x 1080 p, 30 fps or 1280 x 720 p, 30 fps
Storage media: 16GB internal memory; SD/SDHC/SDXC memory cards, multimedia cards
ISO range: Automatic, ISO 100 to ISO 12500
White balance: Automatic, presets for daylight, cloud, halogen lighting, shadow, electronic flash, two manual settings, manual color temperature setting
Autofocus system: Contrast based
Autofocus metering methods: Single point, multiple point, spot, face detection, touch AF
Exposure modes: Automatic program, aperture priority, shutter speed priority, manual setting, scene exposure modes: Fully automatic, sport, portrait, landscape, night portrait, snow/beach, fireworks, candlelight, sunset
Exposure metering: Multiple field, center weighted, spot
Exposure compensation: ±3 EV in 1/3 EV increments
Automatic bracketing: Three pictures in graduations up to ±3 EV, adjustable in 1/3 EV increments
Shutter speed range: 30 s to 1/4000 s
Picture series: Approx. 5 fps, 12 pictures with constant picture frequency, then depending on memory card properties
Flash modes: Automatic, automatic / red eye reduction, always on, always on / red eye reduction, slow sync, slow sync / red eye reduction
Flash exposure compensation: ±3 EV in 1/3 EV increments
Flash synchronization: Sync time: 1/180 s
Guide number of built-in flash unit: for ISO 100: 4.5
Recovery time of built-in flash unit: Approx. 5 s with fully charged battery
Monitor: 3.7″ TFT LCD , 1.3 million pixels, 854×480 per color channel
Self timer: Selectable delay time 2 or 12s
WLAN: Complies with IEEE 802.11b/g/n standard (standard WLAN protocol), channel 1-11, encryption method: WiFi compatible WPA™ / WPA2™, access method: infrastructure operation
Power supply: Leica BP-DC13 lithium ion battery, rated voltage 7.4V, capacity 1040mAh (based on CIPA standard): approx. 400 pictures, charging time (after total discharge): approx. 160 min
Connections: Micro USB port (2.0 High Speed), Leica flash interface with integrated connection for optional accessories; battery charging via USB connection possible with max. 1A
Charger: Leica BC-DC13, input: AC 100-240V, 50/60Hz, automatic reversing, Output: DC 8,4V 0,65A, Weight: approx. 90 g, Dimensions: approx. 96x68x28 mm
Body: Leica unibody solid aluminum design, two removable dummy plugs for carrying strapand other accessories, ISO flash shoe with center and control contacts for connection of more powerful external flash units, e.g. Leica SF 26, or for attaching the Leica Visoflex electronic viewfinder
Tripod thread: A 1/4 DIN 4503 (1/4")
Dimensions (WxHxD): 134 x 69 x 33 mm
Weight: Approx. 384 g / 339 g (with / without battery)
Items supplied: Camera body, carrying strap, 2 carrying strap release pins for detaching the carrying strap, battery (Leica BP-DC13), charger (Leica BC-DC13) with 6 adapter plugs, USB cable
Software: Adobe® Photoshop® Lightroom® (free download after registration of camera), Leica T app for iOS® (remote control and image transfer, free download from Apple® App-Store®)
The Leica T is available May 26th, 2014 from Leica Store and authorised Leica dealers. You can pre-order the Leica here for $1850 which is not that bad.. The range of accessories will be available following the launch of the camera.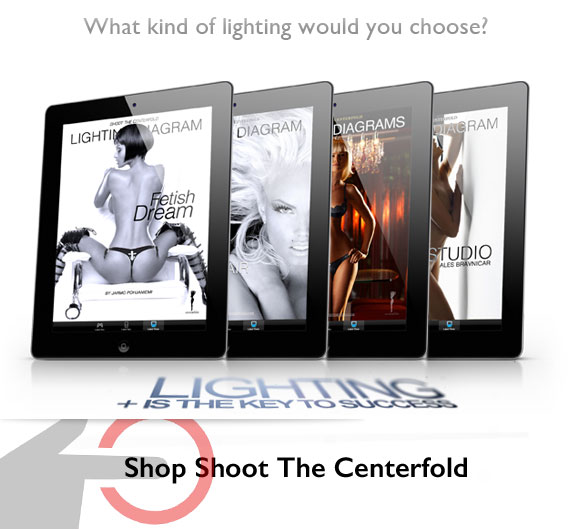 © 2014 Copyright ShootTheCenterfold.com. All rights reserved.