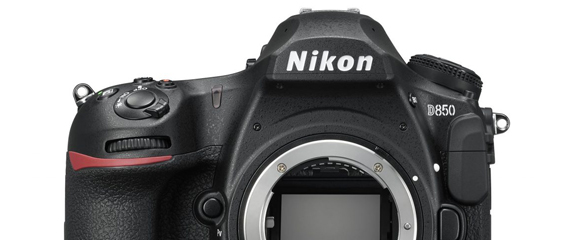 Nikon has been something of a trailblazer in super-high-resolution DSLRs, chucking a metaphorical hand grenade into the market in 2012 with the launch of the 36.3Mp Nikon D800.
Since then, plenty of others have caught up, with a growing number of super-high-resolution models available, including the Sony A7R series, the Pentax K-1, and the Canon 5DS series.
Launching the fourth-generation D800-series camera, the 45.7Mp D850, Nikon again looks to knock the competition for a loop. It's the first Nikon DSLR to feature a full-frame backside-illuminated (BSI) sensor, and is the second-highest resolution DSLR available, behind the 50.6Mp Canon 5DS series.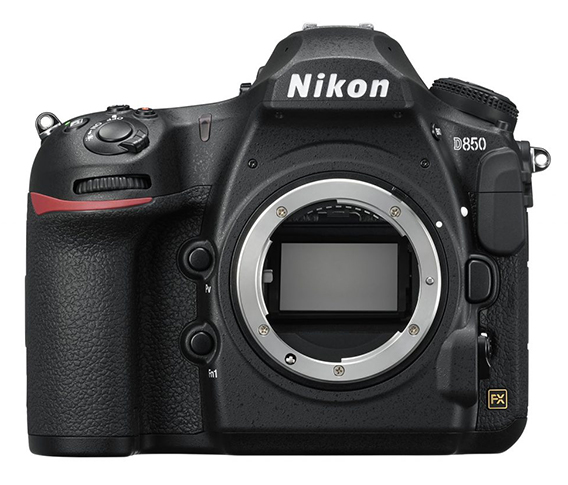 BSI sensor technology, in theory, enables the pixels to capture light more efficiently, giving a boost to dynamic range, color, and signal-to-noise performance, particularly at high ISOs. What's more, omitting an optical low-pass filter on the D850's sensor (historically used to reduce unwanted moiré effects on high-frequency details) gives the D850 a further boost for sharpness.
To be fair, this is less of a big deal, as leaving out the low-pass filter isn't unusual on high-resolution chips nowadays, since they're able to capture very fine detail without moiré. But it all adds into the mix: combine the D850's massive resolution with improved light-gathering capabilities, and we should see some exceptional image quality.
Add to all that the 153-point autofocus system from the flagship Nikon D5, a 3.2in 2.4m-pixel touchscreen LCD, 4K-video, 9fps burst shooting with added battery grip, dual QXD and SD card slots, a weather-sealed magnesium alloy body, as well as an electronic shutter option for silent capture, and the Nikon D850 looks on paper like one hell of a camera.
Key Specifications:
45.7Mp BSI CMOS full-frame FX sensor
No optical low-pass filter
Expeed 5 image processor
Native ISO 64-25,600 (expandable to ISO 32,000-102,400)
153-point multi-cam 20K autofocus
7fps burst shoot (9fps with battery grip)
4K@30fps & 1080p@120fps video
Overall image sensor performance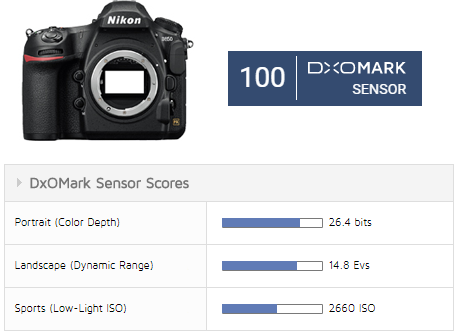 The Nikon D850's first full-frame BSI sensor breaks new ground for image quality as the first DSLR sensor to achieve an overall DxOMark score of 100 points.
The D850's key strengths are its outstanding color (Portrait score) and dynamic range (Landscape score) at base ISO where it again ranks as the number one among all commercially available cameras we've tested for these attributes. Offering an outstanding dynamic range of 14.8 EV and color depth of 26.4 bit at base ISO, combined with its massive 45.7Mp resolution, the D850 is a mouthwatering prospect for landscape, studio, portrait, as well as high-end editorial or advertising photographers who are seeking top-notch image quality for large-scale reproduction and display.
Its low-light ISO (Sports score) of ISO 2660 doesn't quite live up to its other scores, but it's still a very acceptable result, and taking into account sensor size, resolution, and resulting pixel pitch, the D850 fairs pretty well for ISO performance.
Image quality compared
At base ISO, the Nikon D850 image quality for color is unrivaled for a DSLR, although the mirrorless Sony A7R II and full frame compact RX1R II comes pretty close. The D850's color is on par with the best results we've seen on medium-format sensors, such as the Phase One IQ180 digital back, and fractionally ahead of the Phase One P65.
Although its low-light ISO performance (Sports score) doesn't quite live up to its other high rankings, the D850's score of ISO 2660 is very respectable. Packing such high resolution on a full-frame sensor, the Nikon D850 pixel pitch comes in around 4.35µm.
That's still good, but compared to a whopping 8.4µm on the lower 12.2Mp resolution full-frame Sony A7s, the D850 can't match the signal-to-noise ratios at high ISOs that sensors with greater pitch offer. That said, with the Sports score based on an analysis of noise on unprocessed RAW files, photographers can be confident of low noise up to around ISO 3200 on the D850, and well beyond that with effective noise reduction in post-production.
For detailed test results visit Dxomark.com
© 2010-2017 Copyright ShootTheCenterfold.com. All rights reserved.