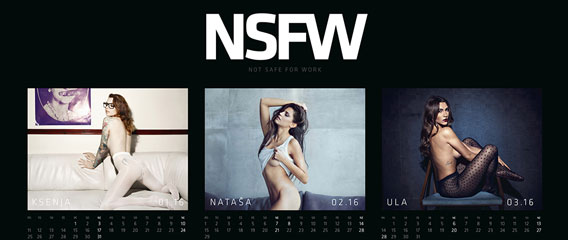 It's the festive month of December and the flood of new calendars for the upcoming year is upon us. They range from the most artistic and sublime to the most explicit, giving their admirers a vast variety of options from which to choose.
Collegium Graphicum, who has been producing a unique calendar every year for more than a decade, called me again this year (they already did it in 2011, when the US blogger community proclaimed our "Made in Slovenia" B&W calendar with 12 top models "the Slovenian answer to Pirelli") and challenged me to create another fine product for their company. Ultimately, I only gave them one condition – that my hands be completely free to pour my creative vision onto large sheets of high quality printing paper.
As you know, I am no stranger to fine art, having exhibited my photos in Milan, New York, The Holy Land and, most lately, at Art Basel in Miami. I won the Slovenia Press Photo award for my depiction of androgynous models (the jury was mostly Pulitzer Prize winners) and I have been shooting fashion editorials for glossies such as Cosmopolitan, Elle and Grazia for more than a decade. My work was also featured in almost every international Playboy edition around the globe and in the span of the 15 years of my Bunny pages career, I have photographed more than fifty covers for the magazine.
The calendar photoshoot started with with a clear mission – to merge the beauty of 12 fashion models with my own erotic vision, adding a pinch of what my colleagues call "the Bravničar look". Ten of the girls I photographed come from my home country of Slovenia, one is from Ukraine and one from Estonia. The avid Playboy readers might remember Karin Škufca, Katarina Benček, Ula Šemole and Eva Kofol, who have all been previously featured in my Playboy pictorials and everyone else will surely recognize the European and World Ten-dance Champion and model Nadiya Bychkova. There is also a newcomer featured here with no previous experience in modelling as I gave a unique opportunity to Lea Rogelj, a hot girl next door from a small town of Voklo, to be featured in the pages of the 2016 calendar.
The layout of the calendar is a creative domain of designer Zvone Kukec, who has crafted every single of the 14 calendars for Collegium Graphicum printers. "There is only one photographer in Slovenia who can produce such work we see here," Zvone told the Jamšek brothers who own the Collegium Graphicum company. "But don't take my word for it – ask the girls!"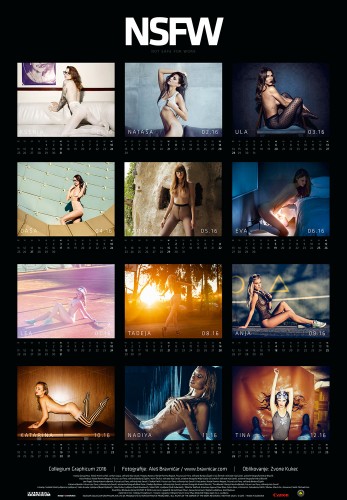 Click to enlarge
They took Zvone Kukec's advice and talked to two models from the pages of the "NSFW" (Not Safe For Work) 2016 calendar, as I aptly named my 12-month piece-de-resistance that is unfortunately not for sale and will be printed in a few hundred copies only.
World champion dancer Nadiya Bychkova (month of November) told the media: "Aleš is the only photographer I trust completely. The outcome is marvellous". Ula Šemole (month of March), who was also featured on the pages of Playboy not long ago, added: "Aleš and I collaborate a lot. There is nobody else that I'd pose naked for but him".
The Jamšek brothers loved the final result and the calendar came out on December 4th with a big party. Last but not least, I must mention all the people that helped on the way. They are all credited on the final page of the calendar. Special thanks to Zvone Kukec, The Jamšek Brothers of Collegium Graphicum, Loui Ferry for most of the hairdos, Romina Regvat (MUA) and Barbara Žgalin/CDB for three styling advices, Katarina Benček for selected make-up, Bojan Pejkovič of Arreda, Sandi Kovačevič of Hotel Cubo, Rudi Gubenšek of NOX, Veslaški klub Ljubljanica, Wolford for the support, Hensel Visit GmbH for the lighting and Canon Slovenija for having me as an Ambassador. Also to my dear friend Andraž Blaznik for assistance.
Thank you!
PS. The calendar is a limited edition fine-art 14-page offset print (300 copies only) and is NOT FOR SALE!
Ales Bravnicar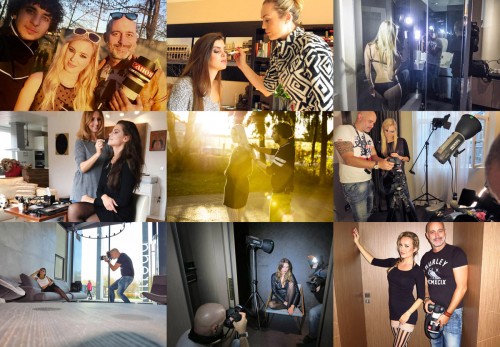 © 2015 Copyright ShootTheCenterfold.com. All rights reserved.