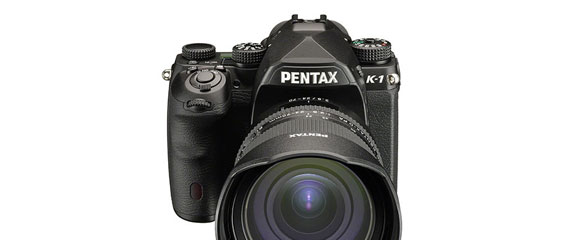 Loyal Pentax users can finally celebrate, as the widely hyped and much talked about full-frame K-1 DSLR Camera has officially arrived along with two new optics, the HD PENTAX-D FA 28-105mm f/3.5-5.6 ED DC WR and HD PENTAX-D FA 15-30mm f/2.8 ED SDM WR.
Pentax made sure to deliver with their first full-frame K-mount digital camera, packing in a 36.4MP CMOS sensor and a competitive price of $1,796.95 with the latest and greatest of their camera technology.
This includes a Pixel Shift resolution mode that can dramatically boost image quality and built-in 5-axis Shake Reduction stabilization rated to five stops that can do more than just combat camera shake. And, as is Pentax's way, the camera is completely weather sealed, and even rated to operate in freezing temperatures down to 14°F.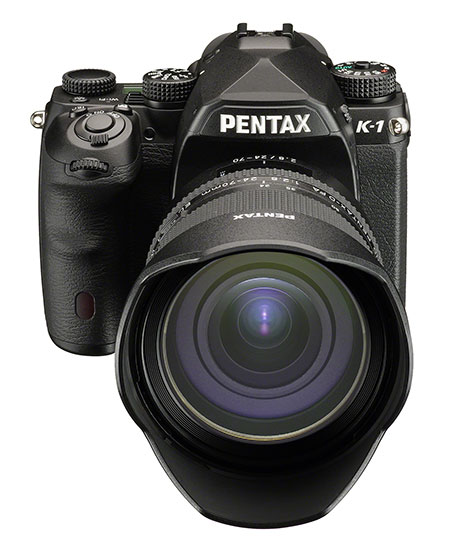 In terms of pure features, the K-1 is absolutely loaded. The 36.4MP CMOS sensor omits an optical low-pass filter for maximum sharpness and, together with the new PRIME IV image processor, delivers Pentax's best images yet at sensitivities up to ISO 204800. It can also shoot continuously at up to 4.5 fps and is equipped with the SAFOX 12 autofocus system, which uses 33 points, including 25 cross-type points, for rapid focusing in lighting conditions down to -3 EV. Combined with the real-time Scene Analysis System, the K-1 can evaluate and create high-quality images in no time at all. Users will also have access to a 15.3MP APS-C setting for use with existing DA-series K-mount lenses or simply narrowing your field of view.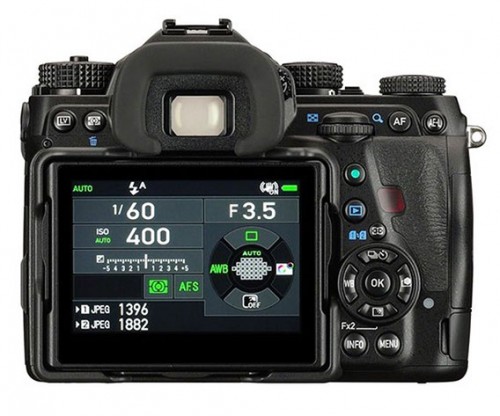 Specialized Capabilities
Moving on to more specialized capabilities, the K-1 is equipped with an in-body, five-axis Shake Reduction system that can compensate for five stops of camera shake with any lens in use. This also combines with the built-in GPS to enable the AstroTracer function to help eliminate star trails during long exposures of the nighttime sky, and there is a Composition Adjustment setting, which lets users move the sensor up/down, left/right, and rotationally to correct for small errors in their composition without having to move the camera physically. On top of all this, users can access an AA Filter Simulator, which mimics the effects of a physical optical low-pass filter by moving the sensor ever so slightly to minimize moiré and aliasing.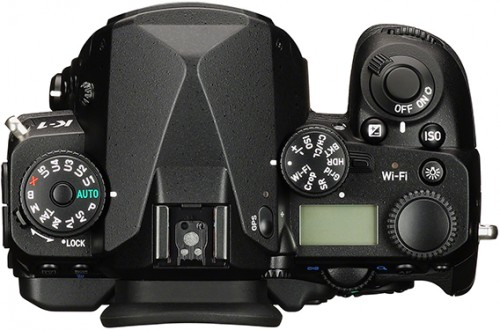 Getting into the body design, the camera has a unique 3.2″ cross-tilt LCD screen, which can tilt upward 90°, downward 44°, and left and right 35°. The body is completely weather sealed at 87 different points to ensure rain or dust won't damage your camera. An interesting feature of the K-1 is a series of strategically placed lights around the body's perimeter—one above the lens mount, four on the rear of the screen, and one in the remote socket—to aid in low-light handling and settings adjustment and, of course, the top LCD lights up for settings confirmation in the darkest conditions.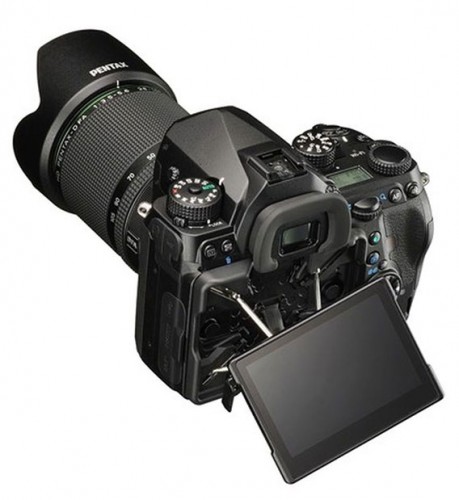 Buttons and Dials
The body also has a variety of dials and buttons for quick access to any of your most common settings, including two dedicated dials for aperture and shutter speed, as well as a third command dial that is configured by a settings-selection dial for assigning specific functions to be adjusted, such as exposure compensation, ISO, bracketing, and more. Flash is another considered aspect of the camera, with a hot shoe available with TTL support and a PC sync terminal. Users looking for tactile control over their camera will definitely be satisfied. Along with the built-in GPS and eCompass, the K-1 does have integrated Wi-Fi connectivity, which allows photographers to connect to their smartphone and tablet easily for immediate image transfer or wireless camera control.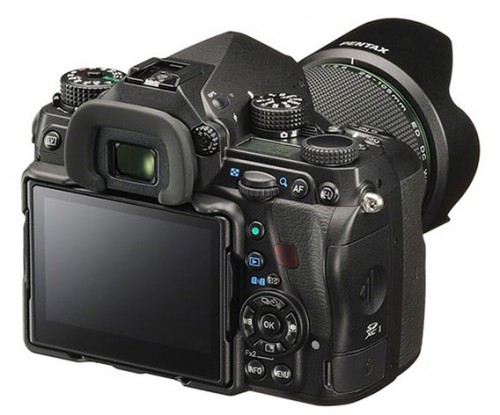 Beyond stills, the K-1 can record Full HD 1080 video at up to 30p or 60i. This is possible using either the full-frame sensor or an APS-C crop setting, and H.264 compression keeps file sizes manageable. Also, when shooting HD 720p, the K-1 can boost the frame rate to 60 fps.
Audio is well supported with headphone and microphone jacks on the side of the camera and the ability to monitor levels on screen. Additionally, the camera is NTSC/PAL switchable and has focus peaking for accurate manual focusing.
Pentax K-1 Key Specifications
36.2MP full-frame CMOS sensor with no anti-aliasing filter
5-axis image stabilization rated to 5 stops by CIPA standard testing
100% pentaprism viewfinder with 0.7x magnification
33-point AF system (25 cross-type)
Extensive weather-sealing
1/200 sec flash sync speed
14-bit Raw recording (DNG or PEF)
AA filter simulation
Multi-shot Pixel Shift Resolution mode
Built-in GPS with electro-magnetic compass and Astrotracer function
4.4 fps continuous shooting (6.5 fps in APS-C crop mode)
Wi-Fi
1080/30p video
To boost the capabilities of this new digital system, Pentax has seen fit to introduce two more full-frame lenses, the HD PENTAX-D FA 28-105mm f/3.5-5.6 ED DC WR and HD PENTAX-D FA 15-30mm f/2.8 ED SDM WR. The 28-105mm is a versatile zoom that covers wide to medium telephoto ranges and provides a variable f/3.5-5.6 aperture to maintain a relatively compact design. The 15-30mm, on the other hand, is a specialized ultra-wide zoom that maintains a constant f/2.8 aperture for depth-of-field control and working in low light. It has various specialized optics to reduce aberrations and maintain contrast, including Extra-low Dispersion (ED) glass. Furthering optical quality is an HD multi-layer coating, which nearly eliminates flare and ghosting for clear, high-contrast imagery. Both leverage the power of a Supersonic Direct-Drive Motor (SDM) for fast, silent autofocus and have eight seals for weather resistance.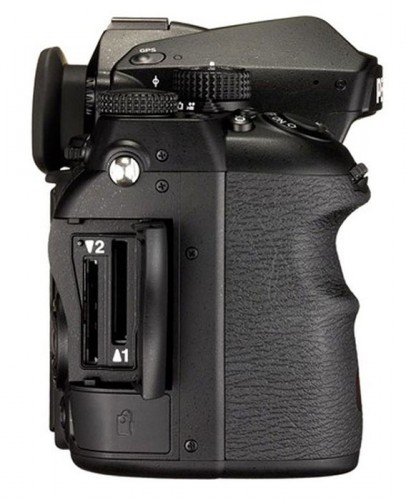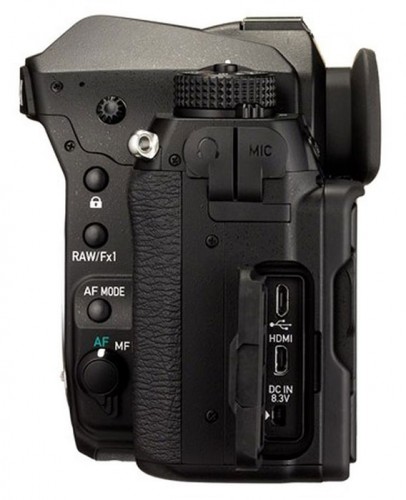 Pentax has made its first foray into full-frame very compelling, whether you are a loyal Pentax shooter or a relative newcomer. The K-1 can also back up a medium-format 645 shooter by using an optional adapter that fits the 645 optics onto the K-1 body, and the D-BG6 Battery Grip will be available for boosting your battery capacity, offering greater comfort and control during vertical shooting.
Be sure to check out more sample images on Pentax's website.
[B&H]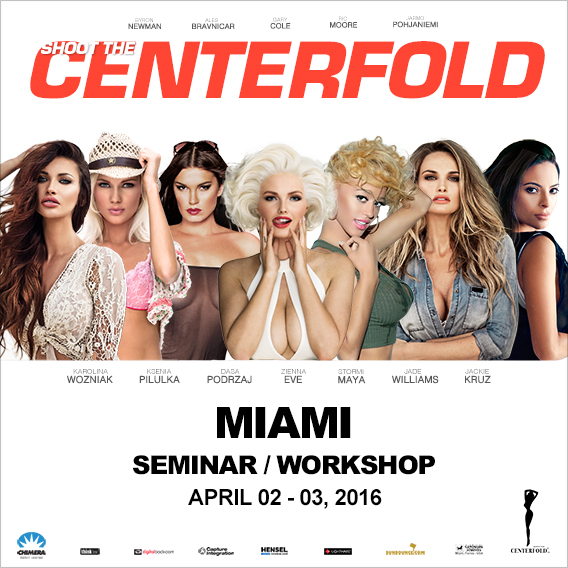 © 2016 Copyright ShootTheCenterfold.com. All rights reserved.