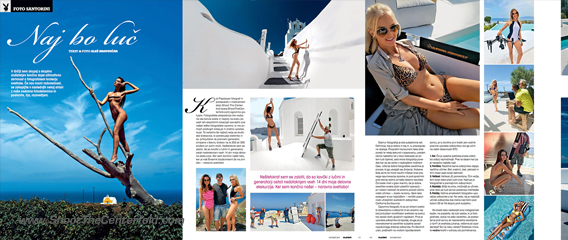 Playboy International published a whopping 4-page pictorial and story about STC's workshop held earlier this year by Jarmo Pohjaniemi and Ales Bravnicar on the Greek island of Santorini.
It goes without saying that we are very proud to share our experience with you which is now documented, in ink.
The memories were priceless. Greek salads and Greek beer were excellent, publishing became a reality for our attendees and still keeps on delivering internationally. Everlasting bonding under Greek skies could not have been more perfect.
But that's not all, folks! Sunbounce, a German lighting manufacturer, sponsored a full-page ad in Playboy which featured a tasteful rear-end shot of model Jade Williams shot by STC attendee Joe Tejeda.
What a fantastic opportunity this was for our attendees. They got their hands on Sunbounce reflectors and shone the light on Jade's beautiful behind and Noemi Kappel's incredible fashionable figure. Model Zienna Eve and Anja Jenko also got their Sunbounce fix.
A Slovenian to English Translation From the Pages of Playboy
"In divine Greece, where naked women seem to grow on trees, I had an epiphany while teaching a group of attendees about lighting. The ultimate truth about taming the light shone from heavens above: use nature's gift, the daylight. If I have your attention, read on. You are about to be illuminated as well.
Learning the proper ways of lighting is a process you actively participate in all your life. Good lighting should be exactly like good plastic surgery – you should not notice it is there. Enter the most amazing tool for taming the light: the best and lightest reflectors in the world – the German perfection that is California Sunbounce.
I see far too many location photos that suffer from two major faults when lit with reflectors: light that is too hard (mostly bounced from below) and subjects that are illuminated unevenly due to the wrong size or improper position of the reflector. The Zen for successful use of reflectors is determined by the following five factors, as I teach at STC workshops:
Angle. A reflector illuminates the subject most when the incident light angle is the same as the reflected angle. Finding the right angle always represents the biggest challenge!
Surface. Different reflector surfaces reflect light differently. White, silver, gold, zebra and black each have their unique characteristics.
Size. Bigger reflectors bounce light that looks softer with less fall-off. They also offer a broader tolerance when the subject or the reflector moves slightly. One of greatest errors most photographers make is using a reflector that is too small.
Distance. Distance. The closer the reflector is to the subject, the brighter the fill light becomes. It also softens up the shadows.
Position. A lot of photographers use reflectors from below (I do that as well), but my favorite recipe for obtaining great light from a reflector is bouncing the light from above at approximately 6 feet, simulating a softbox tilted 30 to 45 degrees towards the subject.
When setting up your shot do not forget that the subject has a significant influence on lighting as well. This means that on location the subject position along with the movement of the sun/clouds and time of day are all the factors to consider. The main recipe for great lighting though is being able to anticipate what the light is doing and what it is going to do with the subject you are photographing. The latter is crucial for nailing that perfect shot you are after.
Understanding and being able to manage reflections, one of nature's splendorous gifts, is the path towards capitalizing on them. The brain uses tonal variation to perceive depth so with proper reflected lighting we can add dimension to the subject of our photographs and avoid it from looking flat. When we are satisfied with the ratio of highlights and shadows, we are likely to be pleased with the overall lighting results as well. Great painters such as Vermeer and Rembrandt used this secret for centuries. If this short lesson isn't quite clearing up any confusion about how to properly use reflectors, the next lessons start November 1st on the beautiful Asian island of Flores. 
(www.ShootTheCenterfold.com)
"
Text by Ales Bravnicar
A quick word about Sunbouce reflectors and why professionals use them:
Sunbounce's quality of products has a high reputation among professional photographers and videographers. There isn't any other company in the market which produces the same rigid quality of reflectors like Sunbounce. And, this is also the reason why Sunbounce has been able to stay on top of today's competitive market.
Imagine having a reflector that you can take to a place like Santorini or any other location known for windy conditions without having to worry about its delivery and performance. Sunbounce reflectors and its rigid aluminum frame-handles offer a perfect handgrip to withstand any possible lighting challenge.
Because of the advantages compared to other reflector manufacturers, Sunbounce is a well-known brand name in the professional US rental market. Most pro studios and rental houses carry Sunbounce as their primary reflector lineup. Still in doubt?
Meet the STC Santorini 2017 lighting and camera sponsors:
For those who were not able to make it to our Santorini seminar spectacle, they can take a peek at the pages of Playboy and wet their appetite for the next one which is set to be in Flores, Indonesia November 1-10, 2017.
© 2010-2017 Copyright ShootTheCenterfold.com. All rights reserved.