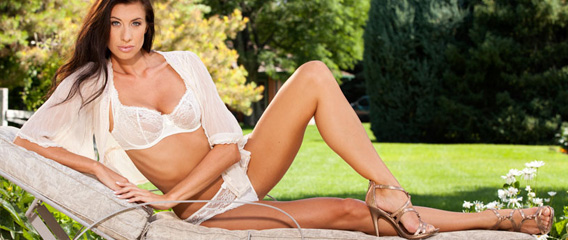 DrDan has been on the ball lately and not only has he taken his photography up a few notches after working with STC, but he has also stepped up his marketing and business skills resulting in a big-time score. It goes without saying that we are very proud of DrDan and his recent achievements. Our satisfaction here at STC hits new heights  when we see our attendees getting published. However, don't take it from us, let's hear it from DrDan himself and see what he has to say after his first-ever Playboy shoot with hot, spanking-new Playmate, Miss August Maria Eriksson.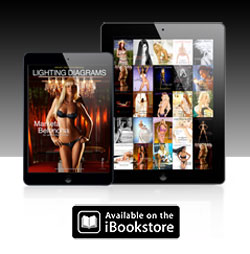 STC: Tell us how you felt when you heard you scored the shoot for Playboy South Africa's Miss August Playmate.
Dr. Dan: Wow! I felt like I was a bush leaguer in farm team purgatory finally getting the call to pitch for the majors! Very excited, relieved and nervous…
like, HOLY CRAP! I have to do this! It's really on the line, now! At first, I couldn't believe the email I got from Playboy South Africa.
I sent out a LOT of other email tests and got verification to make sure this was legit! I mean, you can't just go waltzing in through the front door, smile and say, "Hi, I'd like to shoot a centerfold, please." I'm assuming they found out about my work online. Since I knew the model they had chosen, Maria Ericksson, I called, asked her about it and she told me it was confirmed. When Playboy SA informed Maria that she had been selected to be a centerfold, they also told her that I would be the photographer. She was excited because she knew we worked well together.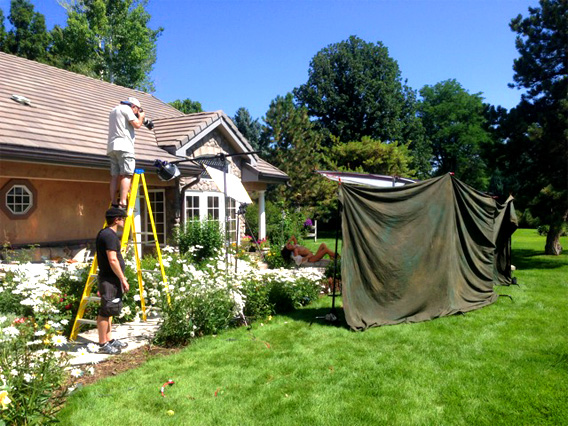 STC: What was your concept going into this shoot? Anything in particular?
Dr. Dan: I sent location images to the editors, they liked the site and the only direction given was "romantic and in a garden setting would be nice." I was very concerned about the lack of direction, but relieved that I would have carte blanche as to my approach. It was liberating, exciting and scary, all at the same time! Scary, because I knew this was an important assignment for my career and I didn't want to screw it up.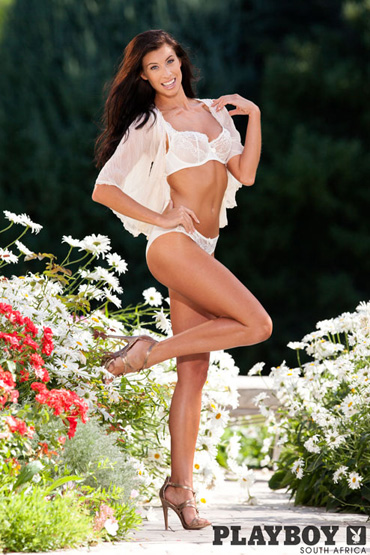 STC: Since you knew the model, did you change your game plan to suit her personality?
Dr. Dan: It's a funny thing – I had shot Maria a couple of times before she became a Playmate for Croatia – her first – and we had since stayed in touch and were, in fact, talking about shooting in the near future. So, when I got the email from Playboy SA it was like the stars lined up! Maria has a wonderful, natural body and legs for days, and I knew that in whichever setting I shot her, emphasizing her legs and natural form was pivotal to our success.
STC: How did you prepare for the shoot?
Dr. Dan: OMG! The PREP! Shopping! Lots and lots of shopping for outfits, shoes, and looking for the right outfits that were romantic, youthful and sexy. I almost blew up my phone sending images to Mary "@ShootTheCenterfold" as I shopped for shoes and clothes! Also, I was very familiar with the location and figured precisely when the sun would be breaking over the trees. I knew the equipment I would need to modify the sun and use it to my best advantage. Lastly, I looked at the images that Playboy SA seemed to favor. Each international Playboy seems to have there own feel of what they choose to publish.
This has to do with the personal tastes of the editor and the culture of the region, so I really had to do my homework here.
STC: What was your camera, lens(es) and gear of choice, and why?
Dr. Dan: I have been a Canon guy since my first 10d ten years ago. I used my Canon 5dMKII, and the lens used during the entire session was a 300mm/2.8. I shot tethered directly to an HD monitor, bypassing the need for a computer. Less to go wrong. I knew that I could get the trees in the distance out of focus and make it look like a painting in the background with the 300mm lens. I used this with the centerfold in mind. As I got closer, I switched to a 70-200/2.8… the weight is easier to manage. My only real concern was managing her dark hair against the dark green trees. So, I brought in some light on camera left and just kissed her hair with light to complete the separation I wanted. I used my Hensels and California Sunbounce for main and fill, but the real secret was how I managed the hard sunlight coming in from camera right! I used a Hollywood movie trick, which I will reveal in a tutorial that I am planning to do.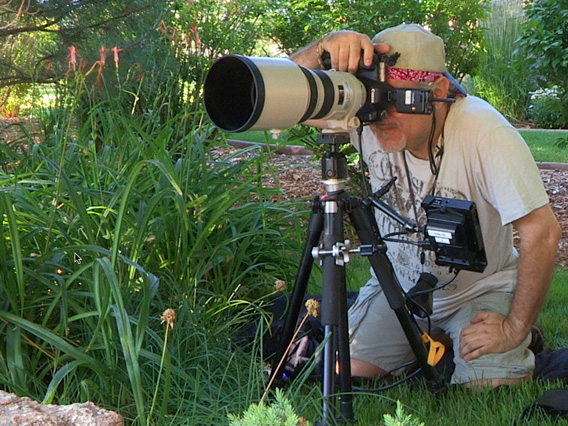 STC: Did you have anything you saw as a real challenge? If so, how did you overcome it?
Dr. Dan: Again, the real challenge was sun management and achieving a light balance from camera left and right. Also, not blowing out the whites of the daisies and her white lingerie. This is where knowledge of the histogram and its proper interpretation came into play so that I wasn't clipping out the highs and knowing I had the detail needed, otherwise the color would be just a blank smear of white with no definition.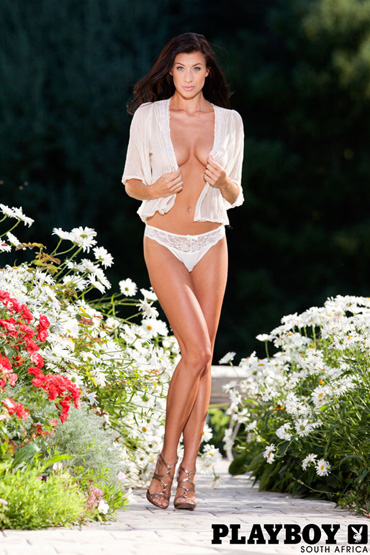 STC: Which came first, the Playmate or the location? How did you pair the two?
Dr. Dan: Playmate first, then a knowledge of the location database I have. I had a very short time to get this done and Maria only had time for one day to fly in, shoot, and fly out early the next morning due to her very busy modeling schedule.
STC: Would you have done anything differently?
Dr. Dan: I would have modified the gel that I had on her hair, turned off the strobes and used strictly the sun and modifiers. However, I was so focused on the "look" of the image that I think I did miss an opportunity for variation. I found it is so easy to get fixated and caught up in the moment, although I did take several moments to stop, breathe and soak up the energy of the moment. I was shooting the centerfold for Playboy and I really wanted to remember the feeling! That experience will never leave me!
STC: How did you put your STC training to work? Is there anything you specifically learned from STC you used in the shoot?
Dr. Dan: It's so funny… I had Steve and Jarmo's voice in my head!
Steve saying, "it's a dance… shooting has a rhythm," and Jarmo proclaiming, "it's Disneyland with BOOBS, so get the energy up and playful!
I couldn't have done this without STC training and reinforcing the idea of light balance and making sure that all the elements in the photograph supported the concept and didn't distract. For me, going to STC seminars – I have been to five – is like mining for gold nuggets. I have been shooting for awhile now, and so, not everything is new but watching the masters at work and the concept of using a soft "brushstroke" of light to get a balance is a keystone concept!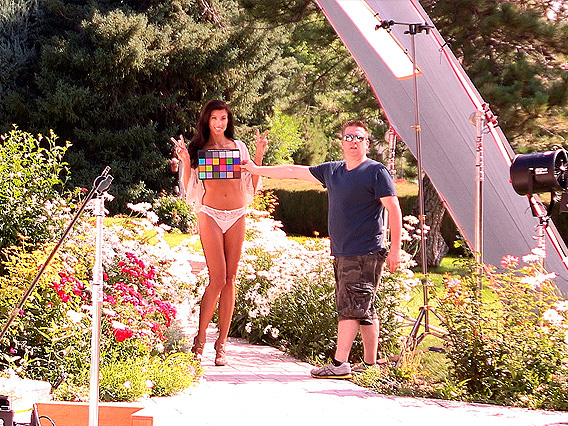 STC: Were you nervous? Did preparing everything in advance help calm your nerves?
Dr. Dan: At first, YES! You go from excitement to OMG! I met Mohammed Ali once and he said that he didn't win his title in the ring, he won it alone in the gym and the weeks of training before the title match. So, too, the prep I did really was essential. STC put out an article about pre-production and it was exactly what I did. I did have butterflies, but there was a calm the night before where I knew I had done my prep. I knew there was nothing left to do the next day but pick up Maria at the airport and shoot the pictorial. If there was an actual worry, I would say I was more concerned about the weather and coming up with a Plan B if the forecast was wrong. It had been overcast and raining the three days before the scheduled shoot. The day of shooting there wasn't a cloud in the sky. Funny thing was that the day after the shoot, the rain came back!
STC: Tell us about Maria – was she easy to work with? What were her best features and how did you incorporate them into the shoot?
Dr. Dan: Maria was a dream! This is her third Playmate title and she has had a lot of experience modeling for catalogs around the world. She also has two advanced degrees and is a very intelligent person to talk to about anything. Her best features? She has one of the greatest natural bodies to look at and her legs go on forever! The only thing I really had to do is talk to Maria about not getting too pose-y. Experienced models have a tendency to go into their "stock" poses and be a little too stiff. It was my job to keep saying things to keep her loose. She's a fantastic model to work with! Such a professional on three and a half hour's sleep, and the Denver foliage gave her such an allergy reaction that a run to the nearest drugstore had to be done!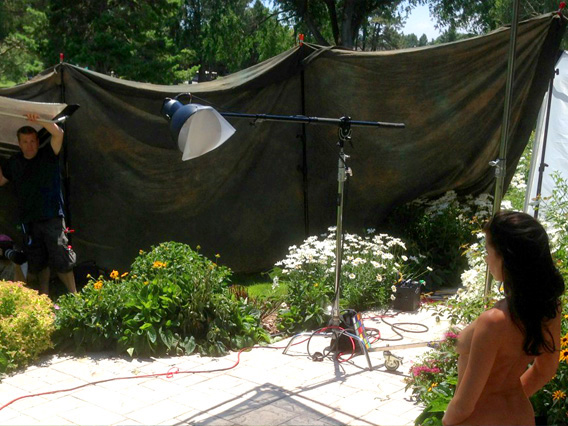 STC: Which camera angles were the best? Did you shoot from lower or higher angles? Oh, and by the way, how's your neck?
Dr. Dan: I was very low for the full-length vertical and when we did some of the images on the lounge chair, I was on a 10′ step ladder. My neck held up, but I was feeling it and had to keep my angles mixed up. My neck from the car accident last year has been improving. Thanks for asking.
STC: Talk to us about styling and wardrobe. How long did it take for you to decide on things, and are there any items that worked better than others?
Dr. Dan: I spent two solid days and nights shopping, so there was a lot of variety to choose from and Maria brought some items with her. In fact, the shoes in the image were the ones I bought and the lingerie she is wearing, by Posh Lingerie, she brought. I knew that I wanted the lingerie to be romantic and special, not to look utilitarian. Making the selection on the set was very easy because of the firm concept I had in mind.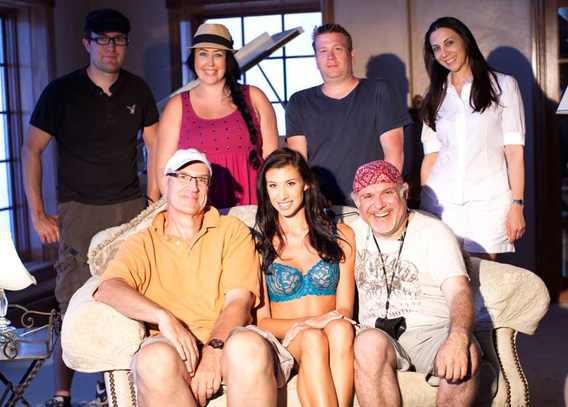 DrDan and his photo Crew
STC: What about your crew, MUA and stylist? Tell us how they made a great situation even better.
Dr. Dan: I knew that I needed to surround myself with the best! Paul Peregrine, professional photographer for the past 30 years and owner of Lightware cases, shot the BTS video and assisted; Tim Fiedler, graduate of the Art Institute, handled any tech issues on the camera and computer; James Cooper, an excellent photographer and an STC attendee, assisted. Lindsey Ambrosio, our make-up artist, is a very experienced MUA and stylist. She has worked on the Latin music awards and several TV shows. We had wanted to work together for a long time and she was fantastic! Having these very talented and experienced people around me made my job so much easier to focus on the model, and I didn't have to expend energy moving equipment. They all had great ideas when it came to problem solving and I trusted and relied on them to bring my vision to fruition! All I had to do was convey the idea and give direction to what I wanted and they executed it very well! Many thanks to my wonderful crew!
STC: What percentage would you estimate as your delivery rate?
Dr. Dan: Maria's delivery rate was very high, around 50%. The tough part was narrowing the images down to the 25 best that the editors required and would fit the Playboy look.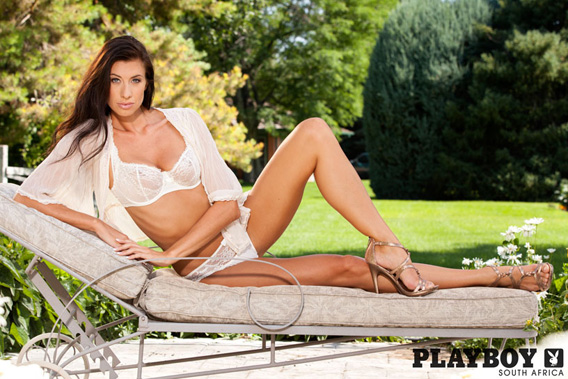 STC: What was the Playboy experience like, knowing your work will be seen everywhere? No pressure, right?
Dr. Dan: Riiiight! You know, it is a freaky thing to realize that these images will go around the world and you will be judged by them. That is why I had such a clear idea in terms of the look of the images, I wanted the PLAYBOY look, but I also wanted them to be contemporary in feel, and that is why I didn't rely on the sun alone and brought out the Magnum!
STC: Did you have a case of "the shoulda's" – should've done this, should've done that – after the shoot, or were you sure you nailed it?
Dr. Dan: We started shooting at 8 a.m. and I was pretty sure we had nailed it two hours later. The rest of the day was spent experimenting and trying other things, setting, colors, etc. There are always things that you could do better, but, they are things that the average viewer won't even notice. So, the slam-dunk feeling was there, but having only three-and-a-half hour's sleep and needing to get the images edited down to the final selection that night because of the tight deadline, it got a little lost. We shot on a Tuesday and the images had to be in South Africa by Friday! Because of the prep, I was able to deliver the images the next day, two days ahead of schedule. In fact, I got an email on my phone while I was taking Maria to the airport from the editor saying that the images were "lovely!"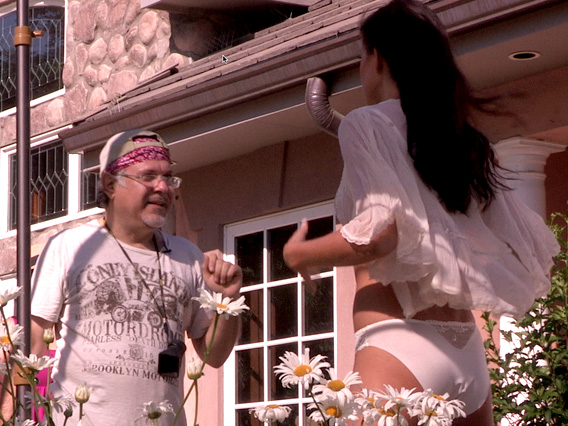 STC: Has the look and feel of your photos changed since your shoot with Brittany (Oldehoff)?
Dr. Dan: Yes, changing the angles of the shoot and making the image more dynamic really helps them stand out. This can especially be seen in the nudes.
STC: What's next?
Dr. Dan: Just last night I took a meeting with a production company and I will be shooting their promo stills, one-sheets and movie poster. Tonight, scouting a location for another Playboy layout! I LOVE the creative process and photography. Thank you STC! I'm sure you will find me at your next seminar in Los Angeles on Oct. 19, 2013. Cheers!
All images used with permission from its copyright holder.


© 2013 Copyright ShootTheCenterfold.com. All rights reserved