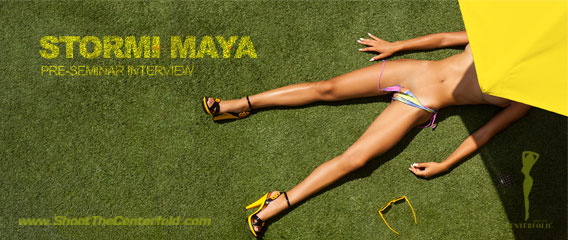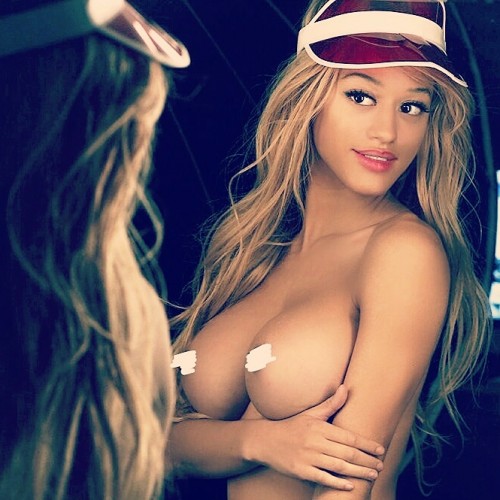 Stormi Maya Jellison, known for her big personality and ever-shrinking wardrobe, will be at Shoot The Centerfold's April seminar showing our attendees her abilities in front of the camera. Stormi became an October 2015 Playmate in Croatia and Venezuela from camera to newsstands in less than a month. The Playboy editor said that we had set a speed record for the fastest turnaround in Playmate publishing. This comes as no surprise after seeing Stormi's steamy pictorial that was a result of an STC One-on-One session with attendee Steven Ruegnitz.
Name: Stormi Maya Jellison
Measurements: 32E-23-34
Home: Los Angeles
Interview

STC: Congratulations on your catapult to stardom as Miss October 2015 in Venezuela and Croatia. What does it feel like to be a Playmate?
Stormi: It feels great to have a well-known and respected title such as "Playmate". I suddenly feel addicted to gracing more magazines and accomplishing more.
STC: All of this happened very quickly after you joined the Shoot The Centerfold fan group on Facebook. Tell us what happened next?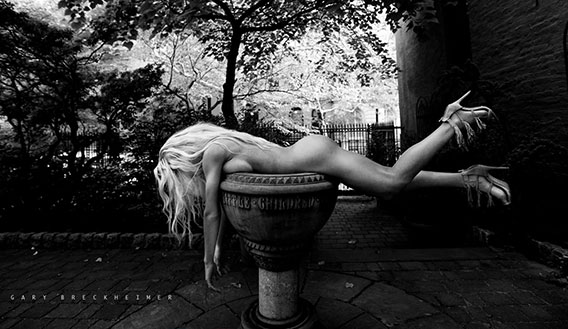 Stormi: Yes, I was very surprised to be acknowledged on STC; there are so many beautiful models that are on the page so I am honored to have been noticed. After joining the page, many well-established photographers messaged me to shoot. Soon Jarmo messaged me about this opportunity for Playboy. I was very excited.
STC: According to Jarmo Pohjaniemi, you have more energy than the Engergizer bunny. Where does all this energy come from?
Stormi: I'm a 20 year old. I'm young and energy comes with it. I have a very positive happy attitude and when I'm excited about something, I cannot hold it in.
STC: Nudity seems to be a natural thing for you and clothes seem to just fall off automatically. In other words, can we call you a free spirit?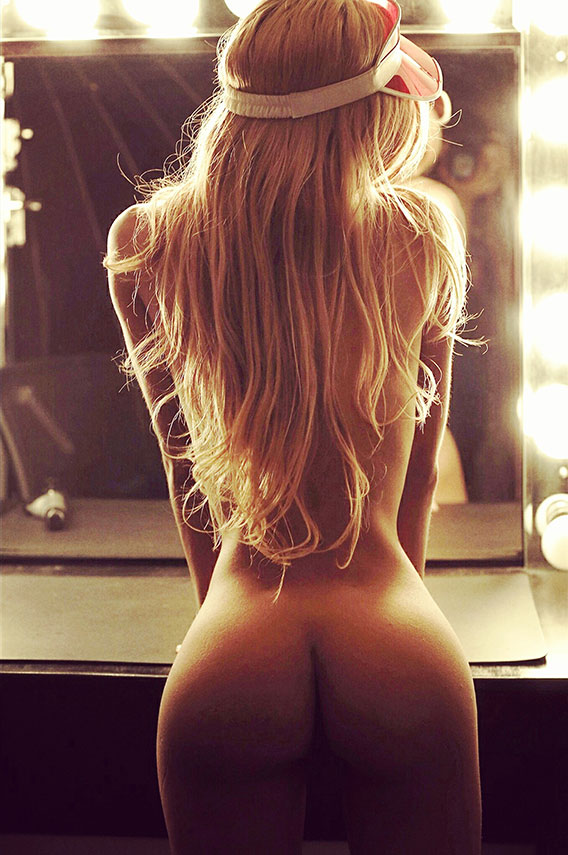 Stormi: I am very much a free spirit. But I also believe the naked body shouldn't be criminalized.  Throughout ancient history the female body has been idolized and seen as art. I feel the same about my body.
STC: Although you do not prefer the difference between nudity and fully clothed, you are still very old fashioned and respect the rules of common morality. Does this mean that you are conservative deep inside?
Stormi: The word conservative in today's world is left for politicians. I am like an artist who can be found walking nude in the middle of Fifth Avenue in New York City. Am I conservative and old fashioned? No way! I am a believer that manmade rules are old fashioned and that people should loosen up.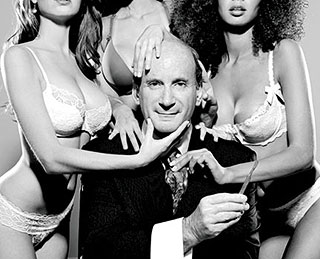 STC: It seems that you have gotten yourself an upgrade or should we call it shapeshifting?
Stormi: I am a bit of a shape-shifter and thanks for noticing. Is it really that obvious? I was going for a quick upgrade from Lenny Roudner down in Miami. He's the Lord of Boobs 🙂
STC: You were told by many people that you would never become a centerfold. Do you consider this blindness by others or a missed opportunity on their parts?
Stormi: I have always had doubters and I will continue to have doubters but this will not affect me or ever discourage me. Many people who do not believe in me are people who have very little themselves. Their own pain and fustration are over-pouring. One day I will prove everyone wrong …everyone.
STC: If you could fix all the photographers in the world what would you do? And what's wrong with them?
Stormi: Their attitude.  A lot of Photographers become smug and overly confident as they begin working with known models and companies. I believe humbleness should always be present. Have you heard of Dr. Shoot The Centerfold? Lol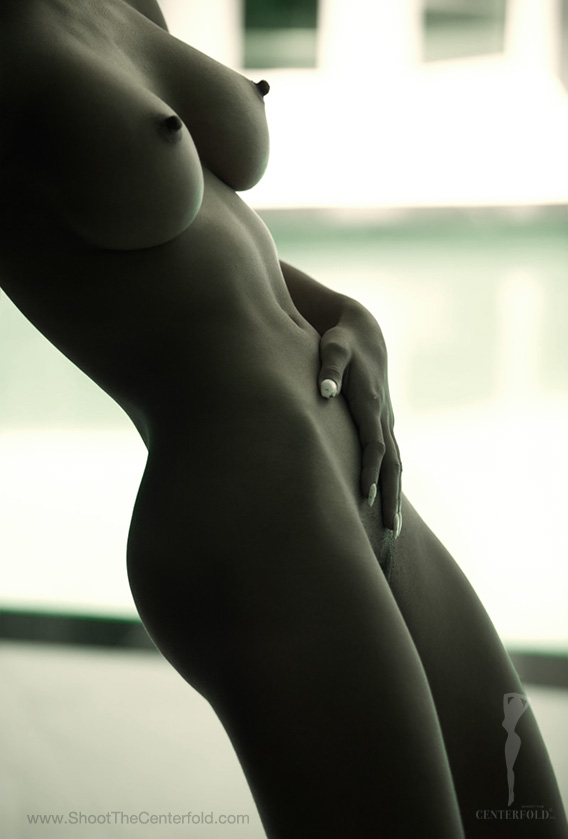 STC: Are you sexually open or just suggestive because you can be?
Stormi:I honestly don't try to be sexual. I'm just a sexy woman with a lot of sex appeal. I don't have to try.
STC: Tell us about your Playmate shoot, the sets and what went down?
Stormi: It was the most beautiful location I have ever seen. The mansion was big enough to fit 2000 people with 3 pools, a waterfall and a gorgeous blue view. The pool water was crystal blue and the vegetation surrounding us was breath taking. The shoot was 100% professional. I was never taken advantage of or made to feel uncomfortable.
STC: We have heard that things got dicey on your set for a second! Any comments?
Stormi: Dicey?  Well, I can be kind of a brat, if that's what you're asking. I'm just a control freak. But as time went by, I started to trust the photographers more and I relaxed. Now I have a whole new respect for those who are more experienced and know what they are doing. I guess I could say that I have a worked in the past with less experienced photographers who weren't as demanding as far as results go.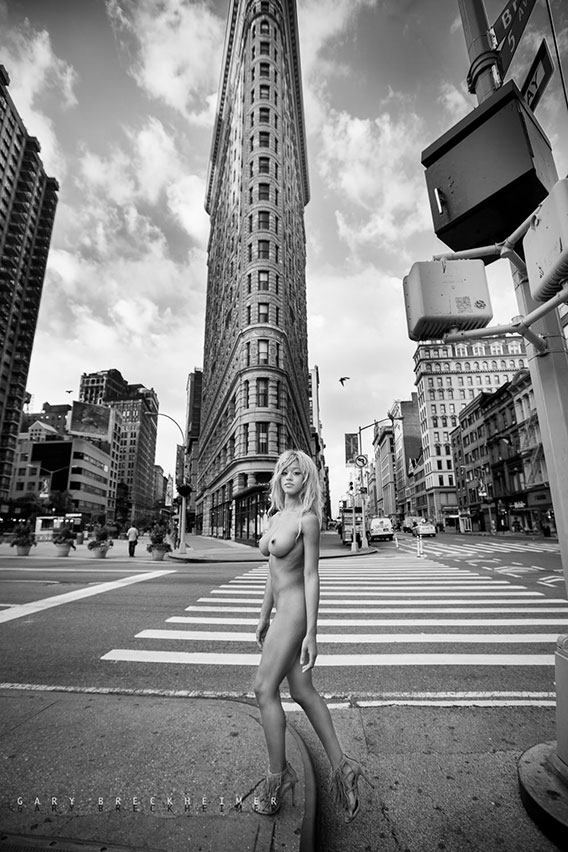 STC: Did anything change as far as vision and modeling goes after this shooting experience?
Stormi: Yes. I learned the elements of style and fashion must be incorporated even in a sexy shoot. Photos must have depth and a story. I also learned why some photographers are more successful than others.
STC: Do you have a message or any advice for models?
Stormi: Instead of trying to work with a million photographers or just trying to get photos everywhere, be patient. Find quality people with great work and stick with them. I will not do any other seminars except STC because I trust that they're more than just a weekend of good times. I have had so many experiences of photographers trying to come on to me or trying to ruin my image. The guys from STC are 100% the real deal and all about business. In simple words STC has been a steppingstone for me and opened up many opportunities.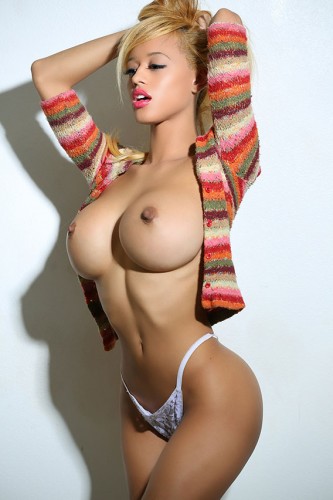 STC: How about for photographers?
Stormi: Listen to the model. A lot of photographers feel they know everything and never allow the model to make suggestions during a shoot. Work as a team.
STC: You have taken some acting classes. Is Hollywood your goal?
Stormi: My goal is acting. Sometimes it's hard since acting school is expensive. I have been taking drama and acting classes since middle school and now I'm looking for a school to teach me the Meisner technique. I feel you don't need years of training to do something, just passion. I will get there. Hollywood, here I come!
STC: We like to believe you don't have to act much, just be yourself and let the Maya magic take care of the rest.
Stormi: I am destined for great things. I let the universe take the wheel. Acting and modeling is what I am destined to do.
STC: Are you single?
Stormi: It's complicated.
STC: Tell us that secret you never told anyone!
Stormi: OK. I have a secret spy from planet Venus stuck inside this curvy and cleavage-accessorized body. I hide my thoughts inside and you'll only see 100% of me at the STC seminar in April.
STC: What's next as far as modeling goes?
Stormi: A few more publications and maybe some campaigns. Hell, I don't know. I get so many offers that I don't know which one is right from wrong. As long as I have fun and there's beauty then I'm in.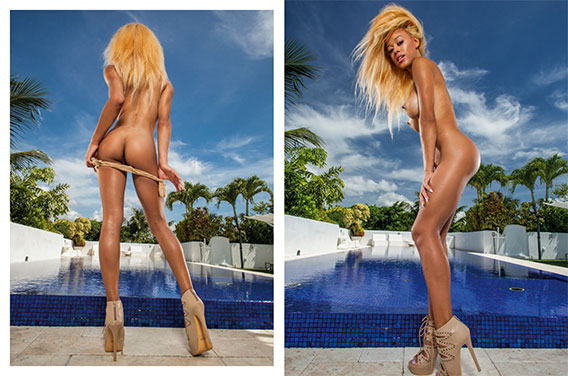 STC: You have also earned the title "Hip Hop Honey" according to the internet.
Stormi: Ew! Never that! The playmate pictorials have already steered me away from that.
STC: Give us the worst and the best pickup line you have ever experienced.
Stormi: The worst is, "let me touch your face"; the best, "You're really pretty." Every woman likes compliments. Men just don't completely think through with their approach. Often I think they talk to my breasts more than me. I like being admired but instead of coming with the bullshit pick up line, a simple compliment will do.
STC: You also have a member-only website stormimaya.com. What would we see if we were to sign up?
Stormi: Everything you can't see now. [Blushing] We're still working on it. It should be live by the end of March.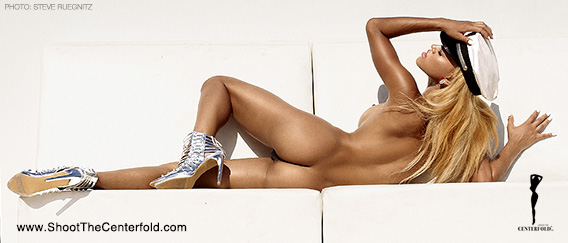 STC: What is your best photography experience to date?
Stormi: I would say this experience with STC was the best–awesome crew and awesome results. I love that our shoot was worth it and is being seen around the world. Each shoot that I do has its own personality. It's kind of like a balance thing and you can't have it all perfect. Every woman and model likes to be pampered and there's nothing better than having a photo shoot with everything thought of ahead of time. It makes me feel like a million bucks and allows me to give my very best.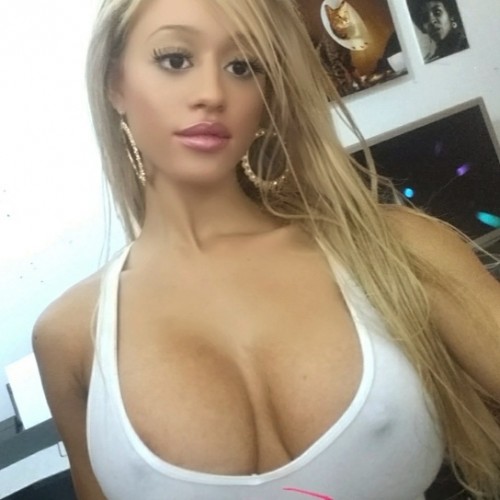 STC: Should photographers contact you for photography opportunities and what should they say?
Stormi: Only if they are super awesome and somewhat experienced. Just send me a link to your work and be humble. At the end of the day, I'm just girl. I read all my emails and respond to them if you're nice. And stop sending me photos of your body parts.
STC: There you have it. Stormi Maya can be a butterfly or raise the storm of the century in bed, the kitchen, the photo set and anywhere else imaginable! You better be ready and have your trigger finger on your camera and head to the upcoming STC Miami seminar happening April 02-03, 2016.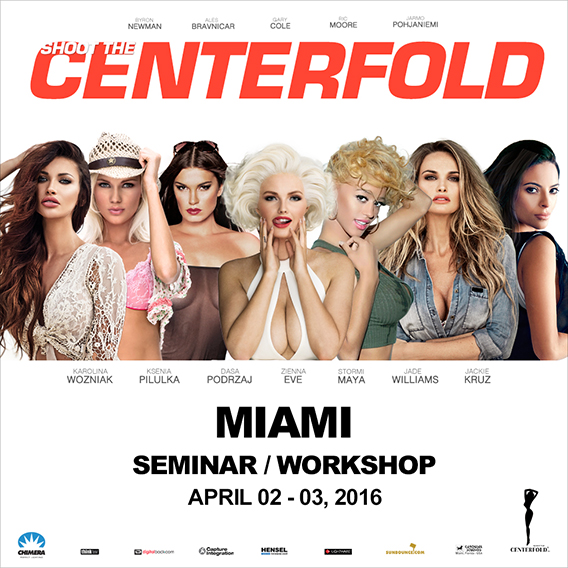 © 2016 Copyright ShootTheCenterfold.com. All rights reserved.