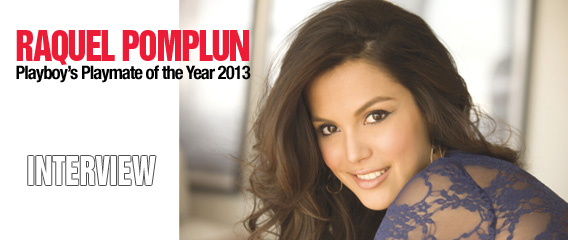 You will never think of Mexico the same way again, especially after meeting AND shooting Playboy's 2013 Playmate Of The Year Raquel Pomplun during Shoot The Centerfold's Los Angeles seminar on Oct. 19, 2013. Possible side effects may include: Burritos becoming tastier and terminal blood-boiling may occur at any given moment! Seriously! Jalapeños, habaneros and hot sauce now have some serious competition! It's a simple fact that Raquel Pomplun will give you some Picante poses for your camera and shake up your salsa! This model will separate the boys from the men…

Interview:
STC: How does it feel to be the first Mexican-American woman to be selected as PMOY?
Raquel: Yes, I am the first Mexican-American and full Spanish-English bilingual playmate to be selected as PMOY. It is a combination of feelings: honor, pride, success, and blessing. I cannot be more thankful for the opportunity that Hugh Hefner and Playboy has given me as they chose me as their 2013 PMOY. Not only am I setting a stone and I will be referred back as the very first Mexican American, but also I am part of the legendary PMOYs and will go down history as the 54th PMOY.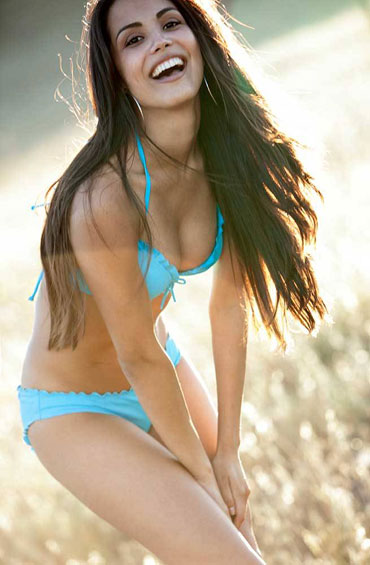 STC: ¿Eres Mexicana, Hispana o Latina?
Raquel: Soy Mexico Americana.
STC: Do you have any nicknames? What do friends call you?
Raquel: Yes, two: Rock or Rocky 😀
STC: Why modeling?
Raquel: Why not? If is something that if not a struggle and pretty much comes easy to you, why not? It is a fun and unique experience to have in one life's resume.
STC: When did you begin modeling seriously?
Raquel: I began modeling when I was 13 years old.
STC: You're a classical ballet dancer. Do you think that helps with your posing and modeling in general?
Raquel: Having a dancer background definitely helps with modeling because it helps you see body lines that without the art of dance you could not see.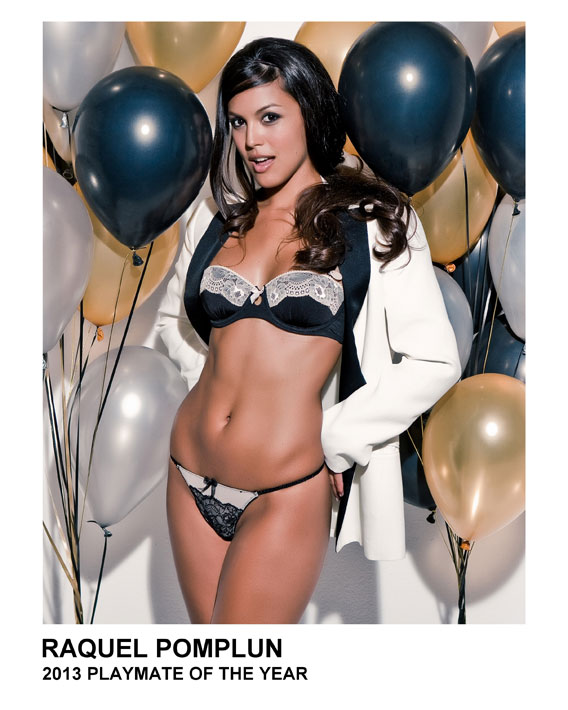 STC: You seem uninhibited and obviously love the camera. We're guessing that posing nude for Playboy was not as difficult for you as it is for others?
Raquel: More than loving the camera is about being comfortable with your looks and body and knowing what you have to work with. Also to have security and an open mind also helps. I come from a home of mental openness, daughter of an M.D. and a chemist, where everything is as it is, no secrets, not taboos.
STC: You don't see many Hispanic nude models, but there have been several notable Hispanic Playmates. Do you feel that most Latinas are apprehensive about posing nude? Or are things changing and Hispanic women more open to being in publications like Playboy?
Raquel: I believe that everything is the same in any culture. All depends on your religion, your parents background and beliefs, the community where you grew up, all is relative. I seriously do not believe that just because the girl is Hispanic, Asian, European, American, African, is going to defer her from that goal if it is already set in her mind.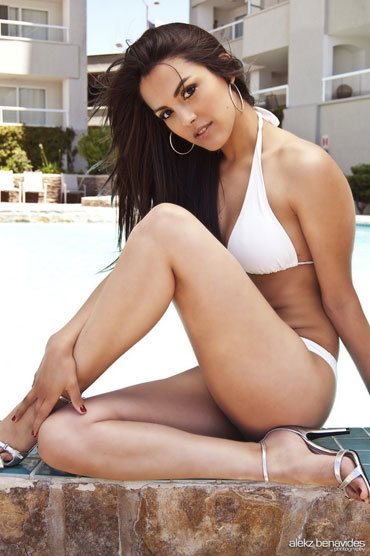 STC: What gives you confidence in a photographer?
Raquel: Good, clear and firm direction.
STC: What are the common mistake photographers make when working with models?
Raquel: Letting them have an opinion on the project. Most, not all, of the times their opinion is just a reflection of their insecurities which are probably not even a problem.
STC: How much do you like to contribute to your photoshoots? Do you like being able to suggest poses to your photographer?
Raquel: I like to contribute by being flexible to ideas, and of course, helping with other poses. However, most of the time the photographer already has a vision and I prefer to contribute to that vision by following direction as good as possible.
STC: Do you have any advice for new models?
Raquel: Do not rely on photoshop all the time!!! Trust me, you would feel and look better and the photographers will like you and book you more because it's less editing;)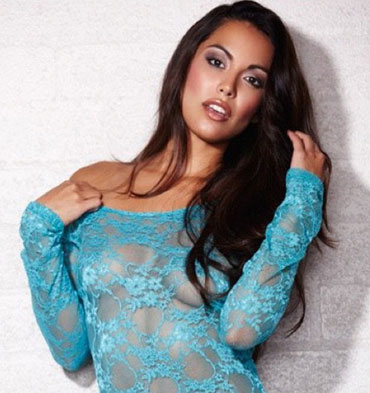 STC: What type of modeling do you like best?
Raquel: I love it all! From glamour, nude to commercial and editorial.
STC: Is there a type of modeling you haven't done that you'd like to try?
Raquel: Yes, hair modeling! Hey I have the hair, just need the job 😛
STC: If you had to choose between glamour and fashion!
Raquel: I choose Both, I enjoy the challenges that both can present 😉
STC: How do you feel about social media? Do you have a Facebook or Twitter? As a model, is it important to have these online accounts?
Raquel: I feel like social media helps promote each industry more, from the model to the photographer, hair and makeup, stylist, etc. However it is a full time job and it can be a pain sometimes 😛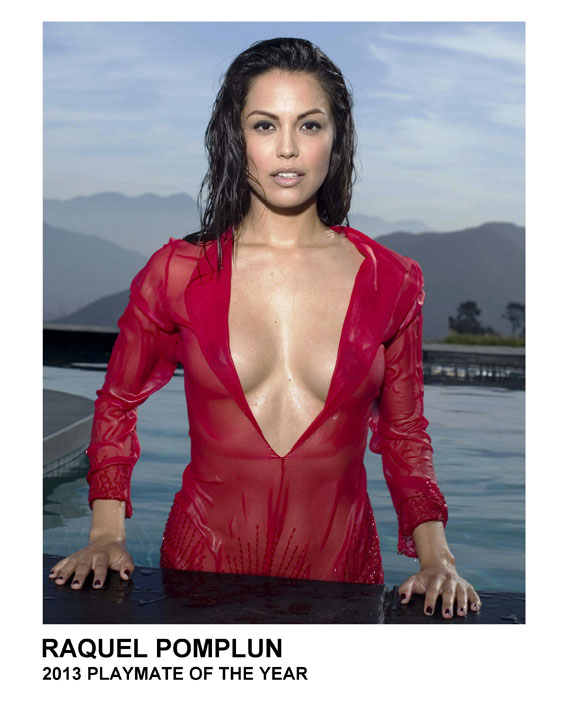 STC: How do you feel about going to STC's seminar in October?
Raquel: I am very excited and looking forward to it! I heard so many good things about it!
STC: What has been your best modeling assignment so far?
Raquel: I have several favorites: Victory Motorcycles, Shooting the cover with Bruno Mars, and my PMOY spread!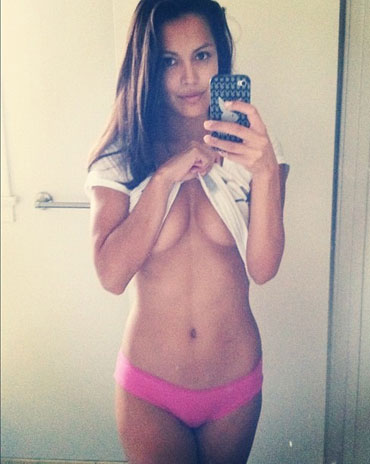 STC: Have you ever thought about getting behind the camera, or being involved in a part of the industry besides modeling?
Raquel: Honestly, the idea of photography has crossed my mind at one point, but not strong enough to make me want to go and pursue it. Maybe in the future.
STC: Do you have any hobbies or things you like to do in your spare time?
Raquel: I love ballet, running, reading, Googling stuff ;P, and just spending time with family 😀
STC: What's next? What are your plans for the future?
Raquel: I want to pursue a career in hosting television, you never know maybe next time you will see me there! 🙂
Bueno! Now that we have the basics down, we can prepare to meet Playboy's Playmate Of The Year 2013 Raquel Pomplun. Bring your "A-game" and camera. See you in Los Angeles, Ay Caramba!


© 2013 Copyright ShootTheCenterfold.com. All rights reserved