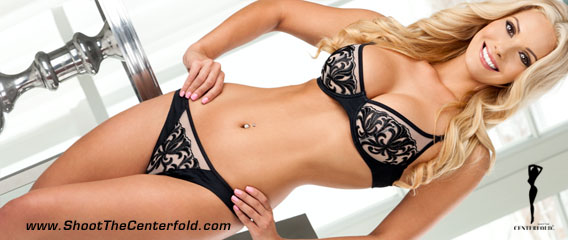 Here are a few reflections on the recent Shoot The Centerfold seminar/workshop from perspective the educators. STC instructors each have their own style and wisdom to impart. It is the essential core of all STC educators to be able to merge their skills and abilities to become one voice, albeit the complexity and range of their diverse photography styles. This is the dedicated voice of STC and the essence of the powerful wisdom we share with you all. Below, you will find the honest opinions and testimonials of what each of master photographer saw and experienced during the seminar.
Gary Cole
I'm back home in cold (and now wet) Chicago after what I think might have been the most successful STC seminar I have attended to date. What made this seminar so successful? Let me count the ways:
• Our attendees, who came to Miami from as far as Hawaii, Switzerland and India to attend, were intensely involved, enthusiastic and perhaps the most overall talented group of photographers we've ever had the pleasure of hosting. While skill levels and ambitions always vary in such a diverse group, I was impressed at the attentiveness and intelligence of our attendees who, to the man (or woman, we did have some female photographers in attendance), displayed a keen interest in finding ways to improve both their photography skills and their ability to market themselves as photographers.
• Our lovely models and ambassadors were beautiful, completely professional and totally patient as they posed in a variety of situations over the two-day period. Having the opportunity to observe these ladies working in front of the camera, seeing how they prepared themselves, how they comported themselves both on- and off-set, reminds us of what we should expect from our models.
• The location for this STC session was, at least in my opinion, perfect. Jarmo and his STC group had all the situations well organized. The location was a studio, but with the feel and some of the advantages of a private residence. A feeling of intimacy pervaded the session, allowing attendees to get up and close and personal in the teaching situations. It was also a relaxed – yet intense – atmosphere as our attendees moved from station to station during the seminar.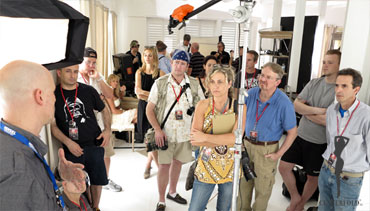 • The instructors; Jarmo Pohjaniemi, Ales Bravnicar, Byron Newman and Ric Moore, were in fine form and represented one of the best possible teaching staffs I can imagine when it comes to glamour photography. Each instructor brought a unique approach to lighting, posing and working with a model and seemed tireless throughout the sessions.
• We were extremely fortunate to have longtime Playboy Art Director Tom Staebler in attendance. Tom was one of the foremost, if not THE foremost creative force behind the graphic look of Playboy Magazine, being both Playboy Magazine's Art Director, but also Playboy's Corporate Art Director. While Tom has now retired from Playboy, he continues to work as an art director for CH2, a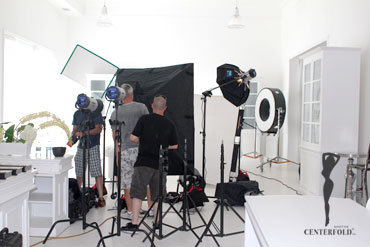 regional magazine published in Hilton Head, South Carolina. Tom shared some of his insight into what a working art director looks for when hiring a photographer and working with that photographer to execute a successful assignment. The examples of the dramatic changes he brought about in CH2's graphic appearance demonstrated that Tom has lost none of his creative genius.
• The seminar was also lucky enough to have in attendance Mark Mather from Chimera/Hensel and Bob Wilde from Samy's Camera who gave us all an insight into the latest in lighting and camera equipment. I was particularly impressed by the practical advice they gave out, whether it was related to the equipment they were promoting or simply to help our attendees better understand what they do or don't need depending on their situation, location and budget.
A big high-five to our sponsors who help make the STC seminars possible.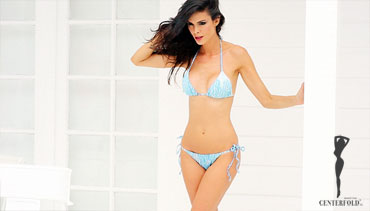 • Many thanks to Jarmo and his lovely wife, Mary, who did a terrific job of organizing every aspect of this seminar, from the array of talent brought in to instruct, to the selection of models, to the arranged itinerary, which allowed us all to learn so much in such a short time in such a pleasant environment, to the delicious lunches, to the so many other details anticipated and taken care of in such a meticulous manner.
• Tom Staebler and I did several individual portfolio reviews and came away very impressed with the talent of all the people whose work we viewed – amazing work and I'm expecting all five to continue to grow and succeed in the coming months. I'll be looking for those credit lines on their published layouts.
I'm already looking ahead to future STC seminars and trust we will continue to advance and enlarge the curriculum of what we do to help any photographer, professional or novice, improve their ability to take great photographs.
Gary Cole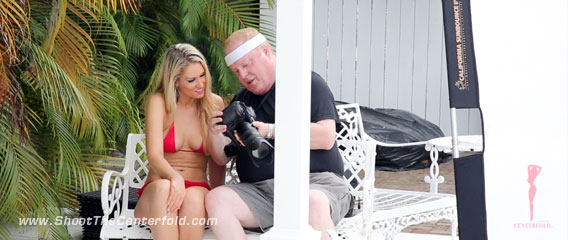 Steven Ruegnitz previewing images with a model Heather Hogrefe
Jarmo Pohjaniemi
I want to thank everyone who came and participated at the recent seminar in Miami. Much has been learned since we first started STC and I think the journey has been mutually enjoyable for the instructors as much as it was for the attendees.
This was a dual purpose-seminar experience where attendees were able to choose from either freestyle or guided shooting styles. We shared personal experiences, bonded as friends, and on top of it all, learned some amazing photography. I truly wish I could have spent more time with all of you.
I have come to learn and see the many reasons why one wishes to become a photographer in the first place. Although we don't all have the same plans, we share the same goals. When the count of shutter-clicks keep increasing and you become more experienced, it opens additional photographic interests which may lead to a successful career.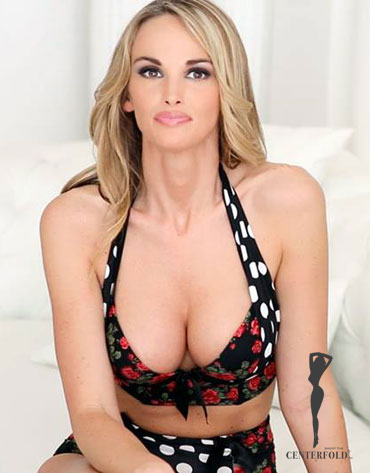 Talking about careers and how our attendees have advanced via our lessons is the most rewarding gift I know. I see and deal with several editors and photographers on a daily basis in order to find publishing avenues not only for my own photography, but also for those who believe and have the same goals as we do at STC.
I saw so many of you as I saw myself a long time ago. It felt as I were watching myself in a mirror that took me back to those days where uncertainty filled my days. It's seeing you soaking in all the information we had to offer that puts me back in your shoes and doing everything I can to put you in the driver's seat so you can continue striving toward your success.
It has been said by many that our last seminar was the best one we have had so far. I must agree, since your feedback and comments speak of great satisfaction. We are always changing and creating ways to improve our seminar/workshops so we may serve you better.
Our incredible models were chosen very carefully to accommodate various styles of photography for a better understanding of how varying model body types photograph differently. From glamour, fashion and girl-next-door types, we all found beauty, form, inspiration and excitement.  It is my belief that our model choices were well executed and  I wish to thank our participating models and model ambassadors:
Models:
Isabella Fontes
Ralitsta Ivanova
Staci Lyon
Jade Amber Williams
Zienna Eve Sonne
Taryn Walker
Joy Corrigan
Jericca Zo Hermanson
Heather Hogrefe
Dani Silva
Emily Clower
Ambassadors:
Dani Silva
Emily Clower
Julia Sinclair
Claudia Kryszalowicz
Ana Serafinova
Giselle Lopez
Ana Peguri
Make & Hair
Mary Alejo
Dawn Joyht
Rachel Hamm Gertz
Jill Carman
Sandra Bolina
It goes without saying that the seminar would never have been the same without all of our beautiful models. They worked very hard (and on high-heels) and kept their smiles from morning until evening. They also kept going with your personal bookings throughout the remaining of the week.
I also wish to thank you the amazing support from our sponsors who have stood behind us since day one! They have helped us to better understand photography and our equipment, which allow us to explore our career horizons and accomplish our visual goals.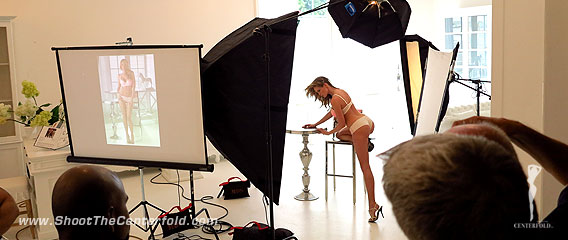 Model Jade William's on Jarmo's set

Shoot The Centerfold sponsors
Samy's Camera
Chimera Lighting Solutions
Hensel US / Hensel EU
Sunbounce
Carousel Studios
Miami Daylight Studios
McKenna Pro
Think Tank
Lightware
Cinemecanix
Seaport Digital
F&V Video
Alien Software
Impusle Energy Drink
Getting back to the learning aspect and based on your feedback, I realize that your interest in the business side of photography has grown steadily since we started promoting it in addition to lighting and photography. Not only do we now get questions about photography, but also about the business do's & don'ts. I am glad to see that our message about the business-side of photography has been well received. This means that you will not only make beautiful pictures with your camera, but also what we hope is a generous source of income.
The entire weekend seemed to fly by quite fast. There was much to be shared and I hope this opportunity for further lessons and education will once again present itself. Photography is fun and even better when you can make living doing so. Several you who participated are already professionals and hopefully open-minded when it comes to adapting to the changes occurring within the industry. No one is quite sure what the future holds, but all of us are certain a solid educational foundation is essential in making the right choices.
I saw so much talent on all levels during this seminar weekend. I truly hope that our lectures and classes were heard by you and being put to good use because as long as you believe in yourself and your work, the world is yours!
Jarmo Pohjaniemi
Byron Newman
I sit on the Eurostar train boarded in London as it blasts through the French countryside at 200 mph. I gaze out of the window as we travel through the Somme, where the blood soaked fields of slaughter bear witness to the mass slaughter of trench warfare in the Great War. The black spires of churches stand up and reach for the skies, monuments to the selfless sacrifice of so many brave men, and stark warnings as to the futility of war. A profound melancholy sweeps through me as it always does when traveling through this bleak landscape and the words,'lest we forget' come to mind.
I am traveling to Paris, the' city of lights' as I have so many times before, for work and for pleasure, and usually for both at the same time. I shoot next week a campaign for a legendary perfume. Early in my career this prospect would have given me many a sleepless night filled with anxiety and trepidation. Now, with thirty years of experience behind me. the challenge is exhilarating. It will be a pleasure as well to see my daughter who lives and works as a model agent in the city I called 'home' for two years.
I snap back to the immediate and the uplifting experience that was the STC seminar in Miami last weekend. I am still buzzing with the contagious enthusiasm that abounded over those glorious two days, and the pleasure from seeing old friends and making new ones. The addition of Tom Staebler to the line up of instructors was more than welcome. Gary Cole and Tom are two gentlemen who know more about this business than anyone and I will take this opportunity to say a big 'thank you', first to Gary who put such faith in me and gave me his unswerving support, and to Tom, whose innovative design and flare for photo layouts made me look better than I probably was. It was a privilege to work with such talent during the golden years of Playboy magazine.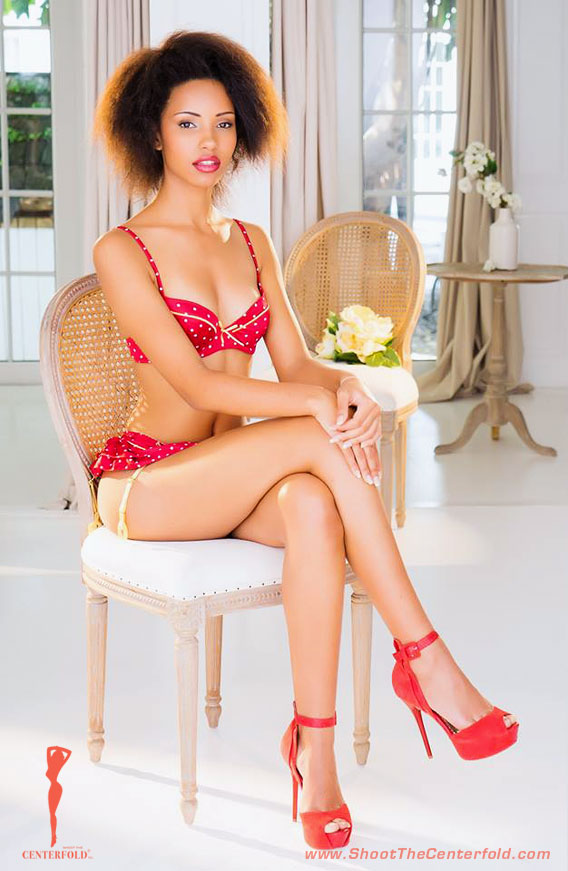 Model Staci Lyon on Byron Newman's set – Photo: Peter Urbanski
There is more than one way to skin a cat as was self evident in the approach of the photo instructors during this seminar. Our objective is the same. To beautifully light the female form. It is our route to this objective that differs. Whether you prefer to use strobe, daylight or a continuous light source as I demonstrated, the choice is yours. Each technique has its pros and cons. The way I light has served me well over three decades and I achieved success beyond my wildest dreams. I believe the 'look' of my light helped me to stand apart from the herd, and this, together with a 'classic' approach to styling, afforded many of my images a timeless appeal that enables me now to still sell photos taken many years ago.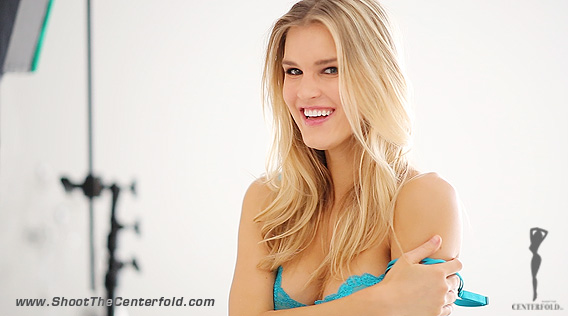 Model Joy Corrigan and her million Dollar smile
You can follows fads and fashions, and it is often wise to do so. You can ride the crest of the wave of a new trend with great effect, but in increasingly short time frames the trend moves on and you may find yourself becalmed, too associated with something that has passed…..yesterday's man….constantly having to reinvent yourself to keep abreast. Some achieve this. Many are consigned to the garbage heap of history.
Each of the photographers in the STC team has their own style, not only in the creation of their own images but in the way they pass on their experience to others in the teaching environment. First we have Jarmo, full of sound and energy, inspirational, and a master of his craft. Then comes Ales, with his meticulous and technically superb approach, full of knowledge and charm. Ric Moore, affable and amiable and a true Jack of all trades. And lastly myself, perhaps more circumspect and reserved (as is the British way), there to advise when needed and I hope affording you the space to walk your own path, to embrace your own efforts whether they be successful or not.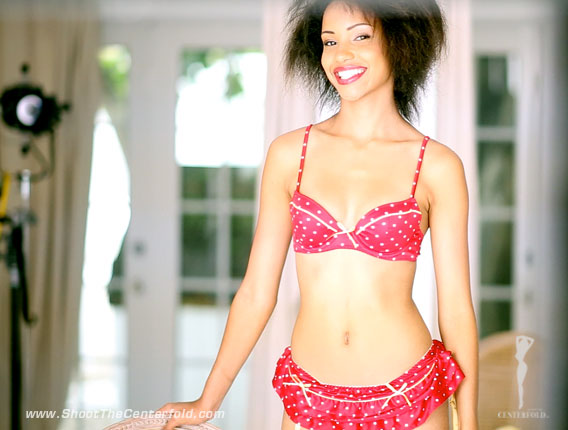 Agency model Staci Lyon, joined the STC seminar at the very last moment and surprised everybody
The great wordsmith and musician Bob Dylan said...'there ain't no success like failure'. There is no shame in failure. We learn more from our mistakes more from what we do correctly. Shame only comes from not giving it your best shot. For the sake of the argument I have omitted the second line of the quote…'and failure ain't no success at all'. In this context perhaps that is a contradiction too far.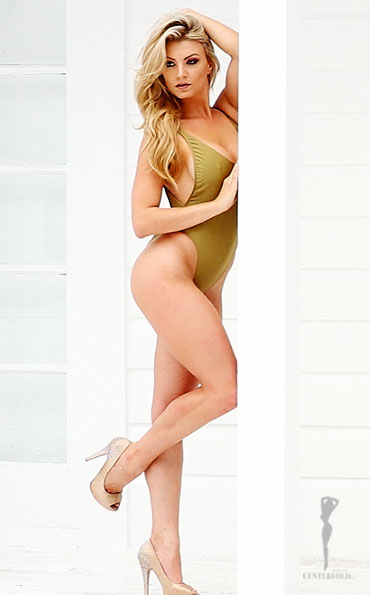 In his presentation Tom Staebler advised studying how the great painters of the past saw light. Vermeer, Rembrandt, Caravaggio, the Impressionists, to name but a few, were all obsessive about the study of light in their paintings. I would urge anyone to absorb as much of the arts as possible. Painters, writers who create images with words, musicians who paint with sound….fill up your deposit account with as many influences as you can and watch how these permeates through into your creative process, both consciously and unconsciously.
It was truly an uplifting experience to be part of such a great group, in a fantastic environment, there to learn from each other with goodwill and harmony. I hope that you share with me the exhilaration. As I find myself firmly planted in the autumn of my career with the icy fingers of winter beckoning me, the profound appropriateness of passing on my experience and knowledge gives me great satisfaction.
I thank you all, and look forward to meeting up again in the not too distant future. Onwards and upwards my friends. Your only limit is your imagination. Loosen the reigns, give it it's head and ride out onto the trail.
Happy hunting.
Byron Newman
Ales Bravnicar
Winston Churchill once said, "A good speech is like a woman's skirt; long enough to cover the subject but short enough to create interest." I will follow his wisdom and keep this short and sweet…
For me, Shoot the Centerfold is a great chance to get together with creative individuals who think alike, work alike, yet who could not be a more diverse group of individuals. It is an amazing opportunity to share the experience with the world's greatest image-makers, all of them heading in the same direction, but each traveling on their own separate, unique path. As a photographer, I am always learning and this is my chance to improve my skills as well. The key to success is all about freedom. It's about not being over-confident with what you do; you need to believe that you can go out and accomplish something, but this should not be the same as thinking that you are awesome and indispensable.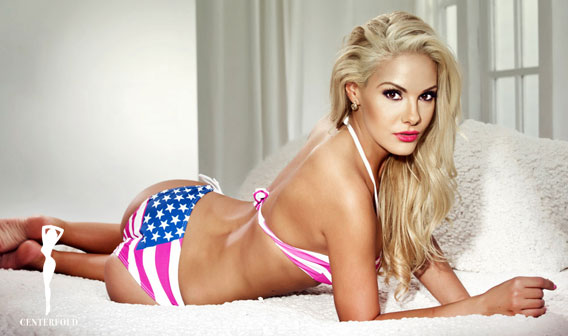 Model Ralitsa Ivanova on Ales Bravnicar's bedroom set
There is always room for improvement. Within each of us we have the capabilities to achieve amazing things; being published, having their first cover, being commissioned for an editorial. All we need sometimes is a push in the right direction – somebody who will say, "you can do it!" and show us the way. Just ask those successful attendees who have been published. When you reach for the stars they may seem out of reach at first, but at least you won't end up with a handful of mud.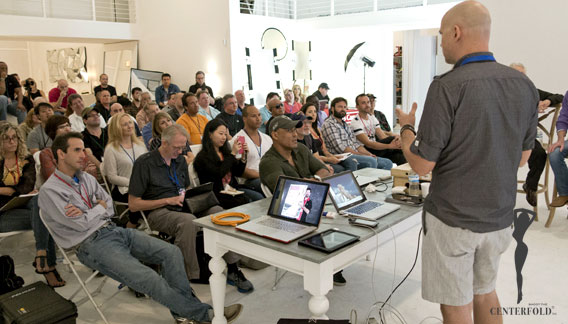 Ales Bravnicar explain his photography and philosophy for the attendees
As I drive from Miami to New Orleans for my next assignment, I think about the STC philosophy and being able to shoot One-on-One with some of the world's most amazing image-makers, each masters of their craft with a shared desire to convey a passion and education for powerful pictures.
I love finding out all the little lighting secrets, hearing stories and anecdotes from the shoots, the production caveats, tricks of the trade and having portfolios reviewed in detail, and shooting all the beautiful models and having the pictures to prove it. I hope you enjoyed the seminar and workshop in Miami at least as much as I enjoyed talking, shooting and laughing with all of you. It's my promise to always give it one-hundred-and-ten percent. It was a pleasure and ended much too soon. Hope to see you again at the next seminar!
Ales Bravnicar
Ric Moore
From my perspective, STC seminars get better and better every time. I think this was the best STC seminar to date, and I'm not just saying that because I'm one of the instructors. It's an easy and logical thing to say, but it goes deeper than that. In the past, Playboy photographers weren't known for sharing their lighting knowledge even amongst themselves, much less share it with interested photographers who were keen on learning the process.
I remember thinking the previous STC seminar was the best, but I did have a moment of friction with a bored attendee. "Hmm," I thought, "So, you're a little bored waiting for your turn to shoot and for me to teach you? Teach you with the knowledge I learned after spending five back-breaking years as a photo assistant/pack animal, and 20 years shooting to get to where I am today?"
For a moment, I could see myself not as (according to Byron) "the amiable and affable Ric Moore," with a constant smile for everyone, but as Captain Kidd! "Arrrrgh, scurvy dogs! Either accept the hard-earned, sharp-as-a-cutlass knowledge of myself and my fellow pirates… or walk the plank and feed the sharks!"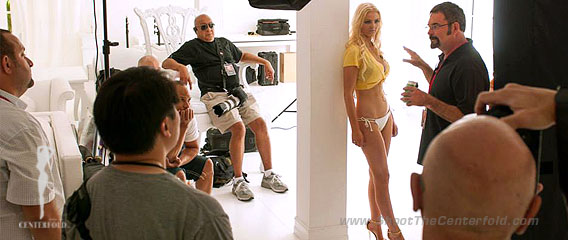 Ric Moore in session and step by step explanation about lighting and posing
Well… maybe I got a little ahead of myself… maybe I forgot how incredibly fun it was to shoot gorgeous models, especially when I had both the skill and confidence to do so. When I could command beauty light at will, and a model who might at first like me in person, I knew she was going to absolutely love me when she saw the photos I (or should I say, we) could create. I was unstoppable and king of all I surveyed… or at least it felt that way after a very productive photoshoot 🙂
Maybe, I forgot a little of that. Maybe I forgot the sheer immensity of our combined knowledge and talent. STC had some of the best models in the industry roaming around. When any attendee became bored, they could choose a model, slip outside and just shoot at their leisure. Now, THAT is an incredible seminar!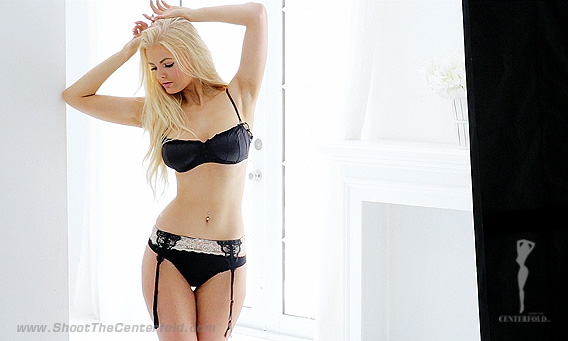 Model Zienna Eve and her famous curves in action
My only "problem" was the astoundingly high level of models assigned each of the photographers and – to my surprise – walking around at random, it was then I began to feel a little envious that I did not have that kind of freedom and get a taste of what the attendees were experiencing! Now that I see the quality of the seminar images being posted online, it's starting to dawn on me how truly "effing" great it all was! It was also at a level that I wanted to be the one shooting models as well! That's why I say this was the best STC seminar ever!
I found that the attendees absorbed everything they could, then bolted outside to shoot one of the models. If a person happened to fall asleep in my class, and I won't mention any names (Charlie), it was because he was so tired from the whole event that he really needed a catnap and wasn't bored, just worn out!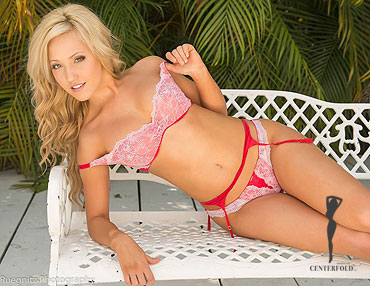 In short, it was a blast! The energy the attendees put forth was incredible and I was very happy to have experienced it in the company of colleagues whose photography and drive I greatly admire, (as well as peek at their sets every chance I get), Jarmo and Ales: and with the Three Wise Men! Byron Iconic Playboy Photographer, Gary Iconic Photo Editor over all of Playboy Magazine, and Tom Iconic Art Director over all of Playboy Magazine. ( None of these guys were so available back in the day, It was HUGE to get to spend time with any of them, let alone all of them! ) What a hoot, and a privilege to be able to hang with all these guys and such an Electric and fun group of attendees!!
Ric (AKA "Captain Kidd") Moore!
Behind the scenes galleries coming soon…