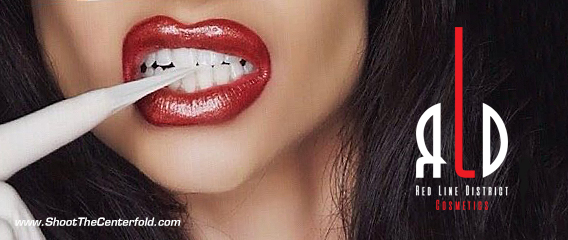 We proudly announce that Red Line District (RLD) Cosmetics is the newest sponsor of STC Miami 2018 seminar/workshop! They will be hands-on backstage making sure that our models have the best and the latest makeup and beauty trends for you to photograph. Current makeup and beauty styling can make or break a shot.
What makes this over the top exciting is that model Jacqueline Kruz and her sister Sylvia L. Constantin have joined forces to create this daring and revolutionary beauty line of cosmetics.
To top it off, Jackie Kruz herself is also one of our gorgeous models for the STC 2018 seminar! And that gentlemen, is exciting!

Miami-based sibling entrepreneurs Jacqueline Kruz and Sylvia L. Constantin have fused their extensive experience in multiple segments of the beauty industry to create a daring and revolutionary beauty line. Red Line District (RLD) Cosmetics, the product of the sisters' fusion of talents in the makeup and entertainment industry.
RLD Cosmetics offers a robust and unique selection of lipsticks and lip gloss designed to celebrate and enhance a woman's natural allure and sensuality. Each item carries a sexually suggestive name that often incorporates phrases and vernacular widely used in today's social media channels and communications.
RLD's selections include #ILikeItRaw, a reddish-pink with sheer to medium coverage and a satin finish; #BlackertheBerry, a dark purple lipstick with a soft and creamy feel; and #SultrySaddle, a pinkish-red, creamy lip gloss with gold and copper shimmer and a wet finish. The company's full line of products is available at www.rldcosmetics.com.
Despite its prominent image as a supplier of provocative beauty products, RLD Cosmetics remains committed to promoting responsible sexual behavior, while also conducting its business in an environmentally-conscious manner. RLD advocates safe sex practices throughout its messaging. Its products are not animal tested at any stage of development and are entirely paraben-free and produced with the environment in mind.
RLD's co-founders both have long-held a passion for the fields of beauty and cosmetics, a driving force behind the creation of the company. Jacqueline and Sylvia have both been involved in every aspect of the makeup and entertainment business since 2005, each working for a variety of publications, music videos, television programs, movies and numerous other projects.
The synergy between the sisters' respective skill sets led to them working together on countless occasions, during which they often spoke of devising a beauty products line that would embrace a definitively risqué approach designed to appeal to today's sexually liberated consumer.
© 2010-2018 Copyright ShootTheCenterfold.com. All rights reserved.