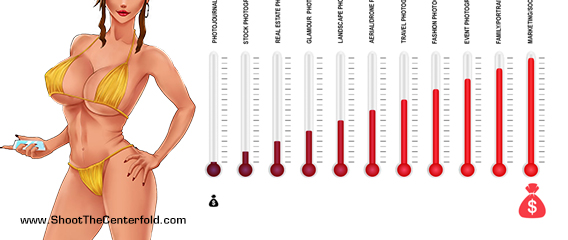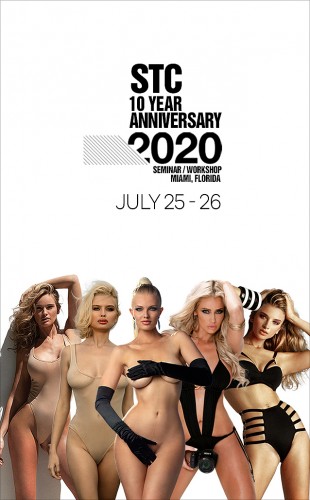 I'm sure you don't want to hear this, but Glamour photographers seem to be the most misguided in the industry for obvious reasons. I keep getting the question on "How to make money in photography." Let's face it; we all love photographing the ladies but fall way short on the business side of photography. And I'm not referring to the $200-$300 typical photoshoots. I mean on how to generate a substantial and stable income.
Let me say that there is nothing wrong with shooting ladies, even for free. The proof is in the pudding, as 90% of all glamour photographers enjoy precisely that. That may be ok until the monthly rent comes due and reminds you that you're not earning a living with your camera as initially planned.
The remedy I've always recommended is not to change what drives you in the first place, but to adopt different photography genres. That, in turn, may increase your income so you can continue shooting your favorite topics.
How do I do it, you ask?
Since the good old days of Playboy and lucrative contracts eventually became a thing of the past, many photographers had to re-invent themselves, including me. It's not that I jumped ship, but rather that I added a healthy mix of new photography styles to my repertoire from fashion to commercial photography and beyond. I still get to shoot my favorite ladies and the best part of it; I get to generate more income than ever before. Never overlook new industry prospects and the occasional hidden talent you may discover. At the end of the day, it's all about your skill set more than anything else.
To achieve a better understanding, I created this quick visual map demonstrating what's hot and what's not per revenue category. Sure you may find it disappointing seeing the glamour photography category falling way down in the revenue scale, but hold on, not so fast! It's not way down, it's where it has always been. Unless you were a contract photographer for Playboy or another publication that guarantees a steady revenue stream, it was always generally a low revenue genre.
Most popular revenue rich photography markets today
If you're thinking, "I'm not Jarmo." I can promise you I wasn't born with a silver spoon and all the answers. It took me years to develop my strategies. Success is about going beyond the ordinary, strategizing unique situations and learning how to make that a part of your business of photography. Another great success example is Josh Ryan. He started as a doorman but then became one of Playboy's greats and now shoots for a world-famous fashion house, GUESS. All of this he achieved in just a short time in the industry. Accept no excuses; let only the results speak for themselves. Like our longtime director of photography Gary Cole at Playboy said, "I cannot Publish Your Excuses." Please tell me that you got the shot.
Avoid distractions
Not to contradict myself or anyone else here, but being attracted by and photographing beautiful women, is the backbone for most of us, including me. However, distractive or alternative ways of conducting a photography business can often come between you and success. To gain industry respect as a photographer, it takes more than a shutter happy personality and beautiful ladies.
Walk in the footsteps of those with significant experience and success. Also, don't let your personal camera fantasies bite into your budgeting plans. Following the money in addition to the ladies, is the reason why I get to travel the world, enjoy photography at the highest level and have an excellent income. It's all possible because of the understanding of how photography and the business of it work together.
Want to learn more? Join me at Shoot The Centerfold 10-Year Anniversary Seminar/Workshop in Miami on July 25-26, 2020. Learn how Josh Ryan, Byron Newman and Ric Moore found success in different styles of photography. Why learn for anyone else when you can learn for the best.
© 2010-2020 Copyright ShootTheCenterfold.com. All rights reserved.