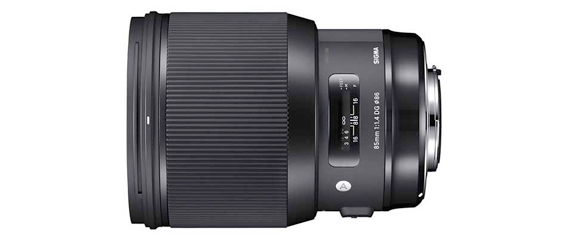 In case you're not familiar with Sigma's Art series primes, they're the company's high-speed f/1.4 models that are designed to compete with the very best lenses from Canon and Nikon, and can even give legendary lens maker Zeiss a run for its money. The Sigma 85mm f/1.4 Art Lens can be yours for $1199.
But not only does the Art series compete with the high-speed, high-grade lenses, but Sigma's pricing model is also usually competitive enough to tempt those considering the other brands' lower-end models.
A DxOMark score of 50 points and peak sharpness of 36-Mpix for the new Sigma 85mm F1.4 DG HSM A is the highest in DxOMark database, improving on the high-performance Zeiss Milvus 1,4/85, and even surpassing the ultra-high performance of the Zeiss Otus 1,4/55 and 1,4/85 in test metrics.
In short, the new Sigma is one of the best-performing full-frame 85mm lenses DxOMark has seen.

Click here to enlarge
The Sigma has very high and homogenous sharpness, even wide-open, where high-speed lenses like this usually struggle. It reaches peak sharpness between f/2.8 and f/4, though it achieves optimum performance at f/5.6, with levels decreasing slightly on the Nikon D810 as early as f/8 due to diffraction.
Distortion is rarely an issue for modern 85mm lenses, and indeed, this lens has none, and it has a very low lateral chromatic aberration. The only downside perhaps is some vignetting. Even though it is a relatively low –1.4EV in the corners wide-open, it is noticeable from around the 40% mid-field position.
[DxOMark]
© 2017 Copyright ShootTheCenterfold.com. All rights reserved.