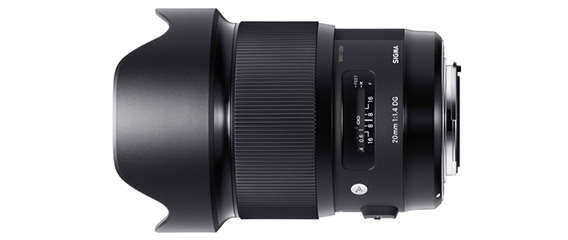 Everyone seems to be looking wide in the days leading up to PhotoPlus Expo 2015, with Sigma making the latest splash in the wide-angle-lens pool by announcing the 20mm f/1.4 DG HSM Art. This is the first 20mm f/1.4 lens designed for full-frame cameras and joins the already impressive Art prime line consisting of 24mm, 35mm, and 50mm f/1.4 options. These lenses are known for their ability to realize the potential of modern high-resolution image sensors and advanced optical designs, so for those looking to get ultra-wide, this should be a much appreciated option.

Being the first full-frame capable 20mm lens with an f/1.4 aperture, it is well-suited to landscapes, astrophotography, event shooting, and low-light work. Also, when used on APS-C format cameras, it will offer a still quite versatile 30mm equivalent focal length.
Optical quality is ensured through the use of both "F" Low Dispersion glass and five Special Low Dispersion elements in the 15-element-in-11-group design. These optics work to minimize spherical and axial chromatic aberrations and field curvature, while a Super Multi-Layer Coating resists flare and ghosting, resulting in clean, distortion-free images.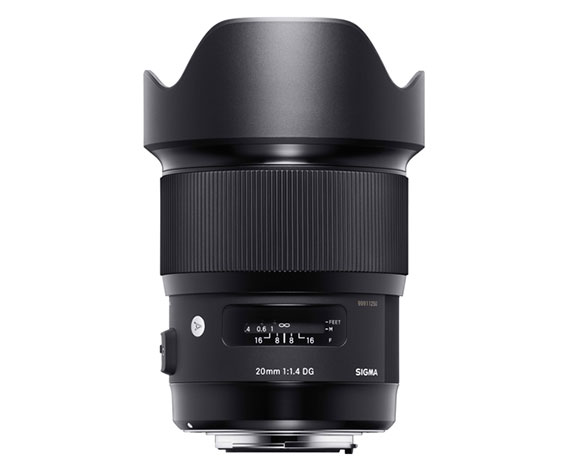 Externally, the lens shares many common features with its Art siblings, including a Thermally Stable Composite material that ensures consistent performance in fluctuating temperatures and simultaneously reduces the size and weight of the lens. A Hyper Sonic AF Motor is also packed into the barrel that will provide smooth, fast, and silent focusing, thanks to an optimized AF system; manual focus override is available for fine-tuning down to the minimum of 10.9″.
Additionally, this focus system and firmware can also be updated later on, using the Sigma USB Dock. The lens also has a nine-blade rounded diaphragm for smooth out-of-focus elements.
The 20mm f/1.4 DG HSM Art lens will be available in Canon EF, Nikon F, and Sigma SA mounts.
© 2015 Copyright ShootTheCenterfold.com. All rights reserved.