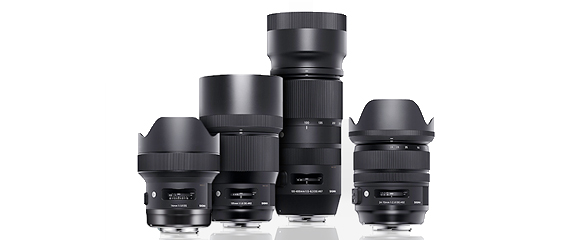 Sigma continues to release more and more exciting and unique lenses for its ever-expanding Global Vision series, this time with four new full-frame options that will appeal to many photographers.
The much-loved Art series sees a trio of choices, including an ultra-wide 14mm f/1.8 DG HSM, a perfect portrait option with the 135mm f/1.8 DG HSM, and a professional staple in the 24-70mm f/2.8 DG OS HSM. The Contemporary series is also gaining a new zoom, the
The Contemporary series is also gaining a new zoom, the 100-400mm f/5-6.3 DG OS HSM, a super telephoto option that offers an excellent range while keeping weight and size to a minimum. These lenses will be available in Nikon F, Canon EF, and Sigma SA mounts.
The Art series of full-frame primes is being expanded on both the wide and telephoto ends with the release of two super-fast f/1.8 lenses: the 14mm and 135mm. The 14mm is the widest and fastest lens of its kind, making it an easy choice for astrophotography and dimly lit landscapes, as well as offering a unique ability to create a shallow depth of field with an ultra-wide perspective.
The lens is designed to retain sharpness at all settings and incorporates four aspherical lenses, including the massive 80mm front element, two F Low Dispersion (FLD), and four Special Low Dispersion elements to minimize aberrations. On top of this, it can focus as close as 10.6″ for interesting close-up compositions and has a fast AF motor.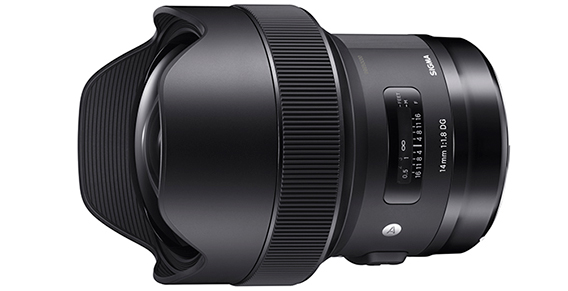 Sigma 14mm f/1.8 DG HSM Art Lens
At the telephoto end is the 135mm, which claims a no-compromise design for excellent image quality, even wide open. The f/1.8 aperture is among the fastest available for this focal length and allows photographers to create images with extremely shallow depth of field, minimal distortion, and high sharpness.
Its optical design employs two SLD and two FLD elements to control chromatic aberrations. Designed for ultra-high resolution cameras of 50+ megapixels, a floating factor in the focus system ensures maximum quality at any focus distance, while a focus limiter allows users to speed up performance based on their current shooting style.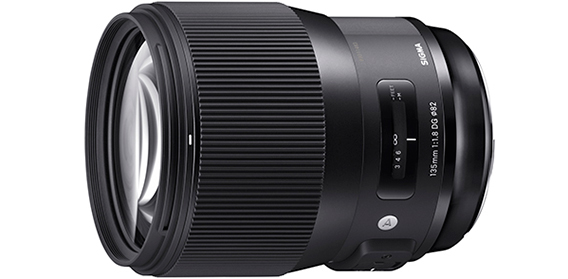 Sigma 135mm f/1.8 DG HSM Art Lens
Not just targeting more specific markets, Sigma has unveiled a highly popular zoom lens choice for professionals, the 24-70mm f/2.8. It is fast, versatile, and this model even features an Optical Stabilizer (OS) to minimize the effects of camera shake in your images. Designed for extensive use as a workhorse lens, it features thermally stable composite external construction, with many internal metal parts. This help ensures rigidity for high performance in varying conditions. Specialized elements in its design include four aspherical and three SLD lenses.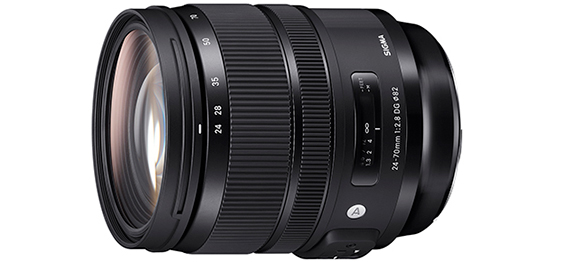 Sigma 24-70mm f/2.8 DG OS HSM Art Lens
Last, but certainly not least, is the Contemporary 100-400mm f/5-6.3. Balancing a long focal length, and range in size and weight, this lens manages to offer a relatively compact barrel, considering its capabilities. It can even take standard 67mm screw-on filters. Regarding its imaging capabilities, this lens is capable of four SLD elements that keep aberrations to a minimum and offer a minimum shooting distance of 5.2′ for a magnification ratio of 1:3.8 for close-up shooting.
Handheld shooting benefits greatly from the use of an optical stabilizer, which in this lens, features a new gyroscopic sensor to account for a shake in all directions and can be set to one of the multiple modes via a switch for enhanced performance based on your subjects. It can be operated quickly and efficiently with standard twist zoom and push/pull zoom operation while a focus limiter can improve AF speed.
It offers users a custom switch, as well, which can be programmed for a variety of different settings using Sigma's USB Dock and Optimization Pro software. Finally, it is compatible with Sigma's Global Vision Teleconverters, extending the focal length by 1.4x or 2x.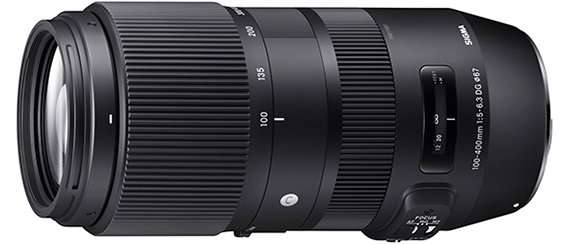 Sigma 100-400mm f/5-6.3 DG OS HSM Contemporary Lens
One benefit of Sigma's Global Vision lenses is a unified approach to features since these lenses share a plethora of proprietary technology. Starting off with the Hyper Sonic AF Motor (HSM), these lenses will focus quickly and quietly, with full-time manual focus available for making precise adjustments.
They all use Sigma's Super Multi-Layer Coating to reduce flare and ghosting and create sharp, high-contrast images in challenging lighting conditions. Bokeh is a highlight of the Global Vision lenses, and these options feature a rounded 9-blade diaphragm for smooth, circular out-of-focus areas.
Moving on to construction, they feature a durable brass mount, while the Canon and Nikon mount also use a rubber gasket to keep dust and moisture away from the lens and camera. Additionally, these lenses will support the MC-11 Mount Converters for use on mirrorless Sony E-mount cameras and can be customized using the Sigma USB Dock.
[B&H]
© 2017 Copyright ShootTheCenterfold.com. All rights reserved.