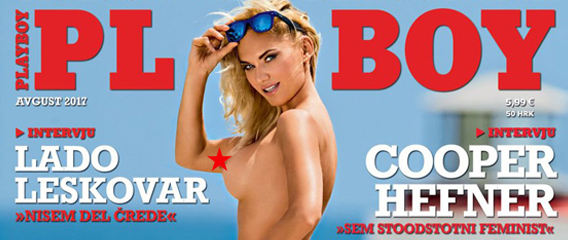 Shoot The Centerfold veteran attendee Larry Johnson's Playboy pictorial and cover with sizzling STC model Ksenia Pilulka hits the newsstands with a smashing results was shot in Miami during STC One-on-One sessions with Ales Bravnicar and Jarmo Pohjaniemi.
Larry Johnson and his passion for making one-of-a-kind images has proven to be the fastest growing formula for making an impact that we have seen lately.
Sharing a pictorial in Playboy with David Bellemere speaks of success which seems to be knocking his door from several directions at once! See the previews below, and you decide.
Shoot Facts
Photographer: Larry Johnson
Model: Ksenia Pilulka
Camera: Nikon D810 and D5
Lenses: 600mm f4, 200mm f2, 70-200mm f2.8 and 24-70mm 2.8
Lighting: Hensel Lighting and Sunbounce
Art Director: Ales Bravnicar
Video Director: Jarmo Pohjaniemi
Hair & Makeup: Mary Alejo
Assistant: Anthony Wallen
Interview
STC: Congratulations on your official Playboy feature in with model Ksenia Pilulka via STC's One on One session which is in the currently on newsstands in Europe. How does it feel seeing your hard work pay off in fresh ink on a glossy paper?
Larry: It feels fantastic! More than that, it feels great to see the whole process come to this fruition. There was an amazing group of people involved, all committed to us getting the best we could out of every setting, pose, and wardrobe choice.
STC: Your STC One-on-One shoot took five days in sunny Miami with Ales Bravnicar and Jarmo Pohjaniemi.
There was no rush, only results, and beautiful settings. Tell us about the lighting equipment that was used to achieve such a beautiful summer pictorial.
Larry: We shot lots with natural light, augmented with Sunbounce reflectors and had an arsenal of Hensel lighting gear to help us meet any lighting challenge that came up. Sometimes you just need that extra pop for clarity and vividness.
STC: You are no stranger to photography and have explored the world with your camera multiple times over.
Is there something that intrigues you to keep searching and creating for more?
Larry: The thing I love about photography is that you never stop learning. There is always a new perspective, a new angle, a new way of seeing a setting that opens your eyes to the possibilities. I try to be open to those opportunities whenever and wherever. It is not always an easy process because often you are learning to break the rules you spent so much time and care to learn!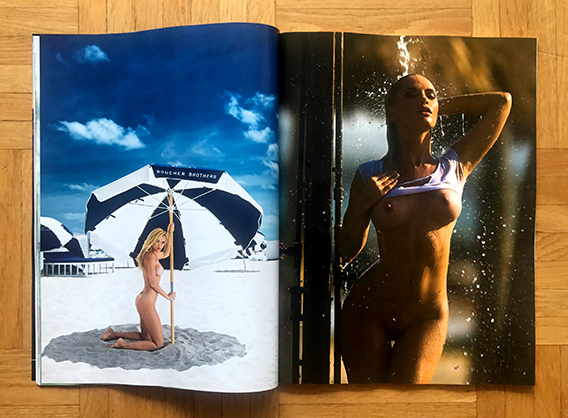 STC: Name some of the memorable and challenging moments of your STC One-on-One shoot with Ales Bravnicar
Larry: The challenges were shooting a pictorial of this nature in the middle of Miami! Managing the logistics of shooting in public settings, the permits, and permissions required all posed challenges. The thing I appreciated the most was that the entire team stepped up to overcome any challenges we faced.
Among the more fun challenges was the task of conceptualizing the shoot in real time, selecting shots daily, and adjusting plans to ensure that what we submitted was the best work possible.
Ales was incredibly patient during this process and spent hours working with me on selections, potential edits, and the logistics of submission. Fortunately, we had an excellent local coffee shop that served as our base. And most importantly, we made sure we had time for fun as well!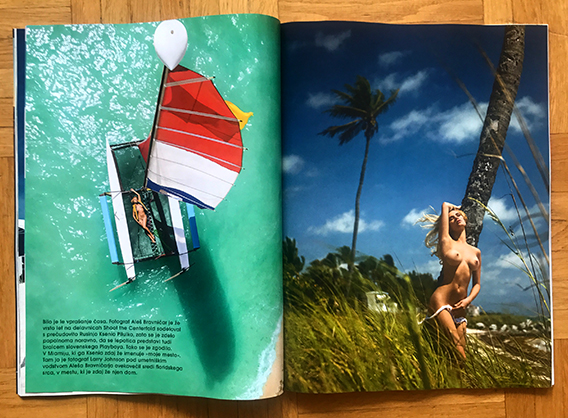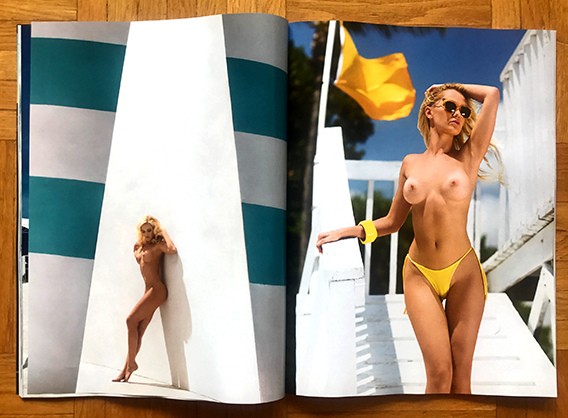 STC: You brought a quite arsenal of lenses to this shoot. Your Nikon 600mm lens served well for the cover shot and created a nice creamy bokeh that beautifully isolates the model from the background. Name some of your favorite lenses that you use?
Larry: That 600mm f4 is a fantastic lens, definitely one of a kind, but we also used the Nikon 200mm f2 which also is fantastic at more open apertures. The advantage of a location you can drive to is that you can pack lots of choices! In the end, we chose the right lens for every shot based on artistic choices. I think the results speak for themselves!
STC: You have traveled quite a bit with STC. What is one of the most important things that you've learned?
Larry: Far and away, the most important lesson I have learned is that a pictorial is not just a collection of images. Creating a dozen pictures and a cover that all look different and exciting, tell a unifying story and show a different way of thinking are some of the key values that I have learned from my STC experiences, especially the One-on-Ones.
For me, moving from making a single image to creating a set was a tectonic shift in perspective. It has fundamentally changed how I approach a shoot and significantly improved the quality of what I can create.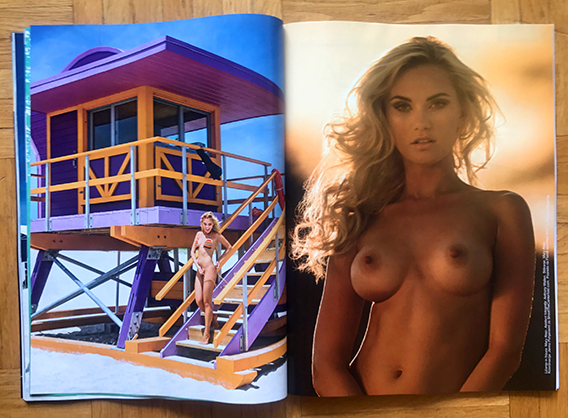 STC: If you could photograph any model in the world, who would that be and where?
Larry: Wow, that is a real challenge! So many beautiful, amazing models. So little time; I think that, for me, discovering a genuine natural talent, someone who truly has what it takes to be a top model, and working with her to launch that career would be the epitome. That said, I have had the opportunity in the last two years to shoot some incredible models, and the real pros bring out the best in the entire crew.
This past year I have photographed three top Guess models, and the images were more than I could have hoped for. In the future, I'd love to work with any of Victoria's Secret models on a crazy fashion thing. That would be so much fun!
STC: Do you believe that photographers' success comes via their arsenal of equipment, knowledge or both? Where do you draw the line?
Larry: Knowledge, hands down. The old saying about the best camera being the one you have with you is entirely true. Understand me — I love gear, and I value working with the best equipment, but unless you know how to get the most out of your gear — no matter what level or quality you use — you will not get great pictures.
Being able to see the shot before you press the shutter, in all its elements — that is the thing that makes a top shooter. You have to be consistent, and while nice gear will help, it is not enough to get you there.
STC: Your pictorial includes and an aerial view down the mast of a sailboat. You shot this with a drone in one of the windiest days in sunny Miami. Go back to the set and tell us about the experience.
Larry: The setup for this shot began before I even left for the trip. From the beginning, we planned to include a drone shot, and it had to be fantastic, as we wanted it to span two pages (no pressure!). At the time, I was still pretty new to drones, and in the best of conditions, there's a lot to think when operating a drone and getting the shot. I wanted the camera to be about six feet above the mast of the boat, shooting straight down.
The day of the shooting, the winds were extreme, and the mast of our sailboat was rocking back and forth about 6-8 feet with every wave.
At that point, safety was a critical priority, as we were shooting from a public beach in Key Biscayne. To hold the boat somewhat steady, Ales dove in and acted like a sea anchor.
I guess I had photographed about 50 frames before we felt we had it captured. When the drone was back on the ground, and the shot in the can, I felt like this one image was easily the hardest picture I have ever made, with the pressure of the job, all the moving pieces, and the added safety factors related to flying the drone. In the end, it was another time when this crew all came together to make it happen. There was no way you could have done that shot by yourself.
STC: You also have an impressive studio in Texas where you operate. What kind of studio jobs to your shoot and do you consider your strength better indoors or outdoors?
Larry: I am blessed to serve as Artist in Residence at the Studios at Fischer, which is a state-of-the-art photo, video, and music facility on eight acres in Central Texas.
There, I can do almost anything you might want to do in a full-on production space, from music videos to fashion and editorial studio shoots, conceptual shoots, swimsuits, nature, and the run of portraits and other work that pays the bills.
I love working in the studio, but the best advice I ever had was to get outside of it. Jarmo, and Ales, in particular, shoot extensively outdoors, in almost all natural light. Learning from them has changed the way I shoot completely, and while I feel that my studio skills are solid, it is the outdoor stuff where I see myself working more and more.
STC: What advice would you give a photographer who is trying to make it in the industry?
Larry: Never stop learning. There is always someone from whom you can learn. Form friendships, find mentors, take classes. Keep growing. What I have learned is that the best photographers in the business always are looking to be better. They never stop looking for new ways to do things, new ways to see things. If you want to be like them, you need to stretch and push yourself every day.
STC: What advice would you give photographers who are considering going to STC seminars?
Larry: It's worth it. If you are willing to learn, there is no better place.
STC: Your passion for photography has shown us all that you do not take "No" for an answer. As a professor by profession what are your predictions for the future?
Larry: Technology is changing so fast. As just one example, two years ago, no one was thinking about aerial images unless they had huge budgets and lots of time. In no time at all, drones have already changed the industry. Every shoot I do now includes drone footage.
On the horizon are even more fantastic tools. Artificial intelligence and machine learning are already revolutionizing high-end editing and workflow. Camera sensors have the kind of dynamic range we never thought possible, and much more quality is coming.
Standard DSLRs already compete with medium format, and prices are coming down across the board. There has never been a better time to be in this business. If you have the commitment and the desire, you can do it!
STC: There you have it! Follow Larry's photographic passion on Instagram @larry.johnson.photo Click here for more information about STC One-on-One sessions.
© 2010-2017 Copyright ShootTheCenterfold.com. All rights reserved.