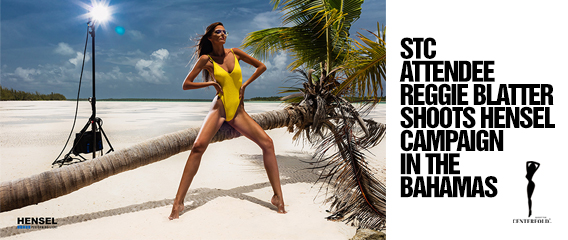 Shoot The Centerfold One-on-One attendee Reggie Blatter and Jarmo Pohjaniemi escaped to the Bahamas to shoot a Hensel campaign pictorial and discover future publishing opportunities.
The amazingly beautiful luxury resort La Bougainvillea served as our base camp and shooting location from where we explored Eleuthera which revealed its gorgeous settings.
This shoot was to create content for STC sponsor Hensel. Luscious beach scenes which provide the look of an endless summer are conveniently located all over Eleuthera, Bahamas. Our model Noemi Kappel was flown in from Budapest to reveal her best looks and assets.
Noemi set us ablaze from day one with her incredible figure and posing abilities. The scorching sun now had some serious competition which we all soothed while admiring the work results during the evening time with a mix of aloe vera, Neosporin, and dinner.
What made this shoot special was the desired look we were after which was a blend of high-end fashion editorial meets sexuality with commercial appeal in mind. This particular look and style are often imitated yet never quite achieved due to poor lighting skills or knowledge.
Here is where the lighting experience and decades of experimenting yield the desired results. We chose not to light our model frontally or offset with a single strobe, as most would do due to common sense. This practice can lead to an average outcome in style as far as lighting goes.
We created beautiful shadows, highlights, and kept our model from blending into the background by lighting her only from behind while leaving her front in natural light and away from any artificial light bounce. The white Bohemian beach sand worked well as a light reflector while the sun was at the high-noon position.
Yes, this may sound odd for most who believe that the high-noon light might be too harsh. No such thing says Jarmo Pohjaniemi. You use the harshness to your advantage and let the shadows shape your model's body accordingly. The desired lighting and editorial look needed a single strobe to overpower the sun when necessary. The lighting is just like wardrobe and styling. It changes based on taste and time.
We arrived at our shooting location around 11 am knowing the light we were after. We had about an hour to choose the right angle, prepare wardrobe, and make the set safe. Upon our arrival, the beach was submerged underwater with a lovely palm tree reaching over it.
Here is where you want to be careful that your strobes are safely secured and away from the water. Electricity and water are known to create unpleasant results.
However, one hour later, the beach that was recently submerged, was now a dry-bed the size of a football field due to the low-tide and had become a playground that any photographer would die to have as their shoot location.
The beach had revealed its secrets; this is what we had come for, and we kept our camera shutters busy while our model Noemi seemed to have a hard time keeping her swimsuit from falling off. Noemi ran on the beautiful white sand beach in a crystal clear water while we shot until our memory cards were full.
Sure, you only need a few frames to capture the right image. But, sometimes you just cannot ignore the inner child in you who has just found himself in a paradise with the most beautiful model in an endless time-loop asking you to press the play button over and over again.
The equipment used to create the chosen campaign images:
Canon 5DS R with Canon EF 35mm f/1.4L II USM Lens
Nikon D810 with Nikon AF-S NIKKOR 24-70mm f/2.8G ED Lens
Hensel Porty L 1200 Power Pack
Hensel EH Pro Mini 1200-P Speed Flash Head
One A-stand
The Hensel Porty pack was hung on the A-stand and used as a sandbag/counterweight from its strap attached to the stand itself. The protective Hensel Porty pack cover comes with a handy strap that can be used to carry or secure your power pack for your desired purpose.
The eight-day Bahamas extravaganza yielded some magnificent results and future pictorials to come. But most importantly it served as a learning experience for photographer Reggie Blatter and a career builder for his photographic future.
The one light wonder in detail (Edge-light)
To better understand the highlighted edge-light. I have overlapped the model with red stripes to demonstrate where the edge-light is most active. The light is coming from camera left, behind our model as seen in this diagram. (Below). I suggest keeping the exposure in check and skin texture visible in the active area, instead of overexposing to a while stripe-like rim light.
There are often misconceptions about how wide should the active edge-light be? As there are no rules, use common sense and choose suitable lighting balance for your scene. Keep in mind that excessive edge-lights can be distracting instead accommodating to your model. Is it necessary to highlight and separate your model from the background in the first place? Just because you can, it does not always mean you should.
Getting a little push and help from STC and its crews are available to you worldwide, just like Hensel lighting equipment, which goes a long way when it comes to your photography career. It's the Shoot The Centerfold way; we know photography and publishing.
© 2010-2017 Copyright ShootTheCenterfold.com. All rights reserved.