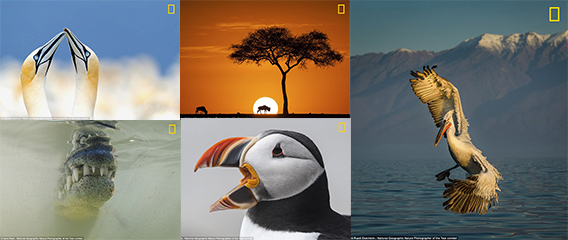 Photographer Ruzdi Ekenheim is living exciting times in his career. The demanding Serbian not only won the best picture from STC Santorini 2017 which will be exhibited as a poster at Photo Plus 2018 by Hensel lighting.
His winning streak has now catapulted him a nomination with National Geographic Nature Photographer of the Year contest in the wildlife category as one of the best 15 wildlife images in 2018.
We unquestionably are following to see who the final winner will be. Just to get a nomination out of the 50,000 plus submission images alone, it is an achievement.
From menacing-looking crocodiles gliding through the water to polar bears sniffing the air of a frozen landscape, these are the stunning images entered in a world-renowned photography contest.
The world's top nature photographers have shown off their work in National Geographic's Nature Photographer of the Year contest 2017 with images taken in the likes of Norway, Tanzania, Malaysia, Botswana, and Greece.
Among the submissions is a stunning shot of an American Crocodile suddenly appearing out of murky water, after photographer Gary Peart had waited with 'heart racing, hands clenched on the handles of my camera.'
Other impressive pictures include the Golden Gate Bridge during thunder and lightning in the San Francisco Bay Area, and a whale shark and school of anchovies swimming at Mafia Island in Tanzania.
Also in the series of photos is one of lava flowing into the ocean at sunset at Kamokuna in Hawaii, and four mountain goats standing on top of each other on a small rock on Mount Evans in Colorado.
The grand prize winner – expected to be announced on December 12 – will receive $7,500, while each winner in the four categories of wildlife, landscapes, aerials, and underwater will receive $2,500.
[Original post by DailyMail]
© 2010-2017 Copyright ShootTheCenterfold.com. All rights reserved.