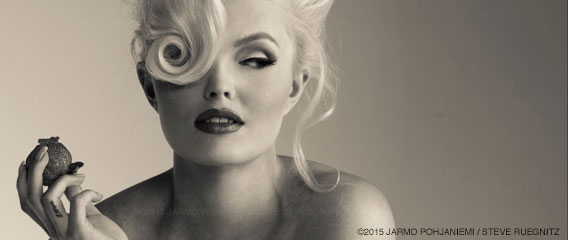 Shoot The Centerfold attendee Steve Ruegnitz has been in the headlines quite a bit lately. Not only has he set the fastest Playboy Playmate publishing record from camera to the newsstands in just 3 weeks, but to top things off by getting an image into the world famous Art Basel fine-art fair with Jarmo Pohjaniemi. Talk about an epic end of the year and making waves for 2016. Let's hear from Steve himself how all this unfolded.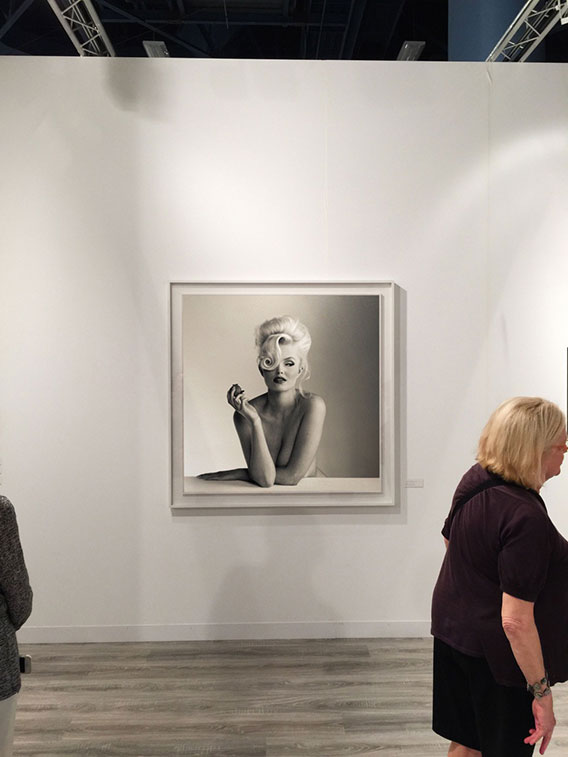 Art Basel 2015 fine-art exhibit
Photo: Jarmo Pohjaniemi / Steve Ruegnitz
Hair: Eduardo Bravo. Makeup: Mary Alejo
Art director: Jarmo Pohjaniemi
Model: Zienna Eve
Interview:
STC: Congratulations on yet another milestone reached in your photography that is getting some serious attention from the top of the art communities.
Steve: It has truly been pure magic and I cannot put into words how it feels. Never did I think that 2015 would have brought me such success. Thanks go to hard work through the year. But hard work alone is not all there is to it as you need to teaming up with the right people to make it all come together.
STC: This is completely a different style from Playboy photography and your previous shootings. What sparked you to try fine-art photography?
Steve: It has always been in my mind to try different things. Fine-art photography is something we all admire when we advance. I expect higher goals and intense photographic studies to deliver results. Never settle for an image that cannot be displayed in the highest form of an exhibit. After working with Jarmo on several occasions, he suggested I think about the fine-art work. He literally stole my words from my mouth before I was able to express myself. This is something I always felt and now it has become a reality.
I have come to appreciate Jamo's understanding of not just photography but where I am trying to go. He is willing to support and frankly push to make me think out of the box of what is possible for my work. Why just admire Fine Art work of others how about creating it? I am thrilled at the push and the results.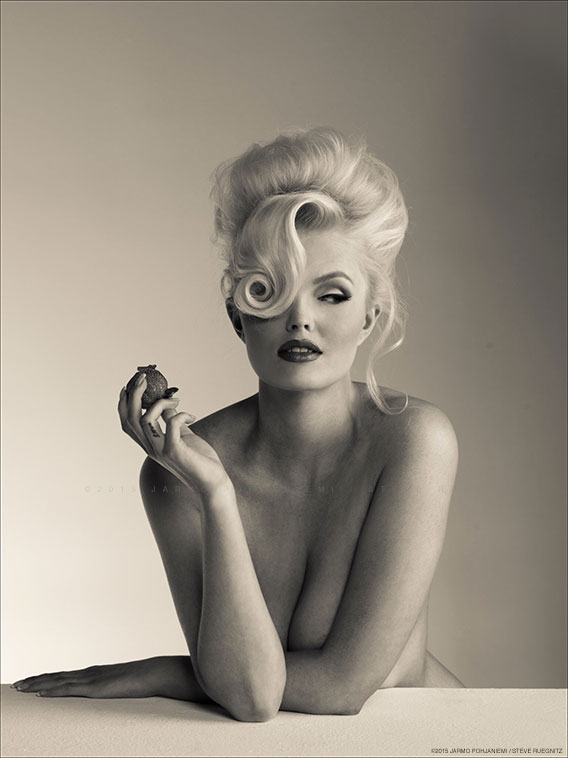 The original image – no editing
STC: Model Zienna Eve is a well-known glamour model. What were the trigger points to choose her for your fine-art project?
Steve: To be truly honest, it was team work between me and Jarmo. I have always believed in Zienna and her beauty that goes way beyond glamour photography. While I was photographing her in Santorini, Greece during the STC seminar, I knew that this was only the beginning and that there was more to come. Since Jarmo was fully involved with Art Basel I wanted in and suggested that we should do a last moment joint project with Zienna. And we did. We did not expect to be picked up by any gallery at the last moment.
But I didn't expect to have the fastest published Playboy Playmate on newsstands either. Working with Zienna in Santorini made conclude she had it all to try a different style completely. Jarmo was the bridge between the different worlds here. Glamour is clearly where my roots have been, but Fine Art represents a new goal for me. Jarmo knew of my desire and in little to no time suggested we team up and shoot Zienna and what a combination that turned out to be.
STC: What does this mean as far you photography direction goes?
Steve: I am not limiting my visual focusing on anything special except fine-art will be on top on my wish-list for sure. Glamour photography and fashion will follow hand-in-hand as well. I usually go by success rates and spending most of my career in finance and technology, my gut tells me to follow the money. Not to say that art will not be the ruling force in my photography but I have come to learn that photographers' biggest mistakes are their self-satisfying needs that often makes them forget what will bring financial success.
I wish to be in the business as well and not just in photography. My long history in business will serve me well as I push into other areas of photography, but even here you need a guide along with the way to deal with industry-specific practice and issues. Some things are simply general business, but dealing with Fine Art and galleries and others make for a business model that I have not seen until now. I am not sure how many people know that Jarmo's own work and interest go well beyond his well known and well-deserved reputation in STC and as a glamour photographer.

Click to enlarge
STC: Tell us about your camera choice?
Steve: When I think of Fine Art my head goes to large gallery and museum type prints. Who does not enjoy a stunning larger than life image on a wall in your home, an office of a museum? When I examined others in the field I found that moving up to medium format was really what it was going to take to allow for the stunning quality at any size for the sort of image I wish to create. Years ago I shot with Hasselblad in a film but had set it aside when I went to digital. I researched the market and concluded that I wanted back into the Hasselblad system.
My shoot with Zienna and Jarmo was done 100% with a Hasselblad H5D-50c and now I also have the H5D-60 body as well. For 4 solid days shooting Zienna it was with Hasselblad tethered to a computer. I can only say that the Hasselblad system was rock-solid in terms of reliability with no down time during the long shooting days. The images just are breathtaking straight out of the camera.
STC: What about the lighting? 
Steve: We kept it quite simple. A classic 3 strobe lighting using a RingMAXX, Chimera's 4×6 SuperPlus Pro and a small strip box did the trick. One thing is true: without carefully calculated lighting, this shot would have never become as special as it did. It's all about light and shadows, form and styling. This was my first time shooting the RingMAXX and I was not sure what to expect. It looks like a BIG ring light, but it operates with such a wide range of control with the ability to create so many different looks with literally this one system.
I am also a major fan of Chimera light modifiers in general. I have tried other brands and keep coming back to Chimera. They work as advertised, provide top of the line light and can take the punishment that shoots routinely put gear through.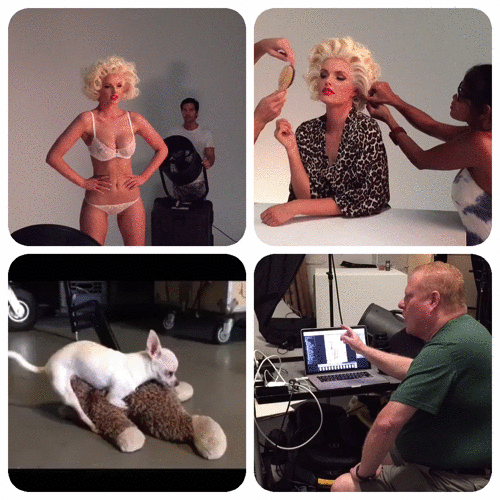 Behind the scenes – Studio in session
STC: Talking about styling, how involved did you get with the styling, hair & makeup?
Steve: As they say, never leave anything to chance! Styling, hair & makeup are all part of the final creation. We all have our share of failures for not paying enough attention to the little details that are part of the secret sauce. A big thank you goes to Mary Alejo (makeup) and Eduardo Bravo (hair) for making this shot come alive. One of the best things you can learn in my view is open to know what you don't know. When you bring top professionals with Mary and Eduardo what you get is results far beyond anything I could even dream of.
There is a reason why you have creative "teams". Yes, it is to the photography to bring the vision together, but nothing of this level is one person alone. If you look at this image it's not just the beautiful Zienna but the styling work of Mary and Eduardo to just make all of the elements come together.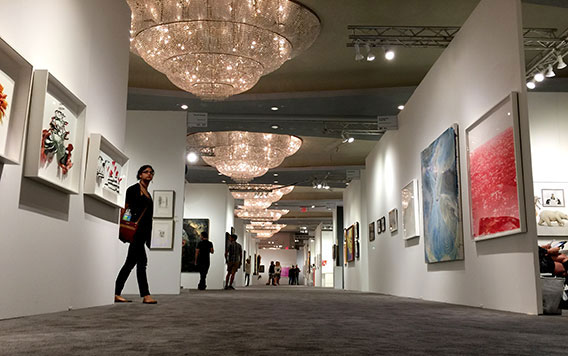 STC: Any closing statements?
Steve: The smile on my face tells says it all. But since I am not Zienna or nearly as adorable, let's have the image do all the talking. But here's a final thought: if photography and success have anything to do with your future plan, consider the STC April seminar to get started down the right path. For me starting with STC on the very first seminar was a leap of faith that has paid me back time and again. Every journey starts with a first step. If you have even a passing interest in improving, this is as good a place to start as I could possibly recommend and the results for me are beyond anything I ever expected!
Steve Ruegnitz
© 2015 Copyright ShootTheCenterfold.com. All rights reserved.