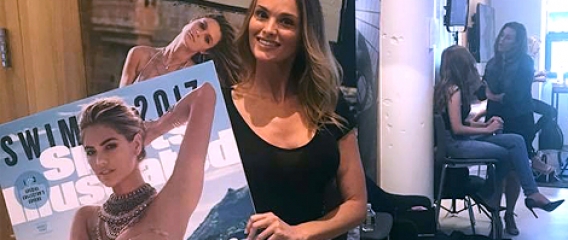 There's always something happening behind the scenes when young women prepare for a major casting call, a photo shoot, or even a friend's wedding. The golden nugget of a message here is to demonstrate the necessary preparation for a such an event.
Just last week, our starlet and long time STC model Jade Williams was chosen out of more than 5000 applicants to participate at the SI casting in New York. She was one of only thirty models who got invited to the final casting/trial shoot.
By being able to find yourself among a such a small elite group of gorgeous women means that you have already won even if you are not chosen to be one of the final four who gets printed on pages of the famous SI Swimsuit Issue.
It goes without saying that the Sports Illustrated Swimsuit Issue is one of the most sought after modeling gigs in the industry among brands such as Victoria's Secret, Guess, and Playboy.
It's amazing what women do and how they get affected by a such a ground-shaking experience. Let hear from Jade herself to understand what it's like to prepare for something this big and how the casting went.
STC: First, we would like to congratulate you on being chosen as one of the finalists for the SI casting. Tell us, how did this all start?
Jade: Well, it started a long time ago as a dream after seeing some of the most beautiful women posing for SI.
I remember looking at the magazine and dreaming of being in it. But never in a million years did I think that I actually would be taking steps towards this distant dream becoming a reality.
STC: You have modeled for quite some time, and there are not too many jobs and opportunities that make you go "gaga" like this one. We've noticed the glow on your face for a few months now, especially at STC Santorini 2017 just a few weeks ago where your SI fever rose sky high.
Jade: I think I did have little butterflies in my tummy but not only because of SI but also being in Santorini with STC. This was my first time in Santorini but certainly not the last. It's a photographer's paradise, and all the advice I got for from you about how to prepare myself and what to wear on the upcoming casting was invaluable and on point.
STC: Tell us about the casting preparations and what you did to ready yourself.
Jade: A couple of months before the casting, I told myself to give it all I had. If I were going to reach out to SI editors and turn their heads, I'd better in the best physical shape ever in hopes they would take notice. I started eating right, working out, and taking notes and advice from pros who have done it. Some of the best advice was always to study their past and present and what their style direction is heading.
STC: Style and direction is a good point when approaching any possible future client. Do you think photographers should also relate to such research while selling their services?
Jade: Absolutely. Why would anybody hire a photographer who cannot tell the difference from yesterday and today? All known photographers have their unique style which is their backbone, but it's not just an ability to photograph a woman but to make it so that it's different.
STC: You met some attractive and vigorous candidates during the casting. Did you see yourself any different from the others?
Jade: I think women always see themselves differently and with an insecure perspective; so many beautiful ladies with same goal measuring each and other up and down wondering what does she have that I don't. But in the end when I arrived at the casting, all the girls were super friendly, and I wish that we all candidates would be chosen because everyone was awesome.
I think that we all were winners even though only a few will be selected. Looking and comparing the candidates, I realized that none fell short on beauty. But there's more you need to possess, and that's your personality, ability to present a brand, skill of speech, and being positive.
STC: What was your ace? Your strong point?
Jade: It's hard to say. Hmm, I think one of them is that I am a simple Midwestern gal with an accent. I'm real and approachable. I smile more than many, and I can be your friend and not just an act.
STC: We'll place our bets on Jade. SI could use a model who has also shown power and beauty in several STC events from Miami to Africa and lately to Greece. There's a good reason why Jade has become noticed by MJ, the gatekeeper at SI. We wish her the best of luck, and whatever happens, we feel like she has already won.
© 2017 Copyright ShootTheCenterfold.com. All rights reserved.