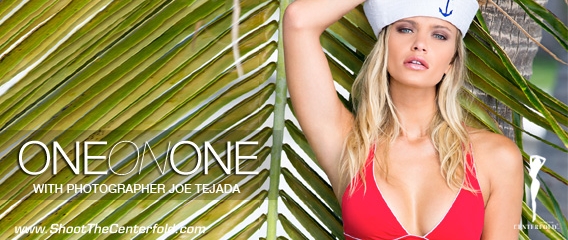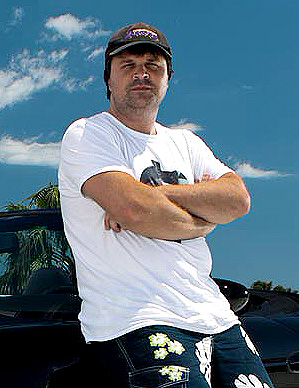 Up-and-coming photographer Joe Tejeda (on Facebook as "Joe TPhotography"), elevated his visual artistry with STC's One-on-One sessions. The hard work paid off as he landed lifetime bragging rights with a full-page in Playboy magazine.
Joe is a Cuban-native from Miami with good taste, determination, hard work ethic, and most importantly high standards. The goal of the shoot was to balance the perfect mixture of natural and strobe lighting, since today's editors demand increasingly better lighting skills from photographers. Not only did Joe nail the shot, but he also captured the editor's interest to see more of the lovely model we had booked for shooting. Let's dive in and ask Joe himself what he learned from our One-on-One session.
Interview:
STC: Your passion for photography has not gone unnoticed and you have even participated in a few of our STC seminar/workshops. Tell us how you started in photography?

Joe: There were several things. First, my dad had a passion for it in the film days. I kind of started picking it up here and there from him. Then I came up with an idea long time ago that got my best friend involved which involved creating videos for sale. From there, I started shooting local TV commercials and local videos for music artists. Specifically, the Halo champion had a contract with Mountain Dew and was financing a music video I was shooting.
We were waiting about 4 hours for him to arrive and the models were just antsy. They saw my camera and asked if we could shoot pictures for their America's Next Top Model submission. Why not??!! They loved the pictures and they told their friends… and you know how it goes. Then learning about lighting for photography became a whole new passion for me.
STC: What kind of camera, lenses and lighting did you use during your One-on-One session?
Joe: Since lighting is the most important part of any picture it goes first. That part of the toolkit included Hensel Porty packs, Hensel flash heads, Hensel parabolic dish, various Hensel reflectors, and the Chimera 4'x6' softbox with grid. On-hand was the dependable Chimera 24" and 30" collapsible beauty dishes (with grids).
The cameras used were two Canon 5D Mark III bodies. Lenses used included 300mm f2.8, 200mm f2, 70-200 f2.8 v2, 24-70 f2.8 v2, and the 16-35 f2.8.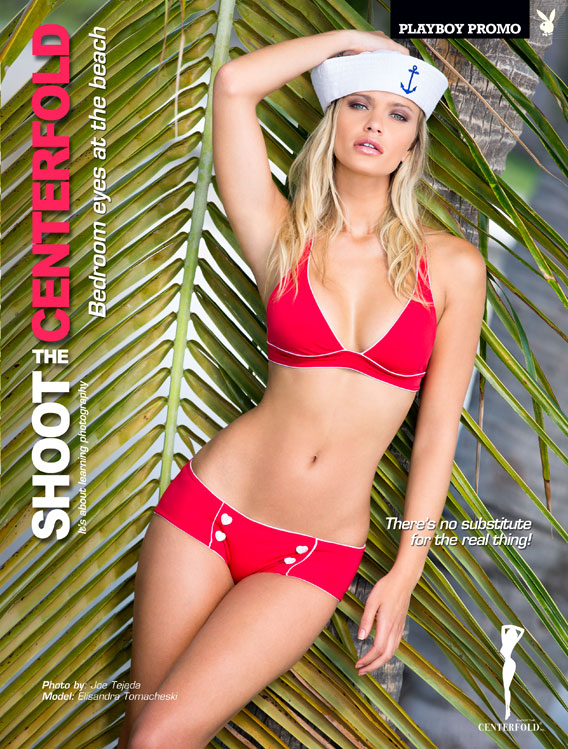 The final published image in Playboy International by Joe Tejada
STC: How important were the lens choices and what other lenses do you currently own?
Joe: Lens choices were critical. When you're trying to get the picture to look as perfect as possible out of the camera to minimize on post-production, you have to use the lenses that get you there. The longer the lens, the better. Long lenses get rid of the distortion that shorter lens give. The "go-to" lens was the 300mm, next up was the 70-200mm, and last for specific shots was the 16-35mm.
Additional lenses that I own and use are the 8-15mm f4 fisheye, 100mm f2.8 Macro, 24mm f3.5 TSE, 24-105 f4, and a Lensbaby Composer.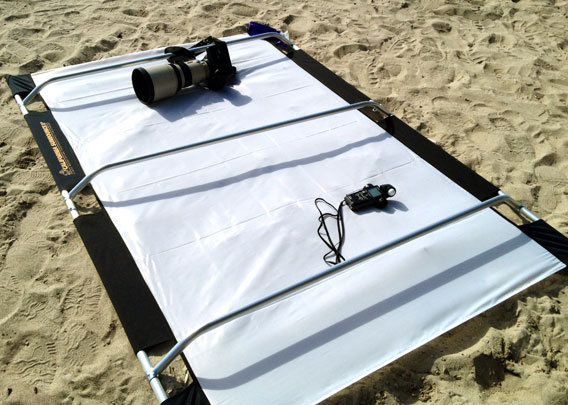 California Sunbounce reflector
Besides lenses, I specifically use B&W filters including the Vari-ND, polarizer (theirs is threaded to add the Vari-ND), and UV filters. To me, the UV filter is just an insurance policy for my lenses from scratches and airborne particles from getting on the glass.
STC: Wow, you have a quite a lens collection… as they say: "glass is more important than the camera". Do you find big difference between the low-budget lenses vs. more expensive ones, and what would be your advice for fellow photographers?
Joe: Thank you. I've been through just about every lens up through the 300mm from Canon. I have used other manufacturer lenses, too. If I had to do it all over again, I would get the 70-200mm f2.8 v2, 16-35mm, and 300mm f2.8 first. Those are the "money" lenses.
With those three, you can do anything. You're probably wondering why I didn't mention the 24-70 f2.8 v2. Honestly, there is so much distortion in this lens that I only use it when I just don't have enough space to use the 70-200. Sure it's razor-sharp but the distortion could break a shot. And this goes for primes, too. Personally, I've used the 50mm f1.2L and f1.4 lenses. So L versus non-L means little to me expect the price tag. They are functionally the same to me.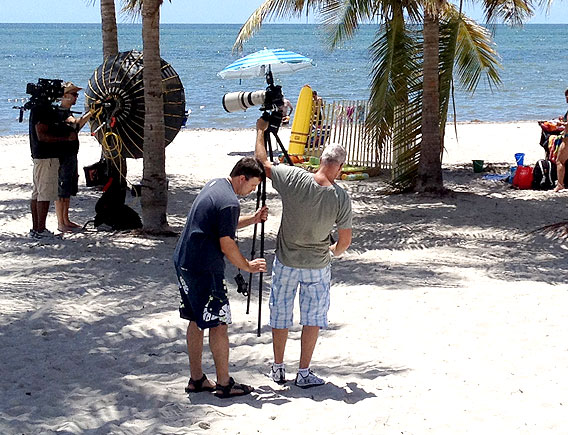 Setting up the camera and props
I'm quite interested in seeing the Zeiss Otus 85mm f1.4. They claim the lens has absolutely no distortion. To be able to have a fast lens at f1.4 would be great – without the distortion. I got rid of the Canon 85mm f1.2 because of the distortion. Besides, that focal range was covered with the 70-200. I only lost the speed/bokeh. I would love to get the bokeh back!!!
So I guess the short answer to your question is:
you need to know what you want to shoot, what your style is, and make sure the lenses you select can turn your vision into to reality.
STC: We needed to make sure we shot with variety in mind because you never know what client will pick.A good amount of time went for the pre-production and planning of the shoot. Can you share in more details, and what were some of the most important aspects of the production?
Joe: We first strategized as to what the ad should have in it. We needed to figure out the elements that the images would be comprised. Variety does help because it shows the client the amount of thought that went on for planning the shoot.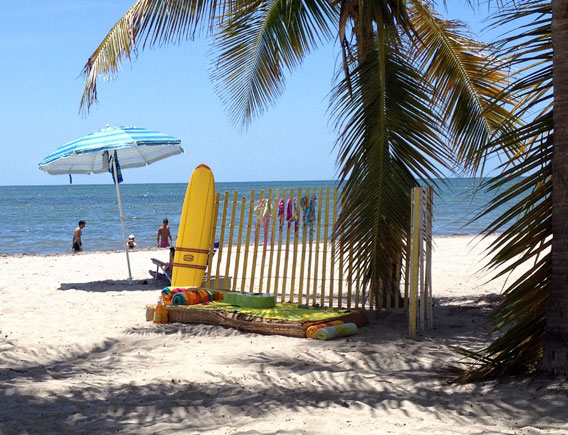 The final set
We first did a location scouting. We found the spot for the shoot and we had to pull permits to shoot where we did. The permit limited how many people and vehicles we were allowed so we had to make each teammate count.
We went "shopping" for the props that were used. We had two props that really pulled this shoot apart from others – the sailor cap and the bike. The ad has the sailor cap but no the bike.
Mary Alejo/Stylist pulled the bathing suits together. She has wonderful fashion sense and style. She truly was the unsung hero behind the shoot. In every image you see Mary without seeing her. She was the makeup artist, helped with props, and did some security detail by making sure no one stole the bike (which someone started to walk off with but she stopped them).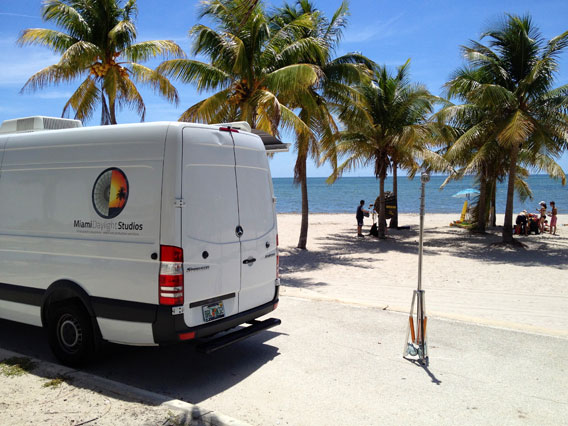 The production van – Miami Daylight Studios
The production truck was a huge asset. It allowed the model to cool down and relax to keep her as fresh as possible between shooting segments. It provided a perfect place for the makeup to be done. Plus we were able to get the equipment as close as possible to where we actually shot.
STC: How did the production aspect differentiate from your earlier shoots and what adjustment did it teach you to make for your future projects?
Joe: Essentially, I do pretty much the same thing with each of my shoots. I plan the spot, plan the lighting, determine what equipment needs to go, how to plan for things failing, etc. You always need a backup plan because you only get one chance and you need to make it count. The variables go crazy when you go on-location – you become a minimalist where the less you have to bring with you makes you think that increases the quality of the images. The dimension minimizes when you do that.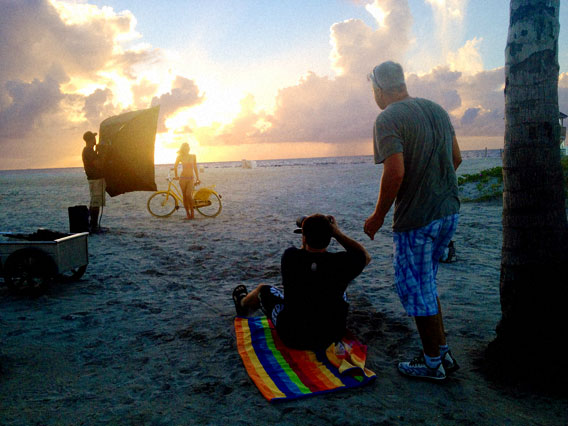 6am sunrise
Jarmo helped fixed that dimension issue. He helped me thing bigger and more focused. Jarmo walked me through visualization exercises to help with determining what the exact spots will be. This impacted what lighting would be needed to do the images the best way possible and which lenses would actually be used.
Another part of the plan that we worked through was what shot would be shot at what time because of where the sun would be. I think his visualization exercises are important. I have been a long-time admirer of his work. Some of the stuff he has done has been absolute genius! To get a creative genius to walk me through how he visualizes will help me tremendously for the rest of my career.
With the production truck, it gave the ability to do different make-up changes between shots at a beach location. Plus, it provided a larger wardrobe selection. In-studio it is really simple. The truck provided a greater dimension with the images attained with this shoot. I will need to consider that truck for future shoots!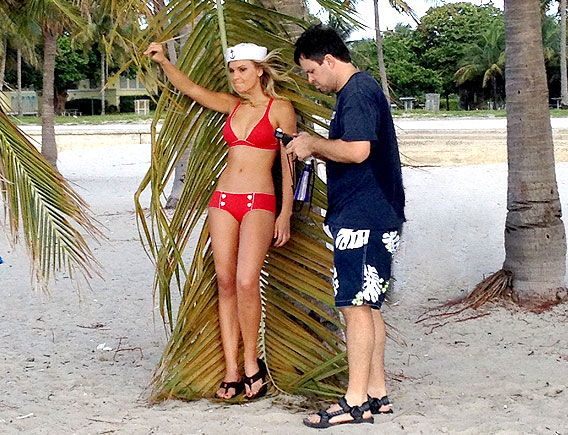 Measuring the light by using a light meter
STC: What about the model, how did you find the right model and was there a casting or a pre-selection? What was the final decision maker to use this specific model instead of somebody else?
Joe: Jarmo's ability to garner response from many potential models through social media both helped and hurt. We had recieved thousands of responses for the models search. Sometimes his popularity helps and hurts. No, it doesn't hurt – LOL. It helps all of the time! By going through an agency, you're going to be paying agency fees and be subject to some overhead. From the social media angle, we were considering flying in an undiscovered beginner model until we came across Elisandra Tomacheski from Next Model Agency.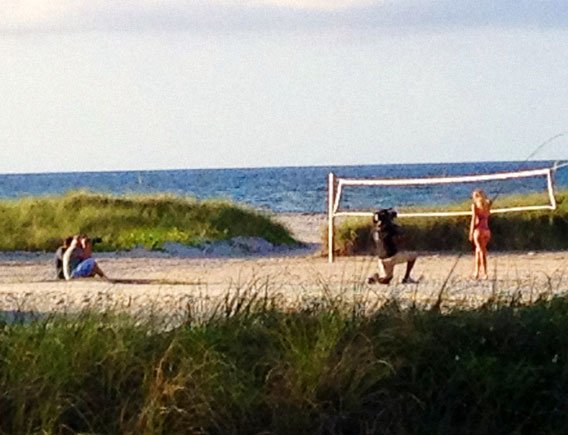 Learning proper color temperatures and exposure
There is a lot of risk flying in someone. We experienced that with one of the STC conferences where a model was unable to make it because the plane she was on had engine trouble in-flight and she had no way to get to us for days. So you have to figure that into your risk for a shoot.
When we saw Elisandra's images, we knew she was the one. Her look, presence, and personality got our attention. Her being local made it a no-brainer. She was the best one for this shoot.
STC: Any model behavior experience from this specific shoot? Was there anything in her performance worth mentioning?
Joe: The one thing you don't get from a model's pictures is their skill level about how well they know their body and can make it work for the camera. Elisandra was amazing. She KNEW how to work her body for the camera. I have spent a lot of time trying to explain to others what she just already knew. It made shooting her so much faster and enjoyable. Her skill helped a lot when we had a lot of stress going on that day in addition to the sun wearing us out.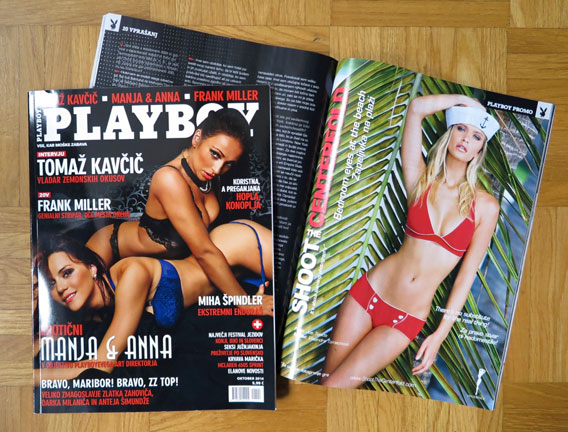 Final image in Playboy
STC: So you are saying that having a professional model does make a big difference in the final result? How do you describe the line between professional and amateur model?
Joe: It absolutely does make a difference in the final result. I have worked with a lot of undiscovered/up-and-coming/etc. models and there is just a gap between what they can do and what an experienced agency model provides.
The way I think about an agency for a model is being the administrative staff for them to get their bookings done. If you have one shot at a shoot, you just have to do it right by getting an experienced agency model.
That's a great question about where there is this proverbial "line" between the two types of models. Remember the joke:
What does it take to get to Carnegie Hall?
Practice, practice, practice. A professional model has practiced the poses – head, eyes, mouth, arms, hands, fingers, hips, legs, knees, feet, etc. that affect the look of what a camera will produce when shot. They have practiced them so much that a photographer should be able to provide minimal instruction to get to a point where minor tweaking should be needed. An amateur hasn't gotten to that point. They require more practice.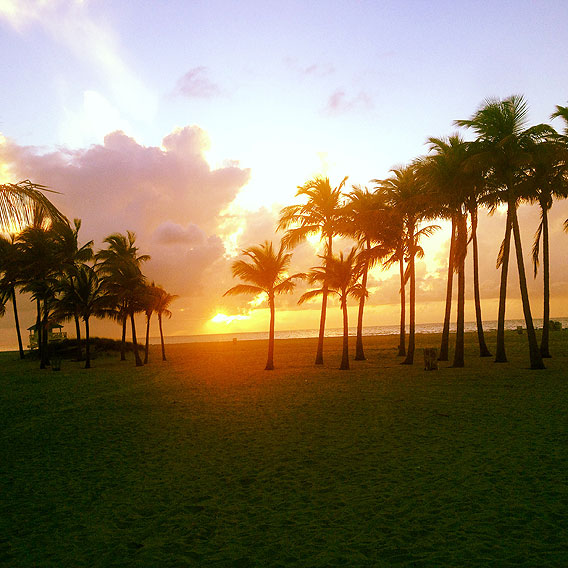 Beautiful sunrise – Crandon park Key Biscayne
STC: What did you learn by having this shoot done at the beach location in Miami?
Joe: You definitely have to be a weather watcher. You have to know about where the sun will be peeking up from and what time sunrise is since we were doing a sunrise shoot as part of the day's shooting. You don't have the luxury of time so you plan those few minutes accurately.
The permits have to be adhered to. Well, let's be honest… we try to get away with as much as possible. So if you're going to shoot video and the permit doesn't allow it, make sure to have a pair of radios and a spotter to let you know when the beach management folks are en route. 😉
Since we were shooting in a public location, you have to be aware that people are probably going to be in your frame. Adjust accordingly.
STC: If you could go back in time, let's say about 5 years, what would you do differently based on what you have done photography-wise so far?
Joe: I wish STC was around 5 years ago!!!! I feel being a part of each of the trainings, seminars, and now 1-on-1s has really accelerated my abilities. The guides that STC sells online and print are invaluable. When I went through the "Bubbles" production in Jarmo's guide, I was blown away!!! It is pure genious.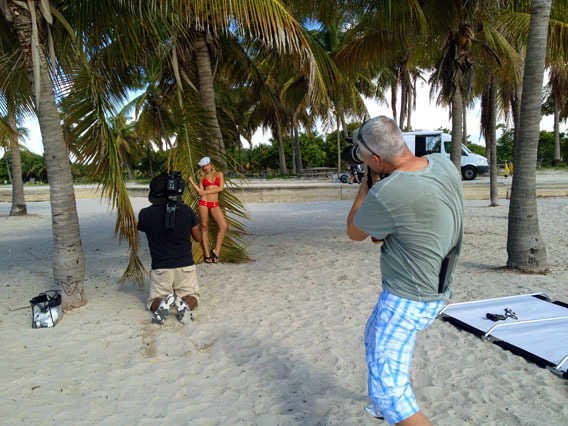 Jarmo demonstrating shooting techniques
I also recommend others to ego surf each of the STC instructors and examine the images they have produced. Try to figure out why that image was published — what makes it standout. Eventually you'll figure it out. Like Jarmo, Byron Newman, Ales Brevnicar and Ric Moore do outstanding work, too. I had the pleasure of meeting them.
When I think I'm ready, I'll have Gary Cole give me his brutally honest opinion of what I've done to that point. There is a LOT of value in his comments.
5 years ago, this just didn't exist. Going to a school and having a teacher do this kind of thing just wouldn't be practical and didn't interest me. It has to be done by industry leaders, like the STC photographers.
STC: Let us question the girl factor versus photography factor! Which played a bigger role during the shoot since both are important factors in this kind of a shoot?
Joe:  Both! The model was amazing. If we didn't light her right, if we didn't have the right props for her, if we didn't shoot at the specific spots at the specified time of day, the resulting images would have fallen short.
"with the right props, at the right spots, at the right time and the resulting images are stunning!"Mary's makeup work on Elisandra plus the bathing suits and props were fantastic. With Jarmo's guidance, she was lit right. with the right props, at the right spots, at the right time and the resulting images are stunning!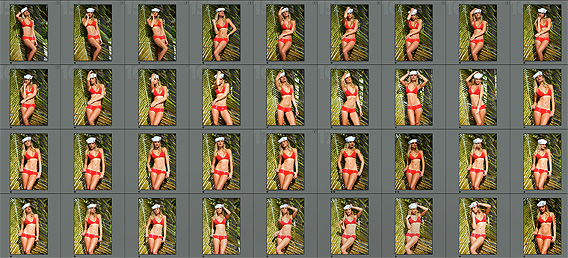 The average delivery rate for a photographer is between 40-50%, Joe Tejeda scored 80-85%
STC: Were you nervous at any point during the shoot and why?
Joe: I wouldn't say nervous but concerned because my batteries were not having a good day. This is par for the course when your gear starts to age. I have been shooting Hensel for many years and those Porty packs are just rock-solid. Since the shoot, I've replaced almost all of the batteries and with larger capacity to shoot more shots per battery. For the shoot, we just had a bunch of batteries to work with. We had enough to juice with some to spare for the day.
STC: Which one of you were more experienced, the model or yourself? And how did affect the performance from either side?
Joe: I'm unsure how to rate experience because being a model and a photographer are different things – but with the same goal in mind: an outstanding image.
The model was definitely experienced. She required little direction – minor adjustments here and there to modify poses and keep the shoot moving. I loved how she moved. She made my job so much easier.
Just a side note here for aspiring photographers. You always have to talk to your model while shooting them. I think all photographers should be having their picture taken while posing like models. When the photographer isn't saying anything, you will then know what the model is going through.
You'll be thinking:
Am I doing it right? Is this right? What do I do next? Is that what they want? etc."
You're completely vulnerable and being judged at the same time. That is how they feel. By talking to the model, they know they are doing it right, gaining confidence, when directing a change in pose they know you are aware of what you want and they will definitely deliver what you, the photographer, needs. Your images will improve dramatically.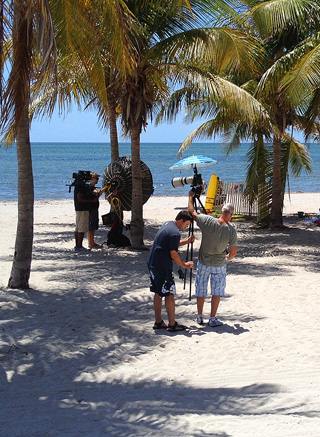 STC: What's next on the horizon for your photography career?
Joe:  This has been a fun and my best year since being part of the STC family. I have been on TV for Bravo for the Million Dollar Listing Miami show as a photographer for the listing event party. About a half dozen of my images from that event were featured on the same listing agent's feature on the show Secret Lives of the Mega-Rich, which airs on CNBC, broadcast internationally. When I saw that, I was thinking, "Wow!! I'm an internationally televised photographer!" Of course, I was flattered Senada Adzem made sure my images were a part of her feature. She really is a super-nice person.
Now with one of my images being in an ad in Playboy, I am a happy guy! I am enjoying the moment.
If you asked me that question last year and I just gave you the answer above, I would never have thought that would be my answer: being in Playboy and being on two TV shows.
What does the future hold for me? I have no idea and I can't wait to find out!! I can say this though. I make my own luck. I study, practice, and analyze. The analysis includes assessing my own weaknesses and figuring how to correct them. Thanks to Jarmo and his team, I'm sure STC will be there to help me with making me a stronger photographer.
STC: There you have it ladies and gentlemen! I'm sure we haven't seen the last from photographer Joe Tejeda…
Note from Jarmo Pohjaniemi: STC's One-On-One session has proven to be very successful for those who want to take their photography to the next level, in addition to learning the ins and outs of marketing yourself in the industry. Photographing beautiful ladies is one thing… being able to sell yourself, getting published, and creating a brand name as a photographer is an another altogether. There is nothing more gratifying for me than to see photographers I mentor become successful. This is the Shoot The Centerfold way. Stay tuned for more coming soon…
Learn how you can improve your photography with STC's One-On-One sessions.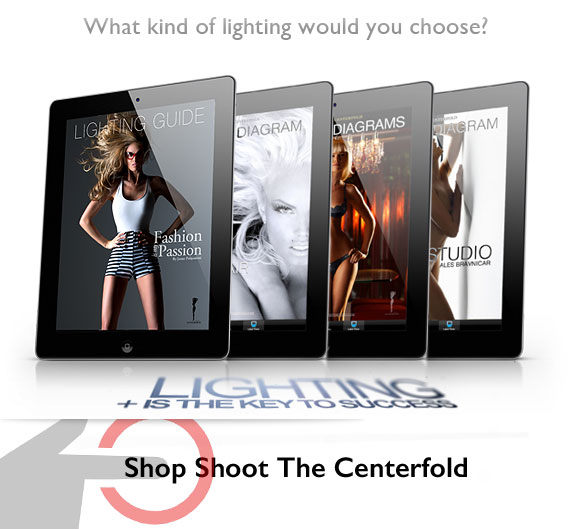 © 2014 Copyright ShootTheCenterfold.com. All rights reserved.